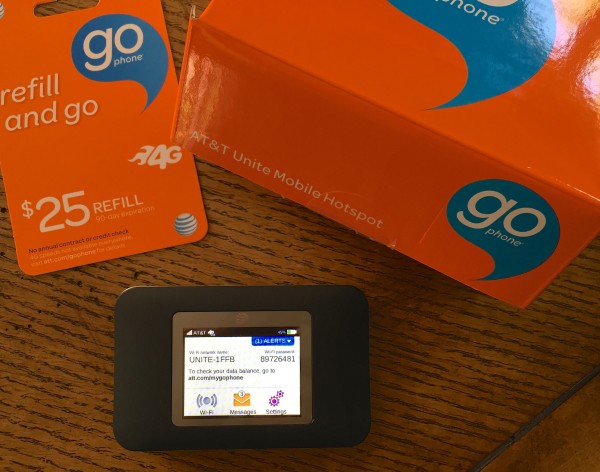 As a busy travel blogger, how would a mobile hotspot like the AT&T Unite for GoPhone by NETGEAR help me? My initial reaction was: "I don't need a mobile hotspot or mobile WiFi, I already have plenty of connectivity here at home and at the hotels we stay".
Hmm… Do I really? What happens when the Internet goes down? As someone who completely relies upon her laptop and other mobile devices to keep a business flowing smoothly and to communicate, it is incredibly frustrating when it is temporarily unavailable.
You know how that feels? It is similar to when the plumber turns off the water and you can't believe how many times you need to wash your hands, want to use the bathroom or brush your teeth and you can't! That is how it feels to "lose the signal" to the Internet.
I have actually determined that being my own hotspot, could be very beneficial! I was sent the AT&T Unite Mobile Hotspot with very clear and easy directions. I thought that I would have my son set it up for me, but then I realized that if I couldn't figure it out, other people would might have these issues as well! NETGEAR asked me to use and review the product and give my honest opinion.
Setting it up was easy! It has an intuitive touchscreen with data usage and connection information right at your fingertips. It is connected to a secure AT&T network, it is password protected and you can add up to 10 other devices! Share, share, share!
They provided me with a $25 Refill and Go Card with 2.0 GB of data and a 30 day expiration.  Once I loaded the card on the device, I was all set!
Here are some specific product features:
No Annual Contract – No credit check
It provides Internet for up to 10 tablets, laptops or other WiFi devices
Up to 10 hours of battery life
Intuitive touchscreen
4G LTE
Guest WiFi- It lets you create a second WiFi network for one time user
I dropped it in my purse and I was ready to go test it out. Very quickly I learned just how valuable this prepaid mobile hotspot could be for me. I took it with us on a trip to Los Angeles and we were staying at a large hotel that offered FREE WiFi. I had no need for the mobile hotspot until… evidently there was construction in the area and they "clipped" the line. We were without Internet for over four hours. Both Craig and I were busily working at our laptops when this happened. It was not a good situation, heads were going to roll.
 Personal Experience
1. Internet downtime is not an option for Craig's business. His daily routine includes the need for a constant Internet connection. I was incredibly frustrated as well! I know the world will not end if I cannot utilize my laptop or iPad properly, but it is still a huge inconvenience. My AT&T Unite for GoPhone rescued both of us that day.
2. On another occasion, while waiting for a delayed flight, we turned on the mobile WiFi and we were ready to work. No interruption of connectivity!
3. My father was in the hospital having a procedure and I was waiting for him to be released. I was kept waiting for a short time, but my iPad worked great! No worry about whether I was connected to the Internet.
Honestly, I can think of many different ways this device can be useful in so many different situations. This would be great for families to take on the road to keep the kids entertained with their many games and devices. I know all of us can use our smart phones in a pinch, but I cannot work on my blog from my phone, it would be very challenging. Traveling like we do, we are always on the go and never know when we will lose our connection. I also like the fact that I can share it with other people and the battery lasted 10 hours. By using the Refill and Go Cards, I can refill it whenever I need to.
Pricing Information
The AT&T Unite for GoPhone is available for $79 from AT&T stores. It is also available at Best Buy, Radio Shack, Amazon and Walmart, prices may vary.
Although I was given one to use, my opinions are my own and I only recommend products that I would use and enjoy. I thought the GoPhone Mobile Hotspot was fantastic and easy to use. If you would like to check out quick product information and some fun videos go to www.att.com/NetgearMobileWiFi
Suzanne