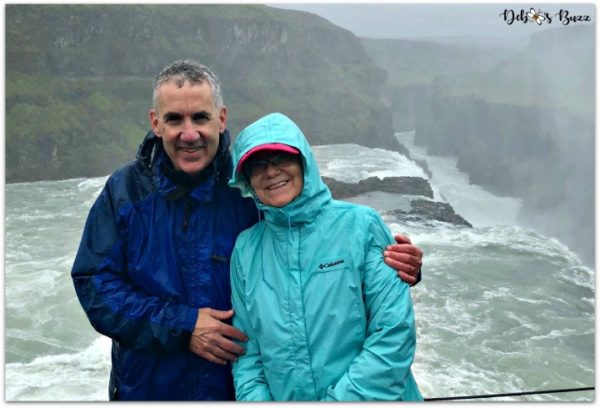 Please Welcome our newest Guest Adventurer! Debbee is a lifestyle blogger and Etsy shop owner who uses themes when decorating, entertaining and crafting. She typically posts twice a week; focusing on holidays, tablescapes, parties, DIY projects and travel. During the past year Debbee and her husband traveled throughout Spain, spent a magical holiday season in Quebec City, went on a 10-day adventure around Iceland, and just returned from two weeks sailing and touring Greece.
Incredible Iceland 10-Day Adventure, Part One
I'm really excited to share our recent family vacation — an incredible 10-day adventure to the land of the midnight sun.
Earlier this year, both my husband and I celebrated big-0 birthdays. Later this fall, we will also mark a big-5 wedding anniversary.
To honor these milestones, our sons arranged a 10-day family vacation. They presented the surprise Iceland trip, transportation details, travel route and accommodations to us in the late spring. That allowed plenty of time to plan and eagerly anticipate the July journey. And believe you me, traveling over 900 miles around the entire country of Iceland takes lots of pre-planning.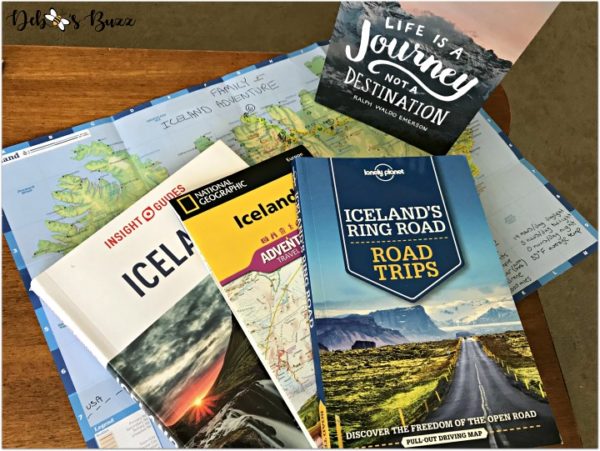 Come along on the first day of our incredible Iceland trip in the land of fire and ice.
It's All About the Journey – Incredible Iceland
As the card said, it's about the journey, not the destination. For me, the true gift was spending 10 entire days together as a family. I was absolutely ecstatic!
Our sons' careers have them working very long hours and traveling a great deal. Trying to find even a long weekend to get together, was hard enough. Plus, we have four people living in three different cities.
Just a month after my Unbirthday Party, we were off on a grand Iceland trip and epic adventure to the land of fire and ice. All of a sudden, I couldn't wait to turn the big-something!
Our route followed Iceland's Ring Road, with several significant detours to more remote peninsulas and into the wilderness. We progressed counter-clockwise around the country, which is about the size of Maine. One night was spent in each of nine different and varied accommodations.
The Golden Circle
We were able to fly direct to Iceland via Wow Air, which began service from Pittsburgh last June. Apparently, it's the hot (cool?) thing to do these days — especially by millennial like our sons.
The guys flew together from Newark and our flights arrived within minutes of each other. We were all delayed an hour, arriving at 5:45 AM local time. There's only a four-hour time difference with East Coast, because with 20 hours of daylight during the summer, there's no need for savings time!
We grabbed our luggage, changed (into fleece, winter coats and waterproof hiking boots), picked up a luxury 4×4 SUV, and hit the road for the Golden Circle.
The Golden Circle and Southwest Coast have many of Iceland's most well-known and visited natural wonders, due to their accessibility from Reykjavik.
Our first stop was Thingvellir National Park. This is one of the few destinations I can pronounce, of all the places we visited during our Iceland trip! The dramatic gorge marks the pulling apart of the Eurasian and North American tectonic plates.
Snorkeling on the Continental Divide
We actually went snorkeling in Iceland on the morning of our arrival!  It was quite the wake me up!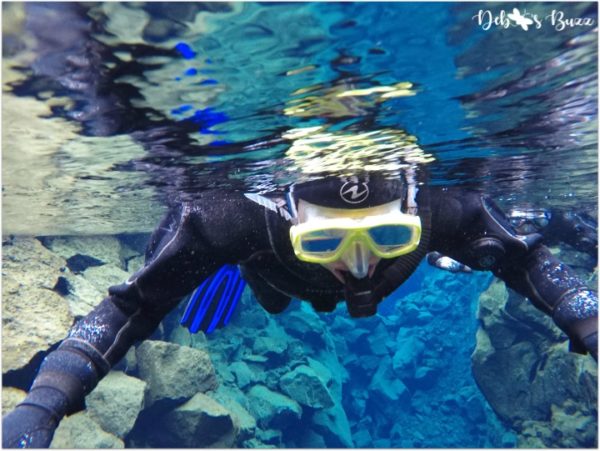 After a quick breakfast grabbed at the Thingvellir visitor center and overlook, we hustled to get to our dive meeting place. I was a little dismayed that what they called a 'place to change', was just a large van! That seemed to be the case regardless of the dive operator.
We already knew we'd spend as much time getting into our dry suits, as time in the water. You don't wear swimsuits, but thermal long underwear to stay warm in the glacial water. It's a two-person job to get suited up and insure a watertight seal.
Unique Experience
As I descended the stairs into the glacial water up to my chest, I was pleased to feel warm and dry. Then, the guide told us to put our faces into the water and start to swim. OMG — it was such a cold shock! It actually felt like the worst burn! I didn't think I was going to be able to withstand a few minutes, let alone 40 with my face in the water.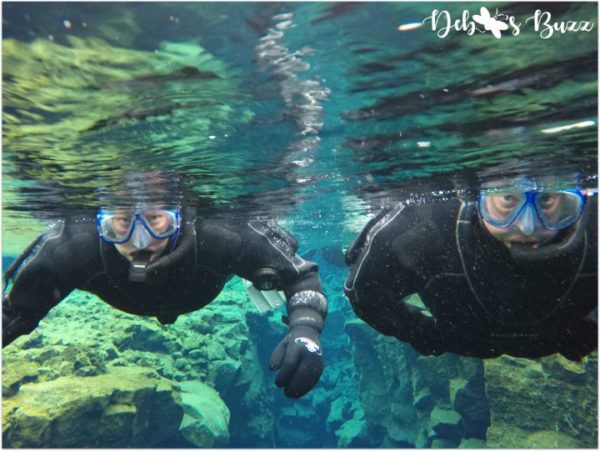 But, the body adjusts at the same time you are distracted by the view and swimming. It's a one-way trip and others are continually coming in behind you. We all persevered and the worst was over within minutes.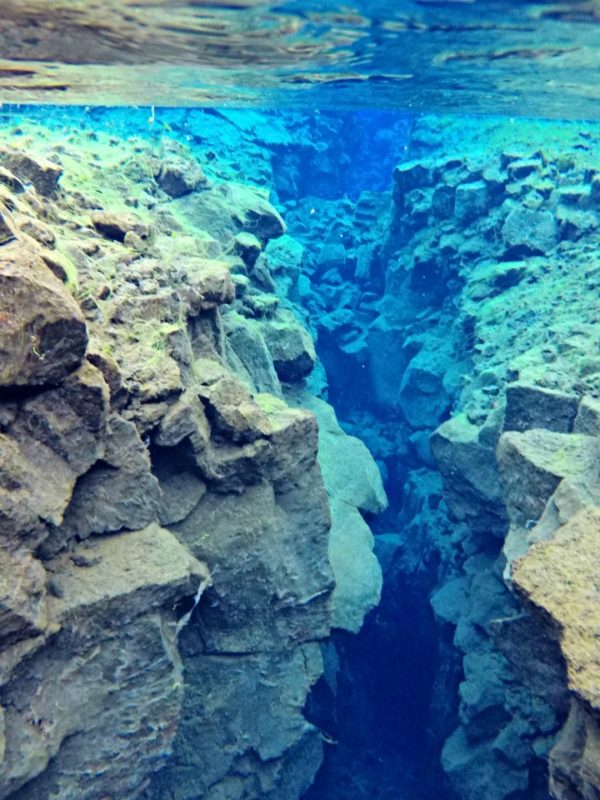 Most areas of the rift are narrow and deep, others quite shallow. It's an awesome experience and I'm pretty proud of myself for doing it! After all, my husband and sons are scuba certified.
Ideally, we would have snorkeled the Silfra Fissure later on the trip. But, with a 10-day route ahead, this was the logical first stop and best use of time.
Filling Up the Tank 
Everyone was now wide awake and ready to eat! So, we headed further into the Golden Circle to the highly-rated restaurant Fridheimar, a tomato farm.
My guidebook cautioned to make reservations ahead. Sure enough, the place was completely booked. Mind you, Fridheimar is what most would consider the middle of nowhere! They did offer us service at the bar, with a more limited menu.
It actually worked out great, as we found a high-top table. Hubby ordered up four delicious bowls of tomato soup. Each came with a large, freshly baked roll the size of a loaf of bread! The soup warmed us up and filled our bellies before continuing on.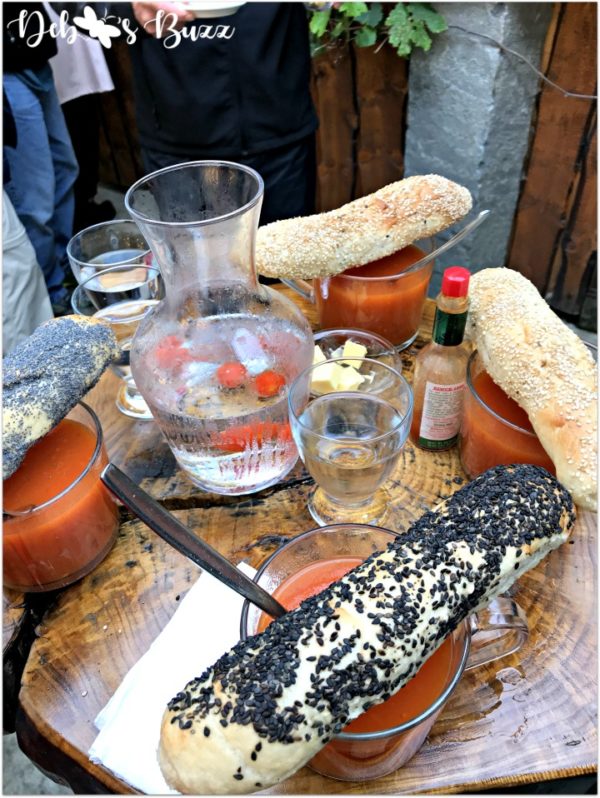 Raingear: Required Islandic Attire
Our next stop on the Golden Circle was Geysir. The geothermal field has walking trails among steaming vents, turquoise pools and mud formations. It's where the English word 'geyser' comes from.
I don't have any pictures of Geysir because it was raining pretty good then. It was also overcast and foggy on the first day of our Iceland trip. Fortunately, the weather was pretty good the rest of the vacation. But, the weather that first day did put a damper on things — most notably views.
Having seen Yellowstone, Geysir pales in comparison. It was still worth the half hour we spent at there, as it sits right on the way to our primary destination. Gullfoss was just ten minutes further down the road.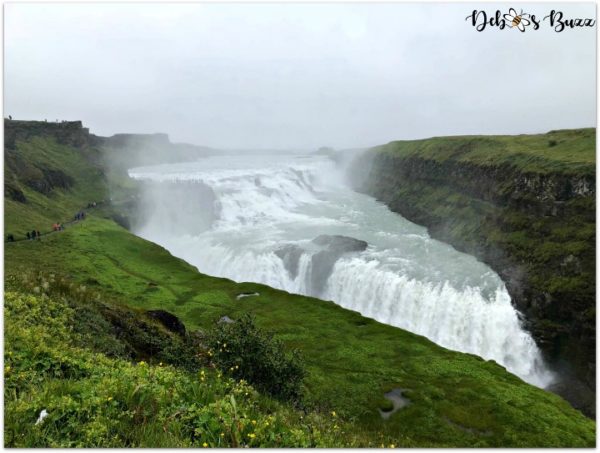 Gullfoss is Iceland's most famous waterfall, with a spectacular double cascade and dramatic drop that thunders into a rocky ravine. Part of its popularity is due to easy access along the Golden Circle route.
The trail climbs past the fall's northern face, allowing you to get within an arm's length.
Whether it rains or not, wet weather gear is required for an enjoyable Iceland trip. We explored numerous waterfalls and coastal overlooks where it could be very windy, went whale watching on a raft, and hiked in misty conditions. Rain gear, including waterproof hiking boots, is essential.
Icelandic Horse Farm
Our first night was spent in one of three cottages at the Akurgeroi Guesthouse horse farm, near Selfoss.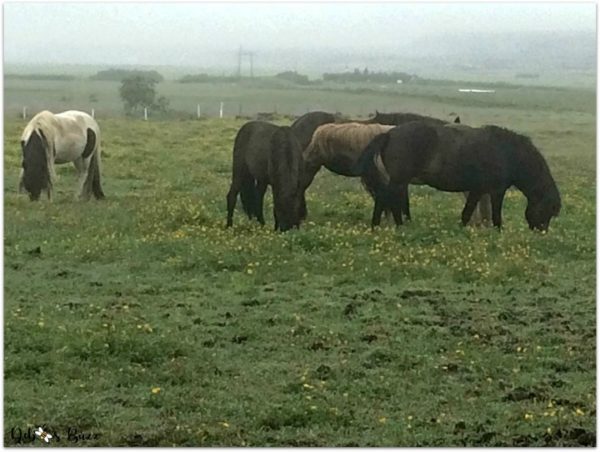 The Airbnb rental was my favorite accommodation in terms of charm. All the décor tied into the farm theme, including horseshoes and stirrups as hardware, and a galvanized bucket light fixture.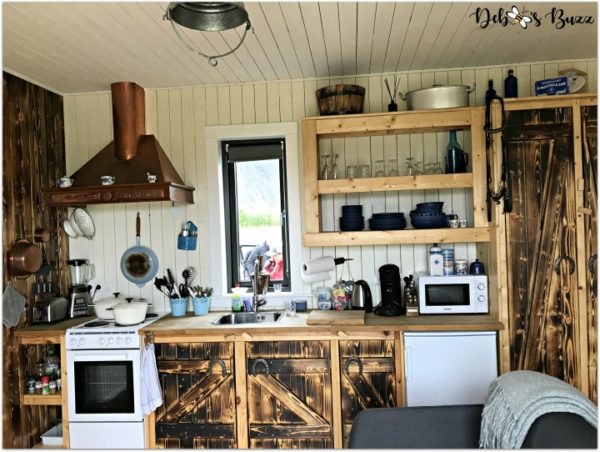 Lobster Dinner Family Style
Food and alcohol are extremely expensive on an Iceland trip, because almost everything is imported. Even the locally-sourced seafood and lamb is very pricey (there are three times as many sheep as people in Iceland!).
Still, we decided to splurge on our first night to eat humar (langoustine or Norway lobster), right off the boat. Fjorubordid (The Water's Edge) is a venerable, nautical-themed lobster house. There's no view despite its location, and reservations are recommended. It was a Friday night, and we were lucky they had a table in an auxiliary dining room.
The food was exceptional. We had the chunky lobster 'soup' with homemade bread. Icelanders make fabulous breads and pastries! Be sure to order the trimmings; cucumber salad, tomatoes with basil, couscous, fresh salad, and baby potatoes. All served family style. Don't forget Icelandic craft beer to wash it down, with pitchers of glacial water.
It was everyone's favorite meal. A great finish to Day One of our Iceland trip!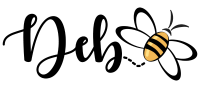 Follow along to explore the Southwest Coast with gushing waterfalls, dramatic promontories and black sand beaches in Part 2.
Pin Me!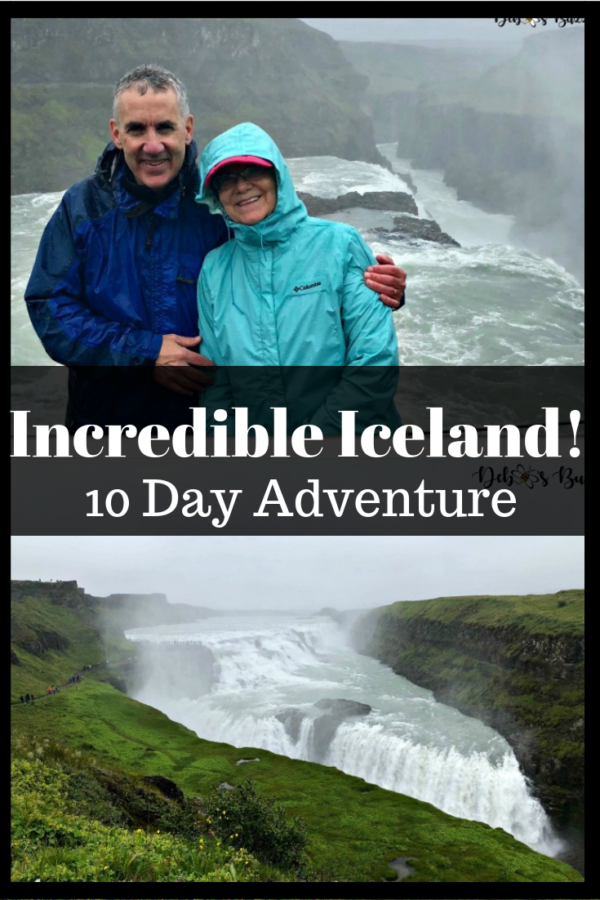 ---
Lets Connect!
Let's connect over on social media here ==>  Follow us on Twitter, like us on Facebook, check out our photos on Instagram, or pins on Pinterest