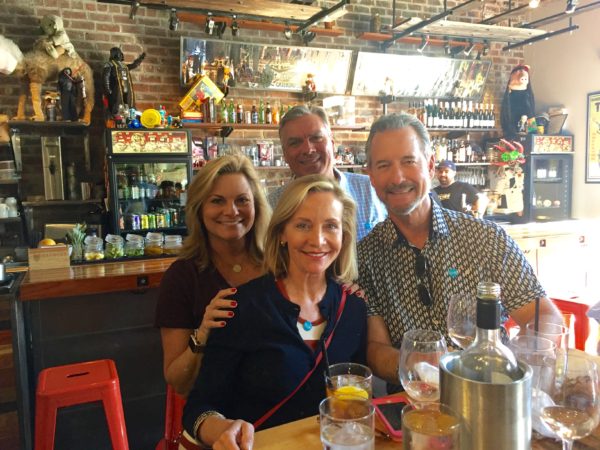 For those of you who are familiar with New Orleans please understand that this is our first time and we have a lot to learn about this very unique city.  We tried our best to dabble here and there to get a flavor for what the city can offer. 
Go easy on me about the Big Easy! Like any big city you can have a different experience every time you go. I feel like we made a substantial first pass at New Orleans and absolutely need to go back, maybe in the spring time. 
 I really want to encourage all of you to go and see it for yourself! It is truly one of the most remarkable places in the U.S. that I have ever visited and shame on me for not going sooner!
---
Visit New Orleans to Eat, Drink and Be Merry!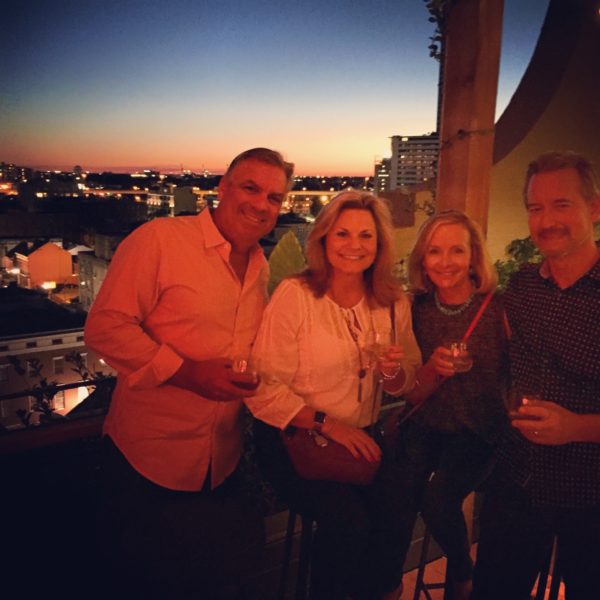 A visit to New Orleans has been on our destination "to do" list for quite a while and we had actually planned a trip for this time last year, but had to change our plans.
We wanted to go on this vacation with our longtime college friends, Jon and Angela because not one of us had ever been!
Jon and Angela, who are also empty nesters, are big adventurers and choose to travel to some very interesting places like last year on their "iTrip" to Iceland and Ireland. Next spring Angela has planned an exciting tour of Japan and a six-day hike along the Nakasendo Trail, several days in Kyoto and Tokyo and then finishing in Maui! Can't wait to hear about that trip.
Truthfully, Craig and I do not travel with friends that often, but we were super lucky to travel with great communicators like them, as well as fun, enthusiastic, knowledgable travelers. Angela did the restaurant research and we ate at some fab-u-lous restaurants and each day we all discussed the days activities to determine what we all wanted to do and in what order. Seamlessly we moved from one activity to another, and had an absolute blast.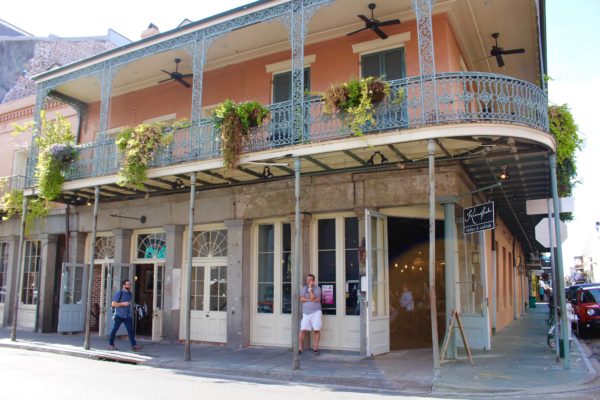 Before I left for the trip, I asked my Facebook friends for suggestions for our trip to the Big Easy. I was curious what their top things to do in New Orleans would be. What I learned was that people are passionate and have strong opinions about their favorites in this unique city.
Our biggest dilemma was that there just wasn't time to enjoy every single suggestion! I decided to make it simple and just give you my highlights. So if you ever get a chance to travel there you can use this as a guide for you to add to and/or edit as you wish.
My primary suggestion is to put this incredible city on your list to visit! There is something for everyone.
Here are my top 13 things to do in New Orleans ~
1. A three-hour small group bus tour including Katrina and the 9th ward
The city is quite large and we wanted to get our bearings so we chose to take a small group tour which was led by an energetic, knowledgable Cajun man named John, who was a hoot! His southern sense of humor and Cajun style has us in stitches the entire time. In addition to the famous cemeteries, parks, neighborhoods, architectural beauty and other typical New Orleans tourist sites, we traveled through the hardest hit areas destroyed by Katrina. What a sobering reminder and call to action. A lot has been accomplished, but you cannot believe how much is still left to do . Cajun Encounters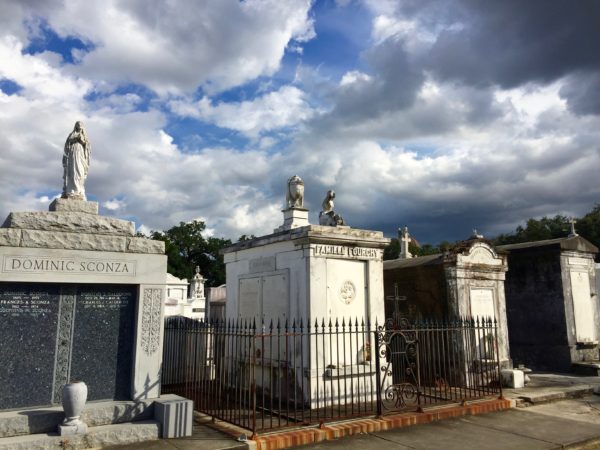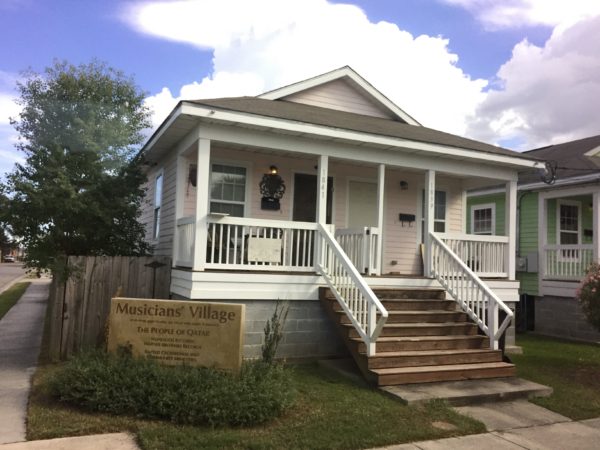 2. John Besh – Lüke
Not only is James Beard Award Winner Chef John Besh a cutie, he owns many crazy great restaurants in New Orleans. He was born in the South and is dedicated to the culinary riches of southern Louisiana. "In his restaurants, entrepreneurial pursuits, and public activities, he preserves and promotes ingredients, techniques, and heritage one dish at a time." The menu at Lüke pays homage to the grand old Franco-German brassieres that once reigned in New Orleans. Truly delicious. I could do a post about the whole meal and the outstanding service!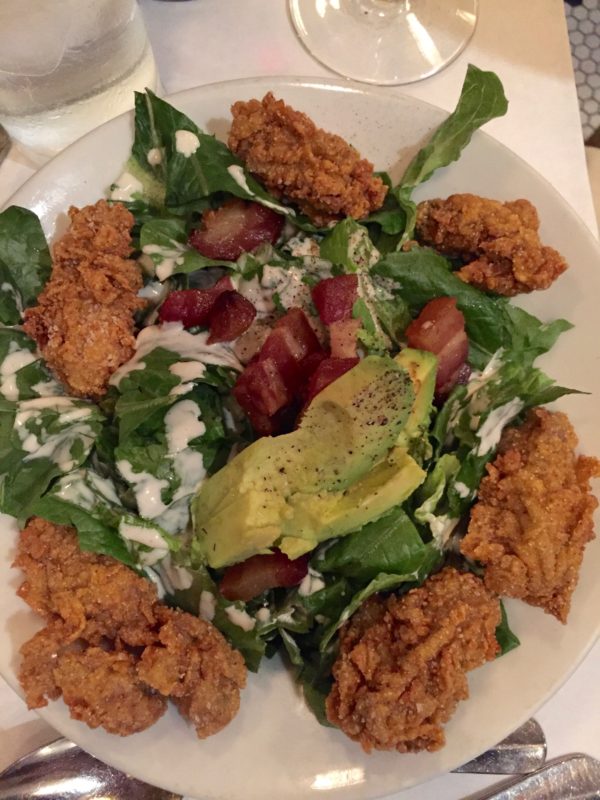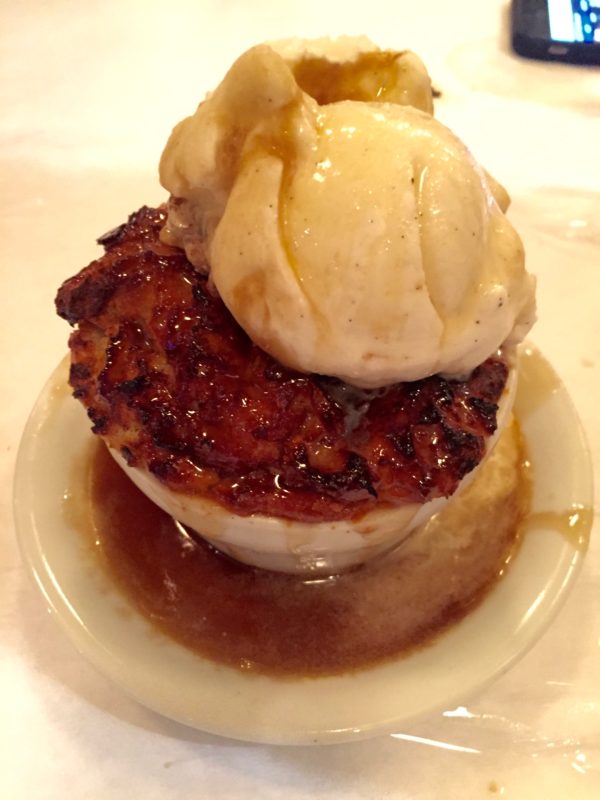 3. The National WWII Museum and lunch at Butcher
Everyone raved about the WWII Museum and they were so right. It is spectacular, informative and captivating as well. Since we were not born during this era, there is always more to learn. I cannot stress enough that every American needs to visit this museum. The National WWII Museum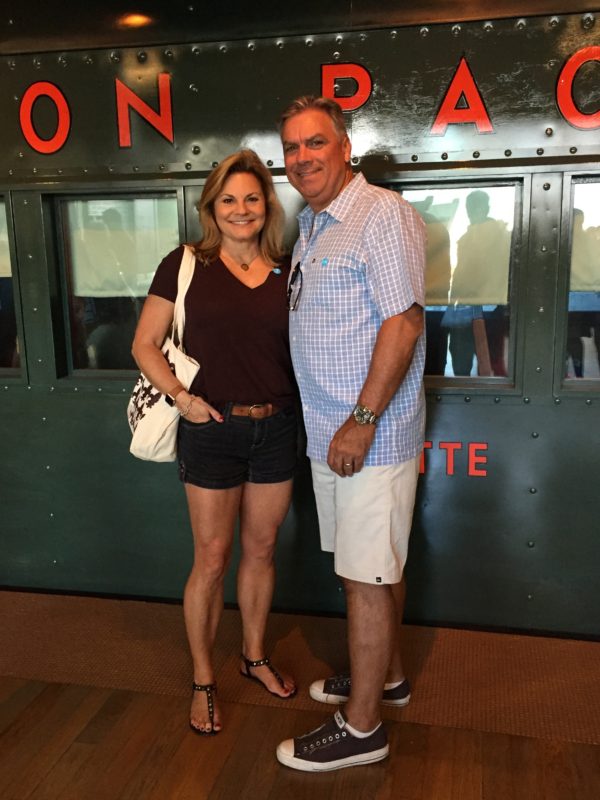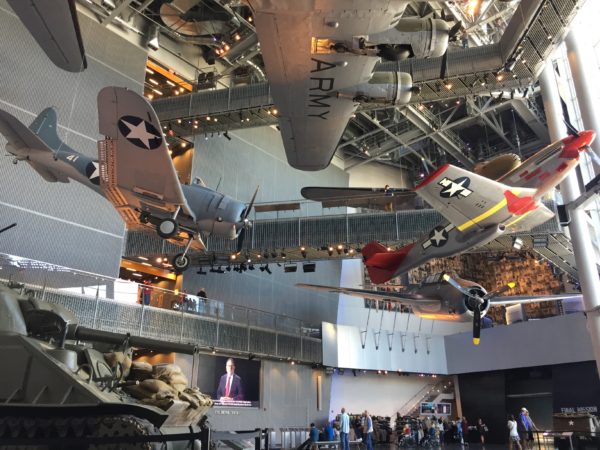 Nearby the museum is a happening neighborhood restaurant called Butcher. It is the little brother restaurant of Cochon. When we arrived it was lively and packed for lunch. Just order your lunch and find a table in the bar area. Lots of photos ops here!  Butcher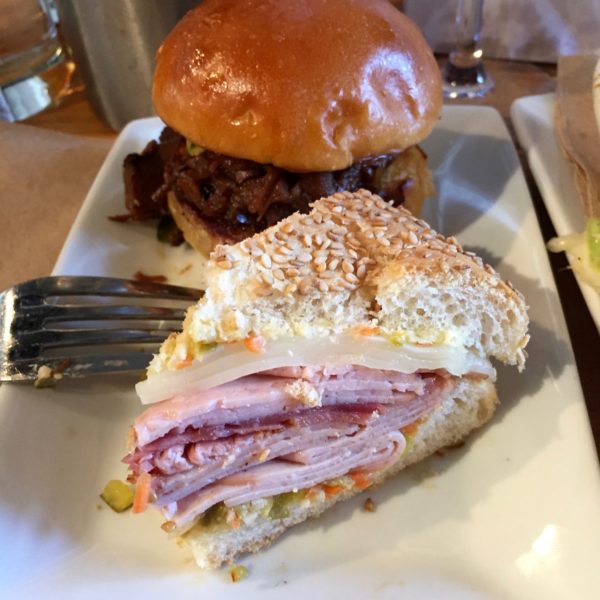 4. Magazine St
After the museum, we walked off our lunch on Magazine St. Magazine is a very long (about 6 mile) shopping district in a charming neighborhood lined with trees and adorable homes. The shops are built inside very old buildings which just enhances the experience. With lots of great bars like the Red Dog (we loved it) and places for lunch and snacks. Additionally, we were blown away by the uniqueness of the boutiques and quality of the products. Many of the shops were filled with personally designed merchandise that was super cool and not typical tourist junk. #Greatfinds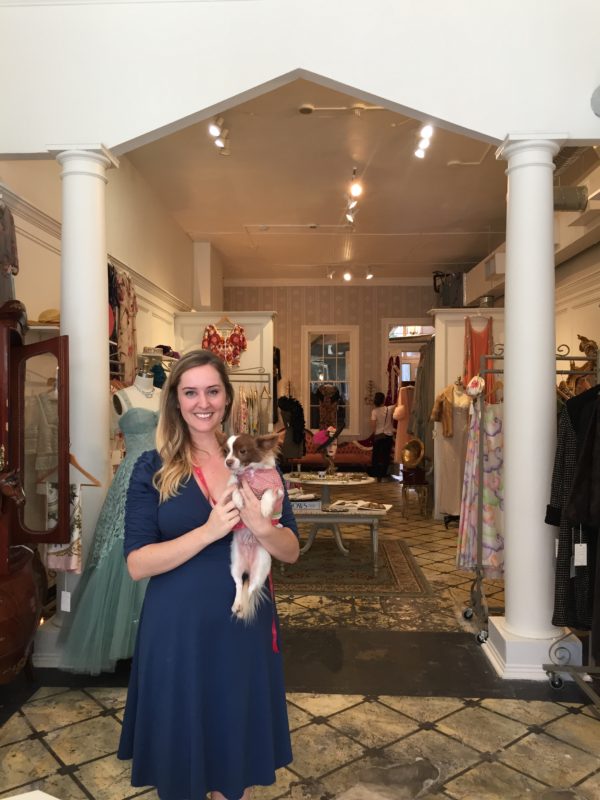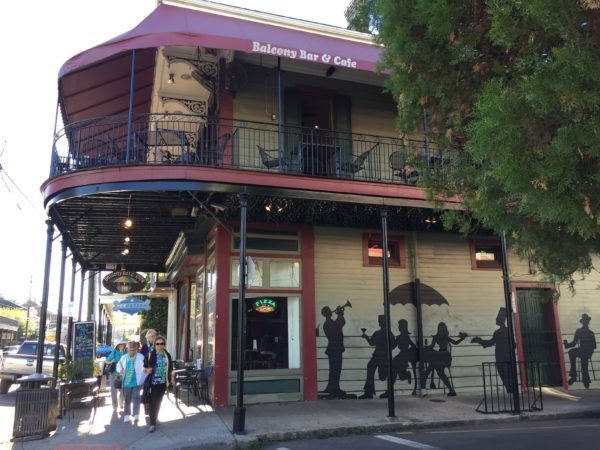 One of the highlights of my trip. Just strolling through this charming historical neighborhood made me smile. Check out my post to read all of the details.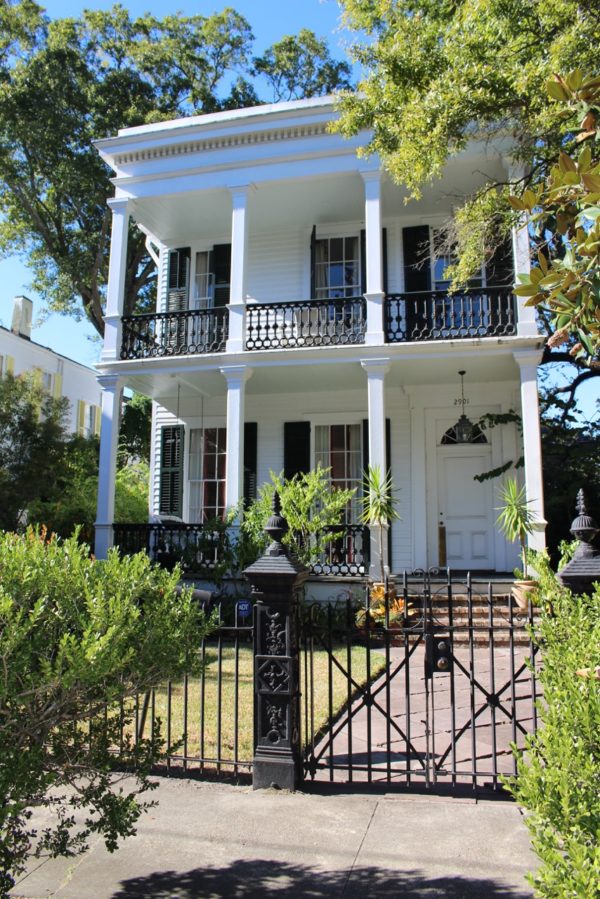 These historic street cars are not only perfectly preserved but a fun and inexpensive way to see the city. At only $1.25/ride and .25 transfers, $3.00 all day – It is a bargain and lots of fun!
7. Frenchmen Street
Ah… Frenchmen Street, this is where the locals go and the tourists who are lucky enough to have friends who recommend it. Wear your jeans, flat shoes and best attitude, because it will be crowded. This unique area is sprinkled with small yummy restaurants, cool bars and lots of live music.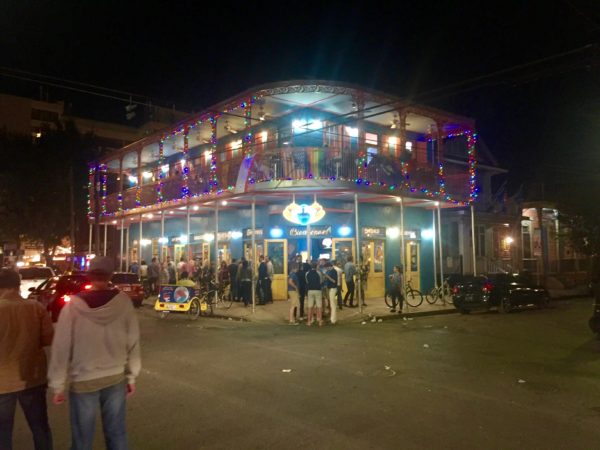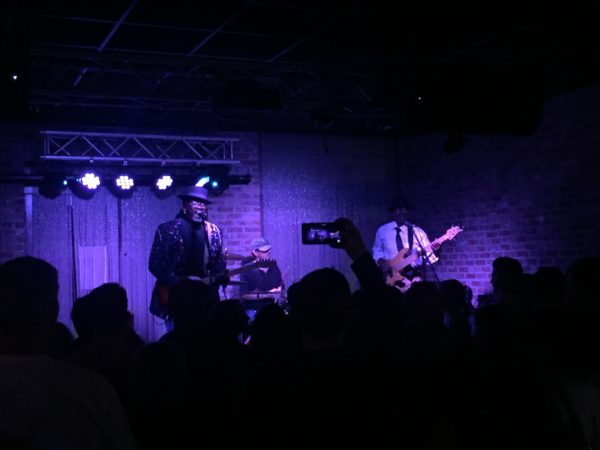 This restaurant is within a few blocks of Frenchmen St, so it is the perfect place for dinner. It is only nine months old, and the food is really terrific. After extensive (and gorgeous) renovations they are trying to compete in this very restaurant competitive city. Check out all of the small plates, we loved them all. I highly recommend it. Trinity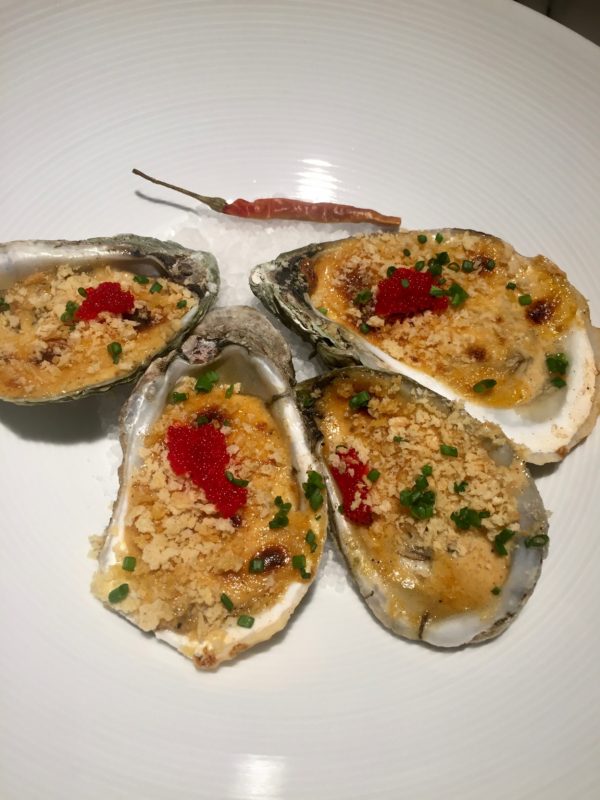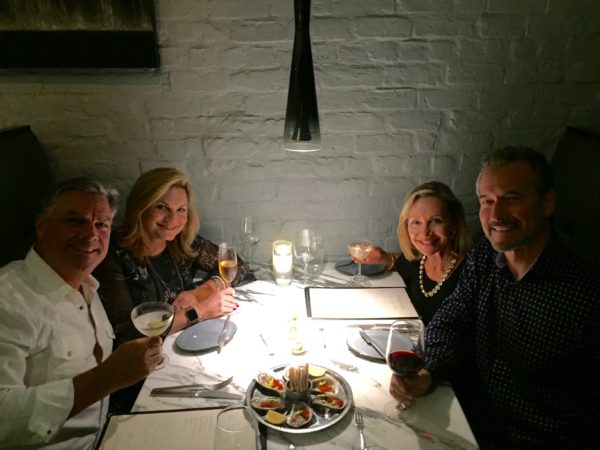 In the French Quarter, this unusual bar is made of a Carousel with decorative chairs, music, lights and all. As you walk through the Quarter, stop in for a drink or just to see it and take a photo. It actually slowly revolves around the bar. So fun!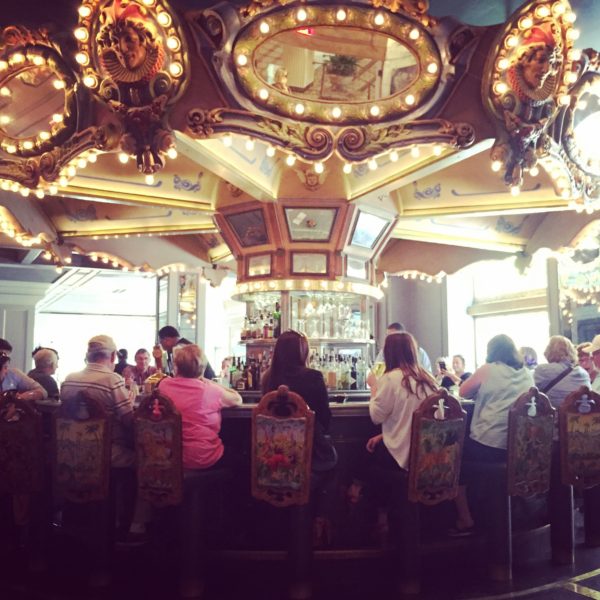 "New Orleans' Preservation Hall was established in 1961 to honor one of America's truest art forms – Traditional New Orleans Jazz. Operating as a music venue, a touring band, and a non-profit organization, Preservation Hall continues its mission today as a cornerstone of New Orleans music and culture.
Situated in the heart of the French Quarter on St. Peter Street, the Preservation Hall venue presents intimate, acoustic New Orleans Jazz concerts over 350 nights a year featuring ensembles from a current collective of 100+ local master practitioners. On any given night, audiences bear joyful witness to the evolution of this venerable and living tradition."
It was almost a religious experience. Captivating and emotional, what a pleasure it was to watch these great musicians. No recording, no photos!
11. Bourbon St
You have probably already heard of this famous street located in the French Quarter, but nothing prepares you for the real thing. It is a spirited street full of partiers, music, clubs and large crowds. You must visit and see for yourself. This area is in the heart of the French Quarter. Rich with history, the music is stimulating and the scene can be very provocative. This type of rowdy atmosphere may totally appeal to you (or not) but make sure you spend a little time there.
Exchange Place (Alley) is one of the most famous pedestrian walkways in the French Quarter, a little alley steeped in history. It was also home to some of the best bars in the city, including the original Sazerac Coffee House, arguably where America's first cocktail was invented. It is a perfect place to grab a coffee, cocktail and take seat in the this peaceful little slice of heaven. Artists also line the street quietly painting as well as sharing their work.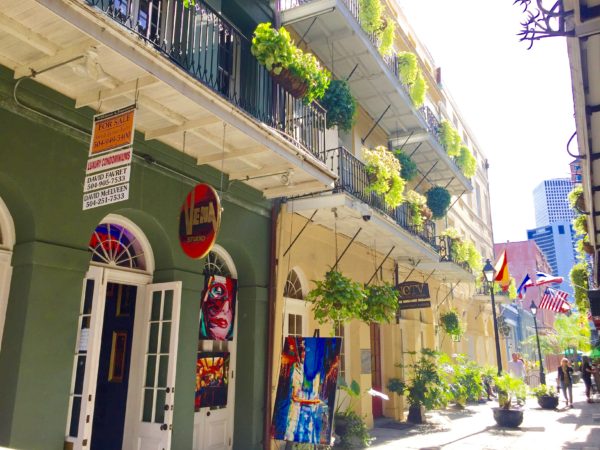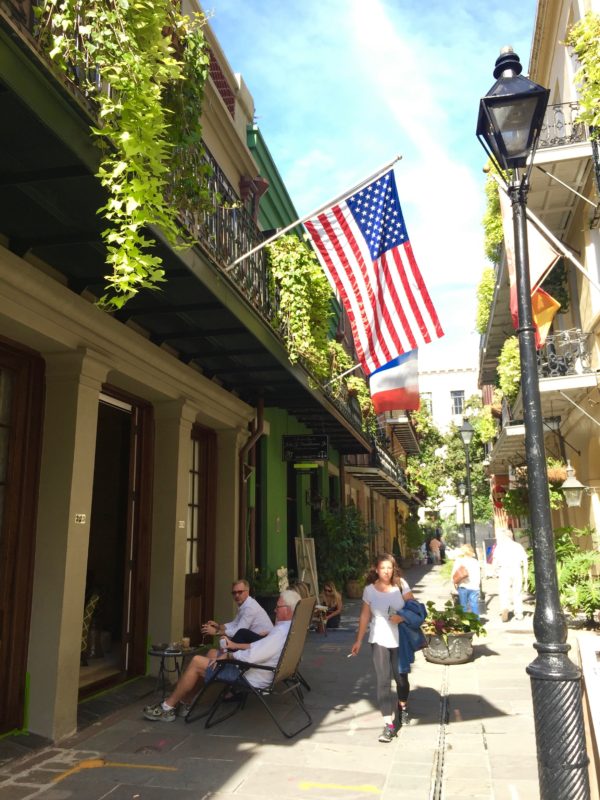 13. Cafe du Monde
Last but not least in the slightest, is a must visit to Cafe du Monde. Every single person I asked recommended a sojourn to this New Orleans tradition. Cafe du Monde was opened in the French Market in 1862, it is open 24 hours and serves delicious, dark roasted coffee with chicory and warm, puffy, beignets. They are piled high with powdered sugar and it makes for some fun eating. You end up wearing a good deal of sugar, your face gets messy and try not to laugh, the powder goes everywhere! Cafe du Monde.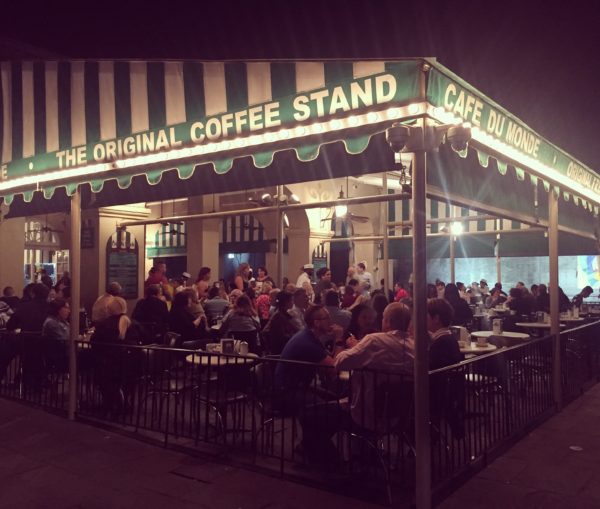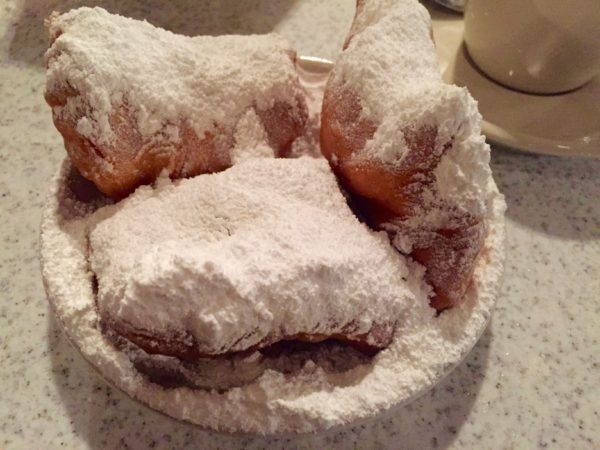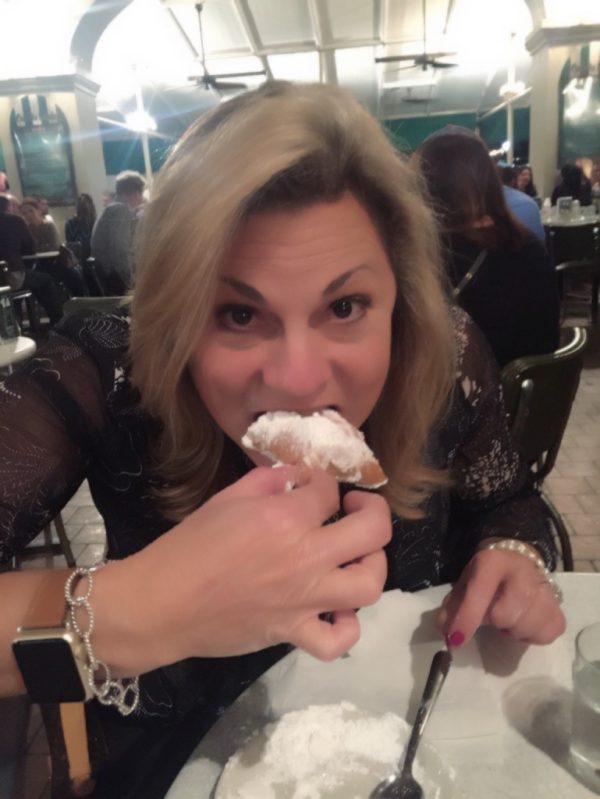 We planned an itinerary, we ate, we drank, we laughed, we learned some history, met extremely friendly people, we smiled, we walked some more and thoroughly enjoyed our time in the Big Easy. Stay tuned for more posts from our activity-packed trip to New Orleans.
---
Sign up for our posts when they are published. Don't miss an adventure!