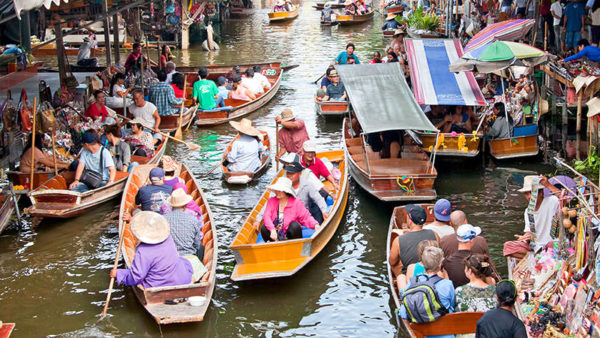 Yes! I am leaving on Sunday to travel to Asia for the first time. The wonderful people of China Southern Airlines and Tourism Authority of Thailand Los Angeles 
are inviting me as their guest along with seven other travel writers.
Pinch me now, I am over the moon excited to see this part of the world! Just imagine walking through Bangkok and the Chang Chui Market, shopping at the Chatuchak Weekend Market, visiting majestic temples, and a bike ride through the inner city oasis of Bang Kra Jao… maybe even a Thai Boxing Class!
I am truly not an expert on Thailand or China, but by the time I return I know I will have history to teach and stories to share, plus colorful photos and lots of travel tips. Craig will be staying home this trip, but he is very supportive of my newest adventure. He and Rocco will keep the Empty Nest running smoothly.
Do you want to follow along on our trip? Make sure you "like" my Adventures of Empty Nesters Facebook page ==> Here.
Better yet, follow me on Instagram ==> Here!
Tips for travel to Asia ~
If you have already visited this extraordinary part of the world, do you have any favorite foods or tips you can share? My itinerary is already planned for me, but any extra info is always welcome.
I am SUPER excited.
Please follow along and stay tuned for all the delicious details and my colorful posts after I return.
Happy Thanksgiving ~ I am very grateful for all of you and appreciate your enthusiasm and support of our empty nester adventures!
Talk soon!
Suzanne
---
Do you have friends and family who might enjoy this post? Please forward on to them and tell them to sign up for our posts which will arrive twice a week via email.