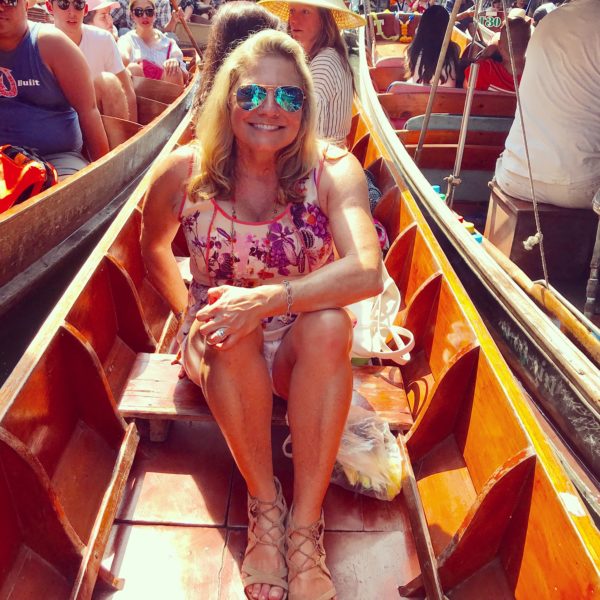 Asia has always been on my wish list, but when the opportunity to visit Bangkok with the Tourism Authority of Thailand (TAT) and China Southern Airlines came about, I said "Pick me, pick me!"
A fun-filled travel plan was created to transport seven, seasoned, travel writers, a friendly public relations representative and an energetic authority on Thailand from the TAT. Our proposed adventure was to explore Bangkok and visit several outlying areas as well. It was a travel recipe of epic proportions, coupled with a luxurious airplane experience like no other! We all were more than ready for this Southeast Asian Adventure.
Our Adventure in Thailand ~
Our itinerary was quite ambitious with most days starting at 8am and concluding at 10pm, visiting places with long Thai names like Wat Mahathat (a temple) and Ayutthaya (a city). It was a learning process for me and I gradually began to be more familiar with these names and what we were able to see and do was captivating. I was so thrilled for this opportunity and eager to see this extraordinary country.
Truthfully I had no preconceived ideas about what to expect in Bangkok, but I was blown away by what I experienced. This vibrant city is one of the most visited cities in the world and I can totally see why. The incredible shopping possibilities, crazy amazing food, famous Thai massage, breathtaking historic temples are just the beginning! Add fantastic city adventures, views to swoon over and abundant elegant accommodations, Bangkok is a must see for every world traveler. Even if it takes at least fifteen hours to get there, it is beyond worth the small inconvenience of a 10,000 mile flight.
Although this is one of my longest posts, I attempted to narrow my travel adventures down to ten reasons to visit Thailand. But to be transparent, this checklist is only a portion of my happy adventure, but enough to share why you need to make a plan to travel there and write your own list of favorites!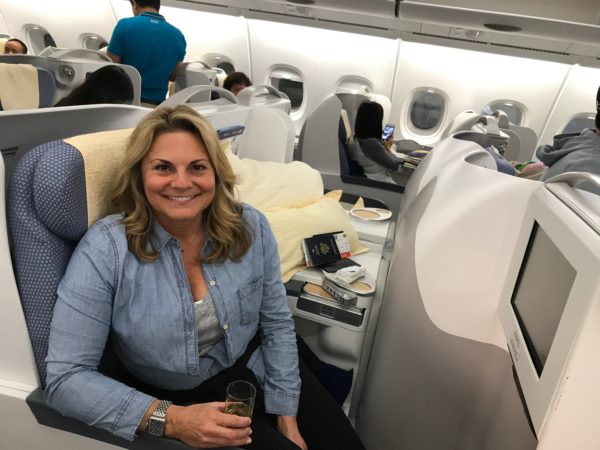 Travel in Luxury
China Southern Airlines transported us from Los Angeles to Bangkok in total comfort and luxury. We sat in Business Class where we each enjoyed our own personal "pod" with an entertainment center, slippers, a mattress and quilt, plus two pillows and a seat that fully reclined flat into my own little comfy bed! The flight attendants were attentive and two fantastic gourmet meals were served.
The Airbus 380 is the world's largest double-deck and wide-body jet aircraft with a 40% greater passenger capacity than the largest existing type of aircraft. The pristine cabin offers a super-efficient air filtration system and circulates the cabin air every three minutes. The air was fresh and the plane was quiet and it felt like I was riding in a giant luxury hotel with wings. A staircase takes you from the first floor to the second and my biggest dilemma now is how on earth can I travel in Economy ever again? Seriously, it was so incredible.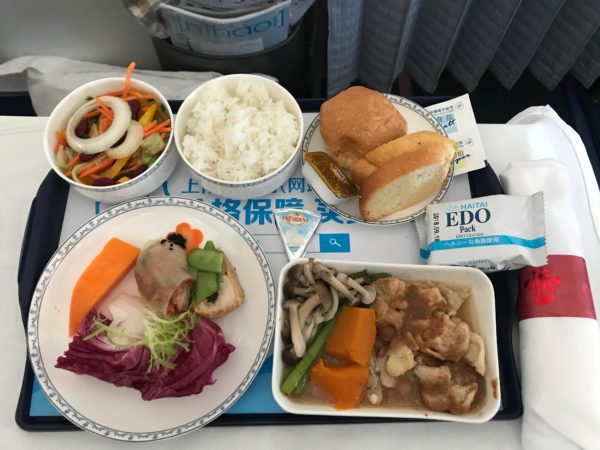 Colorful Floating Markets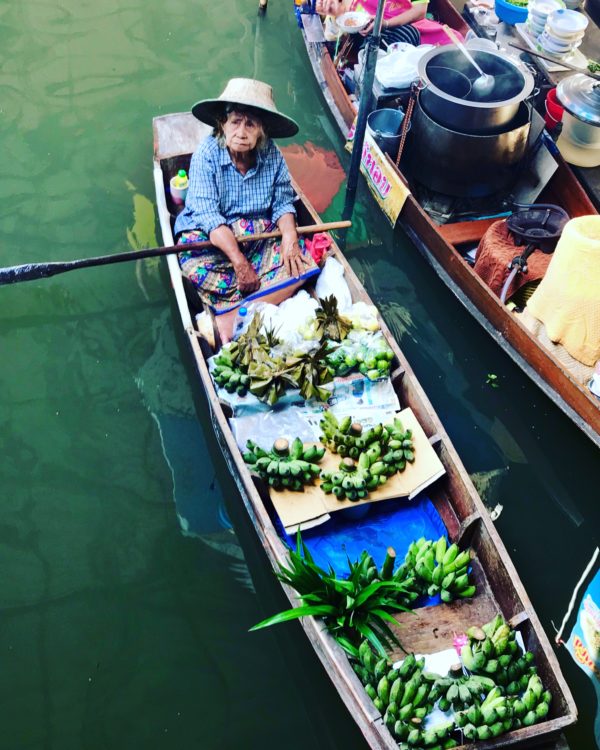 Of all the many incredible experiences on this trip, this was my favorite. Never in my wildest dreams did I ever believe I could visit such a place. To be in the middle of the famous floating market Damnoen Saduak, ninety minutes outside of Bangkok, in eighty-five freaking, humid degrees while vendors shouted for us to buy their products, as we floated in a primitive wooden boat? I was spell-bound. Who gets to do something like this?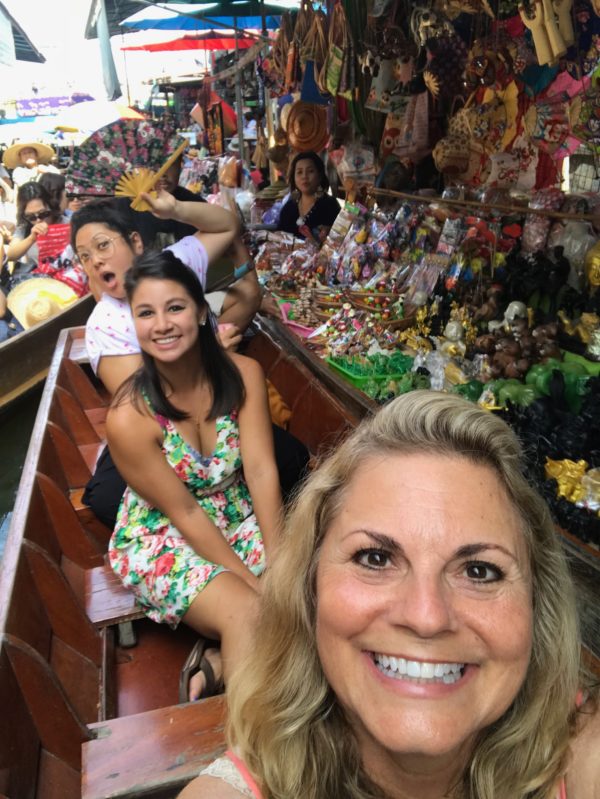 Up close and personal you can see the locally grown produce, handmade sweets, colorful souvenirs and talk with the local people. Language is a challenge, but it all seems to work out, however fortunately, we had our friend Candy from TAT who can speak Thai and made our journey so much easier!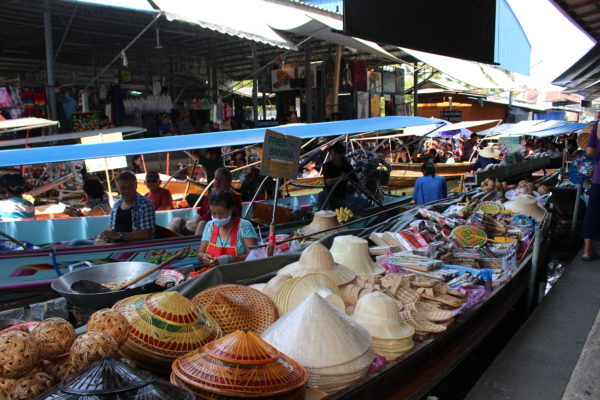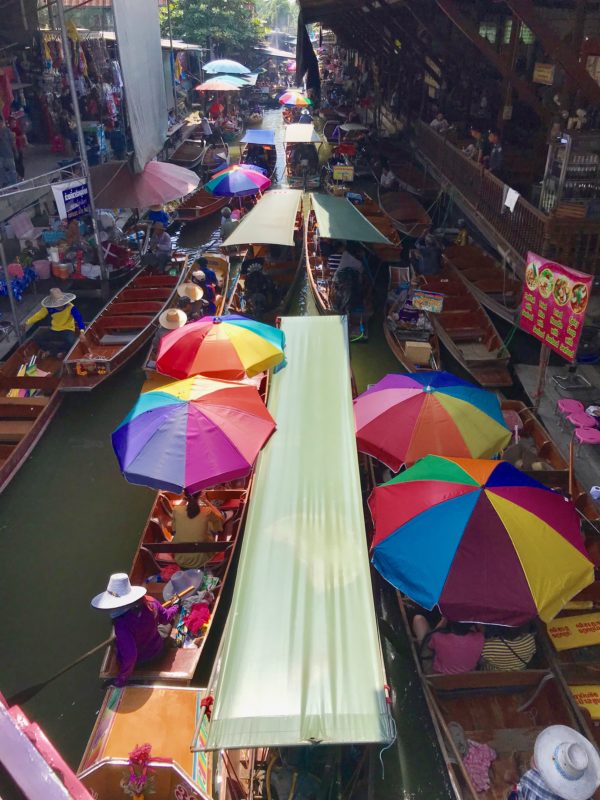 Delicious Thai Cuisine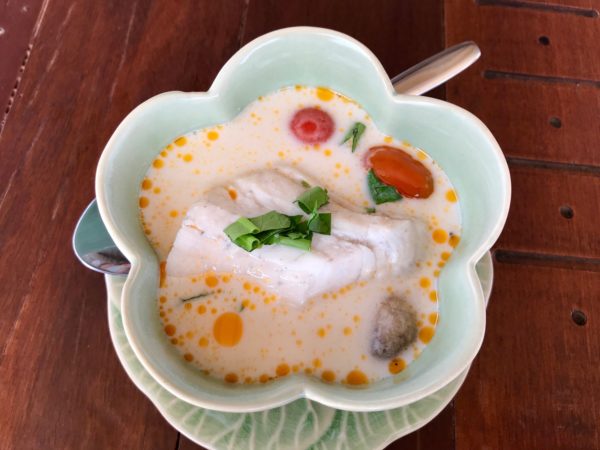 The food in Bangkok is very distinctive and especially enticing for those people who enjoy hot and spicy dishes. For those of us non-spicy eaters, stay tuned because I am writing a post just for you! I was lucky enough to travel with some very adventurous and well-traveled eaters. They were so familiar with the Thai dishes, I dubbed them my "tasters". They would determine whether the dish was "safe" for me to try. I was extremely impressed by the layering of flavors. This coconut soup with sea bass was one of many amazing dishes I was lucky enough to sample.
However on an even higher tasty level, I discovered Mango Sticky Rice. The most divine dessert you will need to experience for yourself. It is sweet, delicate Thai mango (which is nothing like the mangoes you find in the U.S.) combined with sticky rice, coconut milk, a teaspoon of sugar and a dash of salt. So good, so ambrosial I could eat this everyday!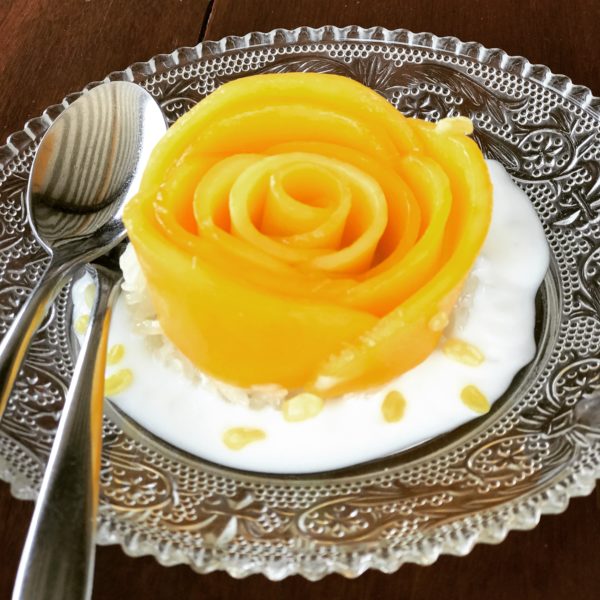 Historic Temples, Temples, and more Temples
There are more than four hundred temples (wats) in and around Bangkok, each is unique, with a vast history, but we only had time to visit a few. Some were golden, some were covered in colorful tile, others were blanketed with a rich patina of grit, dirt and centuries of rain and soot. For an architecture lover like me, it was a dreamy adventure.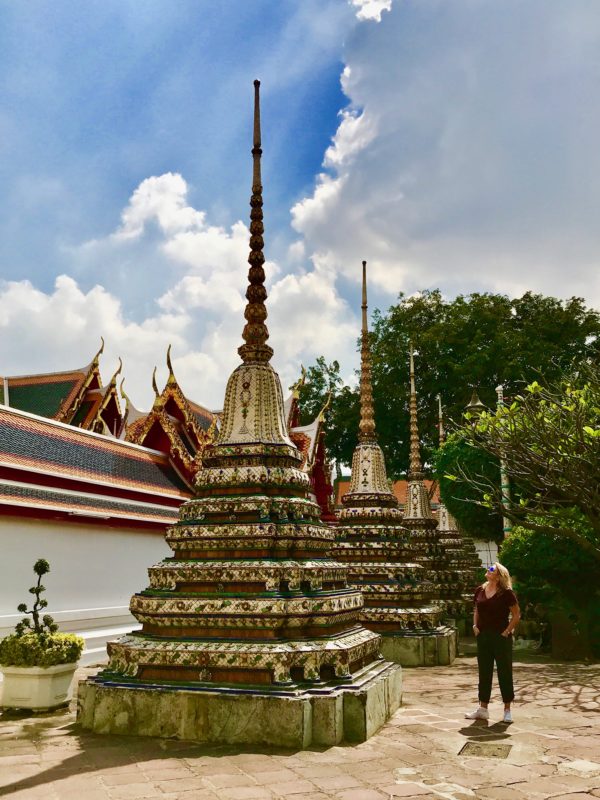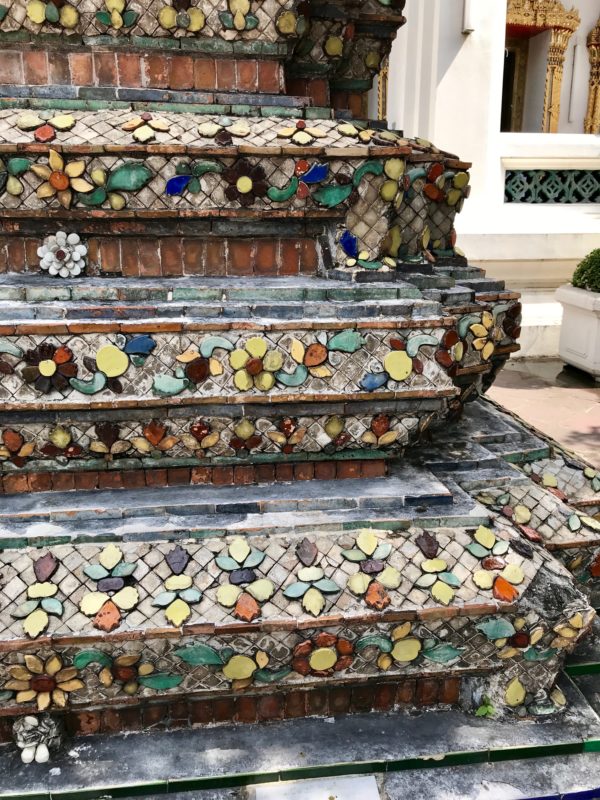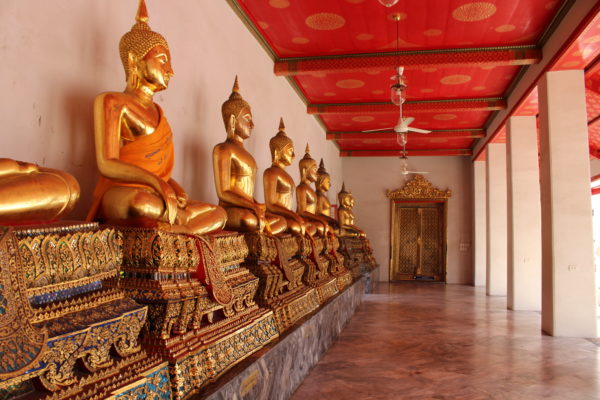 Many incredibly amazing temples ~
Wat Pho (Temple of the Reclining Buddha)
Wat Mahathat
Wat Ratchaburana
Wat Yai Chai Mongkhon
On our first day of this trip we visited the most astounding Temple of the Reclining Buddha filled with sweating tourists, and big crowds. Although the conditions were challenging, I was so impressed by the view of the many colorful temples and enormous reclining buddha, I hardly noticed.
Wat Pho (Temple of the Reclining Buddha)
With so many astounding temples it is so challenging to pick a favorite however Wat Pho took your breath away. It is so enormous that getting a photo of the entire statue is impossible. The buddha rests inside a building so you just cannot get far enough away to take the photo. This was just the first of many extraordinary temples we visited and I just couldn't believe my eyes!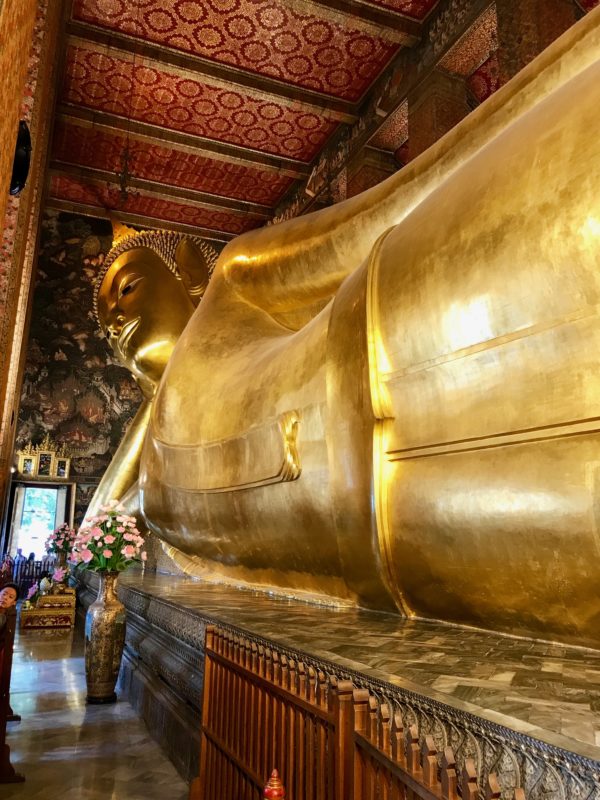 Luxurious Hotels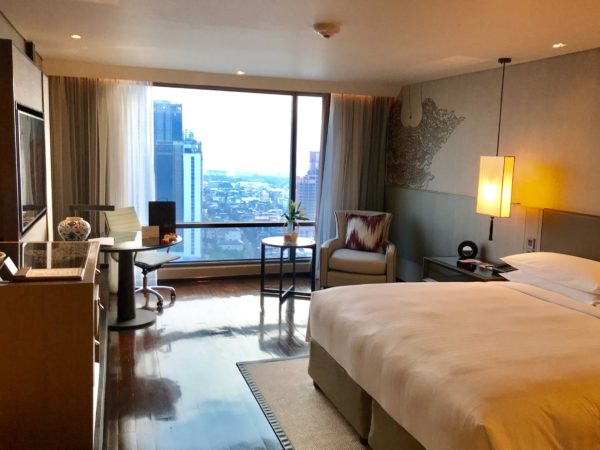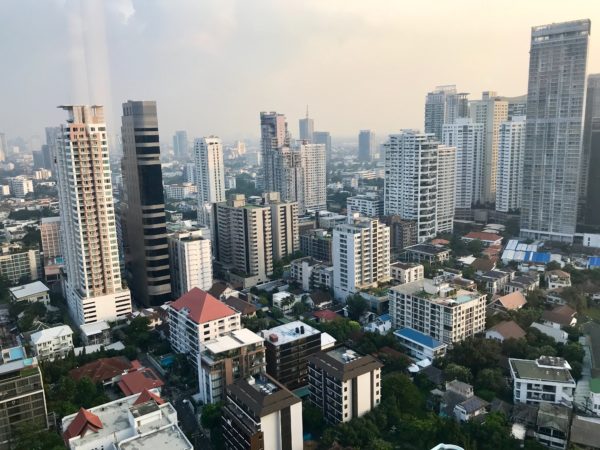 Our first hotel stay was at the newly renovated and HUGE Marriott Marquis Queen's Park. From the 35th floor my views were spectacular and the room was classy and sleek. The hotel restaurants offered an abundance of many types of cuisine from the native Thai, to Indian curry, divine sushi,as well as American dishes and baked goods.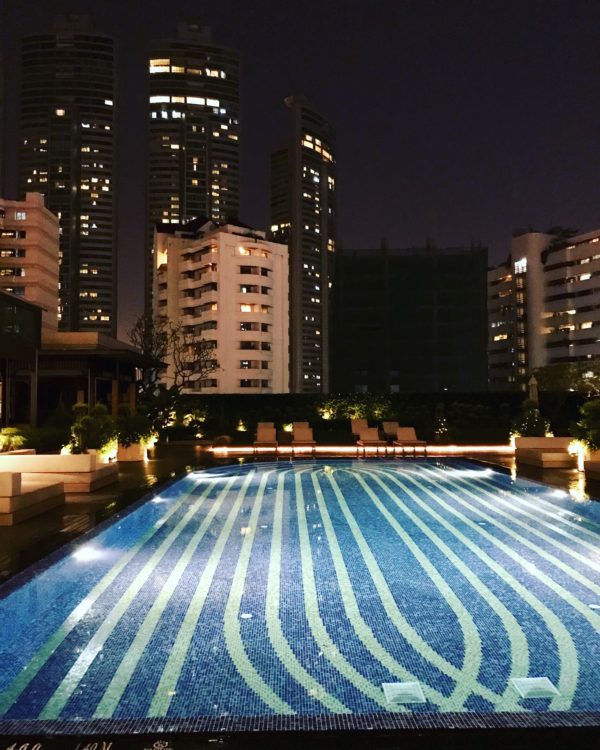 Sad to say goodbye to the Marriott, we moved to The Athenee, A Luxury Collection Bangkok another luxurious property in the city. Oh my was this an elegant and refined experience! The newly opened property was quiet, tasteful and sophisticated. Every design detail was exquisite and I thoroughly enjoyed my stay. Relaxing in such comfort and sublime accommodations are the perfect way to end a day of sightseeing in Bangkok.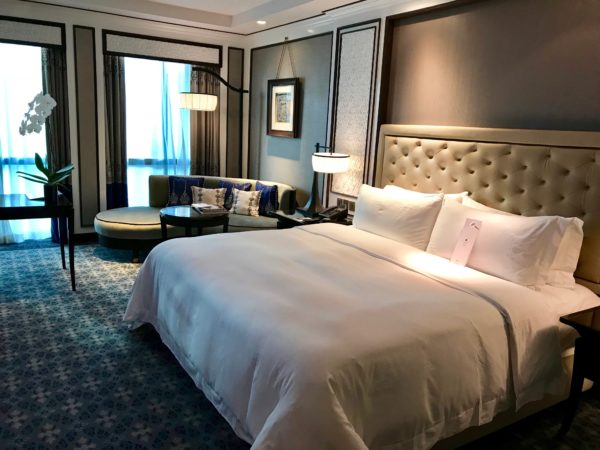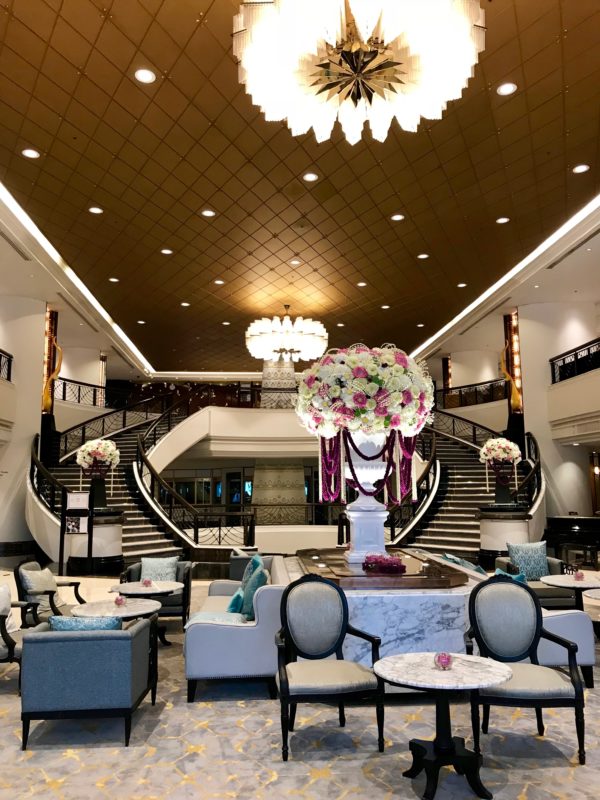 Bangkok Flower Market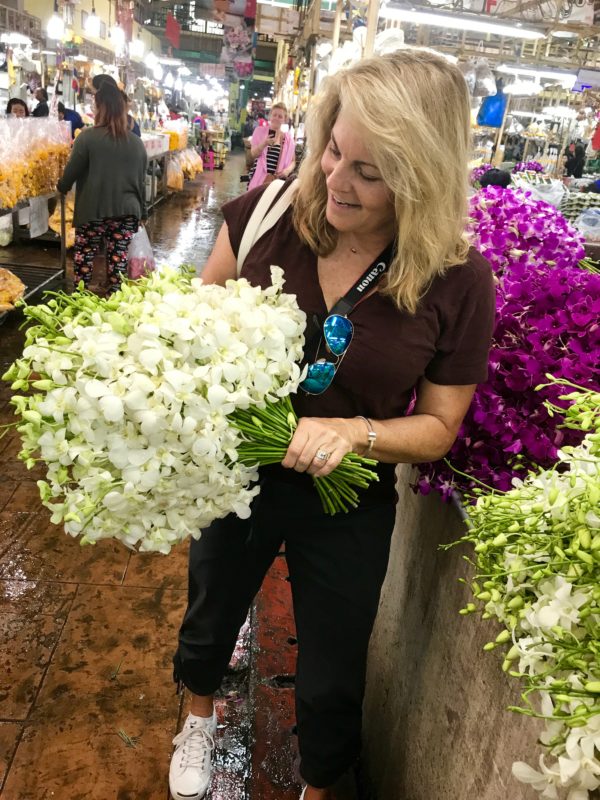 Our first stop on our first day was the Bangkok flower market. I could have gone home a happy traveler just after visiting this bustling, 24 hour, wet and wild place, called Pak Khlong Talat.
Flower offerings are a huge part of the Thai culture and this market was filled with hundreds of vendors selling bright strings of marigold garlands, piles and piles of delicate orchids and pearly lotus buds packed over ice. The floors were wet and the air steamy from humidity, but everywhere you looked you saw a rainbow of flowers and the aroma was heavenly.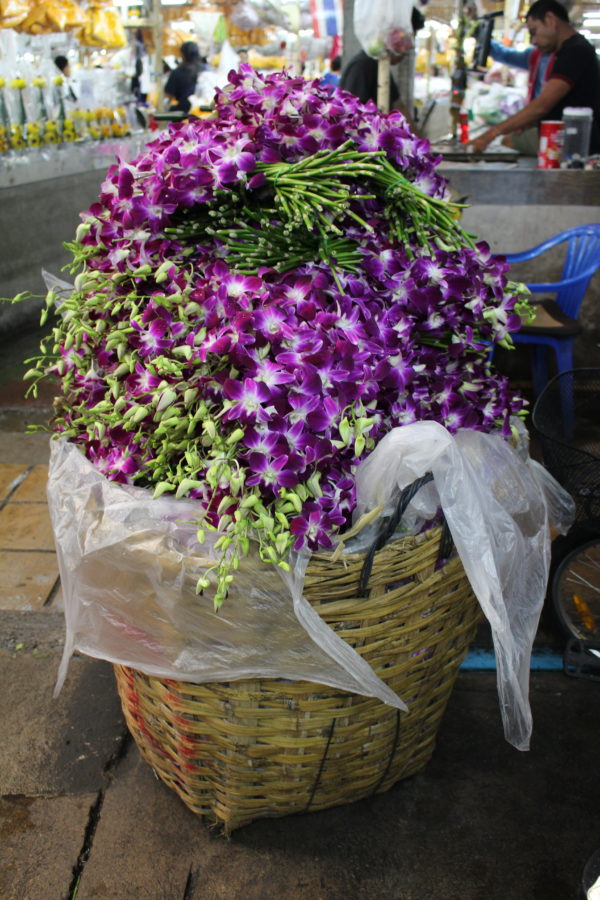 Bike Riding in Bang Kracho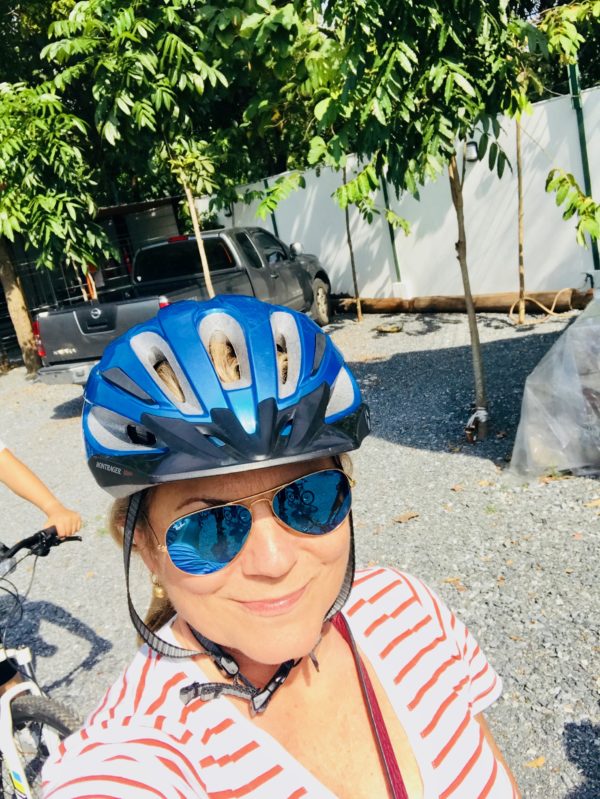 Who knew there was a natural oasis in the middle of the bustling metropolitan city of Bangkok? We had a blast riding mountain bikes through this tropical rainforest called Bang Kracho, also known at the "The Lung of Bangkok". We rode through this hidden gem on narrow elevated bike paths through small villages and farms, past coconut palms and fisherman. We ended this amazing day with an authentic Thai country lunch.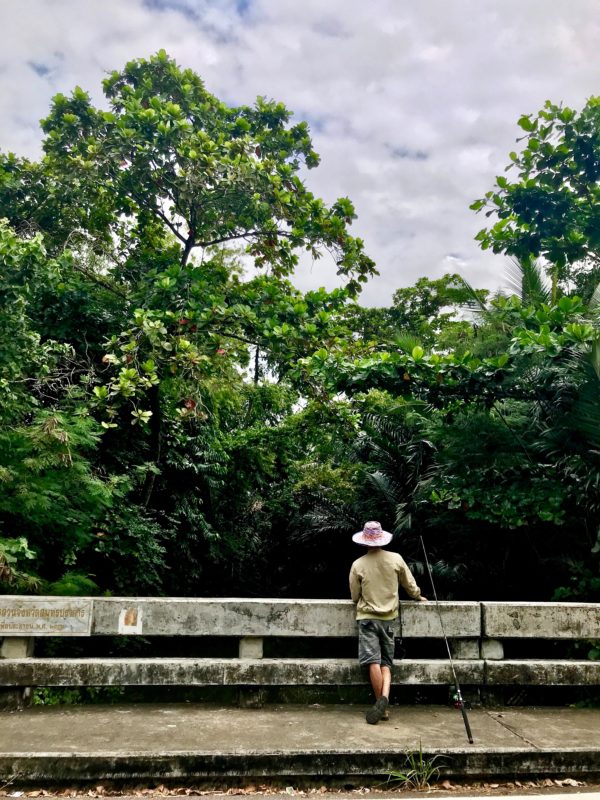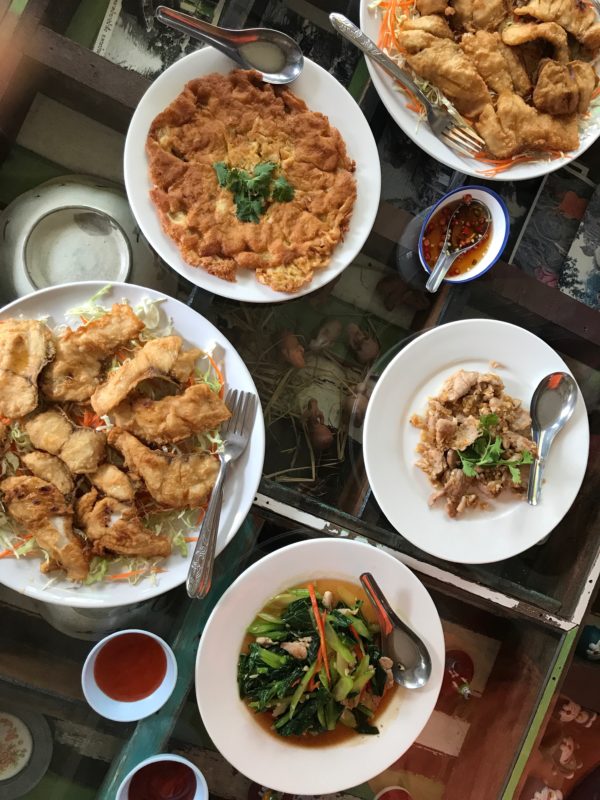 We were served new (to me) dishes like large egg pancakes and a rich broth with veggies and pork. This very casual and inexpensive meal was one of my favorites from the entire trip! I loved being so close to the hard-working Thai people in an unspoiled area of the city. Additionally we rode through the huge Sri Nakhon Kuenkhan Park and fed bread and fish pellets to gigantic fish. We also were welcomed by a creepy monitor lizard swimming by. Yikes! It was quite a day!
An intriguing modern city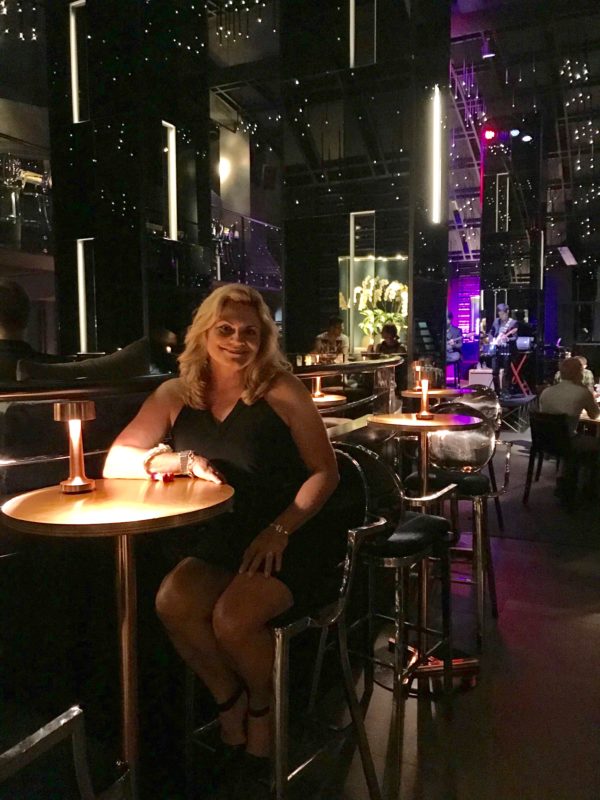 Since I have returned home, friends and family have asked me "Should we plan a trip?" I always answer with an emphatic "Yes!" Bangkok has so much to offer and you can create an itinerary that suits your passions and interests.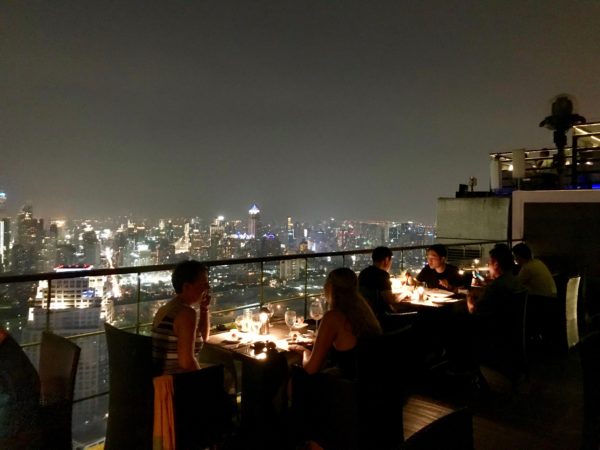 In addition to historic Thai temples and street food, the city is filled with luxury shopping, fine dining and astonishing city views that sparkle and dazzle you. We were invited to the spectacular Banyan Tree Hotel to the 61st floor and to enjoy a four course meal I absolutely adored.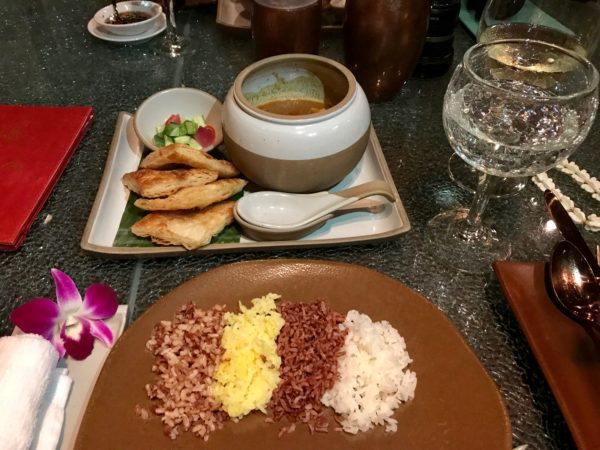 Don't Forget a Ride in a Tuk-Tuk!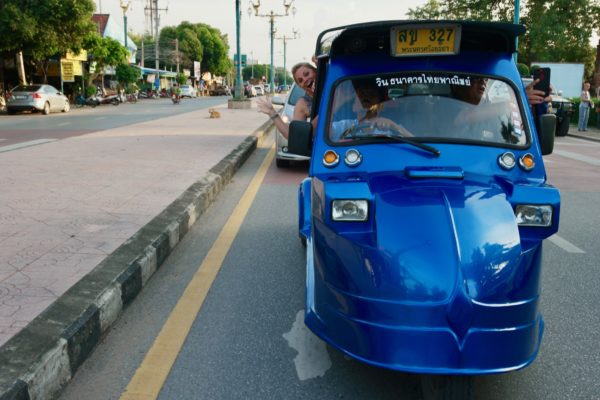 Tuk-tuks are a favorite way to get around Bangkok. Originating from an old fashioned rickshaw, they are essentially a motorcycle with a sturdy metal covered wagon on the back. I am glad that we had this experience, it was a kick.
The traffic in Bangkok is quite a challenge and on one balmy evening our tuk-tuk sped around cars and even in the side lane to bypass traffic!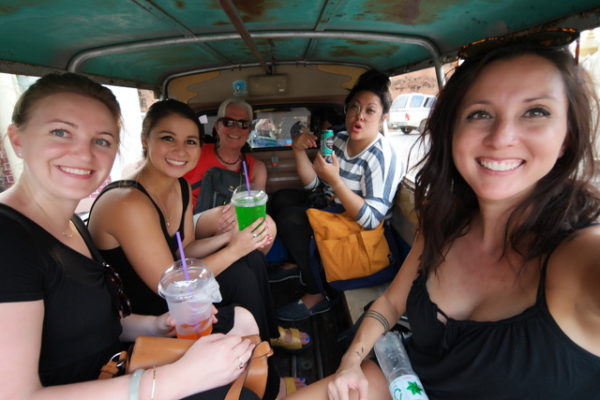 Final Thoughts
In addition to my ten reasons to visit Thailand and all of the incredible sites, delicious smells, and sounds, the Thai people are kind and friendly and I always felt safe. However, I would recommend hiring a private guide or going on a tour. The city can be overwhelming and having someone else drive you in that crazy traffic would be preferred.
There is so much to see and do that I would have had a challenging time planning my own itinerary. Luckily for our group of travel writers, the TAT organized an amazing week full of adventure. I still have more to share!
To narrow my trip down from the hundreds of photos that I took to just these twenty-eight photos was really hard for me, so I will also put together a photo essay of more stories from our trip. We also attended the impressive 2018 Amazing Thailand Tourism Kickoff Party and took a Muay Thai boxing class!
Have you been to Asia? Bangkok? Thailand? Did you love it as much as I did?
---
Do you know other travelers who would enjoy the post? Please forward to them!
You can find us here:  Follow us on Twitter, like us on Facebook, check out our photos on Instagram, or pins on Pinterest