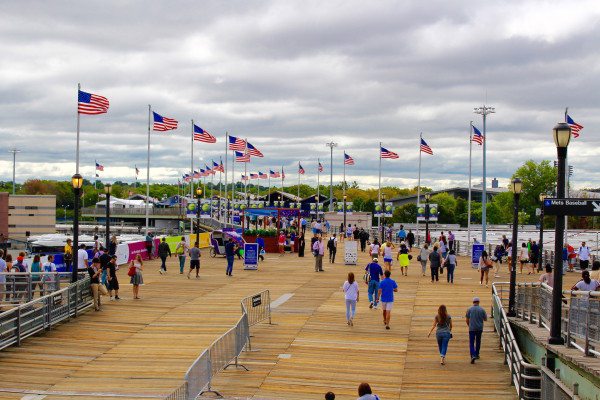 You do not need to be a fan of the game to be aware of the tremendous upset in the world of tennis. In the biggest surprise of the tournament, Roberta Vinci, an unseeded Italian veteran playing in her first Grand Slam semifinal, defeated Serena Williams, 2-6, 6-4, 6-4. Williams' dream of tying Steffi Graf's Grand Slam record of 22 wins and to be the first person since Graf did it in 1988, to win four Grand Slam tournaments in one calendar year was shattered on September 11, 2015. However, my dream of attending this historic Amercian tennis tradition came true.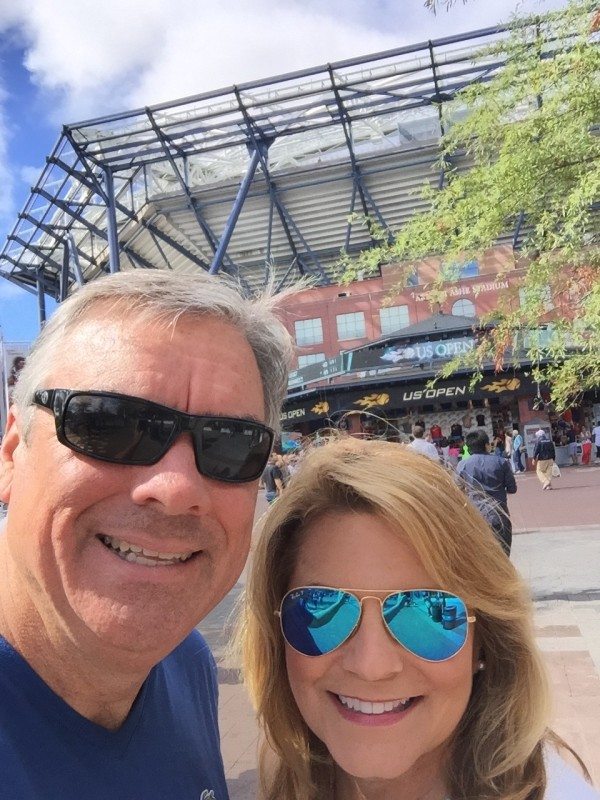 A little personal tennis history~
I discovered the game of tennis when I was twelve. I knew what the US Open Tennis Championships were, but I never had any aspiration to go or any idea that I would ever attend. This was back in 1973 and we were not a traveling family. I did not get on my first plane until I was 16 and we took a wonderful family vacation to Hawaii.
From the day school was out I would ride my canary yellow, Schwinn ten speed bicycle, with my Chris Evert wood racket stuffed into my backpack, several miles to Arcadia Community Park where I played tennis with my best girl friends.
We played everyday in the summer and took breaks from the hot sun to drink a can of Tab from the vending machine inside the small tennis shop. The tennis shop was owned by Sven Davidson, who was the first Swede to win a Grand Slam event. We had no idea that this man with an accent had won the 1957 French Open. His son, Sven Jr., was a couple of years older than we were and was our friend too.
We would huddle around a tiny black and white television that "Big Sven" had in the shop and watched the US Open. I played tennis in junior high for fun and played all three years in high school. I stopped playing about ten years ago as it was just too much stopping and starting on my knees. I have always loved tennis, but never really thought much about going to a Grand Slam tournament. It was too big of an idea for me to handle back then.
In the last couple of years Craig and I put attending the historic US Open in Flushing Meadows, NY on our "adventures" list (we don't call it a bucket list).
Our dream came true this year when we traveled to New York City and all of the stars were in perfect alignment. Rain and thunderstorms were imminent, but thankfully it did not rain on our day at the tournament. It had rained the day before and the two women's semifinal matches were cancelled. Imagine buying tickets for an event of this magnitude and then to have it cancelled by weather? They pushed them to the next day and now all of the other semifinal matches and match times were changed and jammed into the one day we attended. It was quite confusing yet quite the tennis bonanza for us!
We stayed at the Grand Hyatt, which sits directly above Grand Central Terminal where all of the subway lines meet in downtown Manhattan. The hot tip is to take the #7 subway, seventeen stops (or take the express if it's running) and exit at the Willets Pt- Shea Stadium exit. Then after just a 5 minute walk you will see the magnificent Billie Jean King National Tennis Center. Hot,humid weather and tens of thousands of tennis enthusiasts poured into the event, but nothing could take away the pure excitement of actually being there.
The Grand Hyatt was the epicenter of the tournament where many athletes, officials and fans stayed. The excitement in the hotel was palpable and the Hyatt went all out and even dressed up the enormous lobby to commemorate the event.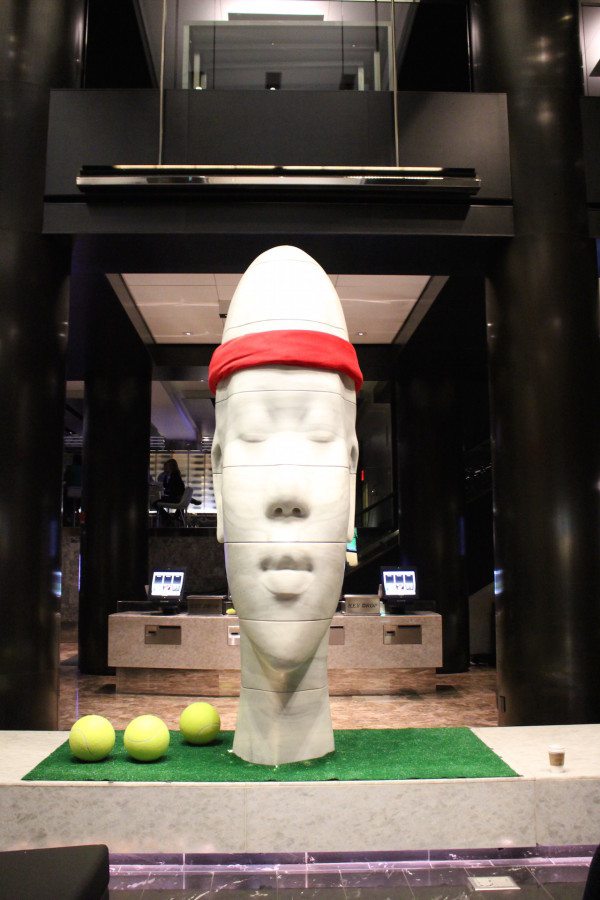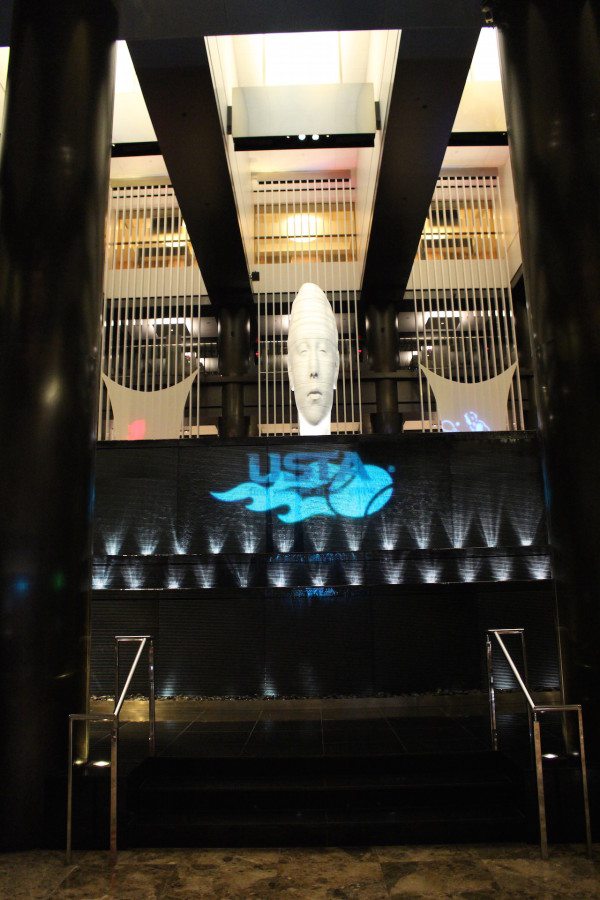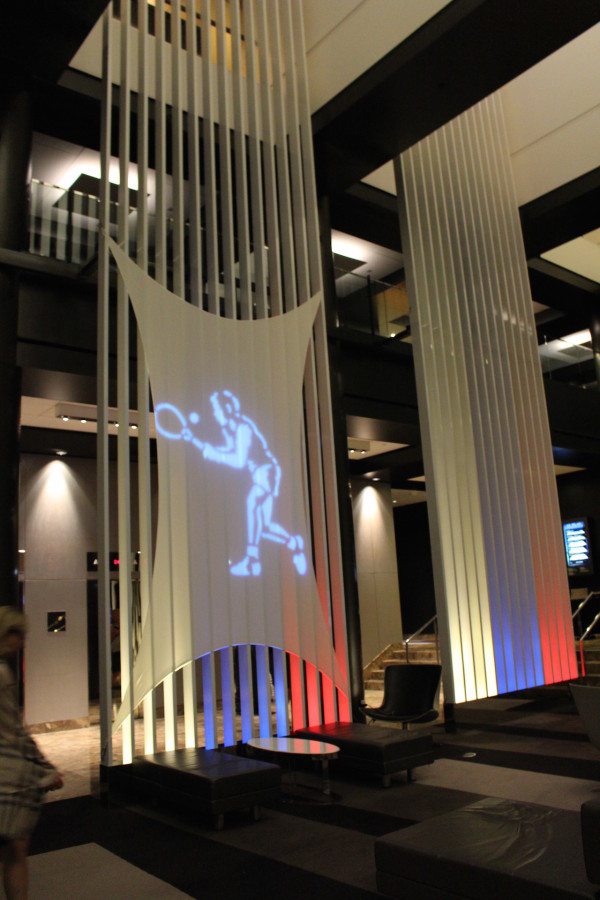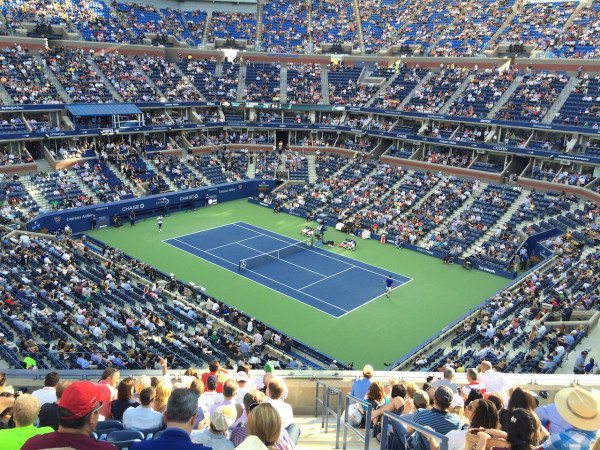 Arthur Ashe Stadium, gigantic and grand with gorgeous blue seats and a pristine green and blue court right in the heart of the stadium was amazing. We watched several matches during the day which included wheel chair singles, women's doubles, mixed double semifinals and the two men's semifinals. As an interesting side note, we watched Sam Querrey play in the mixed doubles match and we went to high school with his parents.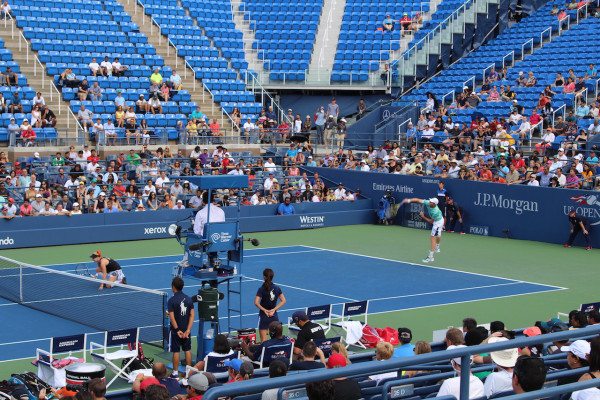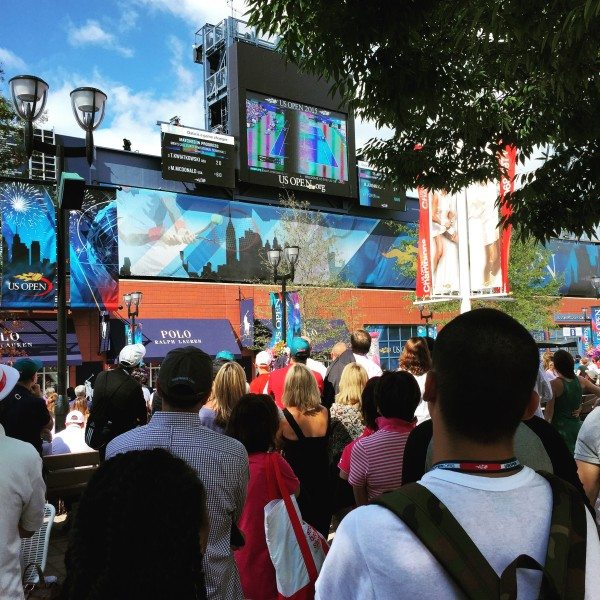 We also watched Serena's record breaking dream broken on the big screen outside in the pavilion area. It also happened to be September 11th, in New York. There were remembrances held throughout the city and at the US Open, there was extra security as there was all over New York. But observing the crowd, the attendees were happily taking selfies, drinking their cocktails, buying souvenirs and generally really enjoying themselves. I told my husband how interesting I thought it was that everyone looked so happy on the 14th anniversary of the worst tragedy we have ever witnessed. His answer was simple, yet profound. He said "It makes perfect sense to me, everyone is celebrating being an American at a major American sports event and we won't let anyone take that away from us."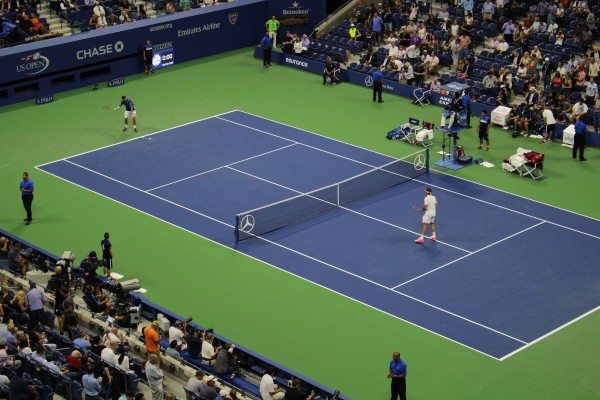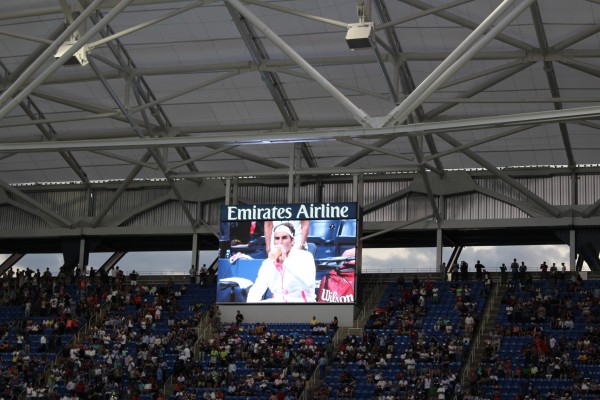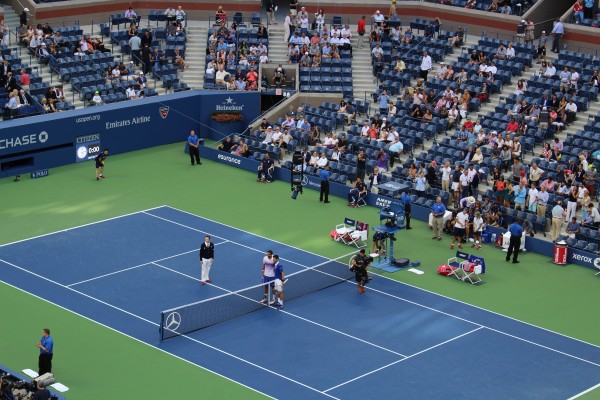 Cottony clouds in a clear blue sky provided the perfect backdrop for all of my photos. I hope you enjoy seeing them as much as I did taking them on an extraordinary day at the US Open.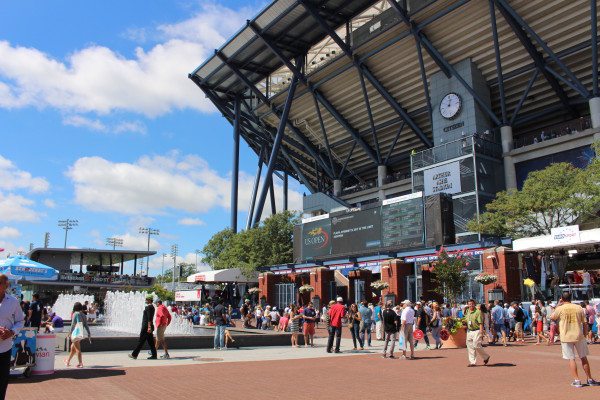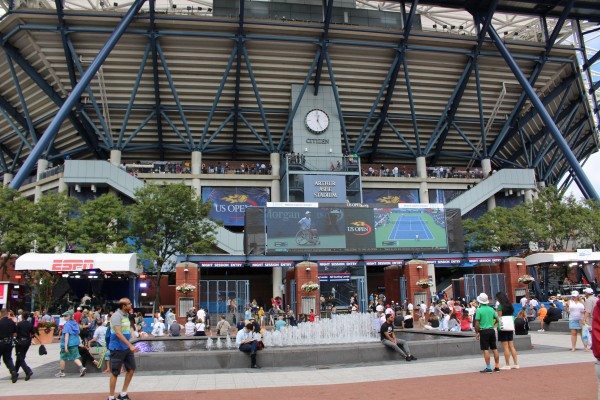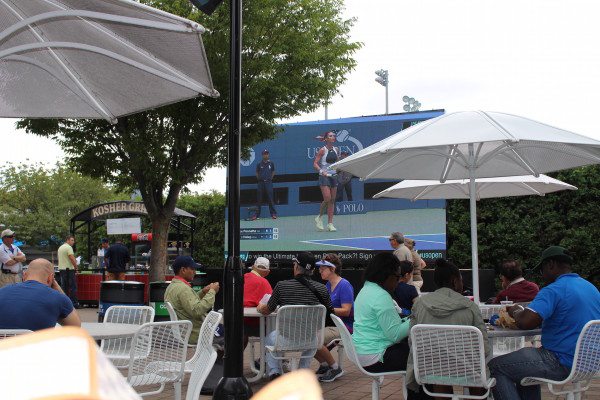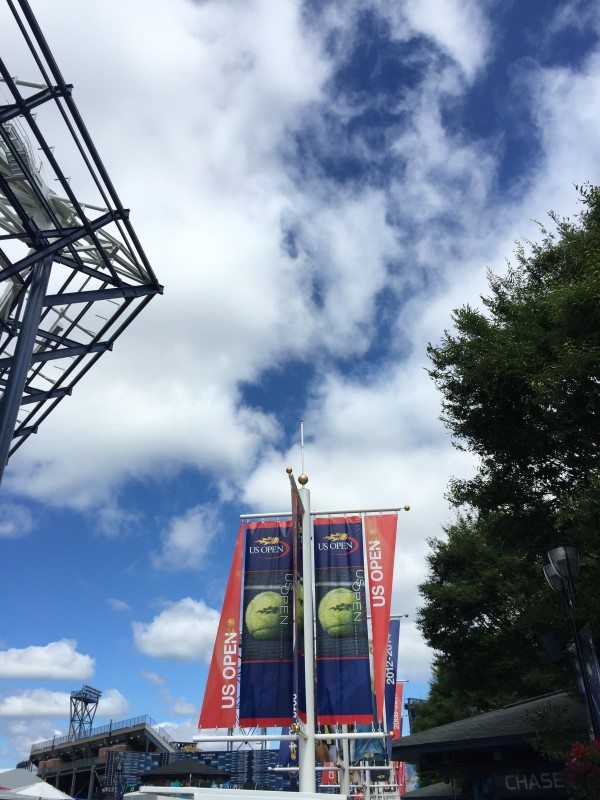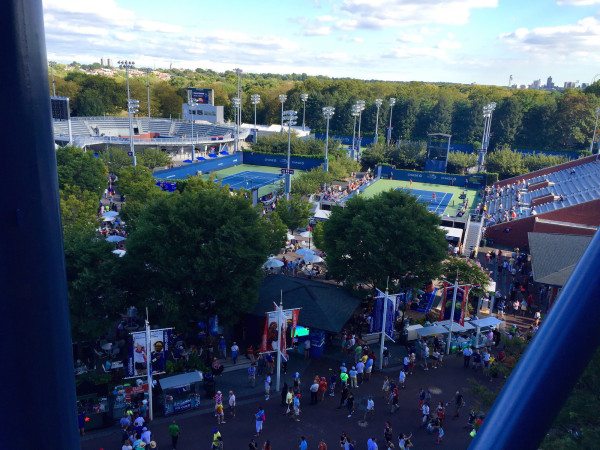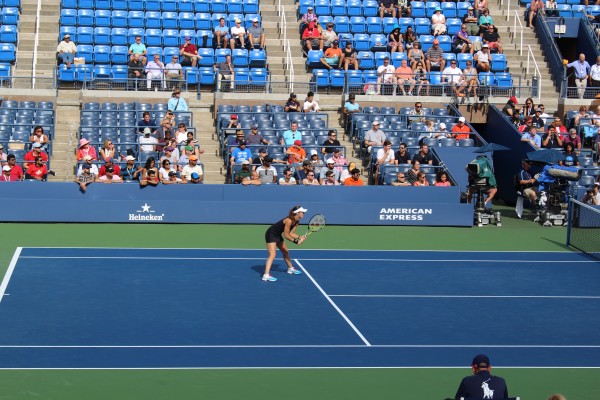 Remarkable and thrilling, our eleven hour day spent at the US Open Tennis Championships was an adventure I will dream about for years to come.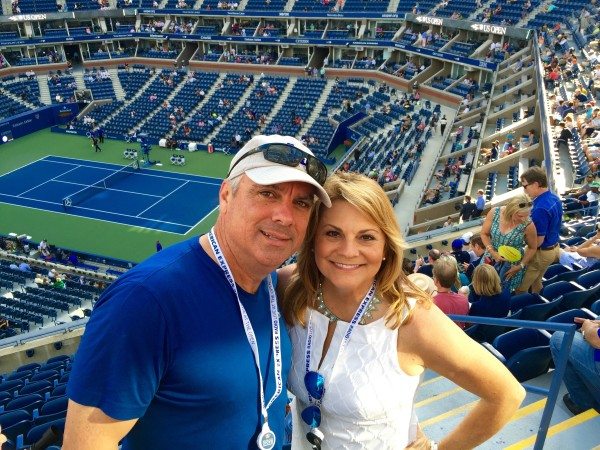 Let's connect!