Google is a beautiful thing. Ask it a question and nine times out of ten you have your answer and a lot more! I was keenly aware that the cuisine was extraordinary in Amsterdam and as you know, seeking adventure is always at the top of my list! Since we love food (and drink as well) finding a food tour in Amsterdam was a goal of mine when I was planning our trip. I had never actually been on an organized food tour, we have however, visited plenty of farmer's markets, creative restaurants and sampled our way through them all.
On my first click while researching "food tour in Amsterdam" I hit the jackpot! I stumbled upon this personal, adorable, enthusiastic website called Hungry Birds. I immediately fell in love with the idea of the street food tour by bicycle and the two darling young women who created it! They wrote how we could "Discover the city's heart through your stomach". Our foursome spent almost four hours touring the city by bike and eating the most amazing food that we would have never known existed!
As we cycled along, Esther or Zosia would share the history of the area and point out the important sights. We were sharing great food and stories in this magical city called Amsterdam! What a brilliant way to see a city and to meet the people who are making the delicious bites of food we were sampling.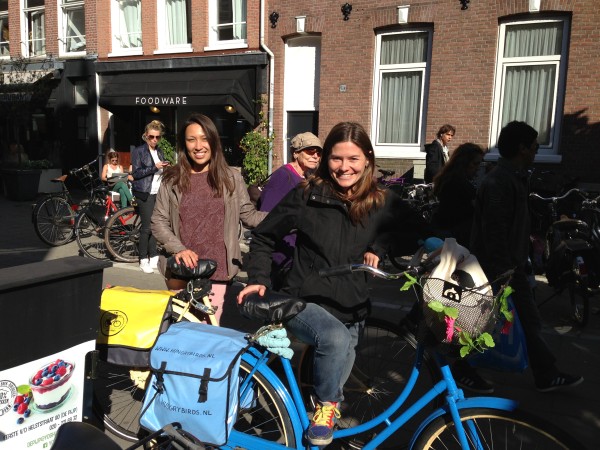 Here are a few delectable highlights: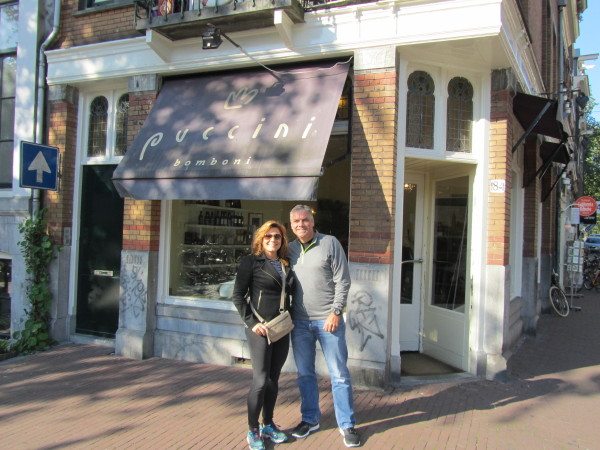 The bike tour began here…at Puccini, a chocolatier. YES, what a beginning!. Included in the price of the Hungry Birds Street Food Tour is all of the fantastic food as well as an "insiders" tour of the market, or restaurant we were visiting. It was so difficult to choose which confection to try! Do I pick ginger, tamarind, walnut, pecan, caramel, honey… even pepper!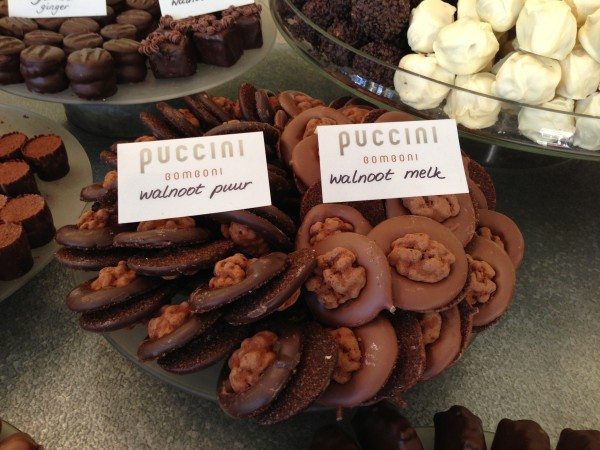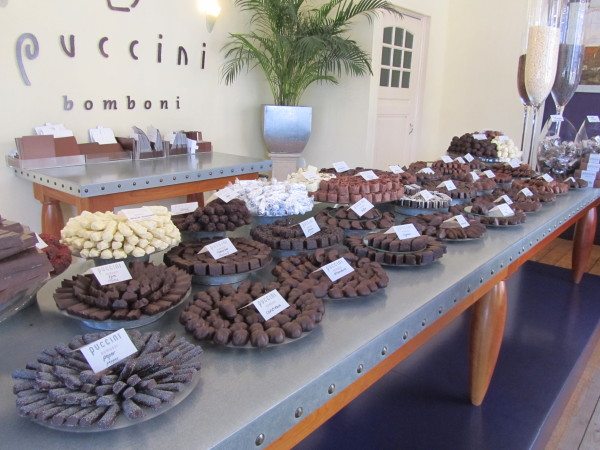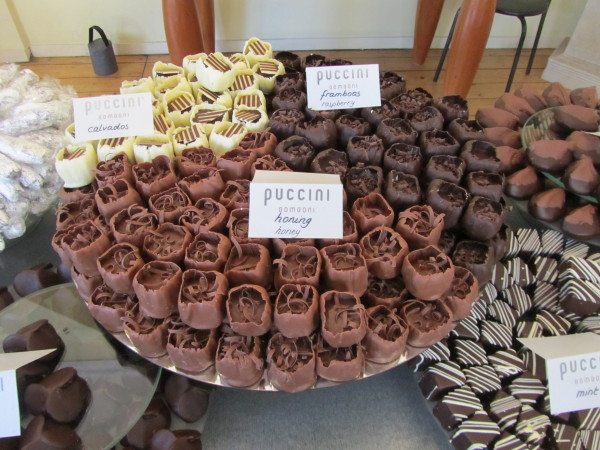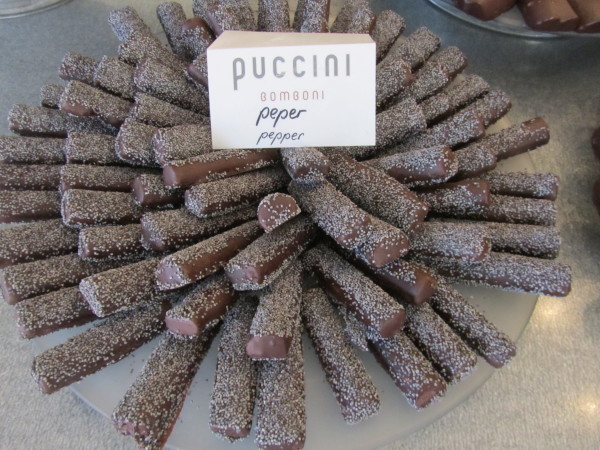 Next up was an intimate, neighborhood farmer's market with homemade hummus, marinated vegetables and the best cheeses! The Hungry Bird girls gathered up a sampling for a stop later in the trip. We were fortunate to spend time talking with the merchants and hear how they ran their businesses. Traveling by bike is very common in Amsterdam. There are 100,000 people who live there and probably 100,000 bikes! I kid you not! It is such a practical, efficient and healthy way to live! The city is well planned for bicycles and as a pedestrian you need to keep careful watch for the cyclists!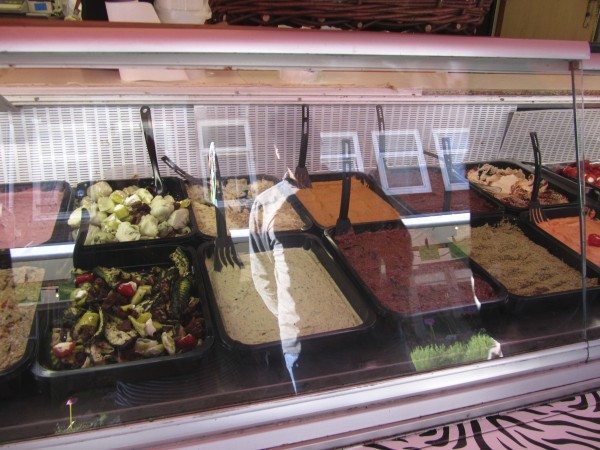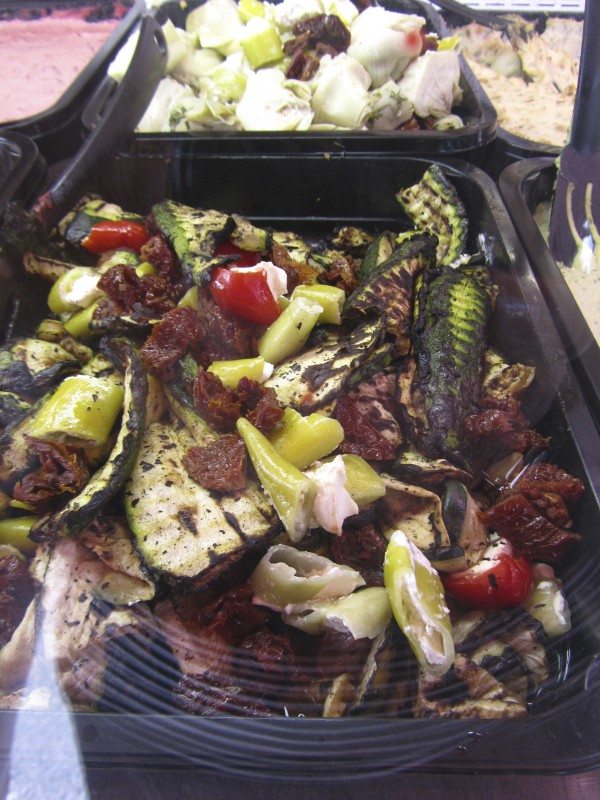 In addition to the mouthwatering street food, there was an abundant array of fresh and beautiful fruits, vegetable and flowers. The colors were so vibrant you needed to touch them to confirm they were real! These are all unedited photos!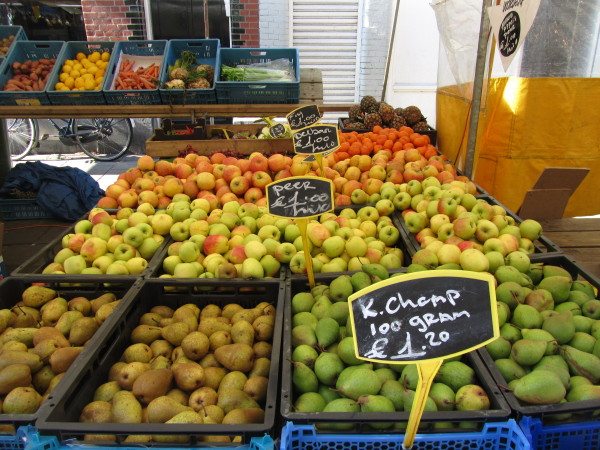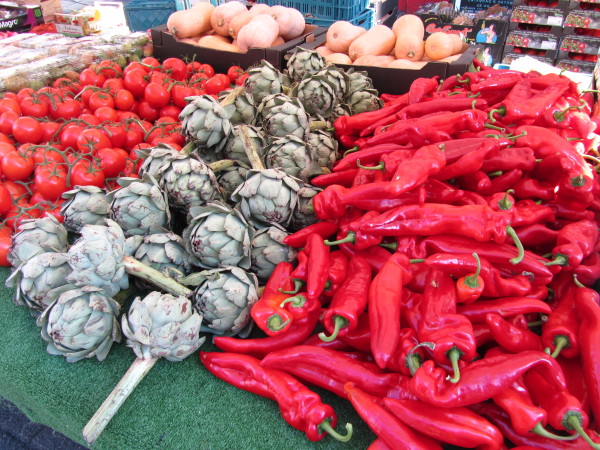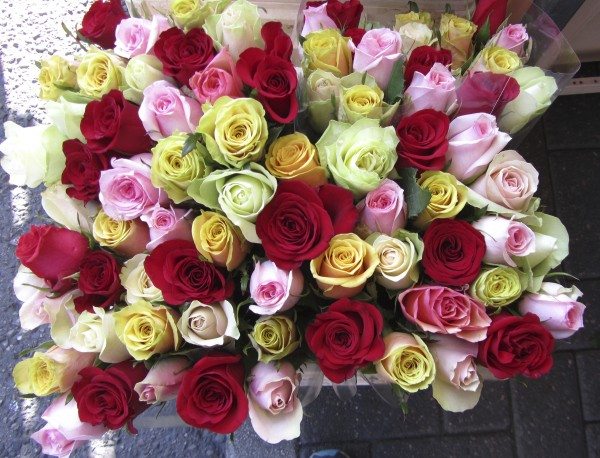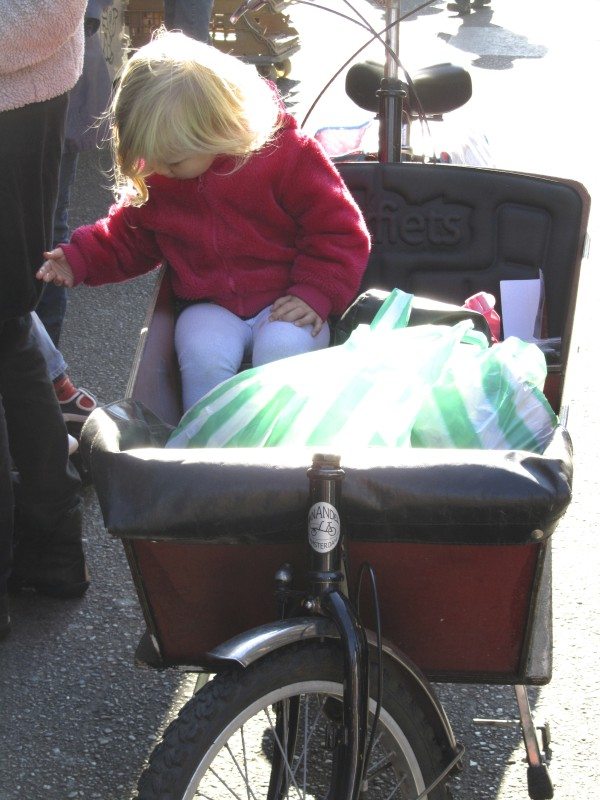 I took this photo of this charming little girl and her custom transportation! Notice the large basket with seat for the child and room for the bags! So clever!
 More food…
The Hungry Bird girls introduced us to the country of Suriname and their delicious cuisine! I was embarrassed to admit I was not sure I could find it on a map! Can you? We shared a warm bowl of a chicken soup bursting with flavor and vegetables. At the bottom of the bowl was a surprise… a hard boiled egg! Amsterdam is a melting pot of many different nationalities and therefore the variety of food to choose from is never-ending!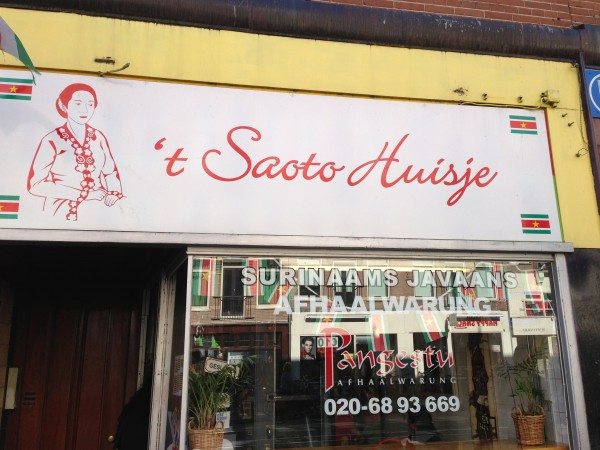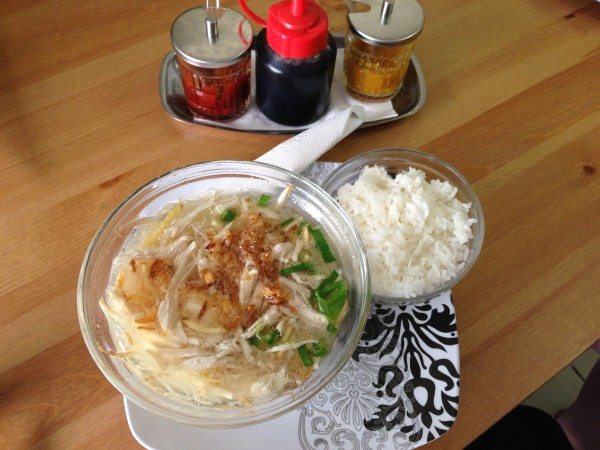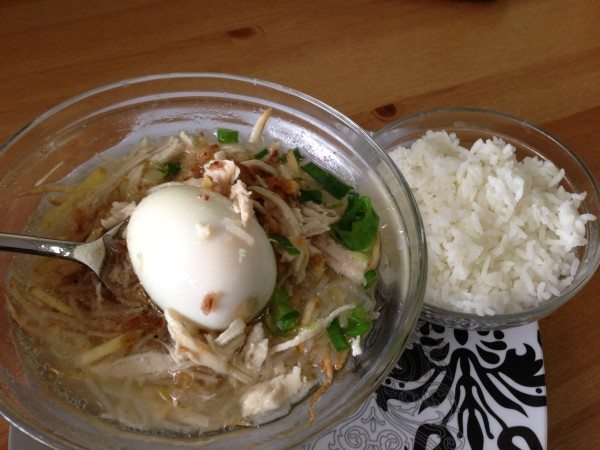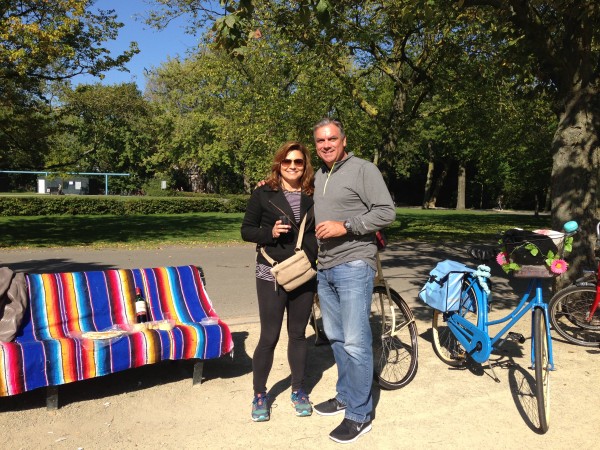 As they say "when in Rome" (or Amsterdam) you must try the local delicacy: Nieuwe (New) Herring! Yes, we ate raw fish with onions… not my favorite, but the Dutch LOVE it. At this casual street shop, they served it with flags of the Netherlands we were to use as utensils!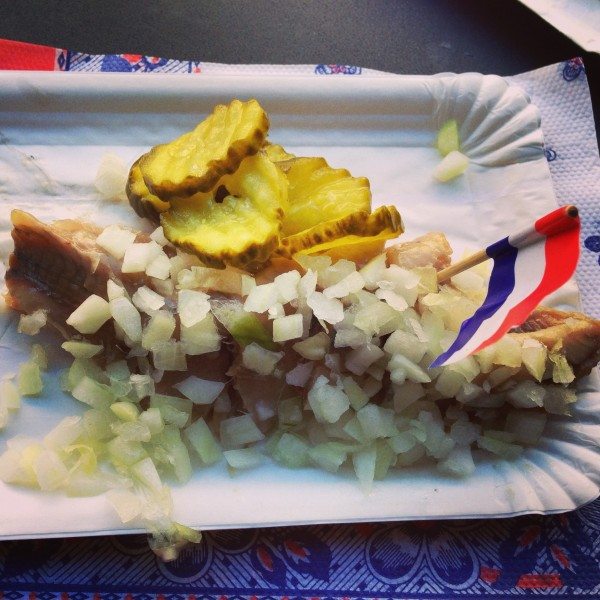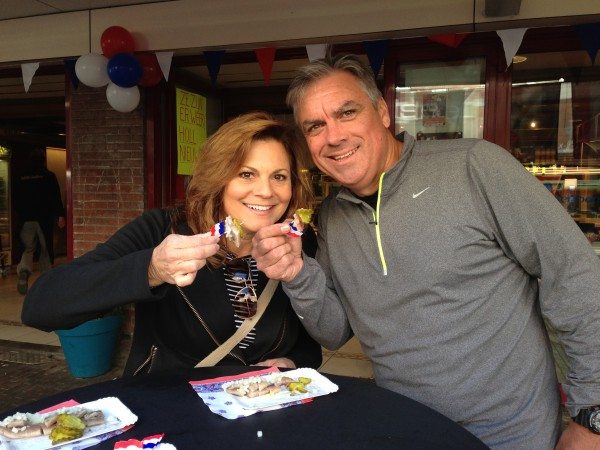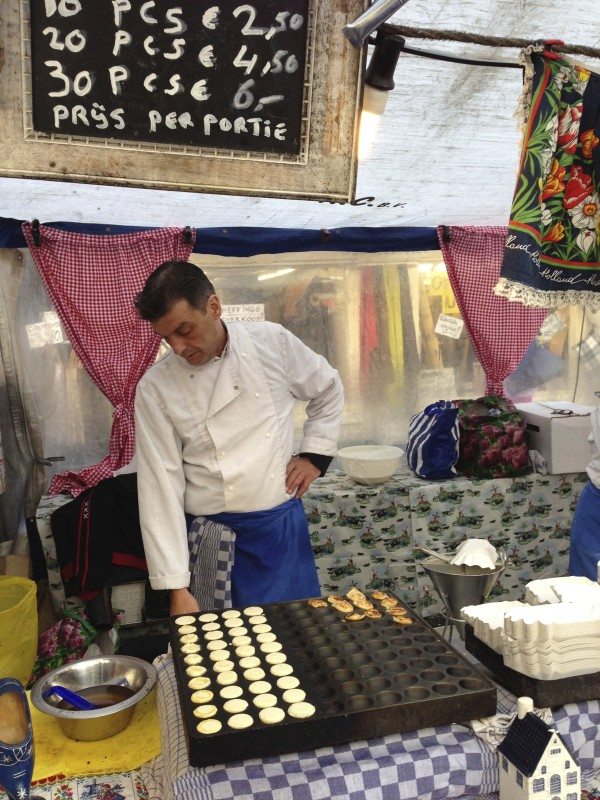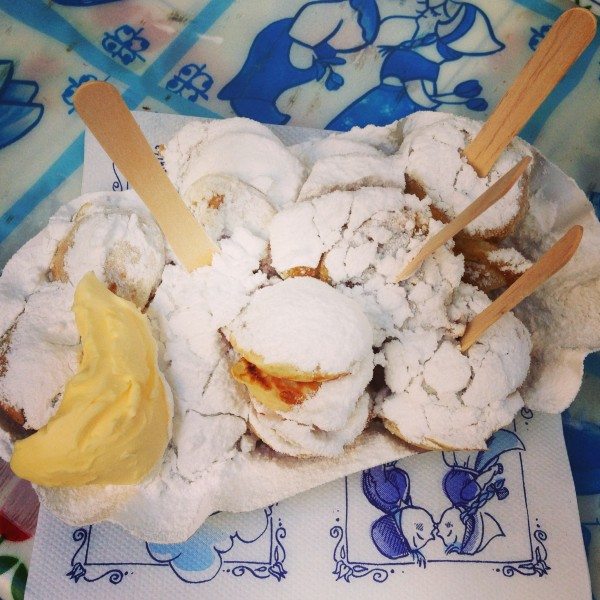 Enjoying a food tour in Amsterdam was the perfect way to spend an afternoon. We sampled the most amazing food, we were able to see a great deal of the city and we were able to enjoy the city on a more intimate level. We loved Amsterdam so much that we have planned another trip back in the Fall.
The fun part about reading this is that you can live vicariously and not consume all of the calories. We shared most of the delightful food in order to save room for the next stop!
Eat well and travel on! Suzanne