Just when I think that Seattle cannot be any more lovely or get any more hip, I went to Sunday yoga class at Chihuly Garden and Glass. One hundred and fifty participants practiced yoga together in the enormous Glasshouse which is nestled directly under the iconic Space Needle.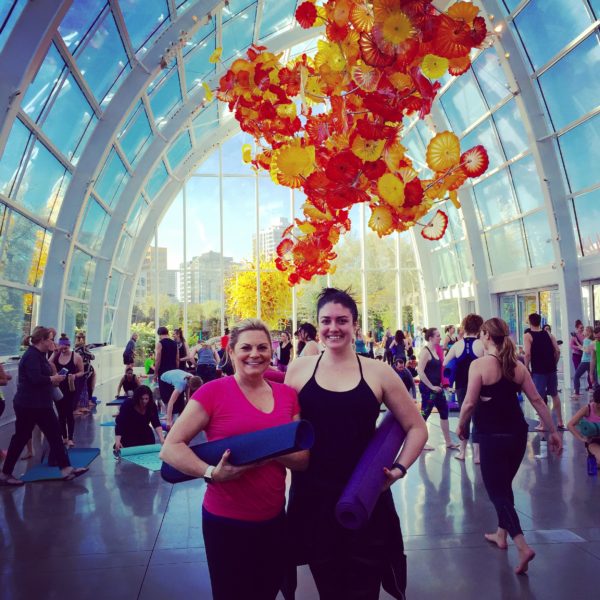 My daughter Alex and I walked from our apartment building five blocks away to enjoy a yoga class in the impressive Glasshouse at the Chihuly Garden and Glass. Just imagine having the opportunity to lay back in silence and look up at the magnificence of the enormous vine of yellow and red flowers made of glass, with the Space Needle towering behind. It was simply breathtaking.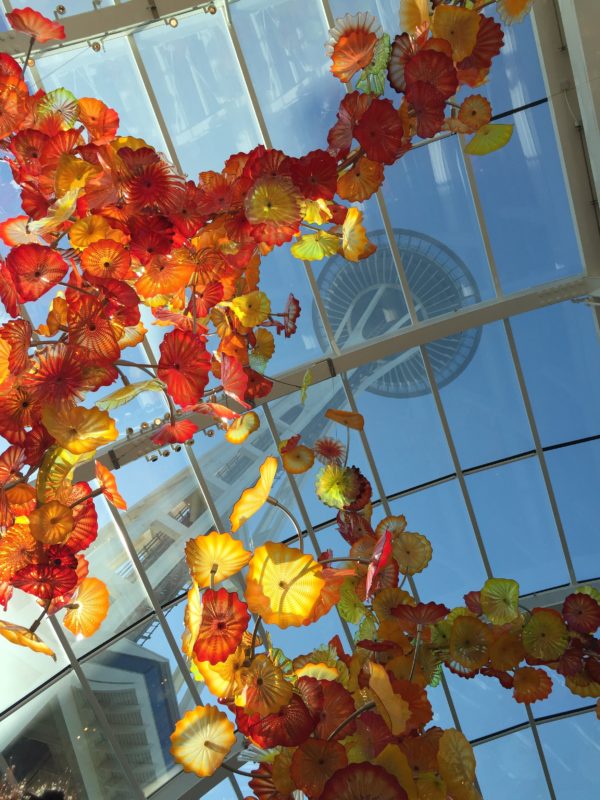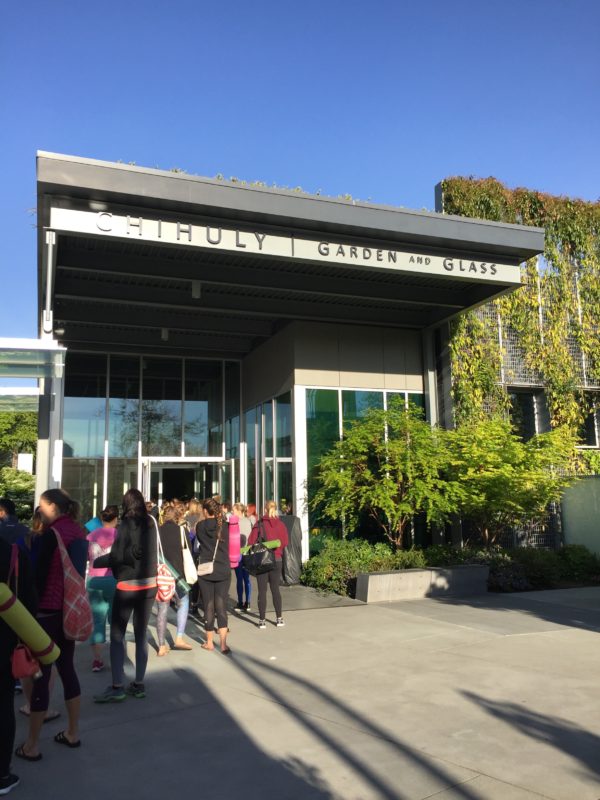 I seem to use the term "breathtaking" a great deal here in Seattle when I describe different locations and experiences I have enjoyed. But truthfully, this has been a truly memorable, life changing experience living here for the past 8 months. Living so close to our daughter, enjoying an abundance of amazing activities all over the city of Seattle has been the adventure of a lifetime.
"The centerpiece of Chihuly Garden and Glass is the Glasshouse. A 40-foot tall, glass and steel structure covering 4,500 square feet of light-filled space, the Glasshouse is the result of Chihuly's lifelong appreciation for conservatories. The installation in the Glasshouse is an expansive 100-foot long sculpture in a color palette of reds, oranges, yellows and amber. Made of many individual elements, it is one of Chihuly's largest suspended sculptures. The perception of the artwork varies greatly with natural light and as the day fades into night."
The design of the Glasshouse draws inspiration from two of his favorite buildings: Sainte-Chapelle in Paris and the Crystal Palace in London. What an inspiring structure, I couldn't believe my good fortune to participate in an event like this one. I never really had "yoga in a museum" on my list of adventures, but now I can scratch it off.
At Chihuly Garden and Glass, there are eight galleries and three drawing walls that offer a comprehensive collection of Dale Chihuly's significant series of work. These works of art demonstrate how he pushed the boundaries of glass as an art medium in concept, execution and presentation.
Just a few of the unique glass exhibits inside the museum~ Amazing!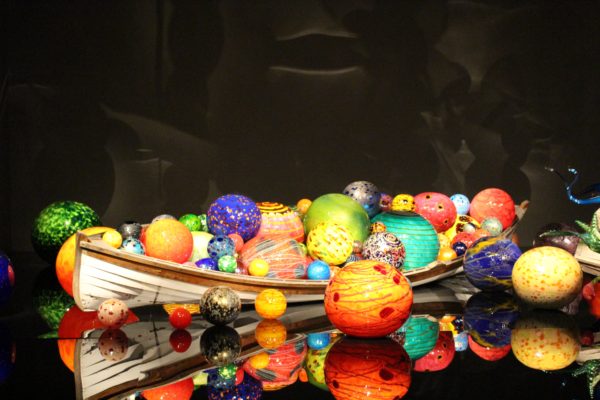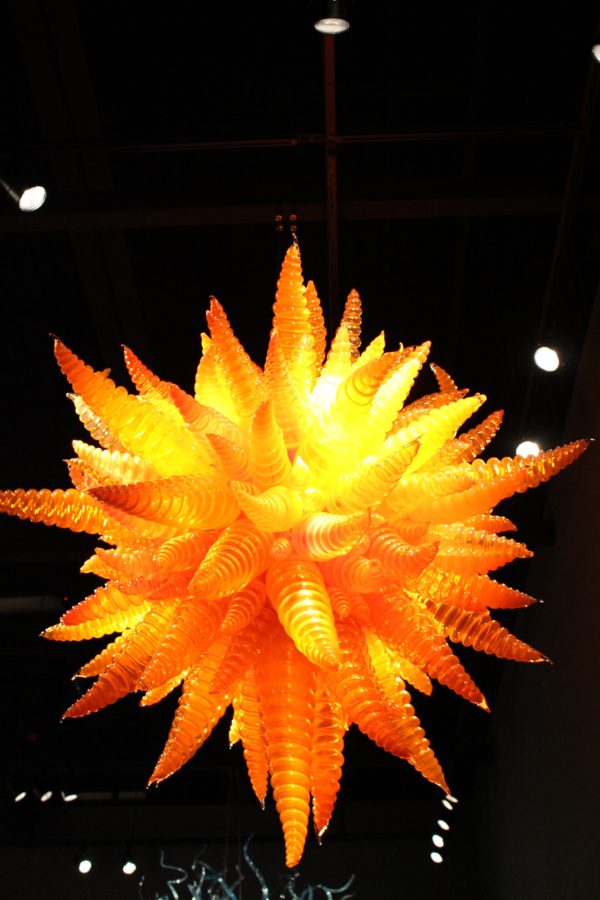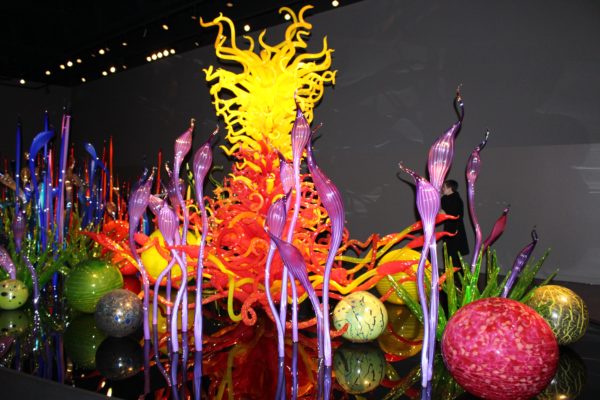 We are nearing the end of our temporary stay in Seattle and I am soaking up every opportunity that I can and savoring every minute I can to spend with Alex. She is the one that suggested the yoga class at Chihuly Garden and Glass. There was one teacher with a microphone and four other instructors walking about the room as we transitioned from pose to pose.The gigantic room was incredibly quiet, the yoga students happy in their own thoughts, and for me, it was a magical moment in time that I will honestly cherish forever.
Namaste.
---