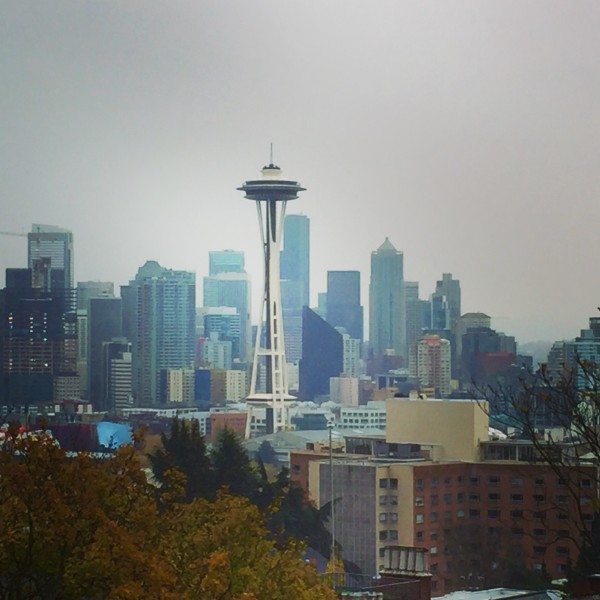 Indulge me for a moment to tell a quick story and then listen to me rave a little about living in Seattle, our adopted city.
But first…
Although we intentionally made some very major changes in our lives by moving to Pasadena and then living in Seattle temporarily, interestingly enough, I feel kind of like a woman without a city, but I am learning to be flexible. Living in three different cities in one year can be a challenge. I left all of my friends and a wonderful city where we raised our children, for an entirely different situation. I guess feeling a bit a lot, out of place should be expected.
A quick recap of our recent history~
We lived in the beach community of Laguna Niguel, CA for 24 years and then we downsized and moved to Pasadena about sixty miles away.
We wanted to live closer to our parents who are aging and sick (my Dad) and we thought it was time to move from a bigger house and pare down to a smaller home with lots of character.
We managed to actually do what we set out to do by buying a 1937 Spanish home in Pasadena that needed severe updating and an extra bathroom and closet.
We decided to live in the Pasadena fixer upper while we were having architectural plans made and permits in place. This decision turned out to be a brilliant one as it took more time than we thought (it always does) and my dad's condition worsened and we wanted to be close.
We started to feel more at home in Pasadena and began to settle in and figure out where all of the necessary places like the dry cleaners, markets, vet, nail salon, hair salon etc, were located.
We lived there eight months, dad's health improved and it was now time to move out and go to Seattle to live while we were renovating. Could we have stayed in Pasadena? Yes we could have, however the rent for houses (even crappy ones) in Pasadena was twice what it would cost in Seattle. As it turns out, it has been cheaper to live in Seattle and fly to Burbank every two weeks to see Dad and check on the house project than to live in Pasadena.
Every nickel counts when you have a project this size and besides… we are always on the hunt to find adventure!
Seattle~
We arrived in Seattle after driving up the coast with our dog Rocco, our flatscreen TV, a case of wine (from our wine clubs) and as much of our stuff that we could fit into the SUV.
Initially, the whole living in the city thing was truly frightening. The city is a noisy, busy, neighborhood made of cement. I felt like I had a sign on my back: "Caution, she really doesn't live here and has no idea what she is doing". I wondered if my clothes were right, whether I could fit in, it is the quirky Northwest after all.
Additionally, how does a suburban dog who is used to having a grassy backyard go potty on cement? On the second day we were here, he refused to walk out into the rain and he held it for 14 hours!
I was so clueless and concerned that I would screw this up, that I was nervous a lot. Nervous about whether he would bark in our apartment building, his reaction to being around lots of people all the time and even riding in a elevator. He was terrified of the elevator, he would brace himself every time it went up. It was so sad to watch. Of course we finally adjusted to all of the newness and after about two weeks of testing different scenarios and locations, Rocco has a potty routine and evidently so do I. Thank God.
Rocco is such a savvy city dog now that he knows to walk against the buildings in the rain and always finds the buildings with the glass, metal and canvas awnings. Many of the buildings in downtown have added these overhang structures to make it easier for pedestrians in the rain. Great idea.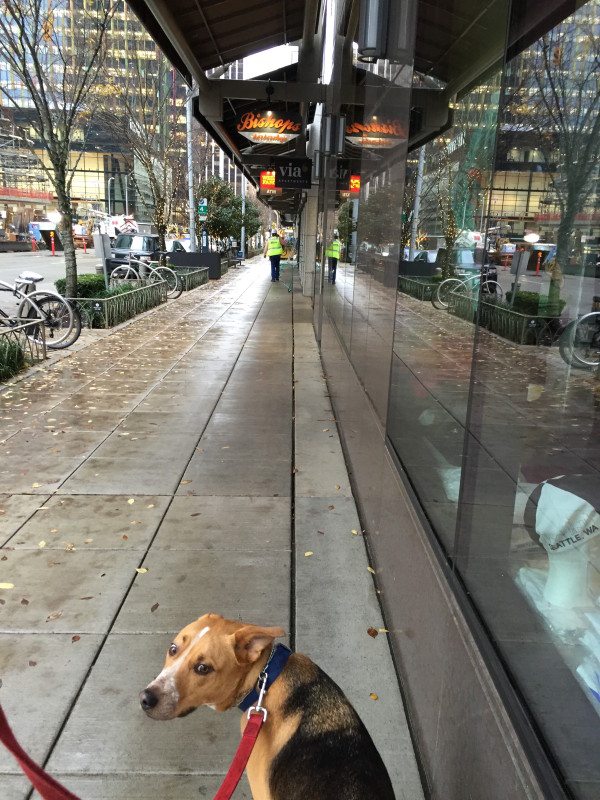 What I enjoy about living in Seattle~
One of my greatest joys of this city is being able to walk out the front door, look left and see the magnificent Space Needle just a few blocks away! It looks amazing in the morning, in the afternoon, in the evening, in the rain, and in the sunshine. You can see it from every part of the city.
My daughter the Seattlite (she's lived here nine years) pointed out that the iconic Space Needle is so large that it reflects in the windows of many of the office buildings around the city when the sun hits it just right. How cool is that?? If you pay attention you can see this phenomenon everywhere.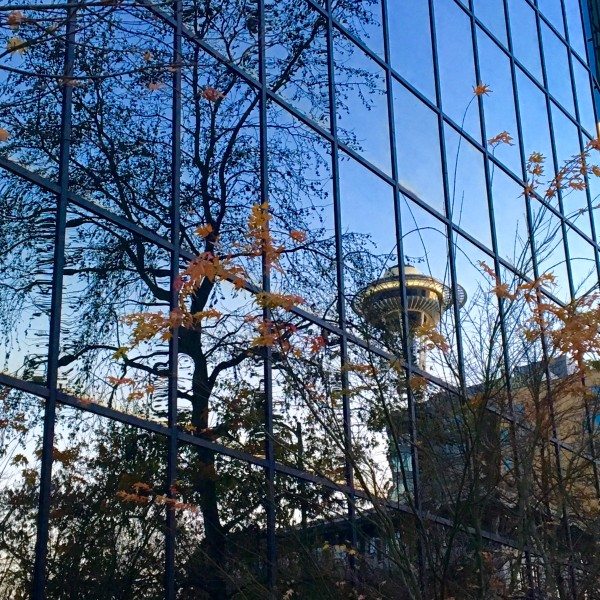 You can go for brunch,lunch and dinner near the very top of the Space Needle and the restaurant is built on a moving circle! It slowly revolves around the building and this gives the diners a 360 degree view of Seattle. On a clear day (even on a not so clear one) it is utterly spectacular!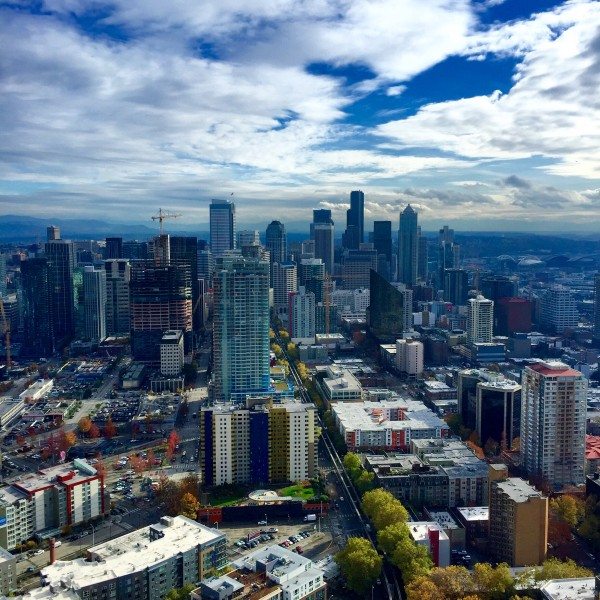 The food here in Seattle is exceptional. Truly delicious, innovative, hip restaurants literally line the streets here. We can walk any night of the week just a few blocks for a fabulous meal. Uber is always available if we want to venture out even further, because parking is a big problem.
I walk everywhere! I have only used the car one time since we moved here four months ago. I walk to Whole Foods, to the parks, to the gym, to the dry cleaner, to the drugstore, to the bakery, to Pike Place Market, to the museums, to the Space Needle to the…everywhere! I love that.
I am recording walks of at least five miles a day and some days as many as seven or eight miles! The secret to staying fit is to move to the city!
I love the lights of the city that sparkle at night, the sound of the seagulls and the smell of the ocean off the Puget Sound.
I love the change of seasons, brisk air (when you have the right coat on) the festive holiday décor, white lights in the trees and grand hotel decorations.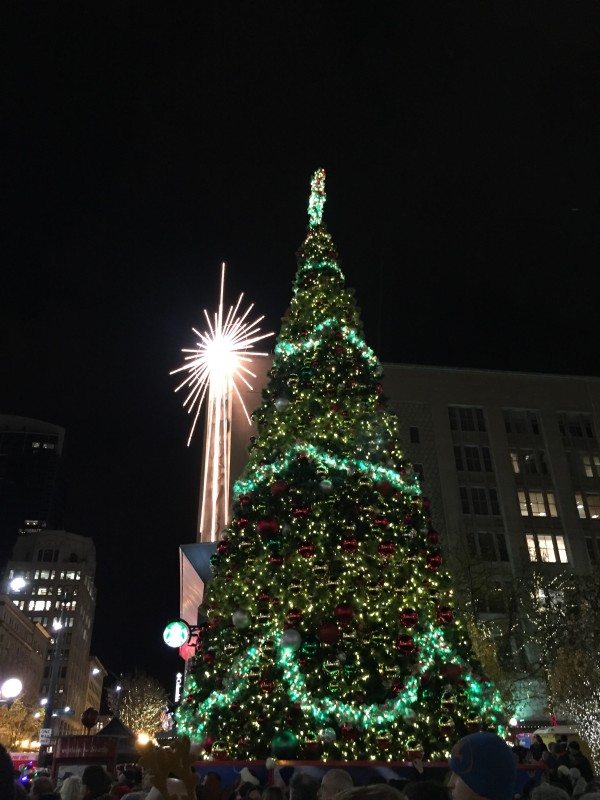 I love the boats on Lake Union and the winding walking paths. I love the excitement of the brand new glass skyscrapers being built on every corner of this progressive, vibrant city.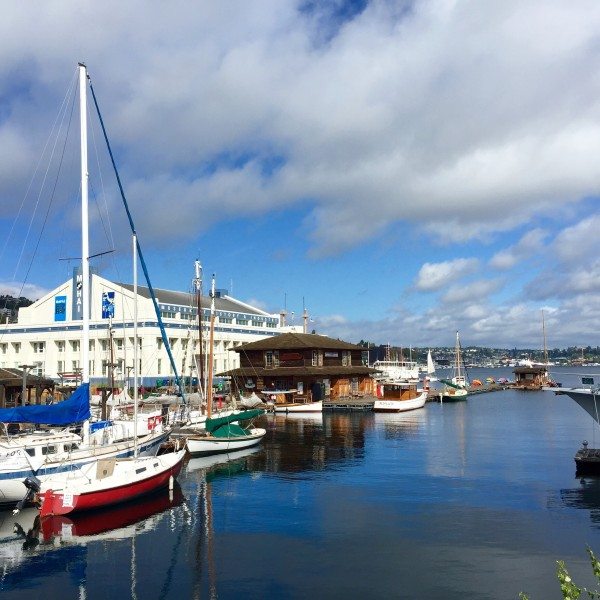 I love that our daughter lives seven floors below and we fix meals together, take Rocco on walks, discover new places in Seattle (there is always something new to experience) and that this was her idea!
So if you are thinking…oh my, Suzanne and Craig are certainly intruding on Alex's privacy, please know that she suggested our moving here and in to her building. It is just so much more convenient. Additionally, we are VERY careful to wait for an invitation and to respect her privacy!
Through Alex's eyes and talent, I am truly becoming an expert on this fabulous city of Seattle. When Craig is traveling and Alex is busy with friends and at work, am I lonely here not knowing a soul? Of course I am, but whenever this feeling starts to rise up, I try to embrace the idea of adventure and how I could never experience living like a city dweller unless we formulated this plan.
I actually met a great gal on a flight to New York from Seattle who lives nearby and I met a really nice woman in the elevator who lives in my building and we have become friends. I do have a very dear friend from college who lives on Bainbridge Island and we have had lots of friends come to visit for vacation and/or work. I will be fine.
I am grateful for the experience of living Seattle, the precious time with Alex and the ability to find adventure at 54 years old. Life is short, we need to put aside our fears and insecurities and go for it.
I encourage you to do the same!
Have you thought about doing something out of the ordinary?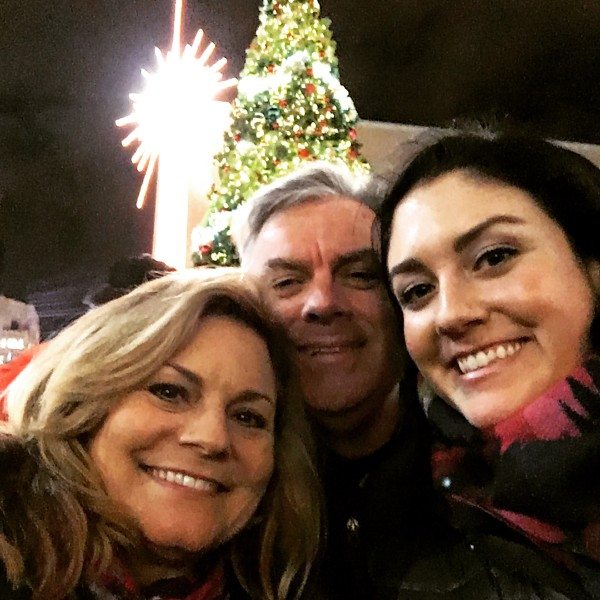 Related Post: