Why do we travel? One reason: For travel connections
I am often asked – Why do you travel? 
Whenever or wherever I travel, I look for special connections, unique moments, and delightful conversations. What do I mean by travel connections?
My goal is to gather stories, backstories, inspirational stories, and going deeper into the lives of the people who live in these glorious destinations. Now that is traveling! Of course, we visit the local attractions, but there is so much more.
Tell me about the food you grew up eating? Please share with me your favorite local place to relax and soak up the surroundings! What cafe do you go to with your girlfriends? Where can I see a gorgeous garden or unique architecture? I want to dive deep!
I ask questions like: Who did you meet on the train? Where were they going and should you go there too? These are the best parts of travel, the connections we search for and often just stumble upon.
Here is my most recent travel connection story!
Dinner at Mala Tavern
When planning our most recent Maui adventure, more than one frequent Maui traveler said to me, "You must eat at Mala Tavern; the tuna bruschetta is to die for!" I thought, hmmm, that's an exciting combination; I think we need to check it out. We have visited Maui nearly every year (sometimes twice) for as long as I can remember.  I am embarrassed to say that we have never dined at this popular oceanfront restaurant. Good grief!
We made up for it on this trip; we went twice!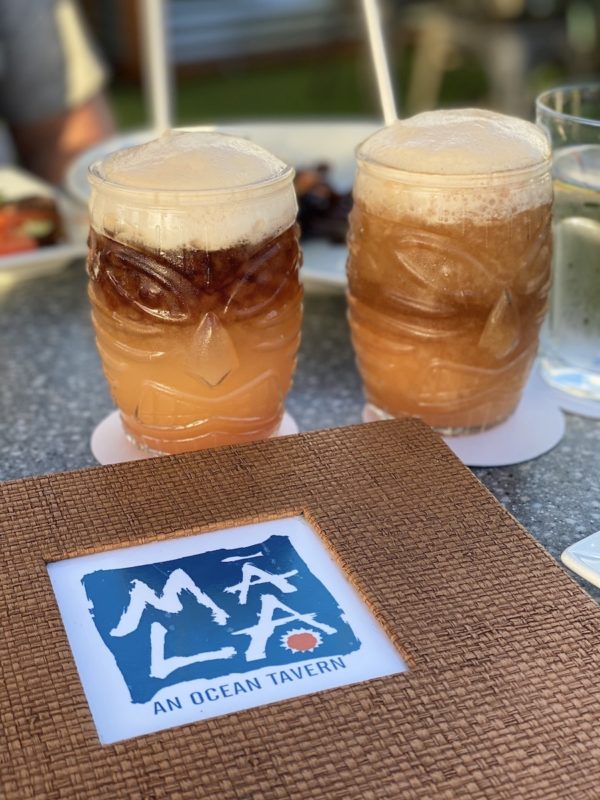 On our first visit to Mala Tavern, along with two divine handcrafted cocktails, we ordered the Ahi Bruschetta (Flaxseed toast, edamame puree, microgreens, aged balsamic). As expected, the flavor profiles were unique, and we nearly licked the plates. We thoroughly enjoyed this tasty, healthy yet moist, thinly sliced bread that served as the bruschetta base. OMG, it was some of the best bread we had eaten in a long time. Did they make it here? Who baked it?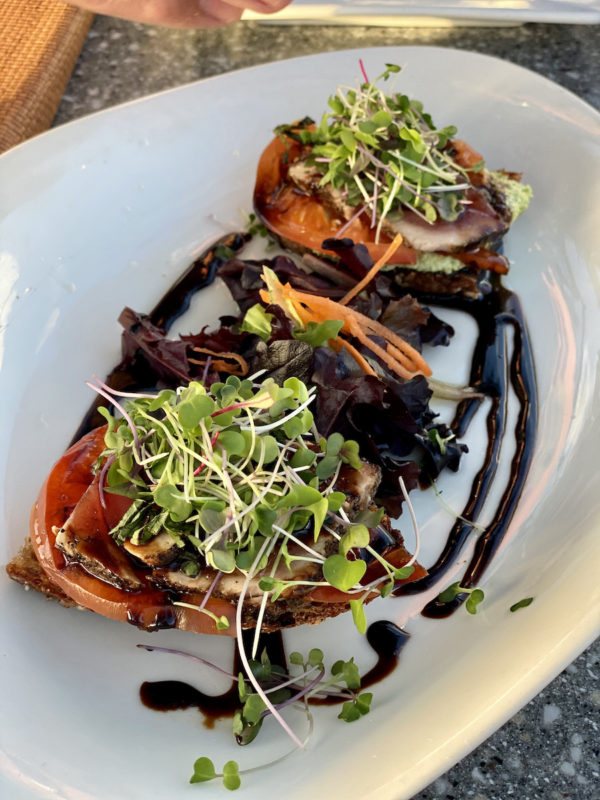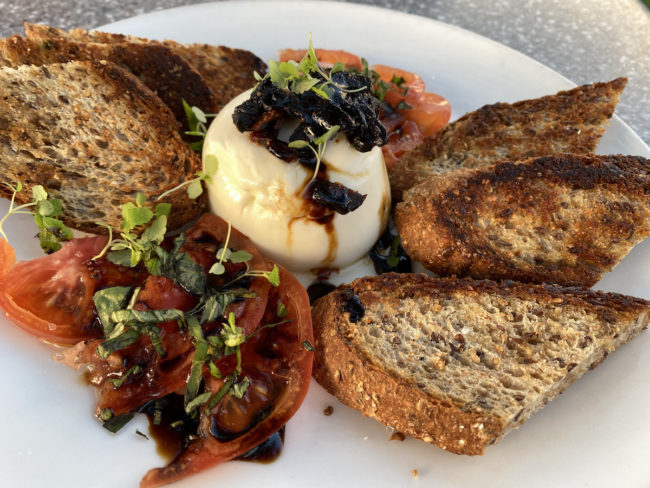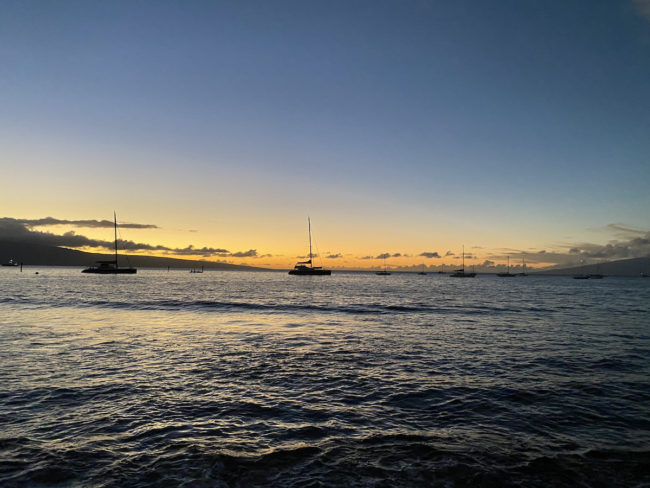 I was on a mission.
I asked the server if the restaurant baked the bread, and she answered with "No, it comes from the Lahaina Bakery." I asked, "Oh, where is that? I can't believe I have never heard of it." She pointed east, "I am not quite sure, but it's over there near the Taco Bell."
Ok, now I had to do some exploring. How hard could it be to find this little bakery? Lahaina is a small place! We googled the address, but it wasn't quite that easy, and our two-week vacation was coming to an end. Due to our travel schedule and the limited number of hours the bakery was open, the only time we had left on our trip was on our way to the airport.
 The Bakery Lahaina
I planned to have Craig drop me off, and I would run in, buy a loaf of the yummy Health Bread, and head for the airport. But this is not what happened, and here is my wonderful travel connection.
The Bakery Lahaina is a sweet, unassuming place on a quiet industrial business park: nothing fancy, just the kind of place that piques your interest. I was in a hurry, needed a loaf of bread, and had a plane to catch. What I found was two busy women running the store and lots of can-do aloha spirit.
I struck up a conversation with Jennifer, who is the co-owner, along with her husband, Charlie. She began to share their inspirational story, and I was captivated. What an unexpected surprise! However, I was in such a rush that I had to follow back up with Jennifer to make sure I got the story straight. 
My heart was a flutter, my skin was tingling, and I wanted to hear the details!
A little history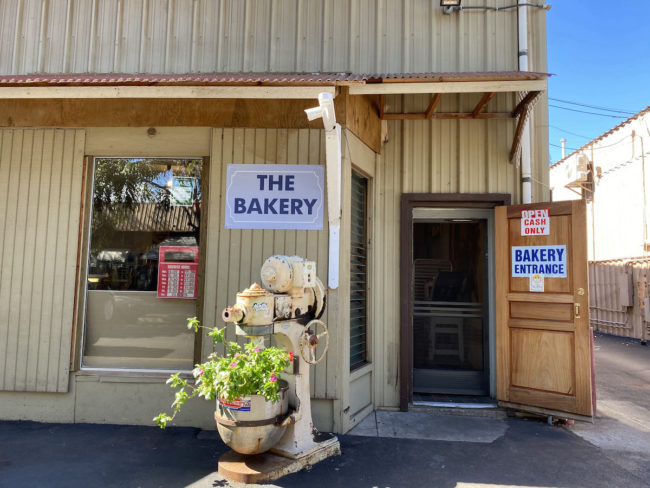 The Bakery was founded in 1979 by Harold and Keiko Hardcastle. When Harold passed away late in 2020, his wife decided it was time to sell the business. Charlie was the Executive Chef at Hula Grill, a very popular beachside restaurant in Kaanapali Maui, and Jennifer was the manager at The Spa at Black Rock.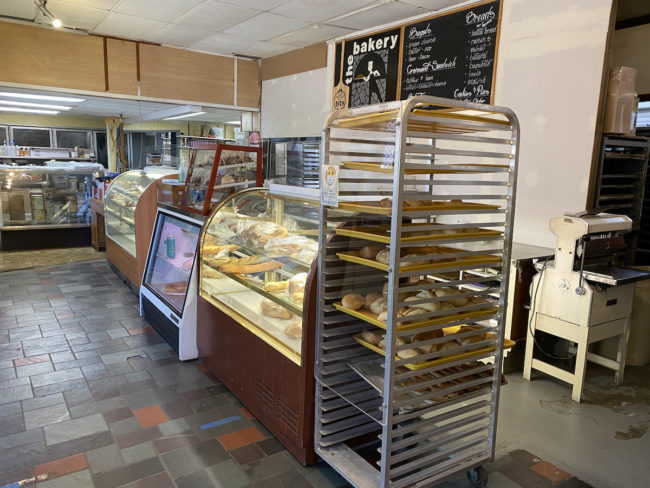 The way Jennifer tells the story, Charlie called her and said, "Do you want to buy a bakery?" This was not something they had ever discussed before! There were other interested buyers, and everything was moving very quickly! After careful consideration, they decided to buy it, and it has been an exciting journey ever since. Don't you love their adventurous spirit? I walked in just about two weeks after they had taken over!
As I mentioned before, I had never heard of it, and when I returned home, I asked my friends who travel to Maui often, and none of them was familiar with The Bakery either! There was not a robust online presence; however, Charlie and Jennifer are in the process of changing it. It is my duty and privilege to tell the world!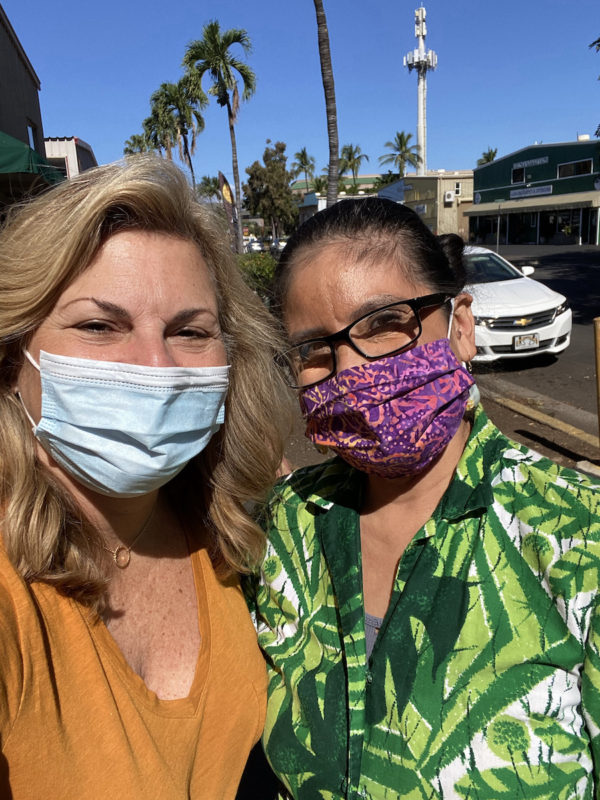 I have since talked with Charlie by phone and emailed with Jennifer. This historic bakeshop needs all of our continued support and enthusiasm. It was such an unexpected thrill for me to hear their story and have the ability to share it with you!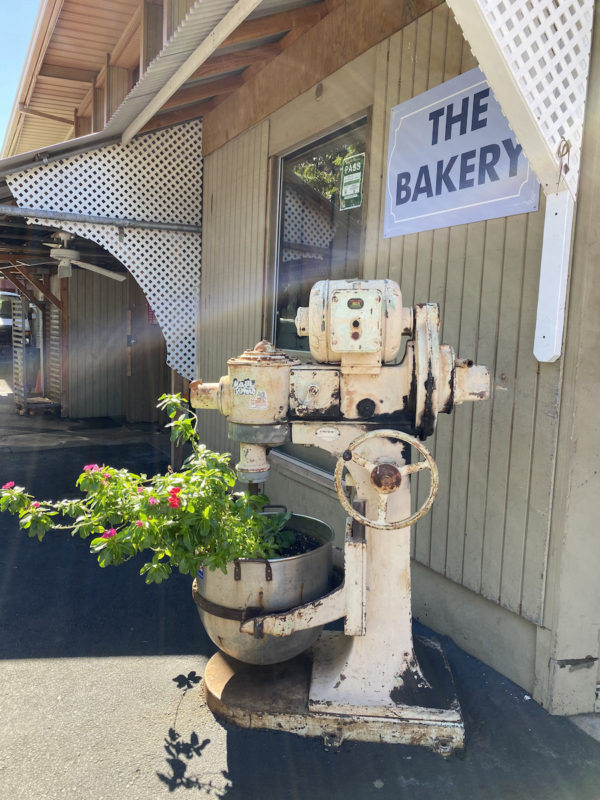 Here are the details:
Hours: 6 – 11:30 am Monday – Saturday, Closed on Sunday
Location:
991 Limahana Pl.
Lahaina, HI
808 667-9062
Travel connections are like the icing on the cake and in the case of The Bakery Lahaina, a perfect slice of healthy bread too. They make all kinds of tasty treats! I hope you will visit them on your next visit to Maui. Please say Aloha for me! Mahalo!
---
Looking for more travel connections? I have BIG news coming soon and you will want to know all about it. Make sure you are signed up to receive emails from me!
Let's connect on Facebook, Twitter, Pinterest, and Instagram – Hope to see you there!
---
Pin for Pinterest!