Just for you! A Springtime cocktail for toasting friendship & family!
Spring is the perfect time for a new cocktail adventure! I just love bright new beginnings, sunshine, handcrafted cocktails, and a beautiful asparagus appetizer to accompany the tasty beverage.
We have been raising our cocktail game and consistently trying to include the very best organic ingredients and search for empty nester-friendly recipes. I found a gorgeous Blood Orange Margarita on Instagram, created by The Bitter Fairy. We have made it two other times already and thought it was time to share it with you!
You are welcome!
Our friends at Melissa's Produce sent us an enormous, healthy stack of colorful organic produce, which happened to include exactly what we needed to make this stunningly delicious margarita! Until recently, we have been hand squeezing our citrus, but for this drink and if making it for a crowd, we purchased a Cuisinart Electric Juicer, and it was so worth it!
Cocktail Adventures!
Back in 2020, when we were not traveling, we created Cocktail Adventures for IGTV and YouTube. We filmed eight videos  (*Plus two bonus episodes) where we shared how to make a favorite cocktail recipe and then paired it with some history and a travel memory. We brought back Cocktail Adventures just for this cocktail recipe and filmed it in our new kitchen in Kirkland, WA.
Blood Orange Rosemary Margarita
2 oz tequila Blanco
1/4 oz Campari
1/2 lime (squeezed)
1/2 oz freshly squeezed blood orange juice
1/2 oz rosemary-infused simple syrup
Pinch of salt
Combine all ingredients in a Boston Cocktail Shaker filled with ice, shake and strain into glass with ice. Garnish with fresh rosemary and a slice of blood orange.
Asparagus Gruyere Tart by Martha Stewart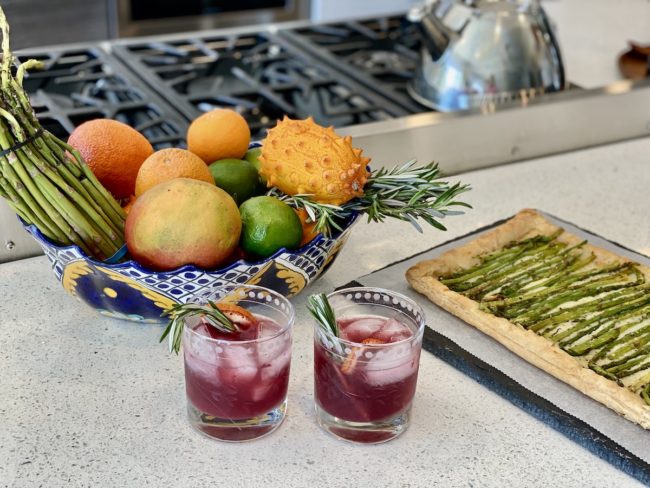 I went looking for a fresh and easy Springtime appetizer that paired well with our citrus cocktail. I am a huge fan of asparagus, and since it was prominently displayed in our produce box, it was a simple choice. Don't you love asparagus?
Ingredients
Flour, for work surface

1 sheet frozen puff pastry

5 1/2 ounces (2 cups) Gruyere cheese, shredded

1 1/2 pounds medium or thick asparagus

1 tablespoon olive oil

Salt and pepper
Directions
Step 1

Preheat oven to 400 degrees. On a floured surface, roll the puff pastry into a 16-by-10-inch rectangle. Trim uneven edges. Place pastry on a baking sheet. With a sharp knife, lightly score pastry dough 1 inch in from the edges to mark a rectangle. Using a fork, pierce dough inside the markings at 1/2-inch intervals. Bake until golden, about 15 minutes.

Step 2

Remove pastry shell from oven, and sprinkle with Gruyere. Trim the bottoms of the asparagus spears to fit crosswise inside the tart shell; arrange in a single layer over Gruyere, alternating ends and tips. Brush with oil, and season with salt and pepper. Bake until spears are tender, 20 to 25 minutes.
Cook's Notes
Store-bought puff pastry works well in this savory tart; thaw it according to package instructions.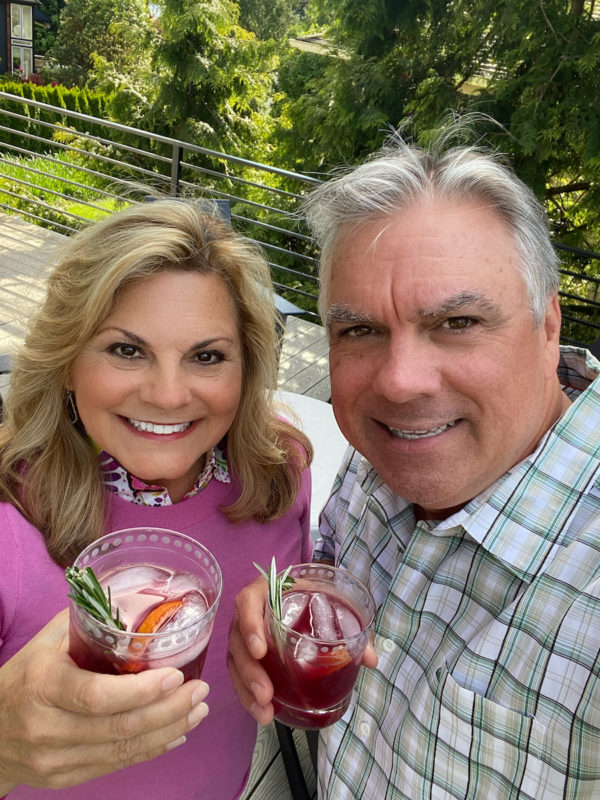 Looking for another unique treat with exotic fruit? Check out my friend Stacey's Feijoa Strudel and Chia Feijoa Jam Recipe! I had never heard of a feijoa either! Looks amazing!
Thanks for reading and please forward this post to someone else who may be looking for a Springtime Cocktail Recipe!
Let's connect on Facebook, Twitter, Pinterest, and Instagram – Hope to see you there!
I was provided with fresh produce for the purpose of this cocktail and appetizer adventure.  Also, as an Amazon Associate, I may earn a commission from qualifying purchases. 
---
Pin for Pinterest!