What to pack for a short trip in the Fall ~
Deciding what to pack for a short trip in the Fall is a large piece of the travel puzzle. Is it going to rain? What is the weather like? How many pairs of shoes do I need? How much walking will I be doing? Will I be taking the larger suitcase and check it or will I be carrying on?
On Sunday, we will be traveling to Seattle, one of my favorite destinations in the United States or anywhere. Our daughter has lived there for over ten years and we actually lived there for nine months. I can always get "my Autumn fix" by visiting there in October. Here are a few ideas about what to pack.
Always check the weather ~
We live in Southern California and Fall weather temps don't dip too much below 70. It will be in the 60's during the day in Seattle and the 40's in the evening That is plenty cold for me! For those of you who live in colder climates and are chuckling, I applaud you all who live in areas where you think it's a warm day when the temperature is above 50!
For this trip, I have decided to pack efficiently (for me) but I know many travelers who pack much less than I do! My idea is to bring one casual coat and one longer lightweight thermal coat for the cooler weather and possible rain. I usually take a black pair of jeans, a blue pair of jeans, a pair of athletic shoes and probably one pair of ankle boots.
Loving Madewell ~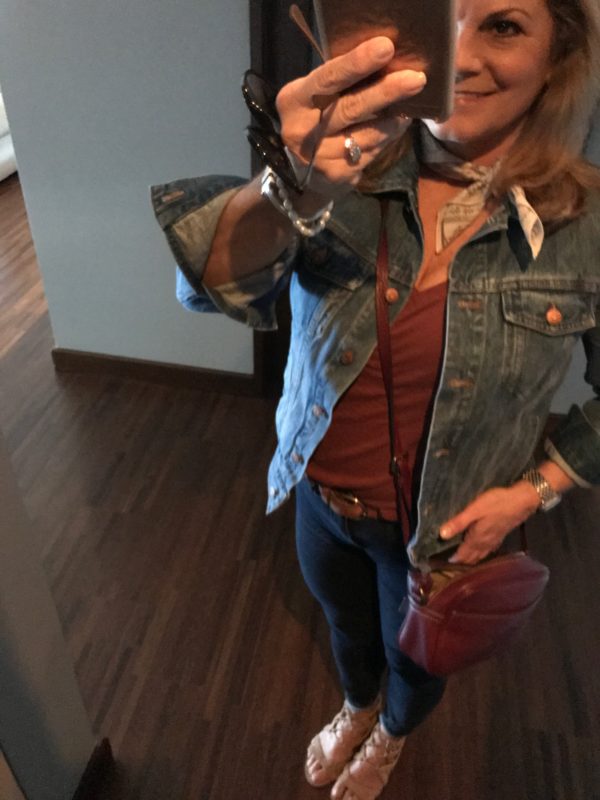 I have really embraced the clothing options offered by Madewell. On a recent trip to Chicago, the salesgirl and I had some fun picking out some new pieces for me. They mix effortlessly with what I already have in my closet.My friends at Madewell are not paying me to say this! I love the style choices they offer and everything seems to go with everything else. Because we travel so much I get to see what other women are wearing and what I have discovered is ANYTHING GOES.
This anything goes fashion trend makes dressing so much easier. In my fifties, I never want to look like a teenager, but I still want to be fashionable and my casual dress includes various types of jeans, jean jackets, long sleeve blouses and shirts, several colored t-shirts and simple jewelry.
The half tuck ~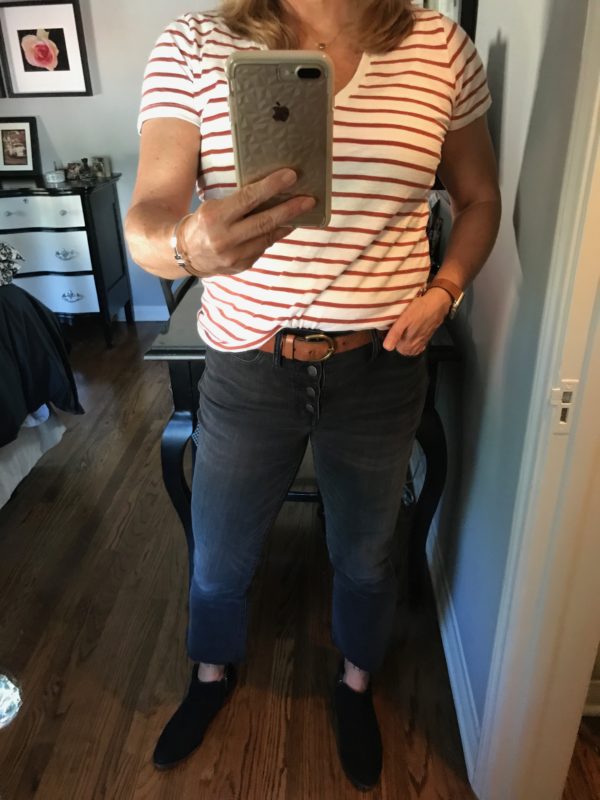 The "half tuck" is my favorite current fashion trend. What is the half tuck? It is when (with or without a belt) you tuck in your shirt half way in the front and let the back stay untucked. It allows the front of you to have some form to your figure and it is more flattering. It is quick and looks fashionable without much effort.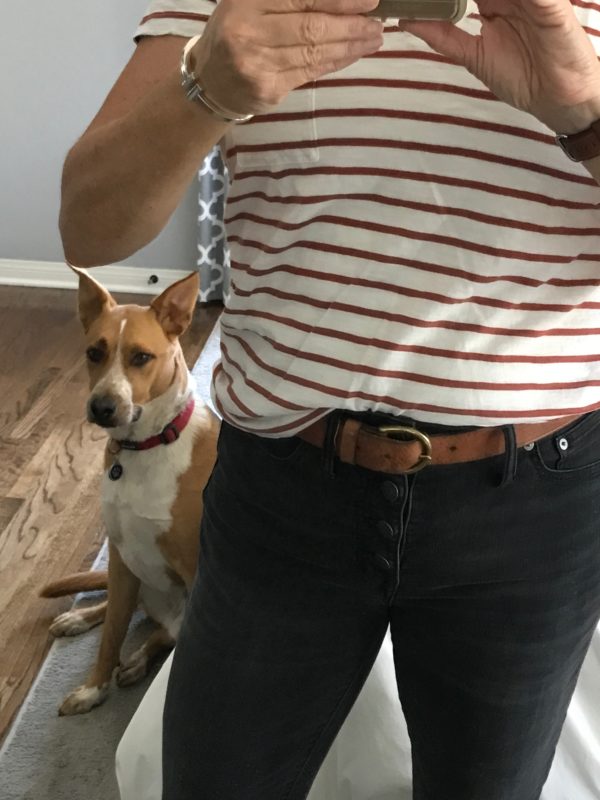 When the weather is cold, bring a couple of scarves, one hat if necessary and a pair of gloves.Wearing simple jewelry makes life simple. I wear one necklace and one pair of earrings, either pearl, or silver or gold. I usually throw in one long necklace as well. No worries about leaving something behind, which I have done before. I left a diamond pendant on a nightstand once and the staff of the hotel found it and mailed it to me. Never again will I bring anything of value that I take off to sleep.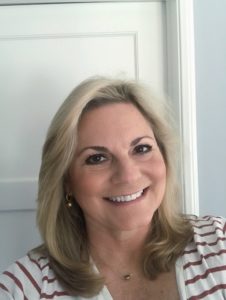 Seattle is a VERY casual town, my fashion plan for New York or Chicago would be slightly different. I would bring a "date outfit" that would be a more dressy option.
More ideas ~
I always bring one or two workout outfits that include, yoga-type pants, 2 tops, and one black long sleeve lightweight jacket. These choices allow for me to have something to wear to work out and it doubles as my "go to breakfast" outfit. If I feel like it, I can always travel on the plane in my workout clothes too. Remember, this is anything goes time!
However most jeans that are made now have a stretchy factor in the fabric. The jeans that I have from Madewell are so comfortable they feel like pajamas. Seriously they do. They look chic and they are super comfy.
Color coordinated ~
If I pack only clothing items that match virtually anything, it makes outfit creating really simple. For tops, I pick color neutrals like black, navy, white or ivory and burgundy that will go well with any bottom I choose.
I always lay out my clothes on the bed first ~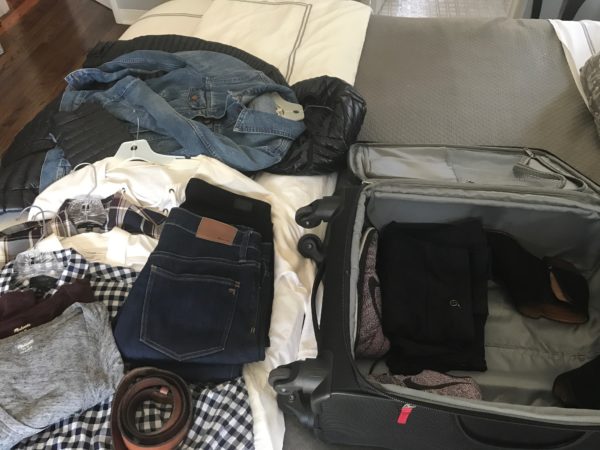 My rule of thumb is to lay everything out and then remove 3-5 items. I also pack my undergarments in the same area of the suitcase so I don't have to root through the bag to find my underwear or socks. I already know where to look! TMI? Make sense?
Except for pajamas, toiletries, and a scarf, this is about it. You may notice that the colors all seem to blend together, so this proves my point about everything goes with everything!
Am I missing anything? What would you add to my Seattle wardrobe? What are your travel fashion questions?
In a couple of weeks we are off to Mexico where the weather is w-a-r-m! My suitcase will look entirely different. Stay tuned.
---
Do you know other travelers who would enjoy the post? Please forward to them!
You can find us here:  Follow us on Twitter, like us on Facebook, check out our photos on Instagram, or pins on Pinterest
You can also sign up to receive these posts via email in the box in this column to the right ==>