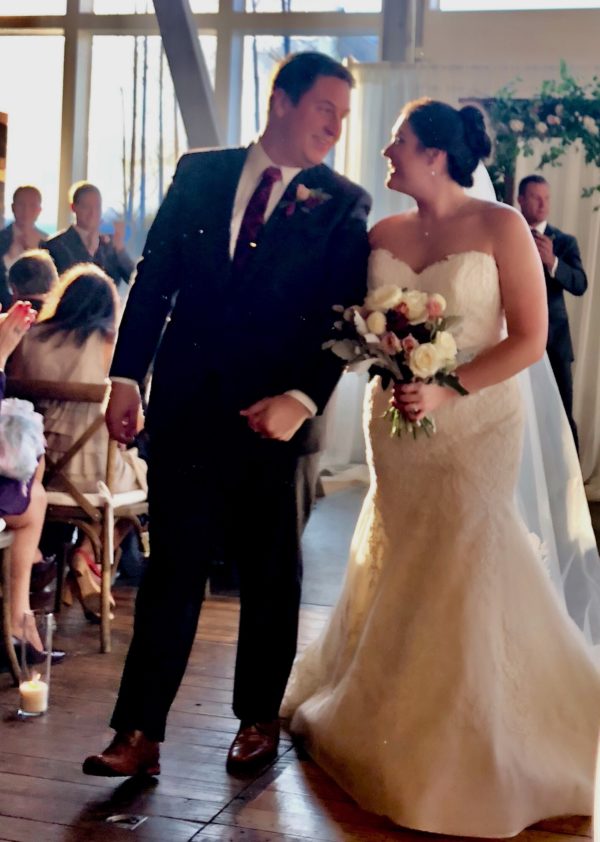 Although sad to see it end, the wedding adventure is complete. Our grown up adult daughter has married her prince at a lovely destination wedding in Seattle.
Destination Weddings
Have you been to a destination wedding? I believe the definition of this type of celebration to be any wedding location too great a distance that you could not comfortably drive to and from in the same day.
Seventy percent of all our guests came from outside the state of Washington. That is a huge percentage of wonderful, caring family and friends who wouldn't miss this day for the world. We so appreciate the time effort and expense of traveling to our Seattle "Urban Garden" Wedding in downtown Seattle.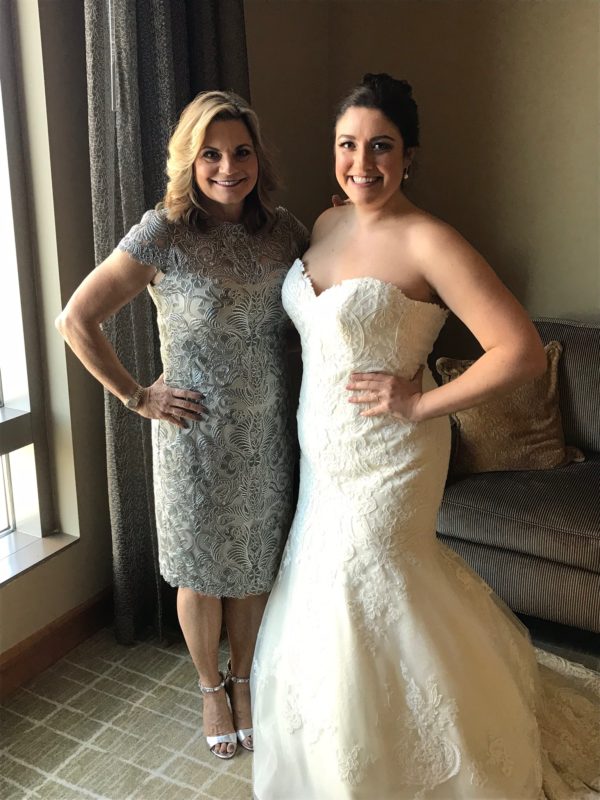 As the MOB and resident travel blogger, I did provide our guests with "Everything to See, Do and Eat in Seattle" to help as a guide for their short stay in the Emerald City. I listed our favorite touristy spots, favorite ice cream as well as a wide variety of restaurants. Sign up to receive our blog posts via email and I will send you a copy!
How did it go?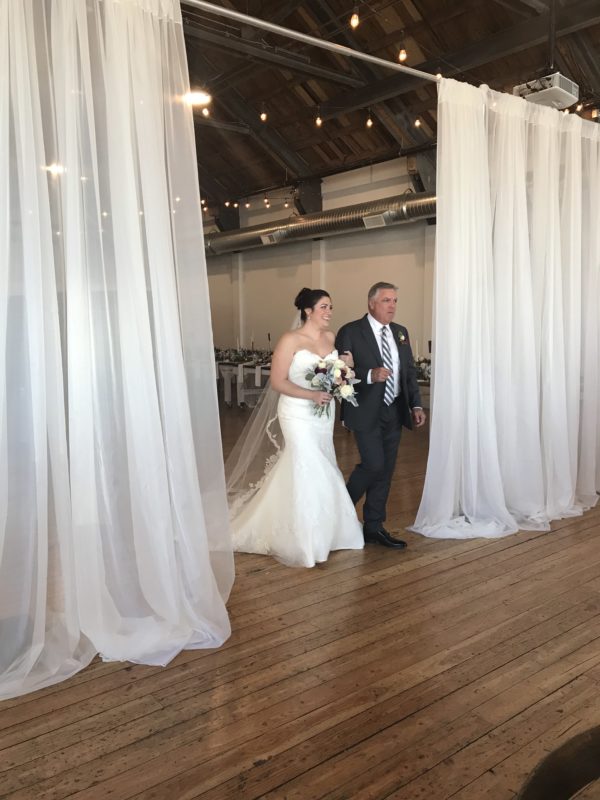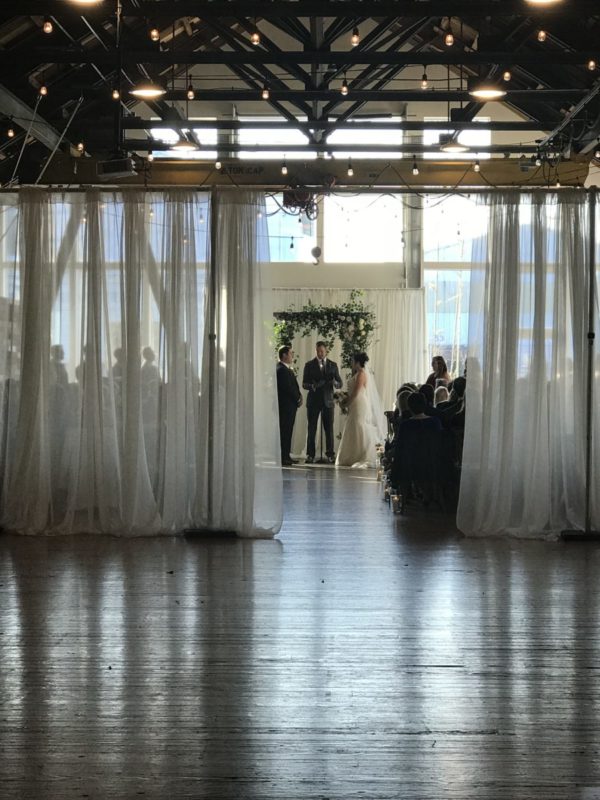 Sheer P-E-R-F-E-C-T-I-O-N. Every idea, every goal, every nuance was achieved and more. Our wedding coordinator/floral designer/creative darling, Carina Van Son, created the most beautiful setting I (we) could have imagined.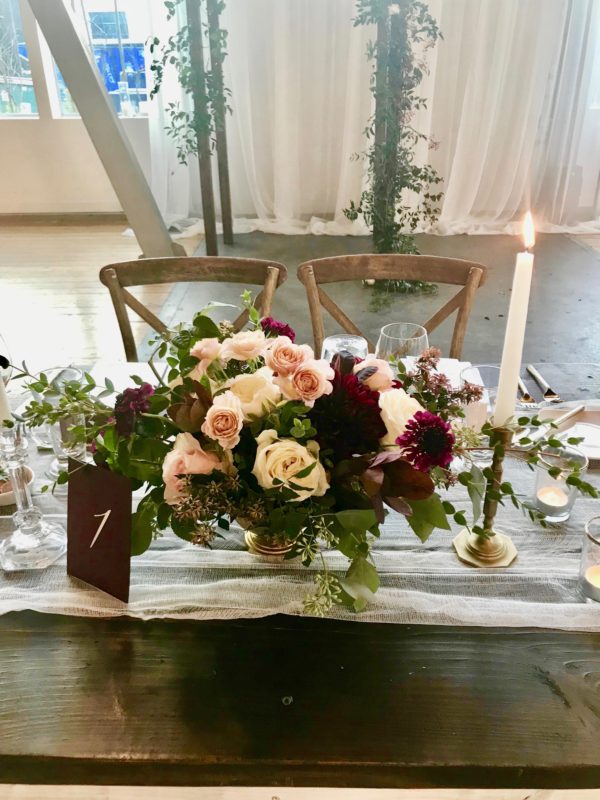 Rich burgundy dahlias, fluffy white and peach garden roses, miles of greenery, long, curvy vines and even some baby Washington apples decorated the tables and the wedding arbor.
Alex and Brent picked out everything for the golden, sage and burgundy table settings. Additionally, glass, brass and jelly jar candle holders adorned each table.
True confession: I did not take even one photo of the tables or really press this epic event firmly into my memory. The entire glorious day just swirled about me, the love, the fun the deliciousness of it all. I know I am missing details, but you will get the idea. I tried not to be the travel blogger and photographer at my own daughter's wedding.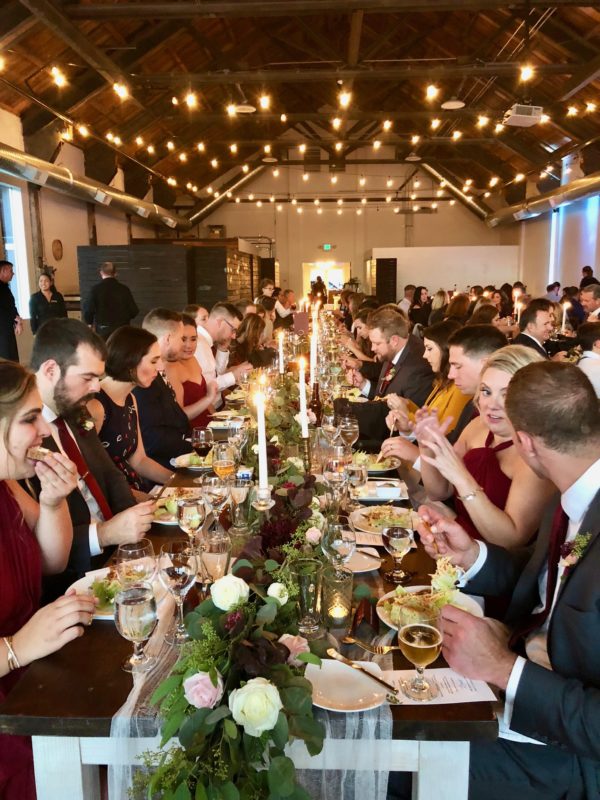 I had wonderful friends and family taking these photos with their iPhones by candlelight. The professional photography won't be ready for a while.
All the preparation, planning, wishing, dreaming, anticipation and quality time spent with family and friends is now behind me. I know life must go on, but it was truly one of the best days of my life and certainly Alex and Brent's! The truth is I am really sorry that it is over! Now it's time to go back to more empty nester traveling adventures.
An old crane factory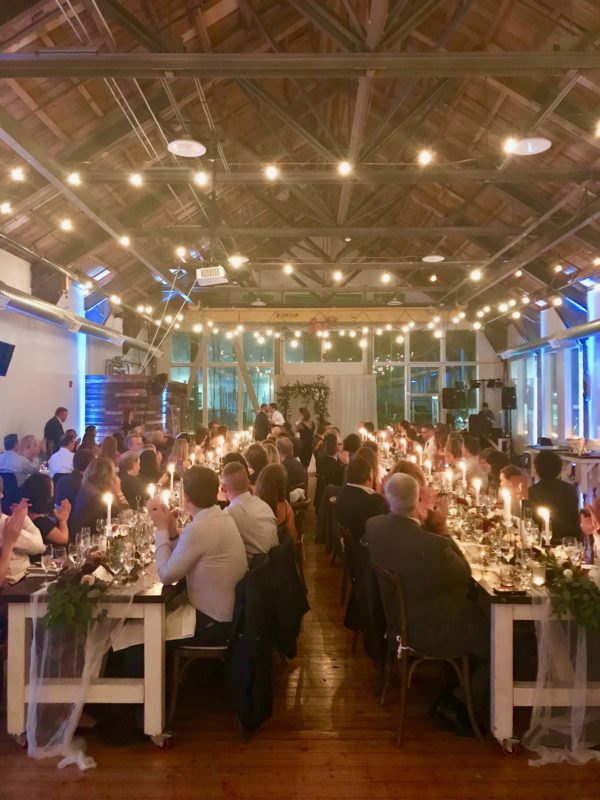 The wedding took place in a very old building which used to be a crane factory (yes they made those great big cranes in that building). With restored pine floors, large windows and twinkle lights hanging from the towering ceiling, the room was transformed.
Essentially it was a blank canvas that needed to be filled with pretty chairs and long, long chocolate brown wooden tables. After the ceremony, all of the stylish, ash-colored chairs were moved and set up again with the lovely preset tables.
We all enjoyed cocktails and appetizers while they were creating our glorious reception venue.
Beautiful plates of autumn salad with blue cheese and Washington State apples, juicy beef shoulder tenderloin with port wine sauce, roasted chicken with Beecher's Cheese Mashed Potatoes, sautéed greens and house made bread were served for the nuptial dinner.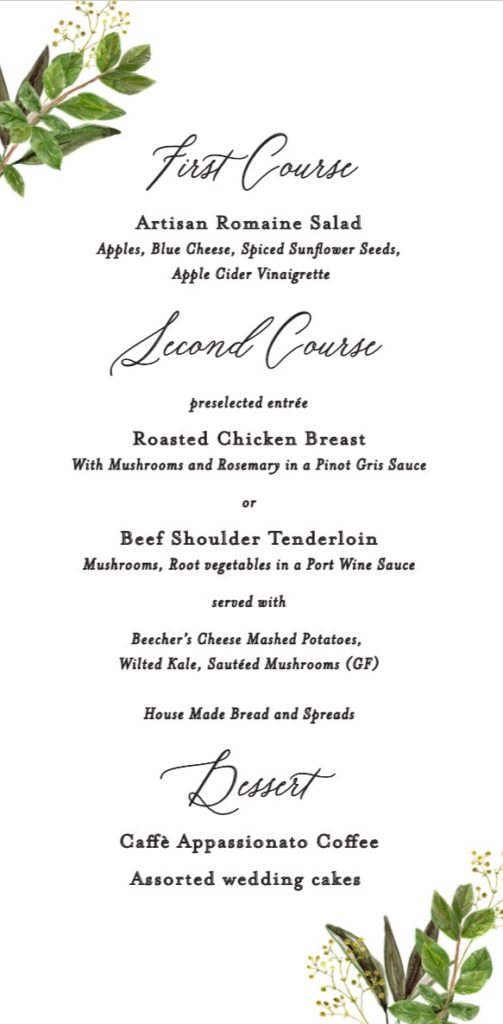 The Cake Table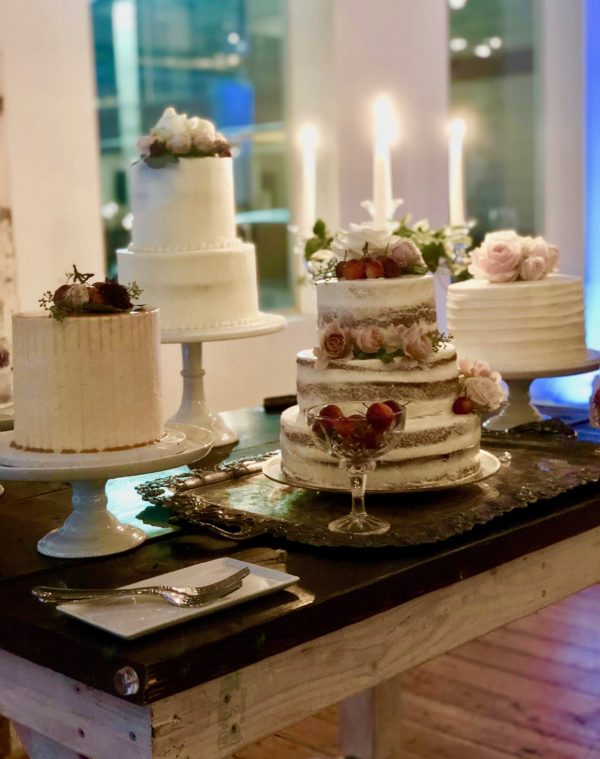 I have received several questions about the cake table. Many people followed along on social media so they have seen some of these photos, but I wanted to write the blog post in order to share more of the delightful details.
The bridal couple decided instead of one large wedding cake to have five, with five different looks, sizes and tastes. What foodie wouldn't want to taste five cakes instead of one? Makes sense to me!
Again – MOB confession, I only admired the table for about 20 seconds in between dancing and hugging and talking with our guests. I did take a couple of bites of cake too.
The amazing cake flavors: Cardamom with Spice Cake with Berry Compote & Cream Cheese Frosting, Chocolate Cake with Vanilla Frosting, Vanilla Cake with Raspberry Frosting, Chocolate Cake with Buttercream Frosting and Caramel Drip, Red Velvet Cake with Cream Cheese Frosting (GF)
One last major fun detail –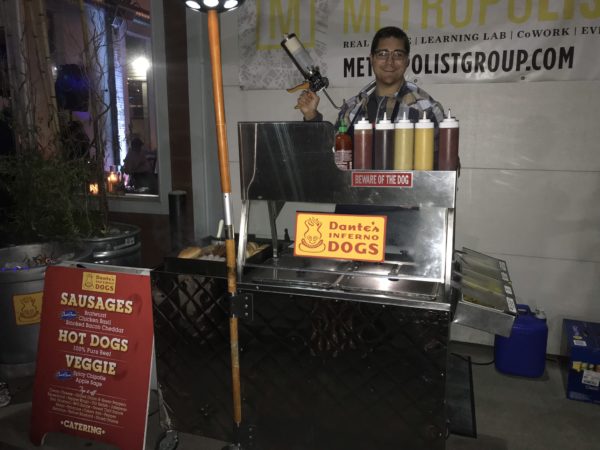 At exactly 10:00 pm the smell of grilled onions, hot dogs and sausages permeated the dance floor. What is that smell we asked? Alex and Brent arranged to have Dante's Inferno Dogs to serve all remaining guests a "dog", chips and a drink for a late evening snack. They were delicious! A "Seattle Dog" is a famous street food that can be found in the city.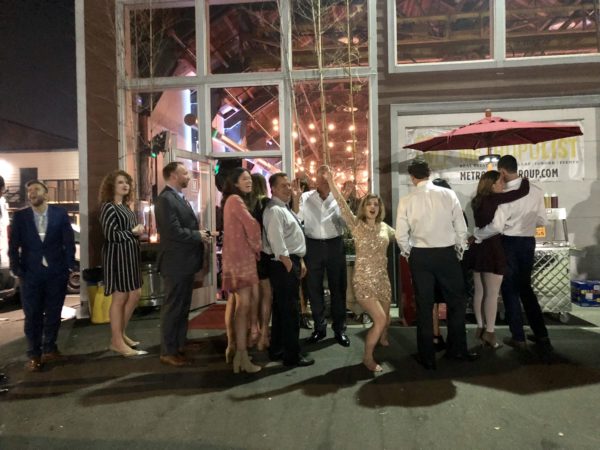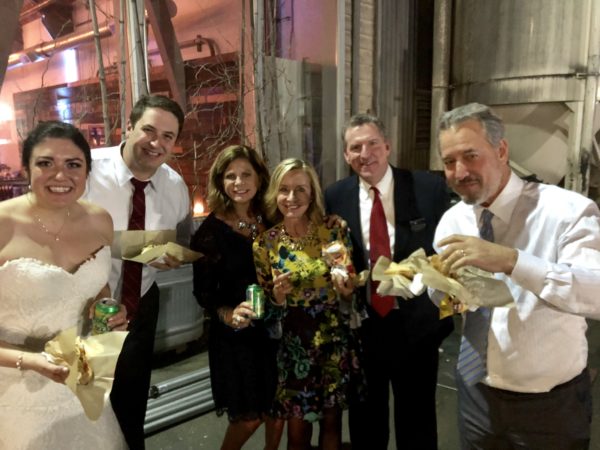 A sneak peek at what the photos will be like!
Our photographer Lora Grady, posted this sneak peek on her Instagram. I can't wait to see the rest!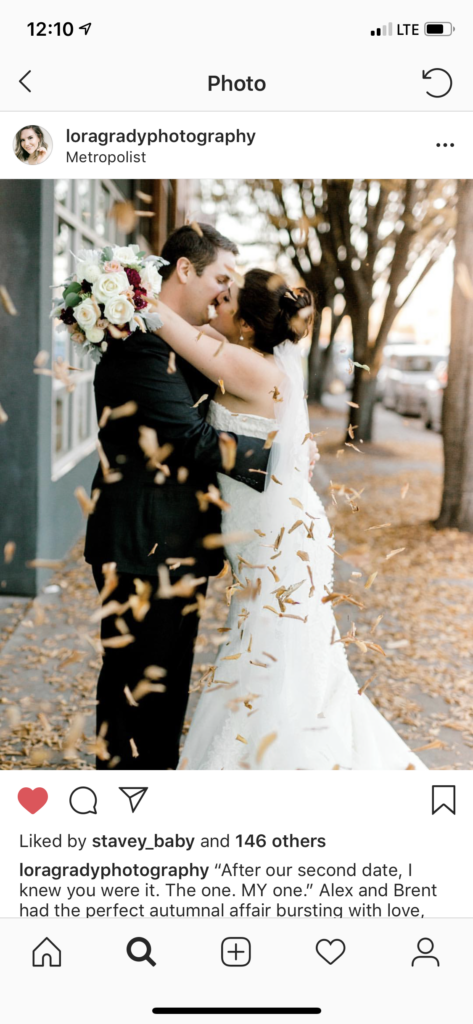 For future reference:
Hair and makeup: Ashley and Karina from Sugar and Shears
Design: Carina Van Son Weddings
Photographer: Lora Grady Photography
Cake: Jamie Rasmus Cakes
Music: DJ Doughboy, Groove Entertainment
Guitarist: Julian Catford
Rentals: CORT Party Rental
Catering: Kaspars Catering & Events
Venue: Metropolist
Pin Me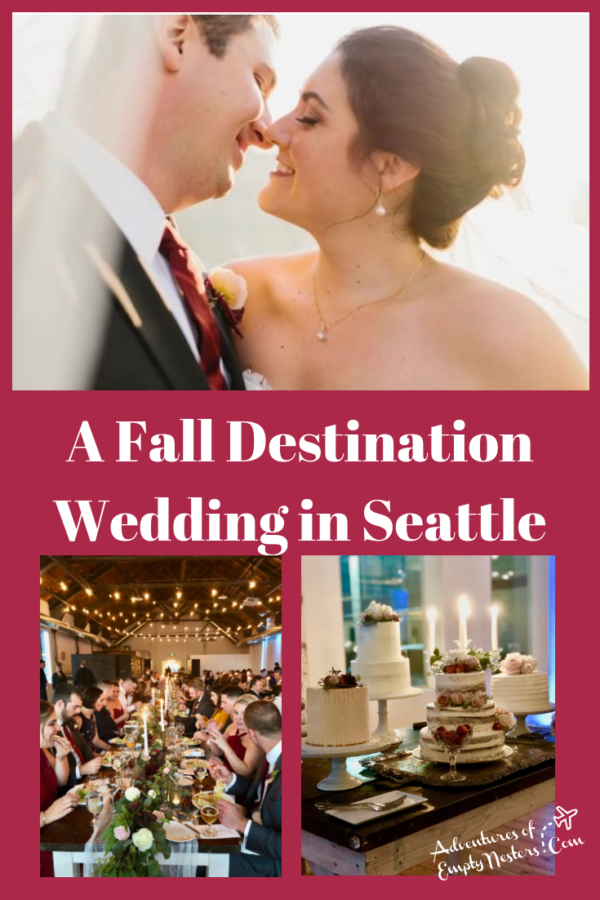 ---
Don't Forget!
Let's connect over on social media here ==>  Follow us on Twitter, like us on Facebook, check out our photos on Instagram, or pins on Pinterest