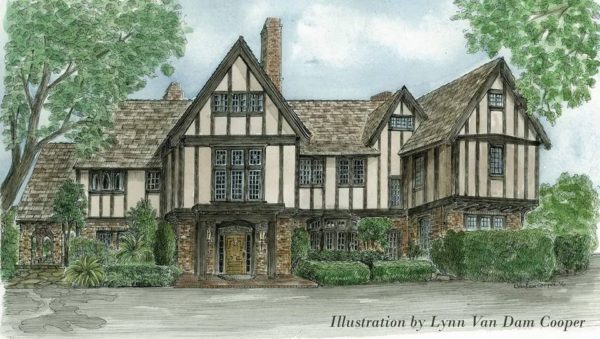 This is not a sponsored post. I just wanted to share my enthusiasm for architecture and design as well as promoting a worthy fundraising event. This is a HUGE experience in my town of Pasadena, CA.
Pasadena Showcase House of Design 2017 – This year's Tudor estate looks especially over the top fantastic.
In the article Behind the Scenes: The making of the Pasadena Showcase House of Design written by Bonnie McCarthy of the Los Angeles Times, she offers a detailed behind the scenes peek inside the project. She shares that it is "recognized as one of the oldest and most successful not-for-profit showcase houses in the country and the showcase will see more than 35,000 visitors. It's a chance for the public to see what's on the style radar in the months to come and meet and speak with the designers about their work."
For many years Mom and I would make the drive from Orange County (about 60 miles) to visit the next masterpiece. Ironically, this year's design house is literally in my neighborhood! I live on one of the "smaller house" tree-lined streets nearby. 🙂
Each year a committee chooses a house to renovate and they prefer that it have at least 9,000-10,000 square feet of living space and also have two staircases. The two staircases allow for a much easier flow when touring the estate. Once the house is selected, invitations are sent to interior designers who have participated in the past and to new ones as well.
The color palette is chosen and the designers create a proposal for their design for a room or rooms of their choice. Participating in the redesign offers great visibility for these designers as well as allowing them some creative freedom to really think outside of the box. We have toured all types of historic homes over the years and enjoyed each of them for many reasons!
Truthfully, it really is just the perfect Ladies Day Out and a great opportunity to take your mom or a friend for an afternoon full of ooohing and ahhhing. All of the landscaping has been beautifully renovated and most often there are uniquely designed pools and exquisite water features. The house is full of tasteful over-the-top you-have-never-seen-anything-like-it furniture and creative decorating ideas. It makes you want to go straight home and paint your house!
There is a shopping marketplace and a little cafe to have lunch as well. This year Craig and I will be taking his mom for a Mother's Day present. Are you going?
Do you have something like this near where you live?
The Pasadena House of Design for 2017 runs April 23 through May 21. Tickets are $40 each.
To read more about the event you can click here ===> Pasadena Showcase House
---
Need blog coaching or travel itinerary suggestions? Click the contact link at the top of the page.
Use the subscription box to sign-up and get post updates by email.
Great information is meant to be shared, I sure hope you share this post with your friends and family. 🙂
Follow us on Twitter, like us on Facebook, check out our photos on Instagram, or pins on Pinterest