Our Visit to Sylvan Lake, The Needles Highway and Crazy Horse
I kept thinking, "Why didn't anyone ever tell me about this place?" Nearly speechless, I stood silently in awe. I knew the landscape was created by nature, but it was just so unusual, with the staggeringly huge rocks, so smooth and perfect it looked like a ride at Disneyland. How could this be real?
In addition to being blown away by the natural elements of the shores of Sylvan Lake, we also arrived just after a small rain shower and the sky was mostly clear and the lake like a mirror, not a ripple. The mirror image of the enormous boulders above and below on the water was magical.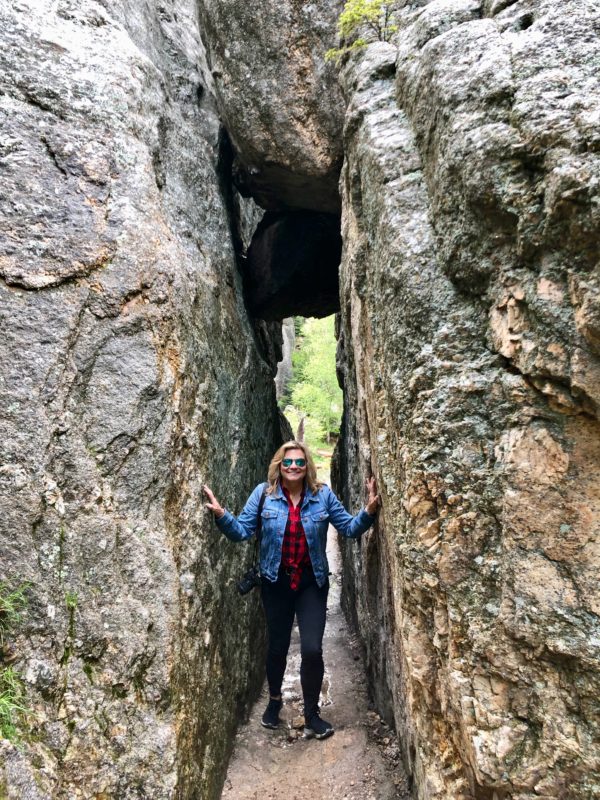 We stopped here at the lake on our drive through Custer State Park in South Dakota on the Needles Highway and throughout the drive the landscape was absolutely remarkable.
Custer State Park is a South Dakota State Park and wildlife reserve in the Black Hills. The park is South Dakota's largest and first state park, named after Lt. Colonel George Armstrong Custer. Sylvan Lake was created when Theodore Reder built a dam across Gulch Creek. Thank you Mr. Reder!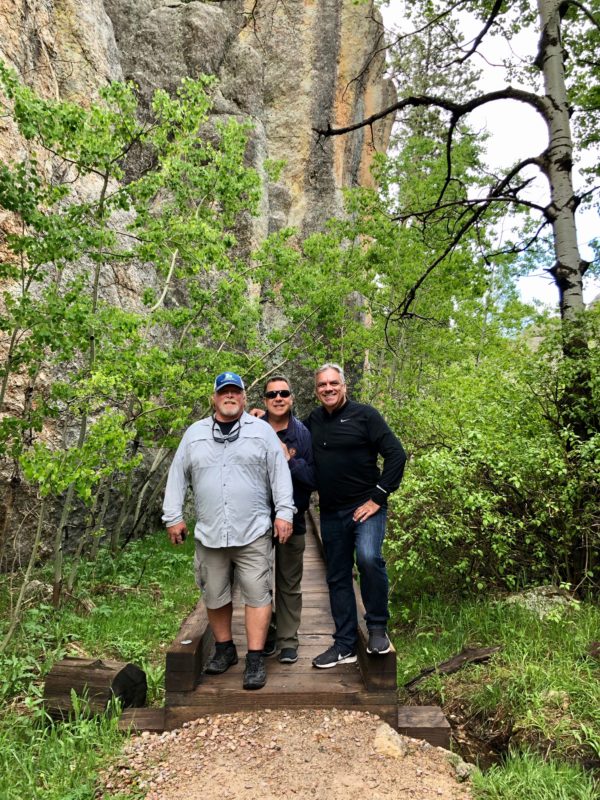 Visitors can fish, hike, swim, camp and stay in the Sylvan Lodge. We stayed for a couple of hours and just hiked around and took it all in. The super fun trails with stone nooks and crannies, made us feel like we were kids again.
After our visit to Sylvan Lake, we continued on the winding Needles Highway to find this ….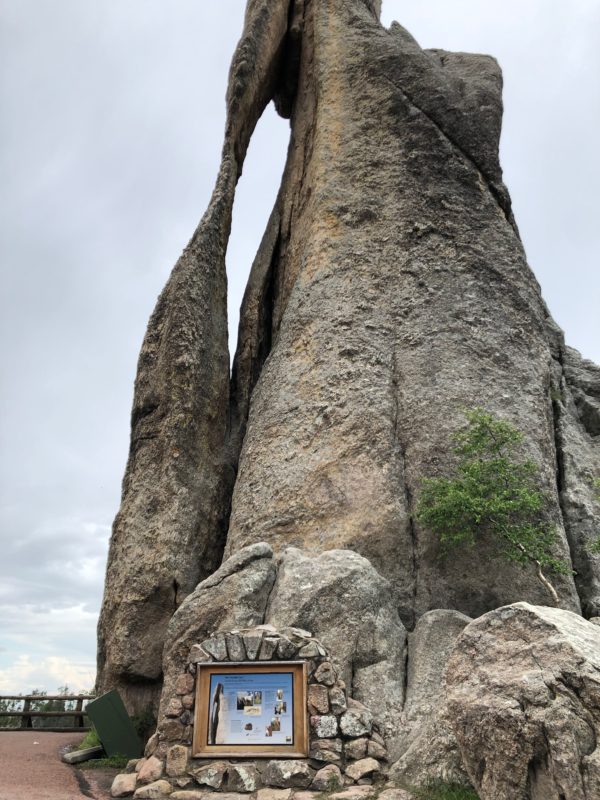 This rock formation is other-worldly! The Needles Highway leading to this granite spire is within Custer State Park, 14 miles long and built in 1922.  It is a super winding, scenic route that is worth the Dramamine. (Yes I took it)
The "Needle" sits at the entrance to the Needles Eye Tunnel. The immediate area is full of cars and people taking photos of this natural wonder! How I managed to take a photo without a tourist is a miracle. As for the tunnel, it is also like the eye of a needle. In order to drive through it, you must know just how wide your car is and then wait your turn so each side may drive through. You can literally touch the walls as you drive through this tunnel. Another wild ride in South Dakota.
Check this out! Only 8'4" wide! I got this in one take and made everyone be silent in the car!
Our road trip through South Dakota was unlike any trip we have ever taken. Our primary interest had been to visit Mount Rushmore and everything else would just be the whipped cream on top, but holy cow, we had no idea how spectacular the rest of our drive would be.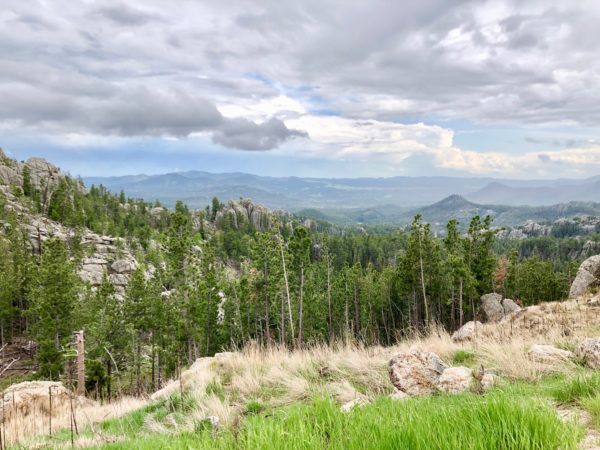 We continued on to the vast and spectacular Badlands and again were impressed beyond words. How can this be? How did this get here?  The Badlands go as far as the eyes can see. I will create a photo essay for you from our tour there. OMG it was a miracle of nature. Here is a preview photo. We loved it here!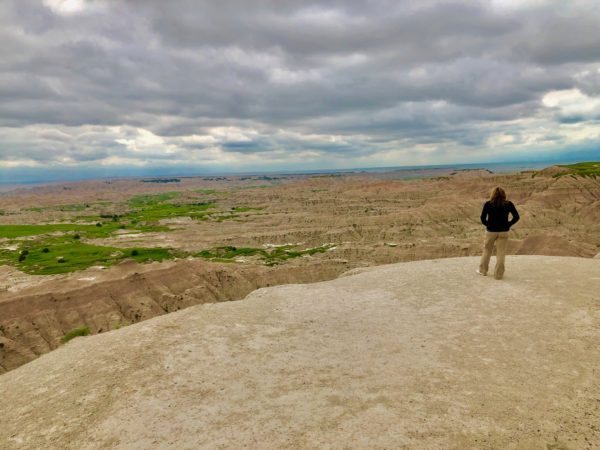 A Visit to Crazy Horse Memorial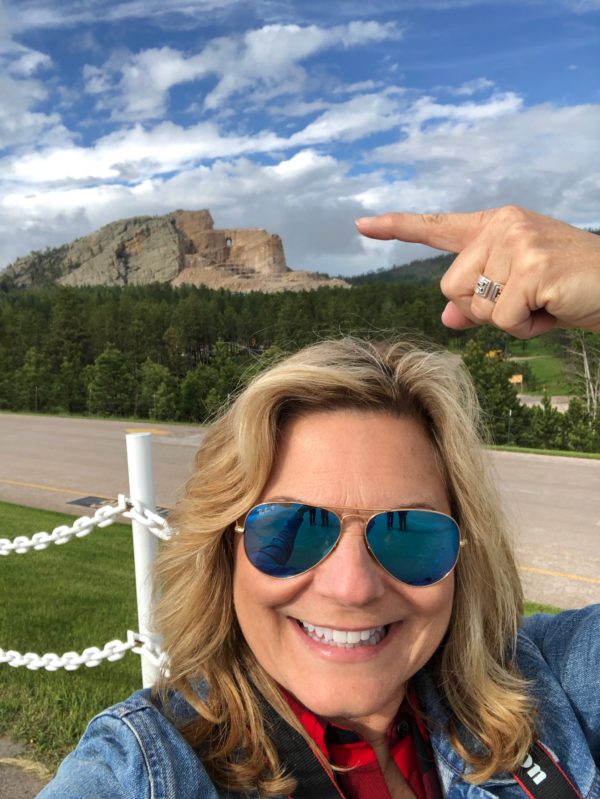 The Crazy Horse Monument is a massive sculpture under construction in the Black Hills of South Dakota, not far from Custer State Park. It was created to depict the Oglala Lakota Warrior, Crazy Horse. The sculptor, Korczak Ziolkowski began the monument in1948 and his wife Ruth and family have continued the project after his death. It is the largest sculpture every created. The head is 30 feet taller than the heads at Mount Rushmore and when complete will be taller than the Washington Monument. The Crazy Horse Memorial Foundation is privately held and has never accepted federal funds.
You can see a replica of the proposed finished monument here. Obviously there is a long, long road ahead for the sculptors, but it will be magnificent when it is finished.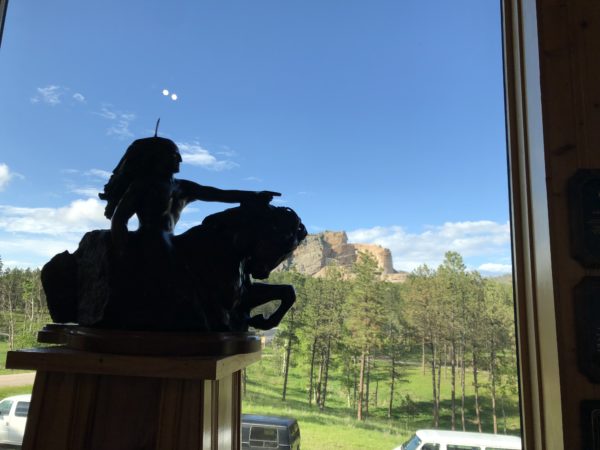 Final Thoughts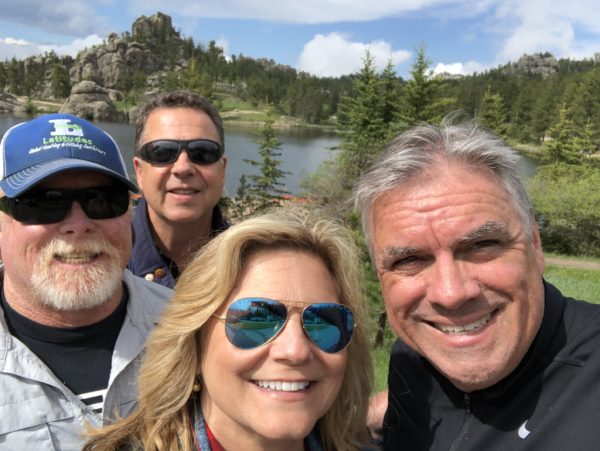 Our visit to Sylvan Lake was such a delightful surprise. I tried to research as much as I could, but Custer State Park is so full of amazing sites, I missed this one. However in my defense, no one has EVER mentioned or described this beauteous place to me before. Why not? Why are the travelers in my circle not visiting here? Since I posted a few of these photos on Instagram, a small handful of accomplished road trippers enthusiastically high fived me for going. But wow, this area of the US is worth a planned vacation. It's spectacular!
Truthfully, I am really not a road tripper, nor camper, but I stepped out of my typical itinerary and was rewarded with views I never knew existed. We were certain that our road trip through South Dakota would be "pretty" and enjoyable. It was nothing of the kind. Every outing was like Christmas and every turn on the road was like opening another precious gift.
More about South Dakota:
A Visit to Mount Rushmore is More Spectacular Than You Can Imagine
---
PIN FOR LATER