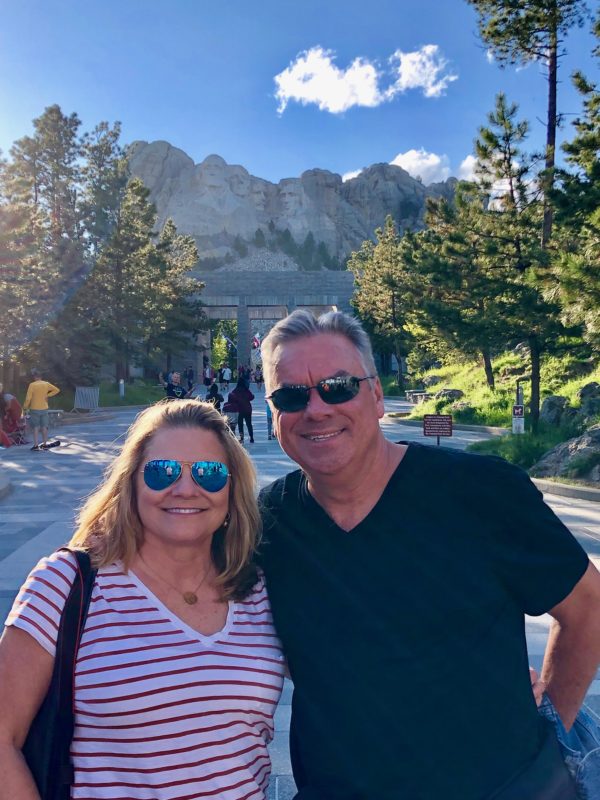 A Visit to Mount Rushmore
Tomorrow is our nation's birthday and besides slicing the watermelon and wearing red, white and blue, I will be thinking of how awestruck we were standing below the Four Presidents of Mount Rushmore, the friendly soldiers we met there and the Thomas Jefferson ice cream. Read on, it's a great story. 
To find adventure is our personal mantra and therefore our travel plans are eclectic by choice. In just the first six months of 2019, we have been to Maui, Iceland, Seattle, Italy, North Dakota, South Dakota, and Wyoming! Pretty cool! But lately my curiosity for exploring more of our nation has intensified. I have visited 40 states thus far, so with ten left to go, traveling in the US is on my mind a great deal.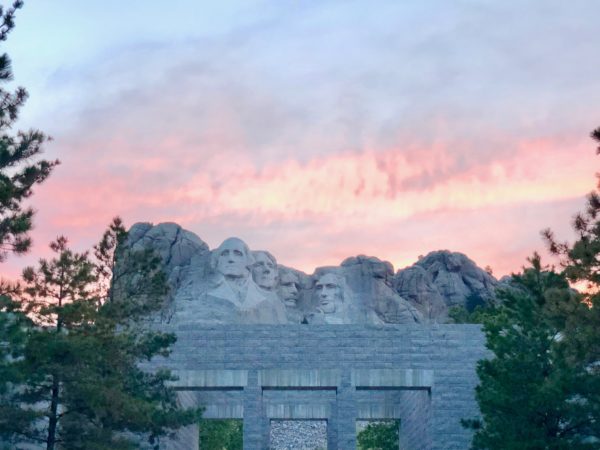 A North Dakota Adventure – Why?
Two travel writers and good friends, Sara Broers of Travel With Sara and Lisa Trudell of The Walking Tourists have created the Midwest Travel Network where destinations, CVB's (Convention Visitor Bureau) and travel writers can connect, fostewr relationships and create partnerships.
The 2019 Midwest Travel Conference was in Medora, North Dakota. I know, I have never heard of this town either, but let me tell you something, I am smitten with this adorable western town. You will learn more about our fantastic experience in Medora in an upcoming post. As a sneak North Dakota peek: the vast landscape stretches as far as you can see, the area's history and charm is palpable and we felt so welcome. I also bought adorable cowboy boots, of course!
Traveling with friends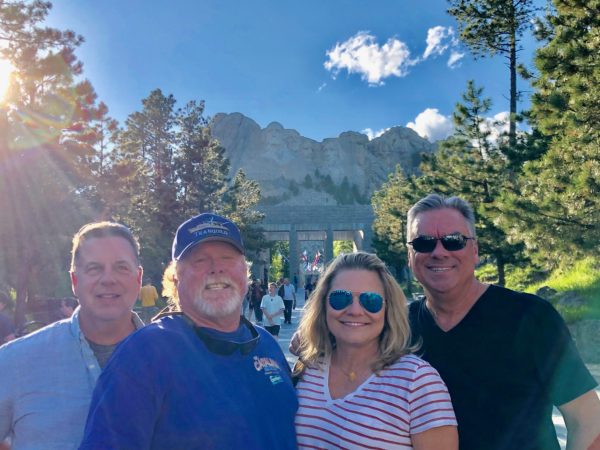 This is our third trip with two childhood friends (trip #1 Montana & trip #2 Oahu) and we have fun discussing possible destinations and create itineraries where we want to find adventure next!  When Troy, part of our fearless travel foursome, learned I was going to North Dakota he exclaimed "I have always wanted to see Mount Rushmore in South Dakota!" Therefore attending the conference in North Dakota was the catalyst for our South Dakota and Wyoming road trip. Hmmmm…. A plan was formulating.
Empty Nester road trip through South Dakota
After the conference, Craig and I met Troy and Brad at the Rapid City, South Dakota airport. (Nope, never been there either!) This large city sits by itself with not too much around but wide open space (except for Mt Rushmore). You will find a historic and charming downtown with eclectic shops and tasty diners. After a quick lunch and with no time to waste, we headed straight for our visit to Mount Rushmore. We had a monument to see!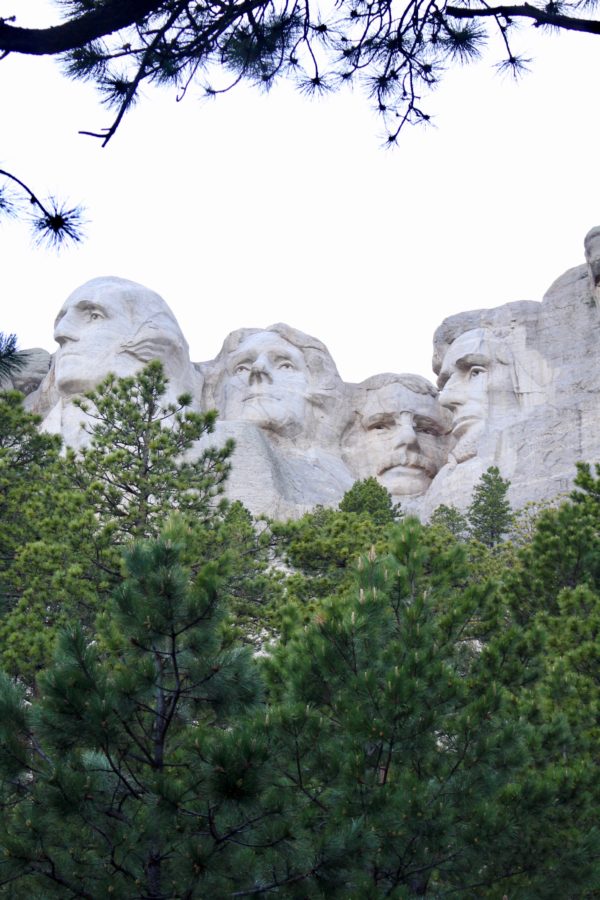 Oh, Mount Rushmore
As you drive around the final bend in the highway before the exit, you see in distance the magnificent presidential faces so suddenly, it was like they dropped from the sky. So impressive! We had no idea what to expect, how large the sculpture would be, how far away we would be able to stand or how crowded it would be.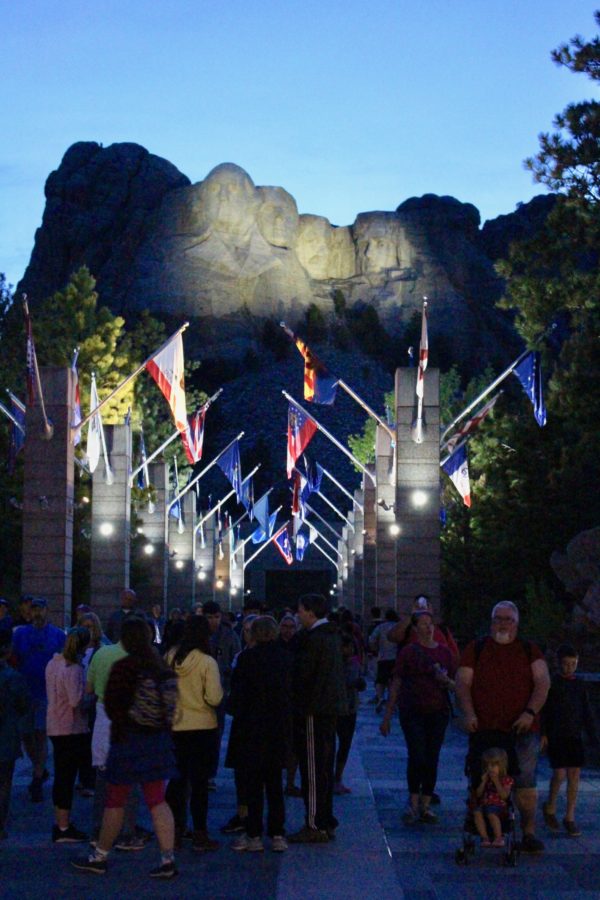 We wanted to experience Mount Rushmore in the sunshine as well as in the evening when the four faces are lit. Arriving at 6 o'clock, we explored the monument, hiked a little, and enjoyed an enormous scoop of Thomas Jefferson ice cream! The entire experience was delightful from beginning to end. Crowds were small and the monument was spectacular.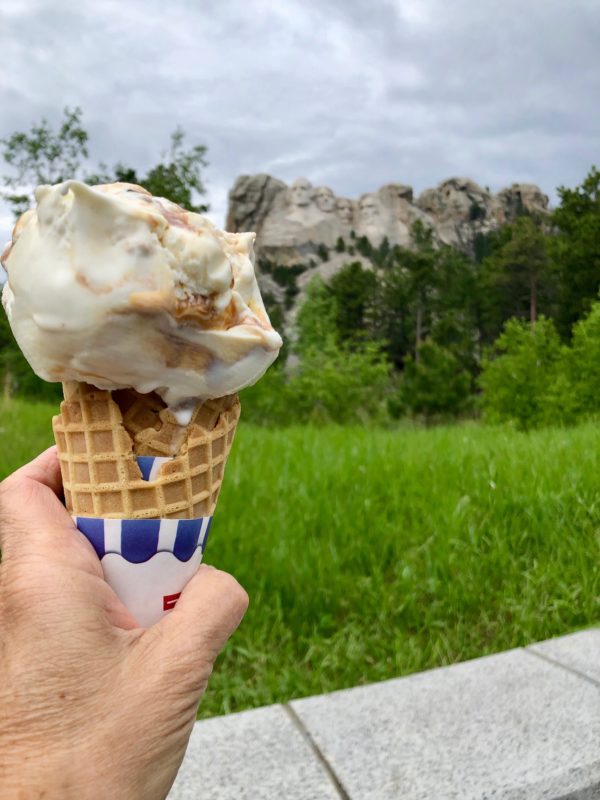 Fun Fact: Did you know that Thomas Jefferson is the first person in the US to have created a recipe for ice cream?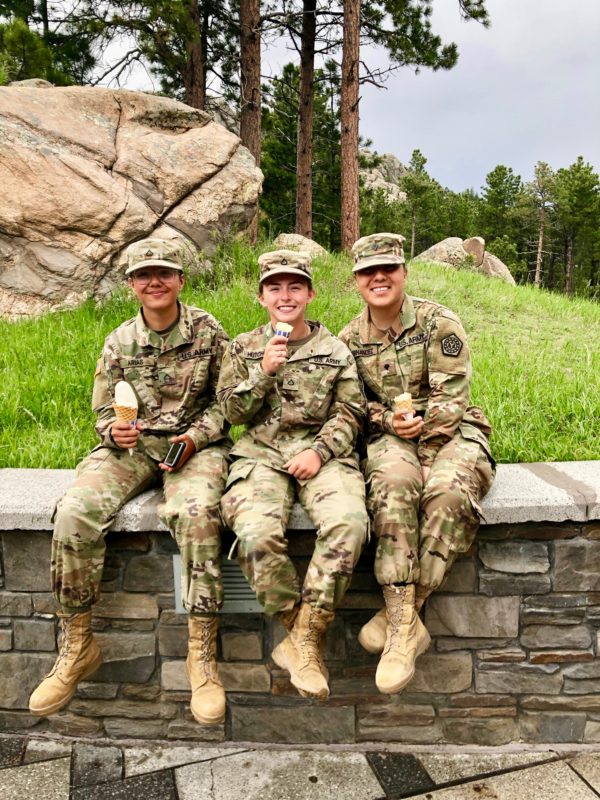 Fun Facts about Mount Rushmore: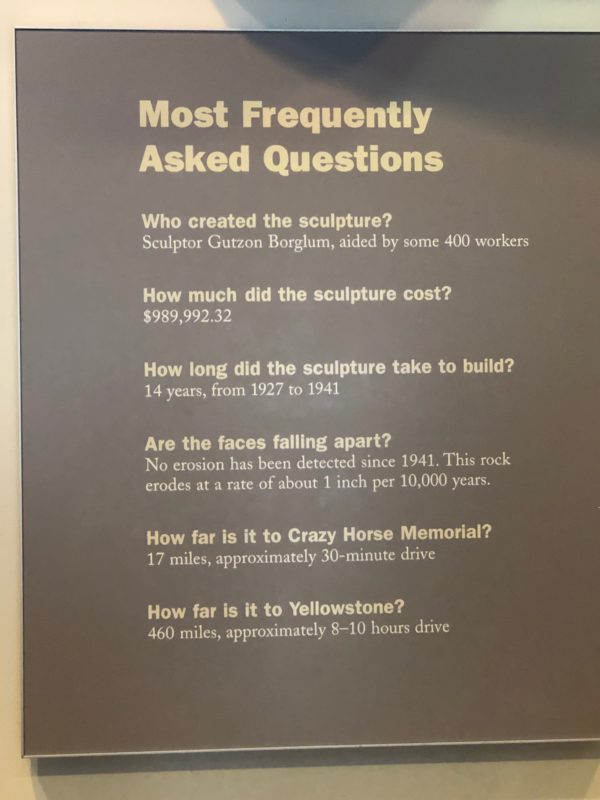 We stood in awe of the engineering marvels! You should know that construction began in 1927 by sculptor Gutzon Borglum and the dedication of the Washington head was three years later. Considering the equipment was nothing like what we have today, it makes Mount Rushmore even more remarkable. Approximately 400 laborers, mostly unemployed, worked on it, there were few injuries and no deaths. The hourly pay range was from 35 cents to $1.50.
About 450,000 tons of rock were blasted from the mountain and the granite sculpture is a buff and cement-colored stone and from a distance looks one color. However as you move closer and hike underneath these great sculptures you can see the multi-striated stone. The stone is actually layered with different variations of the same hue.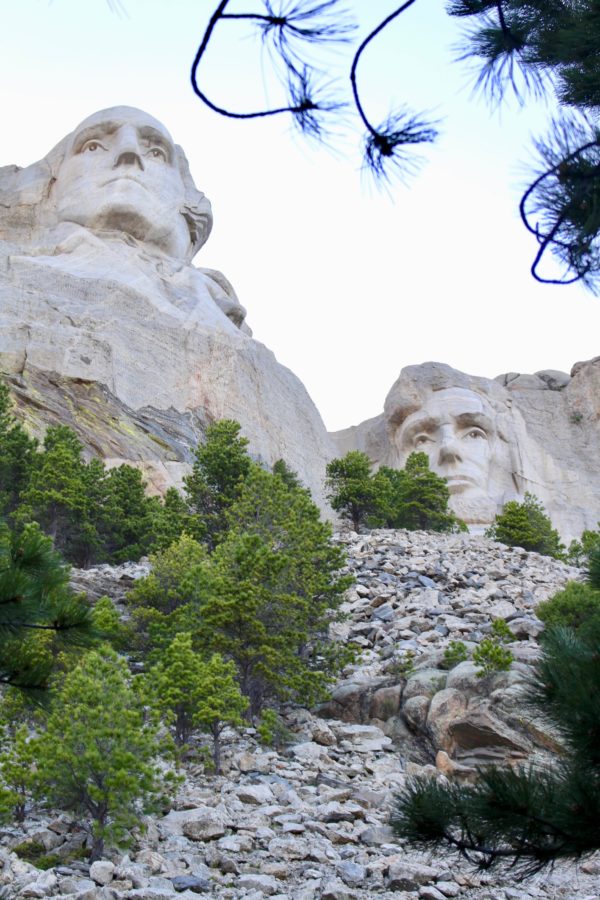 The Lighting Ceremony
After consuming the enormous ice cream cones, standing under the noses of the presidents, talking with fellow tourists and soldiers, we waited for the lighting ceremony of Mount Rushmore. There is a dynamic, pre-recorded message that plays and explains why Borglum chose these presidents, significant historic references to their presidencies as well as other interesting facts.
At the conclusion of the message, we were asked to "Please rise and sing the National Anthem". Every person stood, hats came off, hands covered hearts and we sang. When we finished, you could have heard a pin drop and many of us were wiping away a tear. It was so moving. I expected to enjoy seeing the enormous monument, but I did not expect to be so taken by it. I have read the stories of other writers and talked with fellow travelers and without exception, each of us felt the same way.
"Let us place there, carved high, as close to heaven as we can, the words of our leaders, their faces, to show posterity what manner of men they were. Then breathe a prayer that these records will endure until the wind and the rain alone shall wear them away" Gutzon Borglum – Sculptor
Final thoughts on our visit to Mount Rushmore
I may have been a little sassy when I wrote earlier about visiting the Dakotas, but I will not make that mistake again. Wondrous North Dakota blew me away and I look forward to going back. I already have a plan in mind! South Dakota is not an easy place to get to if you live far away like we do. It doesn't always seem to fit in to many road trips, but I think everyone should visit, it is quite remarkable!
Stay tuned, I have so much more to report from our trip to Medora, ND and our road trip through South Dakota and Wyoming.
Happy Fourth of July!
---
Pin Me Now!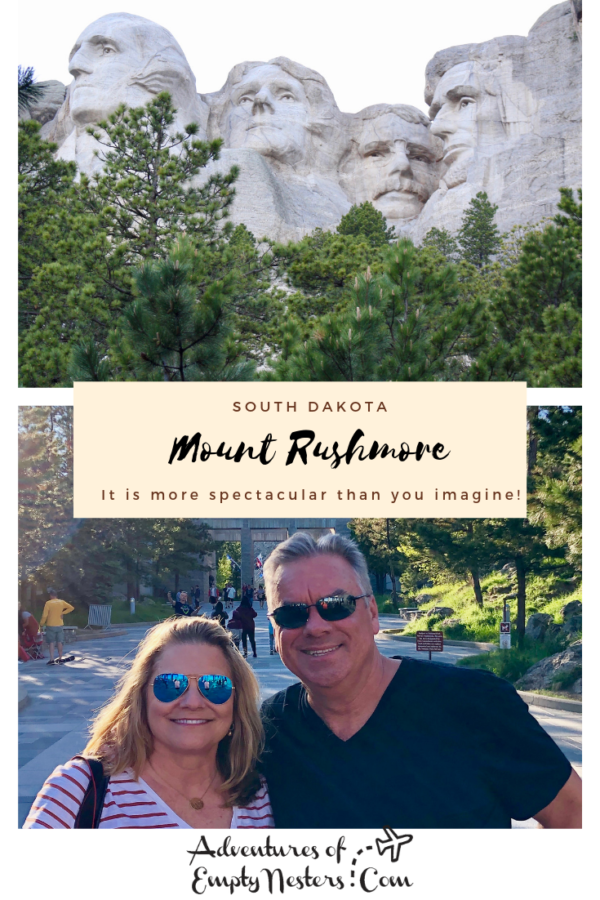 ---
Do you know someone who would enjoy this post? Please forward to them!
Let's connect over on social media here ==>  Follow us on Twitter, like us on Facebook, check out our photos on Instagram, or pins on Pinterest