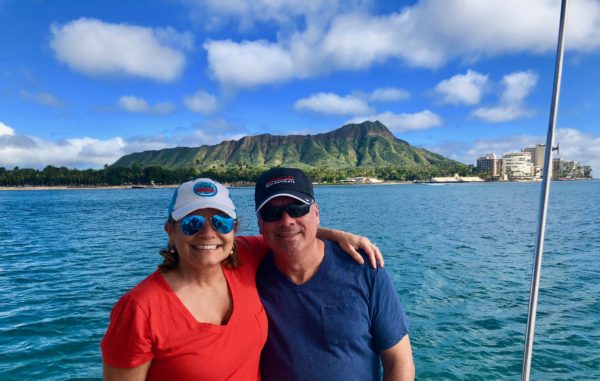 Travel with a large group – Fun or too challenging?
Typically, I travel with Craig or by myself. What would it be like traveling with a group of friends? Would I get enough time alone? What do I do about the travel blogging part of the trip? Will they be annoyed by my taking photos of our food and drinks? They were not annoyed in the slightest, they even helped out!
One of my biggest dilemmas of travel blogging is finding a balance between being in the moment of a travel adventure and making sure I capture just the right details. I do take notes, but just pausing and writing down some of my immediate reactions and emotions is paramount to authenticity. I wrote the bulk of this post while on vacation, everyone else was relaxing or talking or playing games in between activities.
Party of Nine ~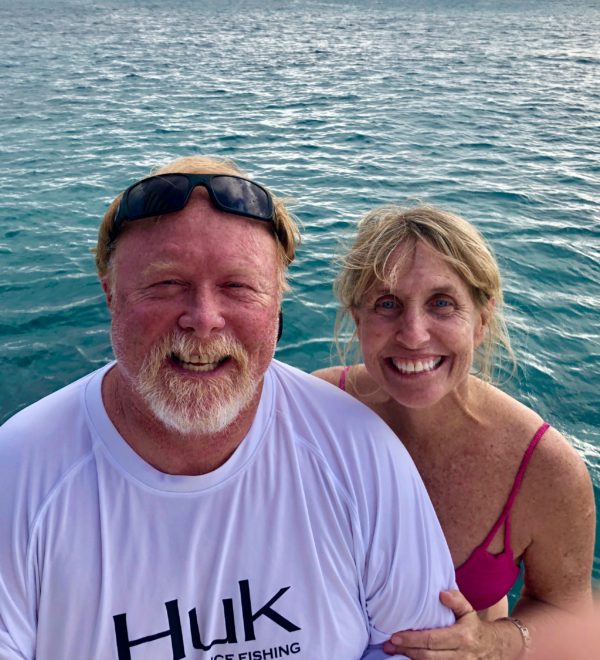 We are traveling with dear, long time friends (I hate to say OLD); Troy and his two adult children, Kimi and Jack, Brad and Rebecca and our son Nick and girlfriend Kylie. Our daughter Alex and fiancé Brent needed to save their PTO for their honeymoon later this year.
There are nine of us. I wasn't sure how that would work out and it has been seamless. We rented two SUV's which was a superb idea! So easy to get everywhere and very comfy. Everyone is generous with their space, their offers to help with clean up or cooking or really anything that needs attention. We laugh, talk, and laugh some more. We have a lot of history together, stories to revisit, not to mention a whole lot in common.
Our friend Pam, and sister of Troy, lives here on Oahu and planned an extraordinarily "local" vacation for us. She took us to hikes we never knew about, cute little local restaurants, farmers markets and an afternoon excursion on a forty-seven foot yacht with her best friends.
Swimming party on a yacht ~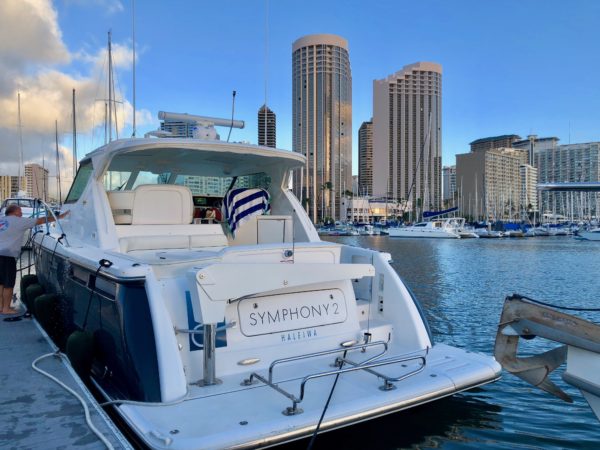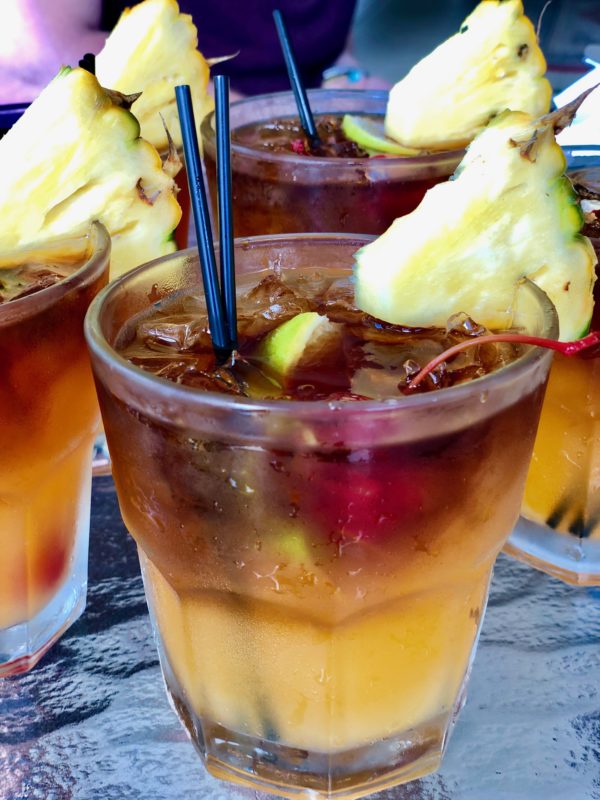 No I am not kidding. This boat was dreamy with white leather seats, a large dining area where we could relax and have salty snacks, two bedrooms and a very capable captain. After toasting with the perfect Mai Tai, we embarked from the Honolulu Yacht club. Our plan for adventure was to cruise the turquoise Pacific Ocean just off the shore of Waikiki Beach and famous Diamond Head. For me, until now, a view like this could only be seen on Hawaii Five-O! We were presented with an amazing opportunity to see the popular golden shores of Oahu from this perspective and we pinched ourselves.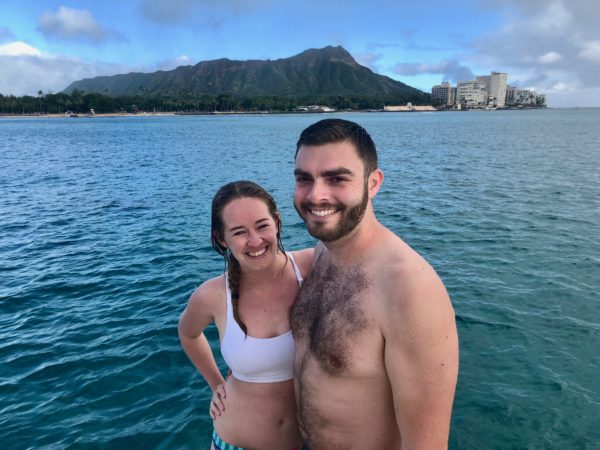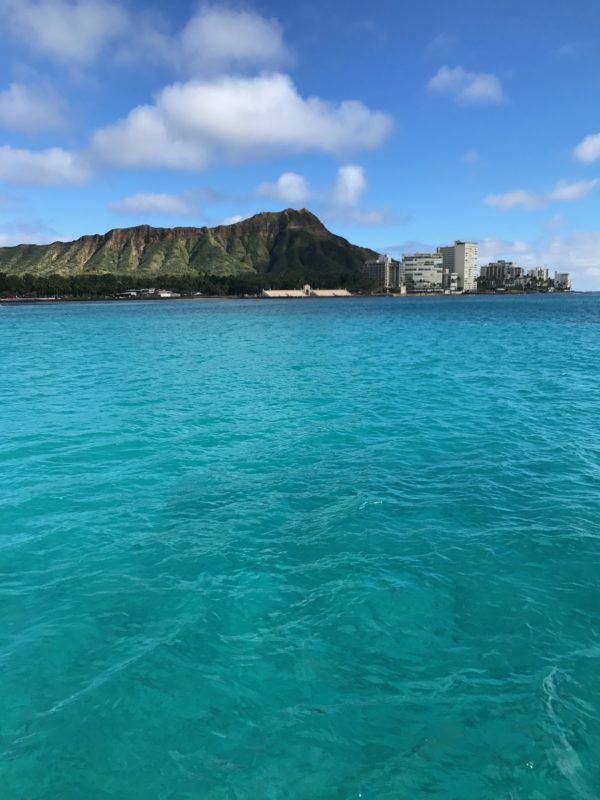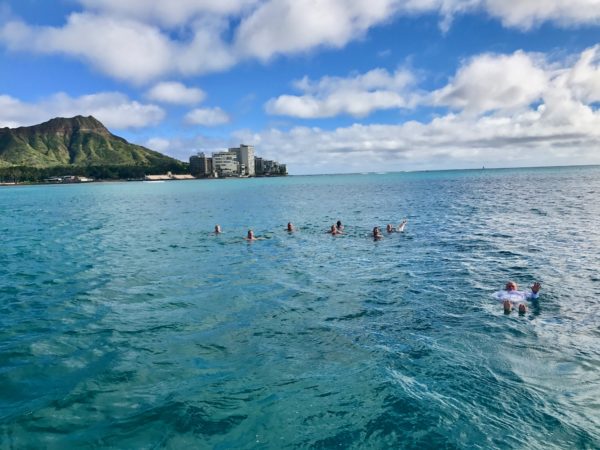 We anchored offshore and dove, swam and paddled as the majestic Diamond Head watched over us. The stern of the boat would gently turn in a circle so every couple of minutes you would see the busy Waikiki Beach and then Diamond Head and so on. We all marveled at this moment in time and how fortunate we were.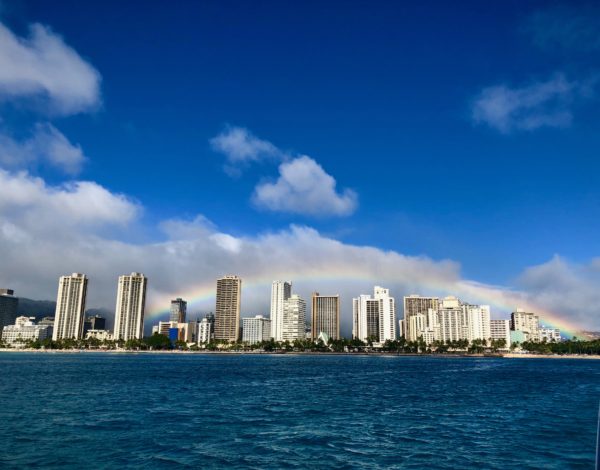 Pam's husband is a chef at the Royal Hawaiian Hotel and he made us dinner after our cruise. Really… juicy steak with spicy Chimichurri sauce,Yukon gold potatoes, broccoli rabe sautéed in olive oil and lots of salt and pepper, Caesar salad, and fresh Hawaiian pineapple.
Friendship ~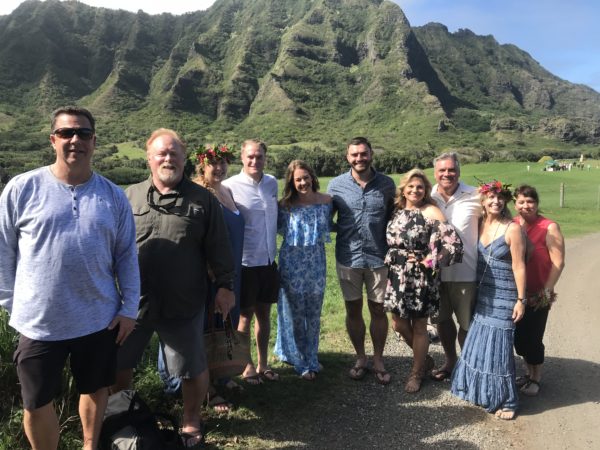 My connection with these wonderful people runs so deep. Most of us have known each other since high school, but Craig and Brad met in third grade. This is what life is really about. Being with people you care about and finding adventure! It is quite a challenge to combine nine personal calendars and be able to get a trip planned, but we did it!
The impetus of this trip was an extraordinary meal with Outstanding in the Field at Kualoa Farms where Jumanji and Jurassic Park were filmed. We all stayed in an adorable Airbnb in Kailua, on the east side of Oahu. If you polled everyone in the group, it would be a unanimous thumbs up! It was a very successful, fantastic trip and we will attempt to do this again somewhere new next year if possible. Traveling in a large group was easy for us!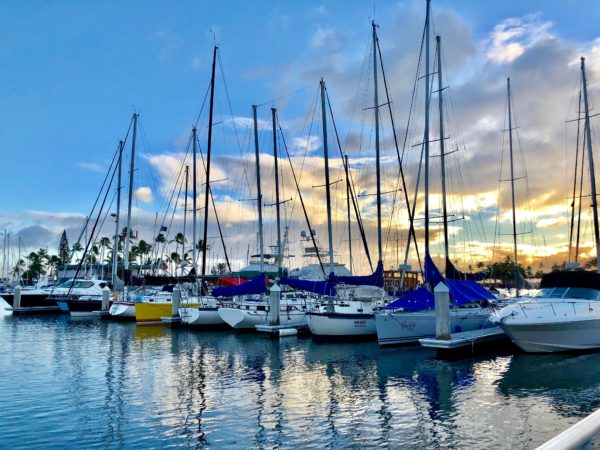 Have you planned a trip for a large group? Was it successful?
---
Do you know other travelers who would enjoy the post? Please forward to them!
You can find us here:  Follow us on Twitter, like us on Facebook, check out our photos on Instagram, or pins on Pinterest