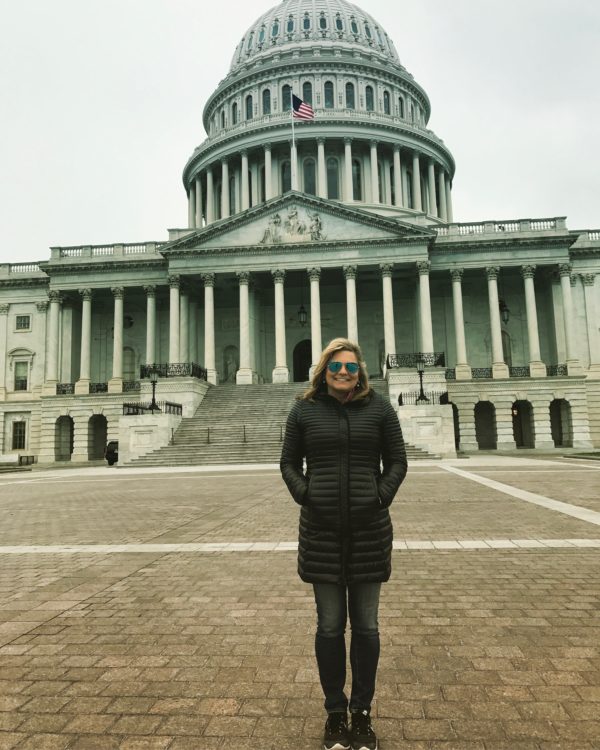 What are the best things to do in Washington D.C.? How much time do you have?
Washington D.C. is an incredible place to visit (and live) and I found that people I talked with about visiting there fell into one of two categories. One, was that they have visited several times and knew the city really well and the other was a person who always wanted to go but for whatever reason never seemed to have gotten there!  It was interesting to hear about the two extremes.
Angela, my close friend from college, has a daughter who attended Georgetown University. She has since graduated but still lives nearby, therefore Angela and her husband Jon have been visiting Washington D.C. several times a year for nearly a decade. Angela created a personal, detailed list of her favorite things to do in Washington D.C. The list included restaurants, art galleries, government buildings, monuments, fun cocktail bars and it was the cornerstone of our entire itinerary. She and I have a lot in common and also love to do the same things, so I knew whatever she suggested would be a home run with us and it was.
Her list was so long that we did not have a chance to complete it all, but hopefully will one day soon The original reason for this trip was to see and experience the cherry blossoms in bloom at the peak of their season. The peak date of blooming always varies, so you never quite know when the blooms will be flourishing. We took a chance, chose a date, made a plan and we were not disappointed. Lucky us!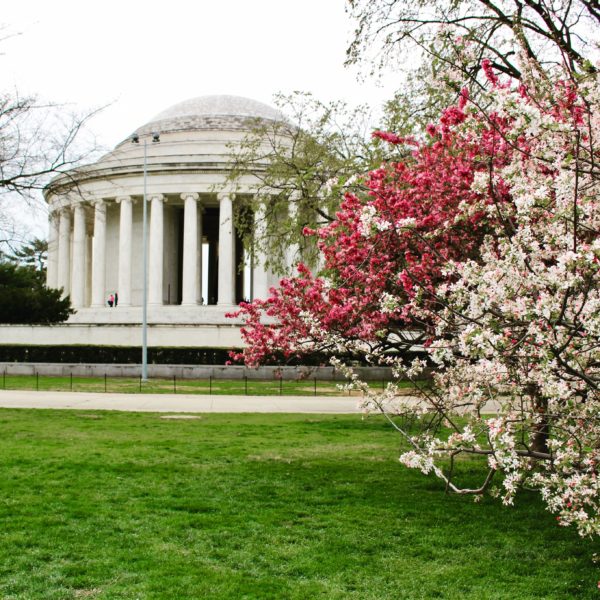 I have decided to write this general list of must do's and then come back in the next few weeks and give you more tips and details of our most favorites spots. We covered a lot of ground over five days, but many of the sites are close to each other so we made use of that geographic advantage to see more! Additionally, "The District" is such a walkable city that we walked a LOT! One day we logged 19,406 steps and 9.6 miles. It was fun to walk the streets in between the monuments to get a feel for the city. We were tired but felt very accomplished.
Here you go… The Top Must See and Do's in Washington D.C. for the ambitious traveler!
Walk "The Mall"
Walk about Dupont Circle
Visit Georgetown
When I wrote this list I grouped them by location and I think that would be a logical way to visit them. Many are close by or within walking distance of the others. You can take Uber to different areas of the city that are further away, or take the Metro or bus.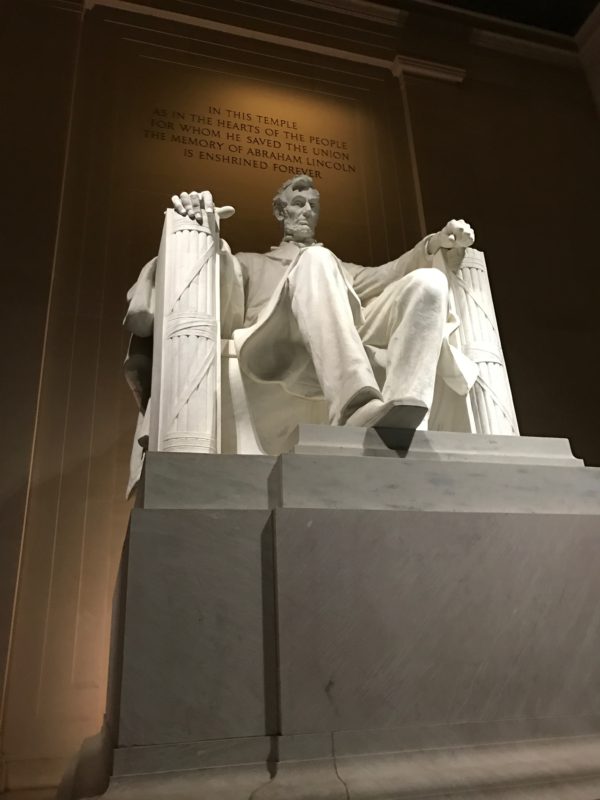 Cherry Blossoms in April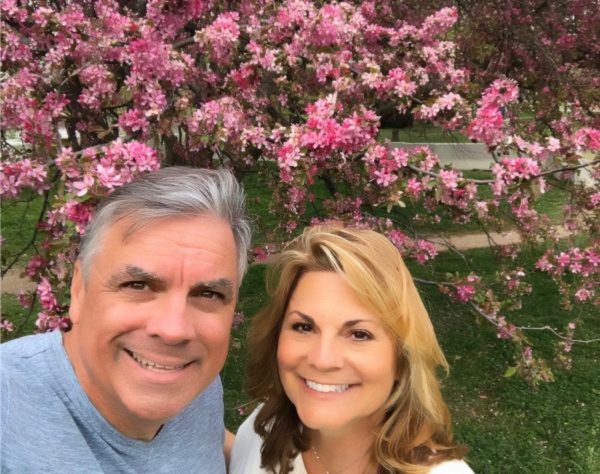 If you have the opportunity to travel to D.C. in April, DO IT! Standing under the canopy of pink and white fluffy cherry blossoms is such a unique and wonderful experience. Visitors from around the world travel to our Nation's Capitol to see the Cherry Blossoms and I now know why they do. Other than traveling to Japan, I cannot imagine blossoms any prettier than these!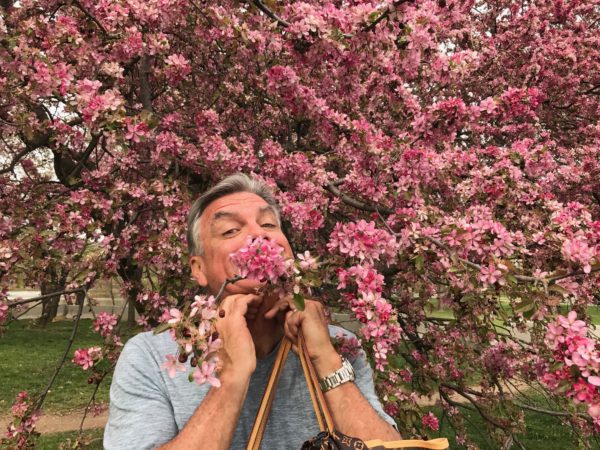 The Monument Tour
To say that I was moved by the beautiful grandiose memorials, would be such an understatement. Although there has been much turmoil in our country lately, my sense of pride for being an American is at an all-time high. We were so scrappy back in the day when we were establishing our independence and it is all quite remarkable to think about. Reading the writings of great presidents like Thomas Jefferson and Abraham Lincoln carved in to the stone walls was deeply thought provoking. So much of what they said back then is so applicable to today's political conversation.
While viewing the WWII Memorial, Vietnam Veteran and Iwo Jima Memorial, we were speechless to see the thousands of names of those courageous men and women who lost their lives fighting for our country. Each memorial is unique and offers its own way to pay tribute.
The National 9/11 Pentagon Memorial and the Iwo Jima Memorial (Marine Corps Memorial) 
After visiting many memorials, we finished the evening at The Pentagon Memorial and the Iwo Jima Memorial and we were emotionally spent. The Pentagon Memorial was a sobering reminder of the worst day in our country in my lifetime. Tears roll down your face as you walk through a very uniquely designed memorial. I felt that we were delicately walking over a sacred piece of ground. My heart broke for the families who lost their loved one. The memorial honors the 184 people who were killed when the plane crashed in to the Pentagon.
Each of these illuminated benches honors a person who was lost and if the "wing" of the bench faces away from the Pentagon the victim was on Flight #77. If it points the other direction, the person worked in the Pentagon.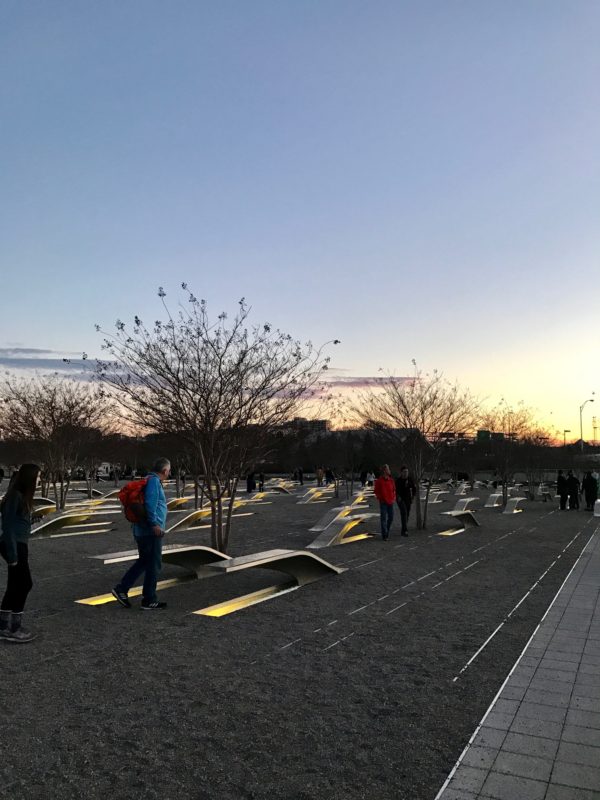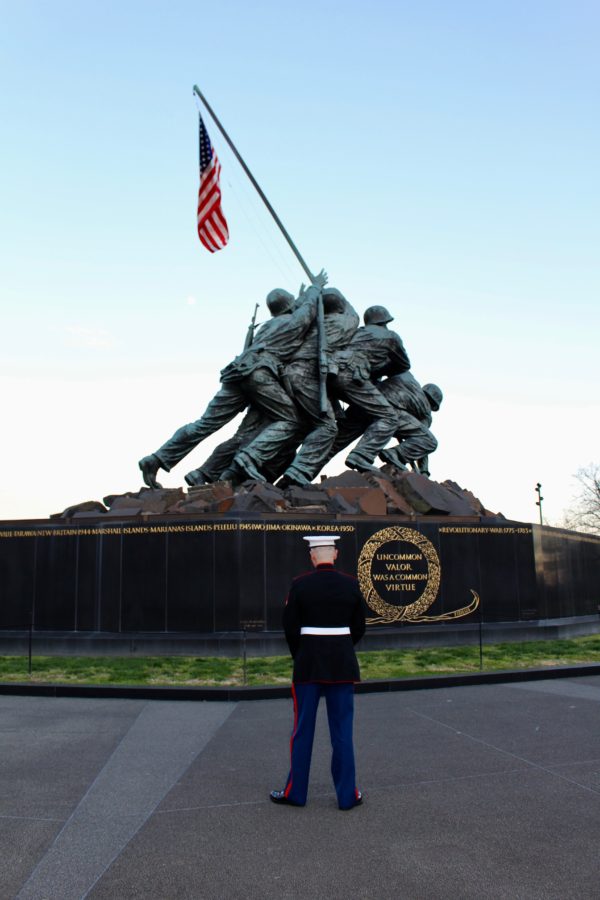 Iwo Jima Memorial
Our final stop of the day was at the Iwo Jima Memorial. It was 6:00 pm, the sun was setting and there were only approximately twenty people standing around the most enormous, intricate, amazing sculpture. I turned to my right and there, in a full dress uniform was a Marine, all by himself.  I was startled and decided that I wanted to get a photo of him from behind while he admired the memorial.
But he turned to Craig and said, "Would you mind taking a photo of me?" Craig handed me the officer's phone and said that I was the better photographer. I took a few, then he gave a salute in the final photo. I checked his phone and the photos were rather dark. So I asked if he would mind walking to the other side of the memorial where the light was better.  "Yes Mam, of course" he said. We took the final photos and as we finished we started to talk with him. 
He shared that he had been out of the service for 25 years and he was visiting D.C. for the funeral of his uncle. At 93, his uncle was the oldest remaining survivor of Iwo Jima. Choked with emotion he explained how honored he was that many of the very top brass of the Marine Corps attended the funeral and paid their respects to his family. Craig and I will never forget this moment in time and were honored to have met him. As we walked away parents asked if he would pose with their children and of coursed he obliged.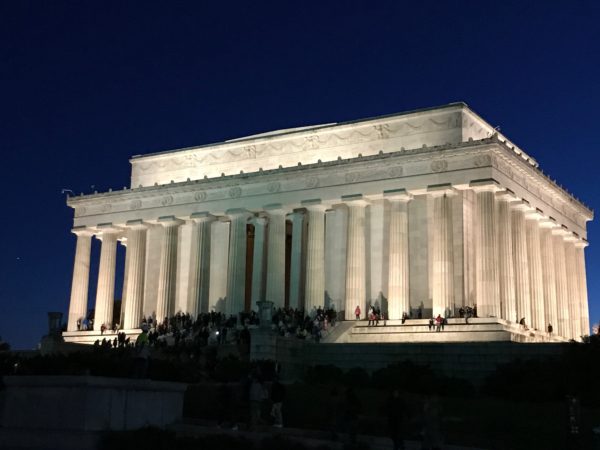 Additionally, visiting the monuments at night is also a super fun way to see them and the experience is totally different than it is during the day. I would do both if you have time. Sitting on the Lincoln Memorial steps is a "thing" now. Hundreds of people show up at 8:00pm to enjoy sitting there soaking in the magnificent feeling of Lincoln and enjoy the beautiful lights of the city.
Reach out to your Congressman or Congresswoman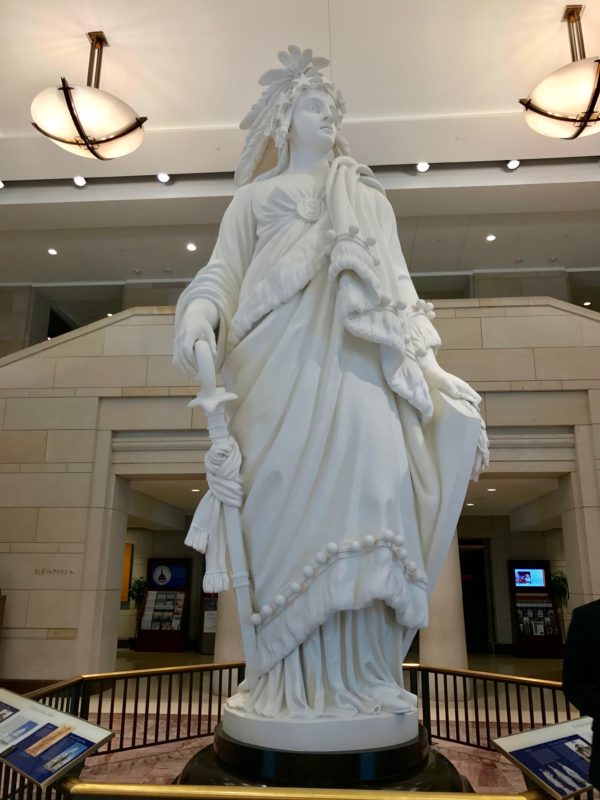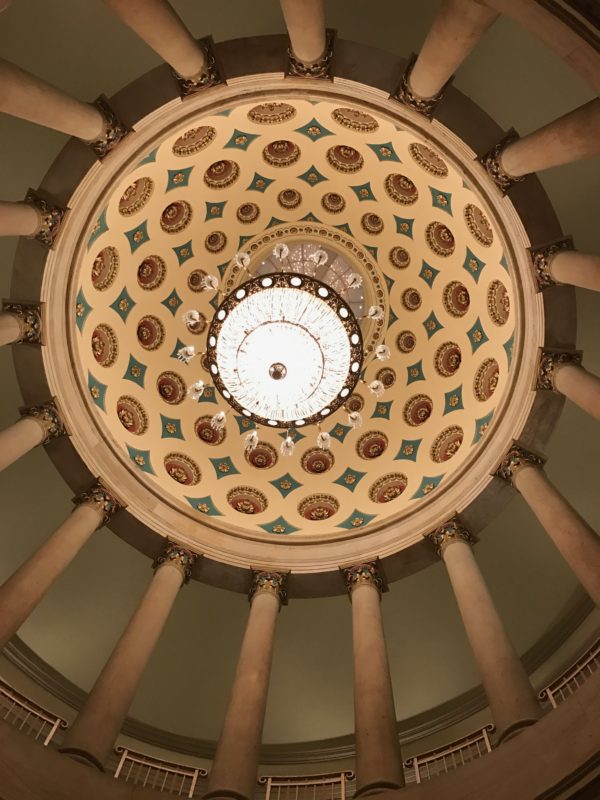 If you go to the website of your local leader you can request certain Washington D.C. tours. Unfortunately I only made the request a week in advance so I was unable to be granted a tour of The White House (They need several months lead time because of its popularity). However, we were given a private tour of the Capitol by a delightful intern from Congressman Schiff's office and also given tickets to a Congressional Private Tour of The Kennedy Center. Skip the lines, receive a detailed and informative tour and be able to visit the Longworth House Office Building where the congressional offices are located. The tours are free and you really feel a part of something instead of a just a number on a public tour. Public tours are great, but this is much more personal.
The Capitol Building is a sight to behold. I absolutely was in awe of the architecture and grandeur of it all. Even though there were lots of noisy school children visiting for Spring Break, I did not let that disturb the joy I was feeling!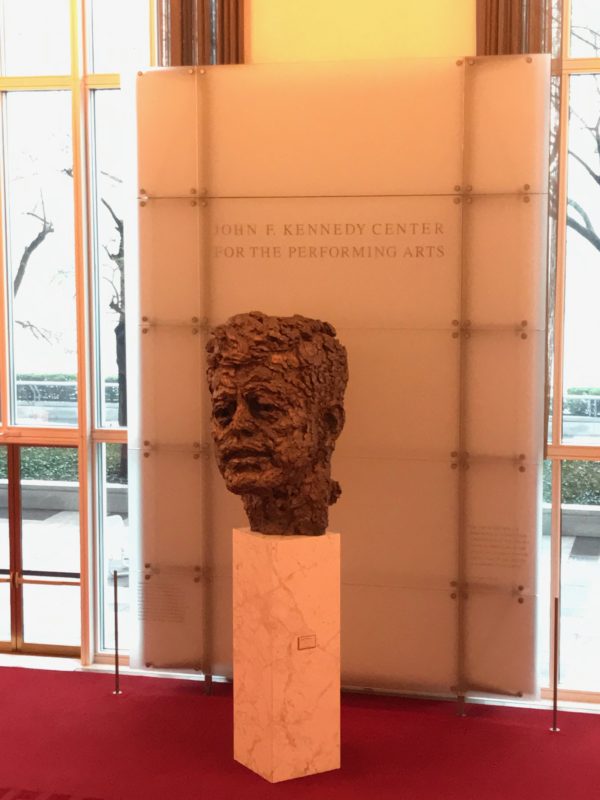 The Kennedy Center is not only a cultural hub of the U.S, but there is a great deal of history to be learned by visiting. Craig and I now understand so much more about the significance of this building and all of its programs. Don't miss it.
Final thoughts
My biggest takeaway was… "Why haven't I been here before this trip?" Craig travels to Washington D.C for business but does not ever take tours. There is so much to see and do that although I was in possession of Angela's thorough list of itinerary ideas, I still felt overwhelmed and fumbled a bit on the first day.
On my first day, I probably could have done a little more than to just visit the Jefferson Memorial and the Cherry Blossoms, but it really took me a day to understand how much there was to experience! I am sure many of you that are familiar with the city are nodding your heads at just how incredible Washington D. C. is, so now I too understand!
Stay tuned for many more details of our adventures in this great city.
Suzanne
---
Got a question? Need some help or travel suggestions? Check out the contact link at the top of the page.
Use the subscription box to sign-up and get post updates by email.
Follow us on Twitter, like us on Facebook, check out our photos on Instagram, or pins on Pinterest