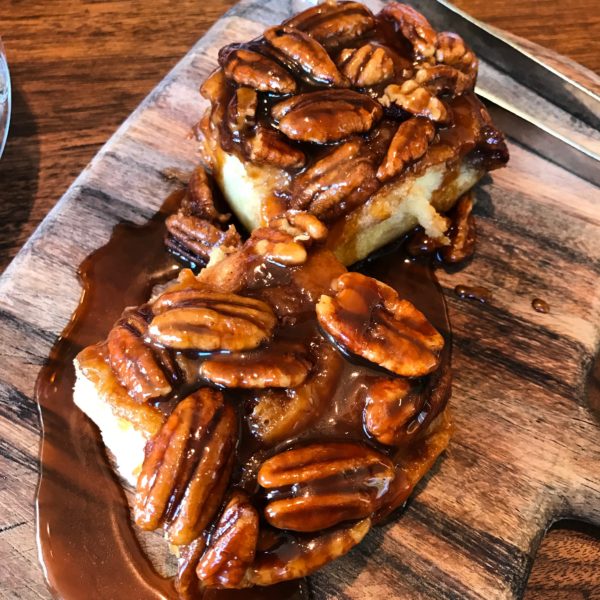 Just several of the many great restaurants in Washington D.C.
When the list of great restaurants in Washington D.C. contains at least one hundred possibilities, how do you choose? I know…first world problems, but seriously it wasn't easy!
I scoured DC Eater, Washington D.C. and the detailed list that my traveling-foodie-friend Angela gave me and then made some hard choices. Our longtime friends Angela and Jon enjoy lively restaurants and delicious chef-inspired dishes as much as we do. The four of us had a blast and ate our way through New Orleans a few months ago and we barely dented our list.
As culinary travelers, tasting exceptional, locally-sourced, innovative cuisine is always top of the itinerary when visiting a new city. So I combined these trendy lists and "negotiated" with Open Table to establish some reservations. Since we were traveling to D.C. during Spring Break and Cherry Blossom Season, this was a challenge. Reservations were not always available on the day and time that I needed.
Here is the list with an * after the restaurants that we actually were able to visit! In no particular order:
More details of these great restaurants in Washington D.C. ~
Out of this world, Michelin Star-worthy breakfast in a casual farm to table setting! So yummy! Just look at that Pecan Roll! We wanted to have dinner there as well, but needed to expand our culinary lineup to other enticing restaurants.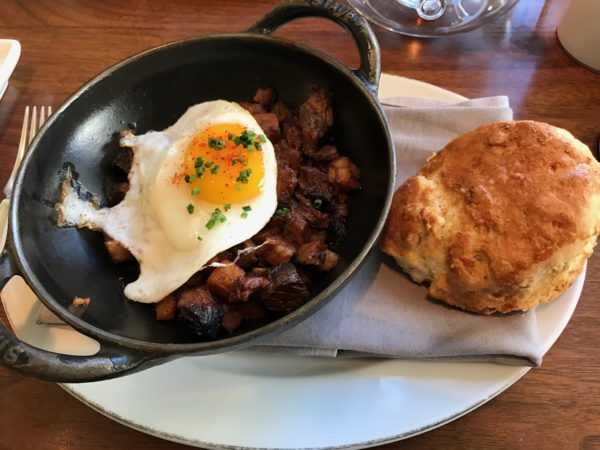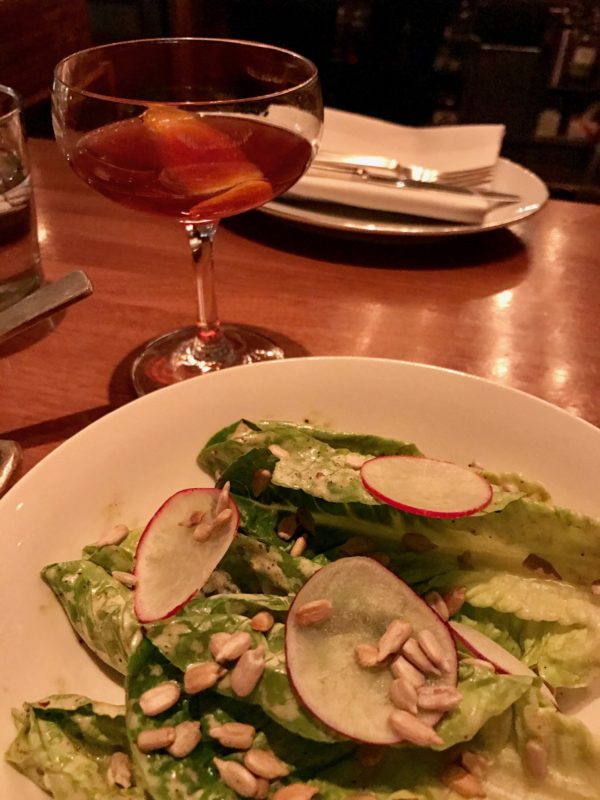 After a long day and late lunch at Filomena, around 9:00 pm we sat at the bar of the Park Hyatt and devoured a simple salad with the lightest dressing that tasted of celery salt and sunflower seeds. Accompanied by the perfect Manhattan made with Woodford Reserve – Truly decadent!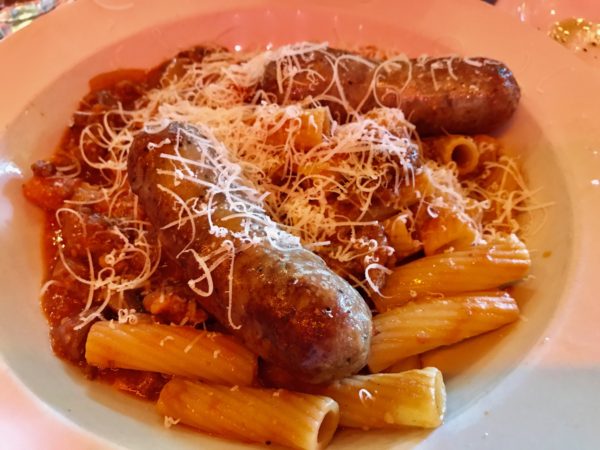 Open since 1983, this charming family restaurant has served up exactly what my grandmother would have made for our family on Sundays. Craig and I ate a late lunch of Penne and Italian Sausage and hand-made Ravioli with Tomato Sauce and Meatballs that would rival any trendy restaurant in the city. This Georgetown eating place was packed with families of all nationalities enjoying a huge meal served with love. I dream of a perfect tomato sauce like this that has been simmering for hours, rich with flavor and just the right amount of salt, garlic, oregano and basil.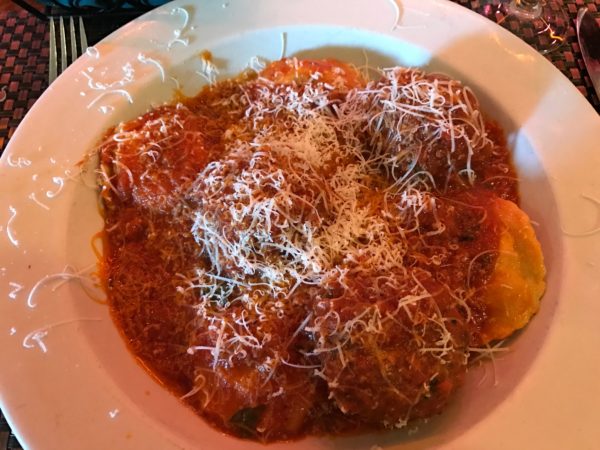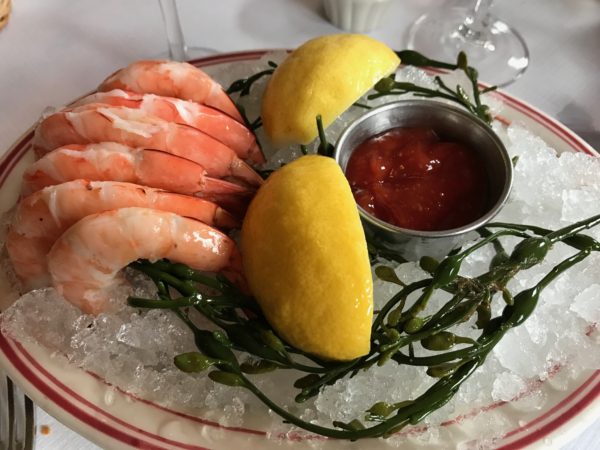 If you didn't know you were in D.C. you would think you had stepped in to a Paris Bistro. This exciting brasserie pays homage to the Paris café and offers everything from Steak Frites to Escargot and buttery Dover Sole Meunière.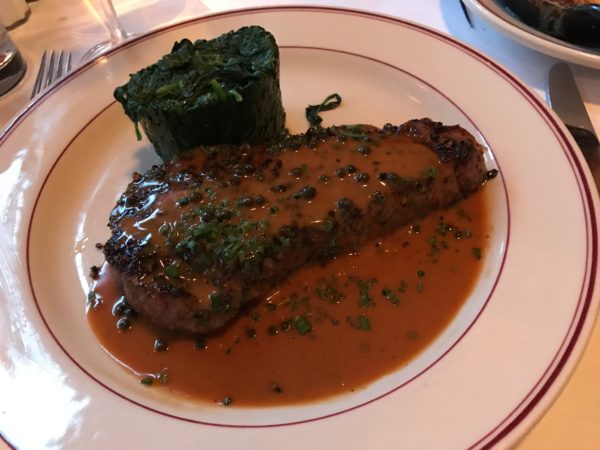 A station stacked with piles of fresh baguettes sits in the very center of the restaurant. The bread is served with soft creamy butter sprinkled with crunchy salt. Divine!
It was only 6:00pm on a Thursday and the entry was overflowing with hungry guests and we enjoyed icy cold Chopin Martinis with two large, salty olives, while watching the city walk by our cafe table. Don't miss this!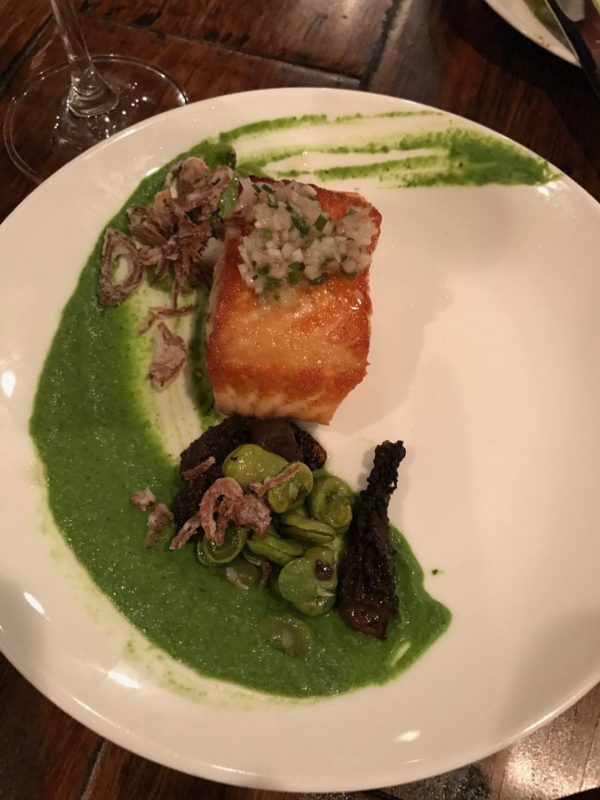 Italian cuisine is typically our "go-to" in a new city and this restaurant by Chef Mike Isabella, was quite fabulous. Mike is a popular, outspoken, talented chef from Bravo TV's, Top Chef. Chef Isabella serves seasonal, artisanal pizzas and contemporary Italian fare. Influenced by the food he ate at his family's Italian table, the dishes are beautifully presented as well as delicious. The vibe is young and fun and lively! Loved it!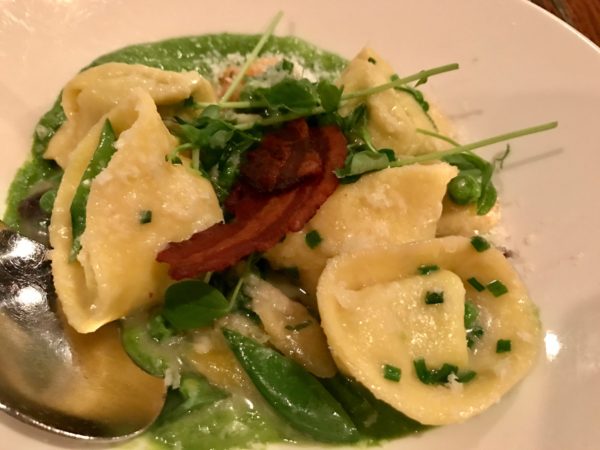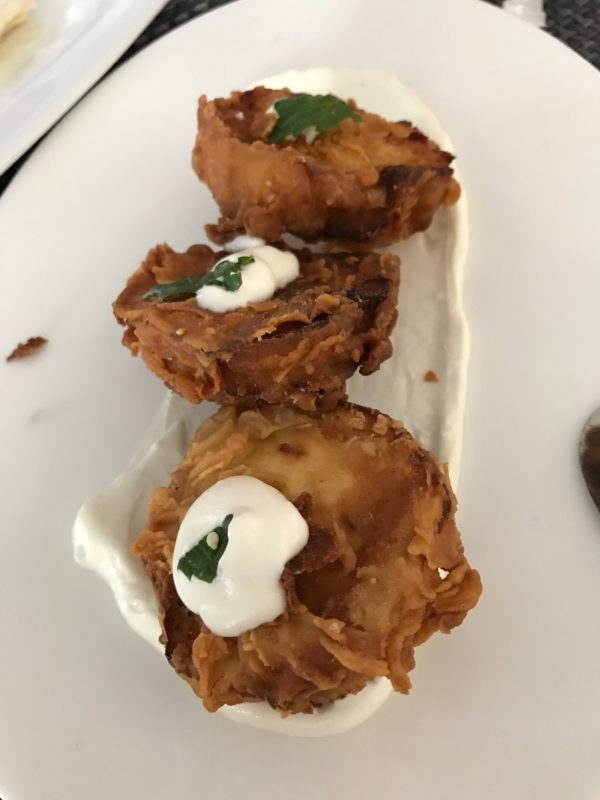 I met up with my Italian cousin Michele, a new grandma, who has lived in the D.C. area for nearly three decades. She is an incredible artist and in addition to creating art, she is now teaching at Georgetown University. (Yes I am boasting. I think it is super cool and I am really proud of her). We took a stroll through the Smithsonian National Portrait Gallery and walked over to Zaytinya.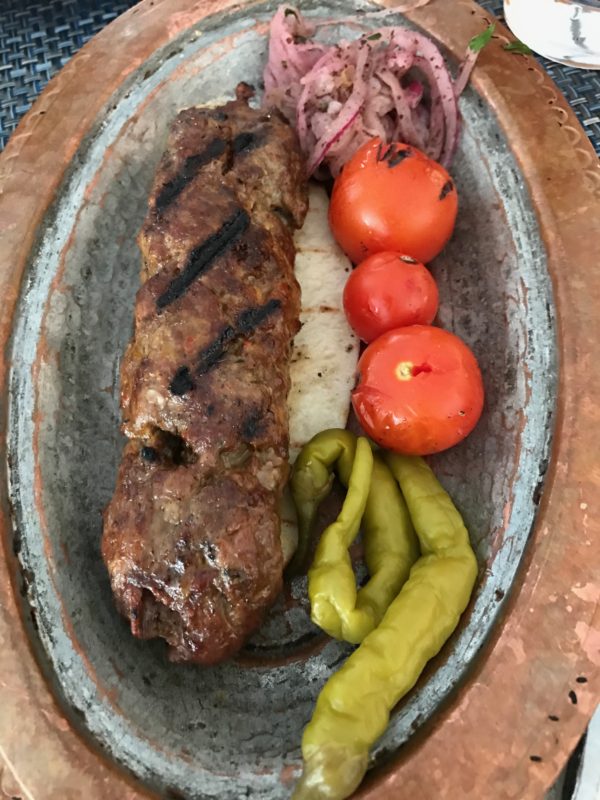 She took me to this trendy and tasty restaurant where we sat at the bar for an incredible five-course (small plates) lunch! We had lots to catch up on but managed to take a few photos of our dishes. We were not that familiar with this type of cuisine, so we let our server help with the choices.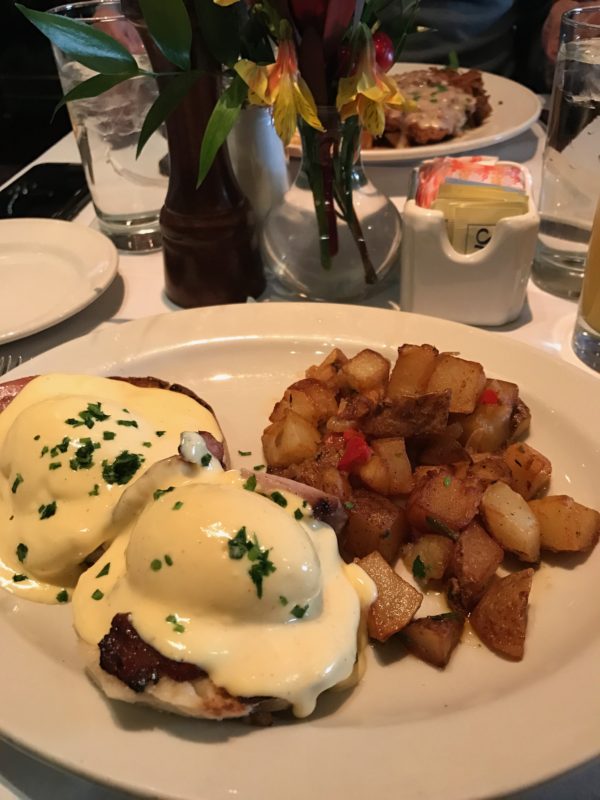 Ken, our friend and longtime local resident, suggested we go see this historic tavern. Not only did we go, but several hundred other happy tourists went too! We squeezed in this last restaurant stop for Sunday Brunch. Located very close to the the White House, we were able to walk by and take a photo and still able to take a peak inside a little piece of Americana.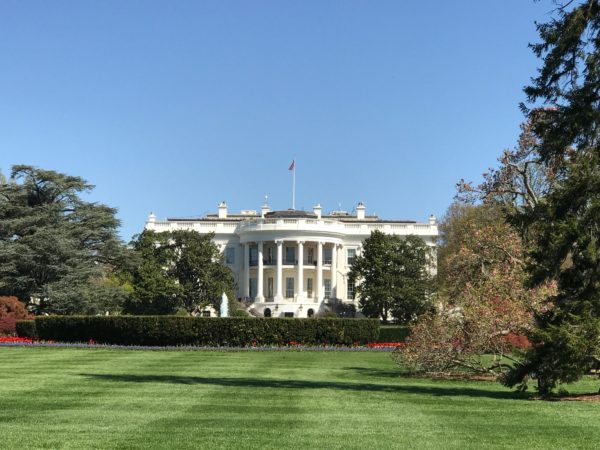 The food is very good, straight forward American cuisine. Just going in to experience the spectacular old architecture and decor is worth the trip. We were very happy that Ken made this suggestion, neither one of us was familiar with it and the tavern will not show up on a trendy "Best of" list.
Multi-cultural D.C.
Of the many things I enjoyed about visiting D.C., it felt fantastic walking among so many people who came from all over the world. Many of them were tourists and many also live in the city. The smorgasbord of food available in Washington D.C. is astounding from Ethiopian to Chinese to Italian, Thai, fast food, slow food, hand crafted cocktails to wonderful old taverns. It seems that almost every country is represented.
In between our 18 tourist stops we managed to sample only a fraction of our delectable options, but at least this is a beginning. I understand the layout of the city much better now and where each of the neighborhoods are located, so next time I visit I will start a new list of possible popular restaurants to visit.
Do you have a great Washington D.C. restaurant you would like to share?
In case you missed this recent D.C. Post: An Empty Nester's Guide to 17 of the Best Things to do in Washington D.C.
---
Got a question? Need some help or travel suggestions? Check out the contact link at the top of the page.
Use the subscription box to sign-up and get post updates by email.
Great information is meant to be shared, I sure hope you share this post with your friends and family. 🙂
Follow us on Twitter, like us on Facebook, check out our photos on Instagram, or pins on Pinterest