This post is written by a first time Guest Adventurer, Kim Moeller. Kim is a college friend and sorority sister of mine from UCLA. Kim has created a new term: Halfway Empty Nester
It's a great honor and privilege to have the opportunity to post on Suzanne's very inspirational blog.  Suzanne and I go back many years….to our days at UCLA where we were both Kappas together.  The funny thing is now that her son, Nick, and my daughter, Caroline, both attend UCLA.  Our kids met each other as freshmen and figured out shortly thereafter that their moms were sorority sisters years ago.
Suzanne is a little further along in her journey as an empty nester, as I am not quite there yet.  I have four kids: Caroline (20), James (18) – also at UCLA, Claire (17), and Alexandra (14).  So, I guess you could say I am a halfway empty nester.  For me, I am thankful that I have a few more years of swim and volleyball team parties, school dance pictures, the constant noise and laughter, and just being able to still have the kids hang out in our home.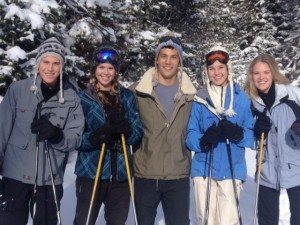 Years ago, before we had our first child, I was on the corporate consulting track in Chicago.  At that time, I remember reaching a fork in the road and really needing to determine if I wanted to go after making partner or having kids and staying home to raise them.  As my husband has always had a job that required a lot of international travel, we knew that one of us needed to be the one who was at home with the kids.  I worked a couple of years part-time and then transitioned to being at home when our son was born.
I remember someone telling me when the kids were little, there was snow all over the ground, and we hadn't seen the sun for weeks in Chicago, "The days are long but the years will fly by."  How right they were.
Since my husband has mostly worked in the non-profit sector, we had to make a lot of changes and sacrifices when we gave up my consulting firm income.  As a result, I learned fun ways of finding amazing brand name items or, for example, completely remodeling our home at 90% off of retail prices.  In fact, just this past weekend, we put in marble countertops in our bathroom.  I found two sinks at Lowe's that retailed approximately $180.  I was just about to use them and then I found two fluted sinks on Craigslist that were gorgeous for $10 each.  I just had them installed this past weekend and saved $160.  Why spend retail when it is so fun to get a bargain?!
Suzanne asked that I share with you how friends encouraged me to put all of these bargain ideas into a book which I have recently done.  The book is called Virtually New for Virtually Nothing: Maximizing Your Resources in Today's Challenging Economic Times.  It is now available on Amazon and Barnes and Noble.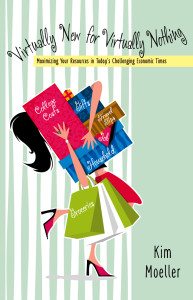 And so, as our kids continue to journey on and the days and years now seem to fly by, I like the idea of embracing this new season.  For me this season involves becoming an author and sharing some of the fun ideas I have learned over the years that will hopefully help other women.
Will I miss the years with a full house?  Absolutely.  However, I think there is almost more joy in watching our kids become who they were made to be and then circle back and share their excitement in flying and soaring from our nest.
Thanks, Suzanne!