Happy New Year fellow Empty Nesters!
I hope that you enjoyed your New Year's festivities! On a typical New Year's morning, I sit in front of the television at 8 am sharp. With latte in hand, I have watched the Tournament of Roses Parade every year, from the comfort of my couch. I truly enjoy the beauty and splendor of the parade. It has been 35 years since I have been to the parade and watched it in person. I grew up in the Pasadena area and when I was 17…I was a Tournament of Roses Princess. Yes, I was! It was a fairy tale experience that I will continue to treasure forever.  One million spectators line the streets of Orange Grove and Colorado Boulevard and The Rose Parade is broadcast to millions of people in over 200 countries! Vin Scully, the voice of the Dodgers, was the Grand Marshall this year and we just LOVE him.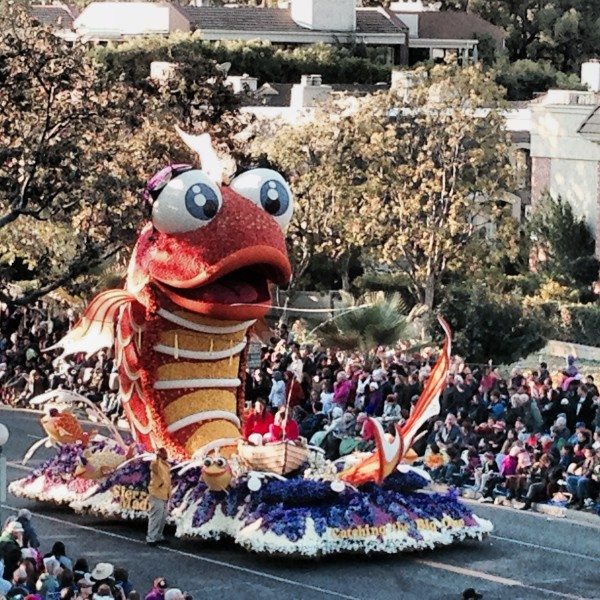 Since Vin Scully was Grand Marshall we thought that this was the year for us to go see it in person again. On New Year's Eve, Craig and I had a lovely dinner at a tiny Spanish restaurant in downtown Pasadena called Racion. After the late night meal, we walked only two blocks to Orange Grove Boulevard where the parade begins. Late in the evening of the 31st, the float builders drive the spectacular, colorful, sweet smelling floats into town at a speedy 10 miles/hour! They line them up in their specific order to be ready for the morning. The streets were full of Rose Parade fans who can walk up to the floats unencumbered to see them up close. Additionally, it was super fun to see all of the diehard fans spending the night curbside in order to get the best view of the parade.
We actually bought some very nice (and a bit pricey) tickets and sat in the grandstands and enjoyed a perfect view of the floats and fantastic bands without spending the night! I know that the people who do spend the night love to do it, but that is not my idea of fun. If you have never been to the Tournament of Roses Parade on January 1st, you are missing out on the one of the greatest parades of all time. To see the joy on the spectators faces is priceless. In addition, the beauty and grandeur of the floats has no equal. The photo below was taken from our seats in the grandstand.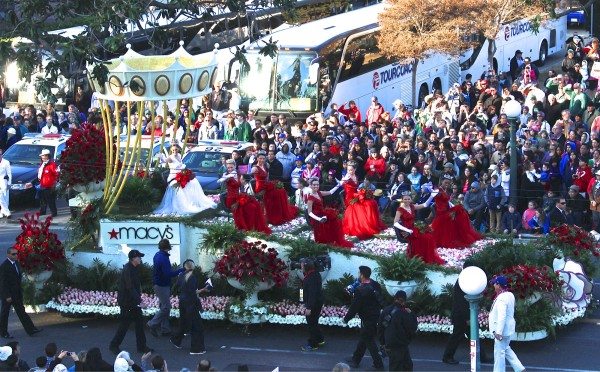 What fun thing did YOU do for New Year's?