Music for Empty Nesters: The Eagles Hotel California Tour-
At the risk of totally aging myself…my very first concert as a teenager (age 15) was The Eagles Hotel California Tour at The Forum in Inglewood, CA.  Tomorrow, I will visit the same venue for the same concert tour 38 years later!
Kate Atkinson of Entertainment Weekly reports ,"The Forum concerts mark the reopening of the L.A. Forum after a $100 million renovation, which included adding the world's largest record — a re-creation of the Eagles' Hotel California — to the venue's roof. "It's about the only facelift I care for in Hollywood," Frey joked onstage about the Forum's new look. The Eagles have a lot of history with the venue: They played multi-night stints there in 1975, 1976, and 1979, and their six-show residency (which continues Friday night and goes through next Saturday, Jan. 25) was a perfect pick to reintroduce the onetime home of the Lakers."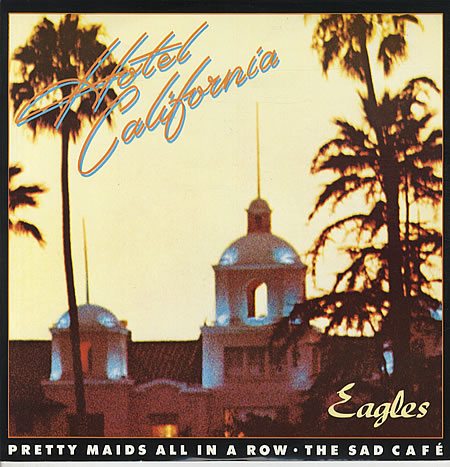 The 1976 concert was so incredible…the whole experience was mesmerizing! It felt like being part of the big leagues when you were only 15 years old. My best friend's brother drove us and I can seriously remember it all so vividly. I loved The Eagles and especially that album and I knew every word to every song and I still do. Today I don't remember what I had for breakfast, but I remember those lyrics. Crazy but true!
It is incredibly rare for a band to be around this long, still be popular and choose to revisit a tour they played so many years ago!
I wanted to share this very rare "adventure" with you and promise to report every detail with photos!
Any other Empty Nester attending The Eagles Tour?