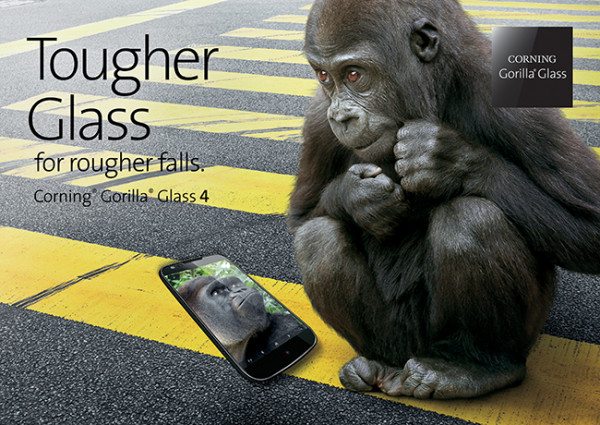 Technology has eased its way into everything that we do. The importance of how we communicate and document our lives is at an all time high. I love it! I love that we have the ability to share information, share photos and keep in touch with the people we care about so much easier now than ever before.
At the touch of a button we can unlock answers to questions and our dependence upon these devices is staggering. As a frequent traveler, my cell phone is an important part of my travel equipment. Depending upon where I am, it can be jostled and tossed around quite often. Having confidence in the reliability of my personal device is extremely important to me.
While I was attending the Women in Travel Summit, a travel blogging conference for women, I had the pleasure of hearing a talk given by Lisa Noni, Senior Development Scientist of Corning Incorporated. She enlightened all of us about Corning® Gorilla® Glass 4 and how it is better able to withstand damage from drops.
I found the presentation absolutely fascinating and super impressive. Because our personal devices have become so important to our happiness and daily performance, the quality of the materials that are used to construct it are vital. Ask any teenager and they will tell you just how important it is to keep their devices from breaking!
While doing a little more research, I found this adorable (yet informative) Gorilla Video called Sneak Attack. The video is really clever and it simplifies just how important this Gorilla Glass 4 truly is!
Corning is focused on materials and material science, specifically glass. They are really interested in what makes glass break. If you've ever dropped a cell phone…how many of you have done this?  You know what I'm talking about.
Before 2007, most cellphones and other electronic devices used plastic screens and these scratched easily and were fairly unattractive. Device designers and manufacturers were looking for a material that was durable, yet thin and lightweight, so in 2007 Corning started to innovate and delivered its first ever cover glass, called Gorilla Glass. Since that time they have improved the compositions based on the needs and feedback of their customers.
Corning scientists examined hundreds of broken devices and found that damage caused by sharp contact accounted for more than 70 percent of field failures. The scientists then developed new drop-test methods that simulate real world break events, based on thousands of hours analyzing cover glass that had broken in the field or laboratory. They found that Gorilla Glass 4 is up to two times tougher than competitive glasses and survives up to 80 percent of the time. Sounds like great odds to me!
They discovered that most breaks were caused by drops on rough surfaces, so they set out to make Corning's toughest cover glass to date, Corning Gorilla Glass 4, which delivers significant improvements in drop performance.
Corning Gorilla Glass has been used on more than 3 billion devices from 40 major brands. Is it on yours? Click here to find out.
I hope you enjoyed learning about Gorilla Glass as much as I have. You will dazzle everyone at your next cocktail party with your new knowledge of Gorilla Glass!
Suzanne
Although this post is sponsored, all of the opinions are my own.