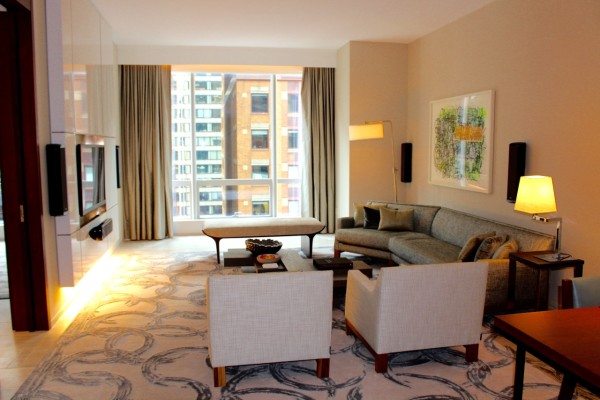 Our recent experience at the Park Hyatt New York was so dreamy that it felt like we had stepped into a design magazine cover shoot. The hotel was sleek and exquisite, with cool, polished marble floors and soaring ceilings. Supreme accommodations that included all of the amenities a discerning traveler expects. As our personalized iPad suggests, "luxury is personal" at the Park Hyatt New York.
One of the most anticipated luxury hotel openings in the last decade, the Park Hyatt New York lives up to all of the tremendous expectations. From your first steps in through the magnificent front doors, multiple staff members greet you with iPads in hand and welcoming smiles. I knew we had entered a magical place.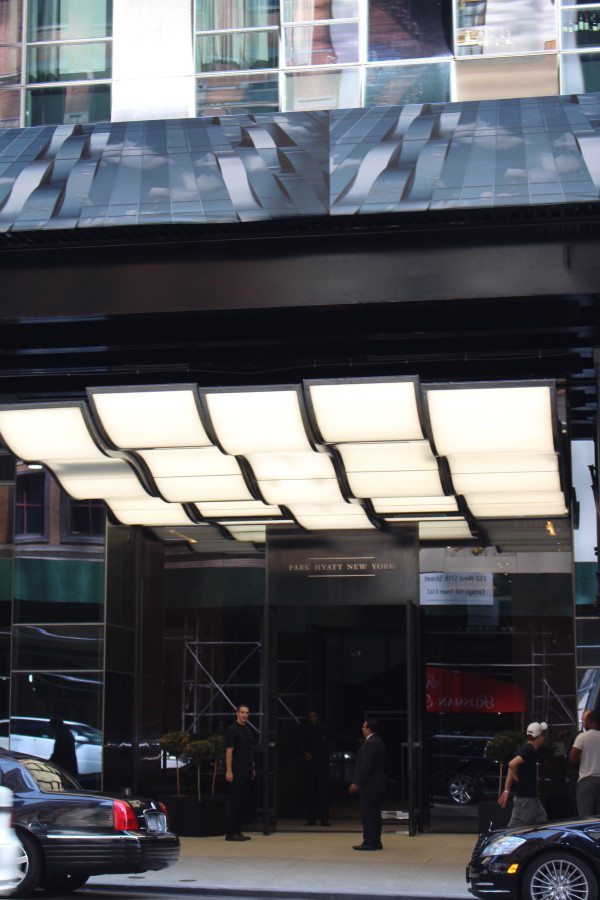 The hotel which opened just over one year ago, is located in the perfect location on West 57th street, just across the street from Carnegie Hall and a short stroll from Central Park. The Park Hyatt New York was designed by world-renowned, Pritzker Prize-winning architect Christian de Portzamparc and is part of an incredible 90 story mixed-use tower.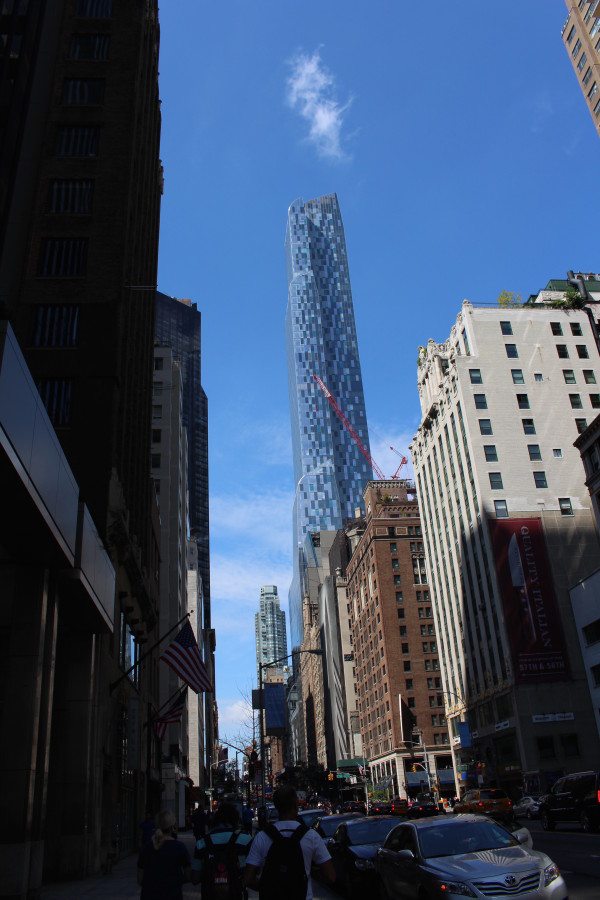 As you walk down the street, you cannot miss the majestic towering skyscraper. I tried to capture its colossal size, however it was nearly impossible to include the entire structure in the shot.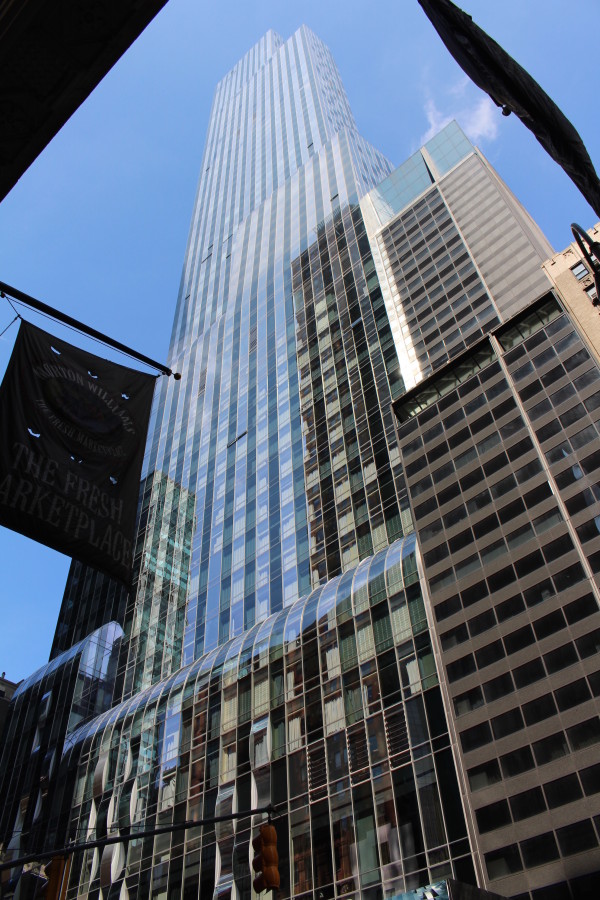 Every elegant space sparkles with sophisticated opulence and grace and the hotel has become the new Flagship property for all of the Park Hyatt properties. Until our stay in New York, the Park Hyatt Sydney (Australia) was our very favorite, but this newly opened Hyatt is even more spectacular, if that is even possible!
Inspired by the design elements of a chic Upper East Side Manhattan apartment, our suite was breathtaking. We stay over 150 nights per year in Hyatt properties and because of our loyalty, we have achieved Courtesy Card (above Diamond) status. We are almost always upgraded to one of the very best rooms available in every Hyatt hotel we stay. Loyalty does have its benefits! Time and time again, we are never disappointed and this short stay at the Park Hyatt was no exception. I couldn't wait to share what we experienced with you.
Relax in the Lobby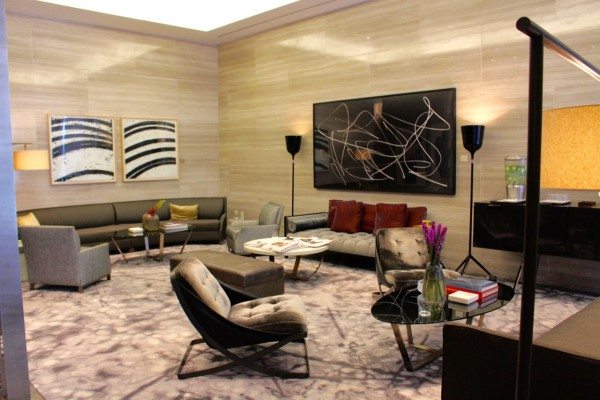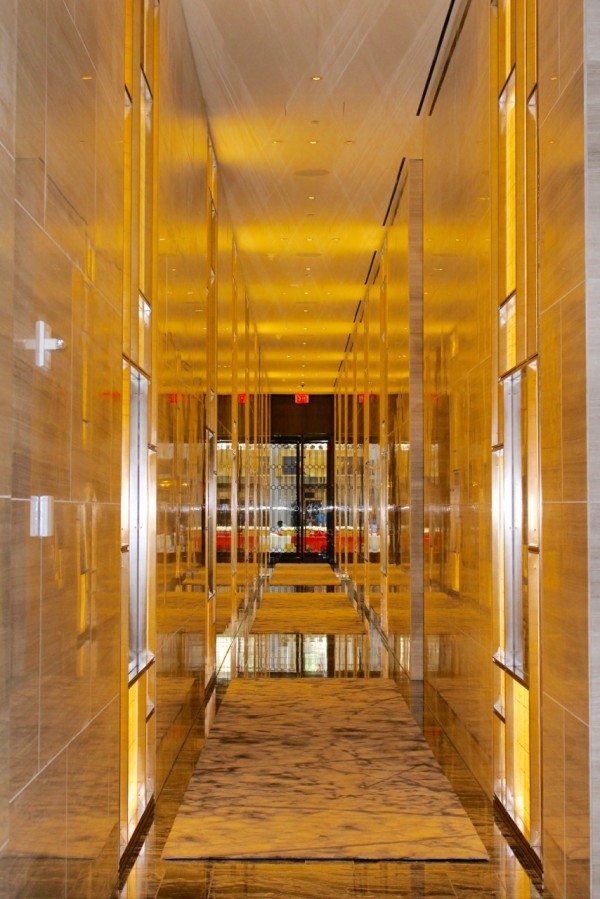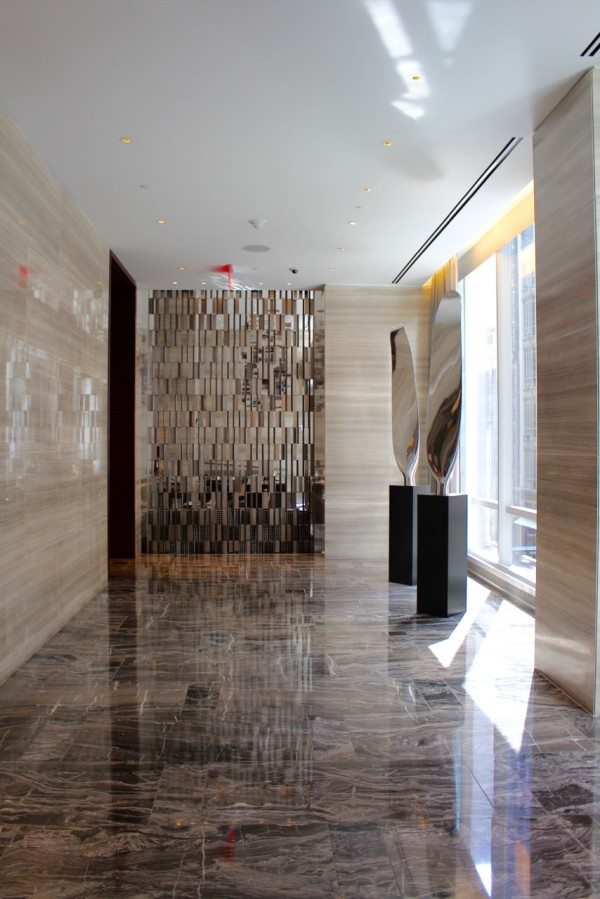 Museum quality art can be found throughout the hotel as well as in the hotel suites.
Relax in our suite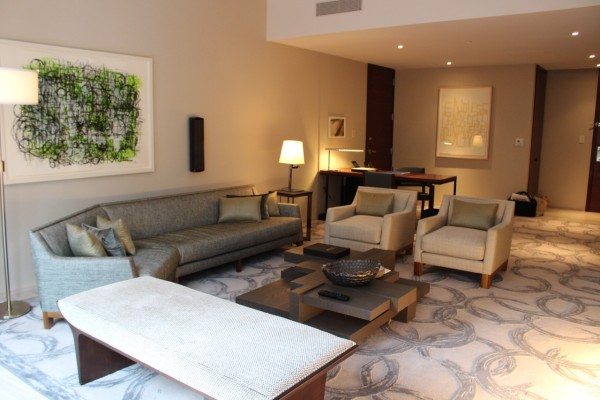 We were upgraded to an enormous, Park Executive Suite with a gorgeous living room, two bathrooms, dressing area and bedroom. The modern design was consistent throughout and even utilized certain features in more than one way. This metal geometric design headboard was not only functional for the bedroom, but on the other side it was used as an art panel in the dressing room.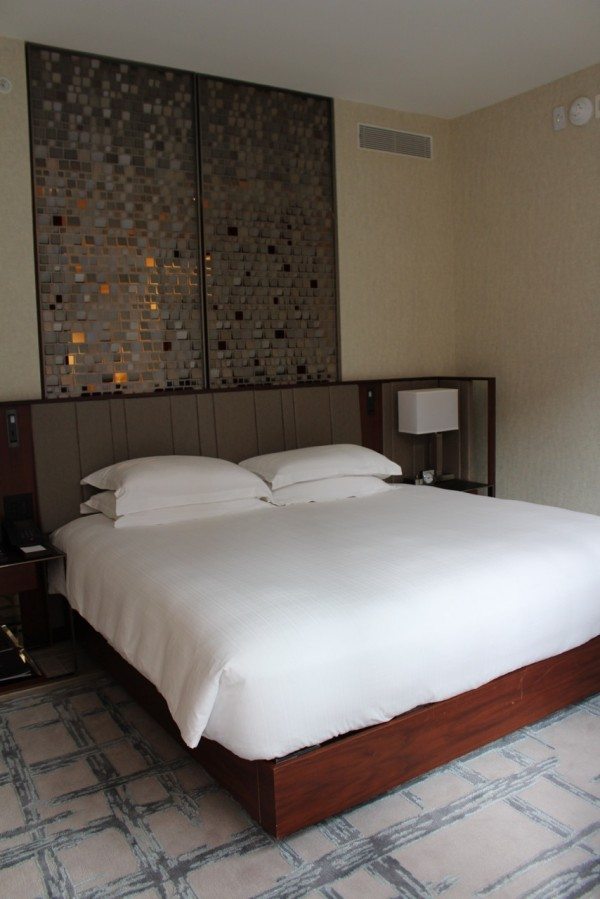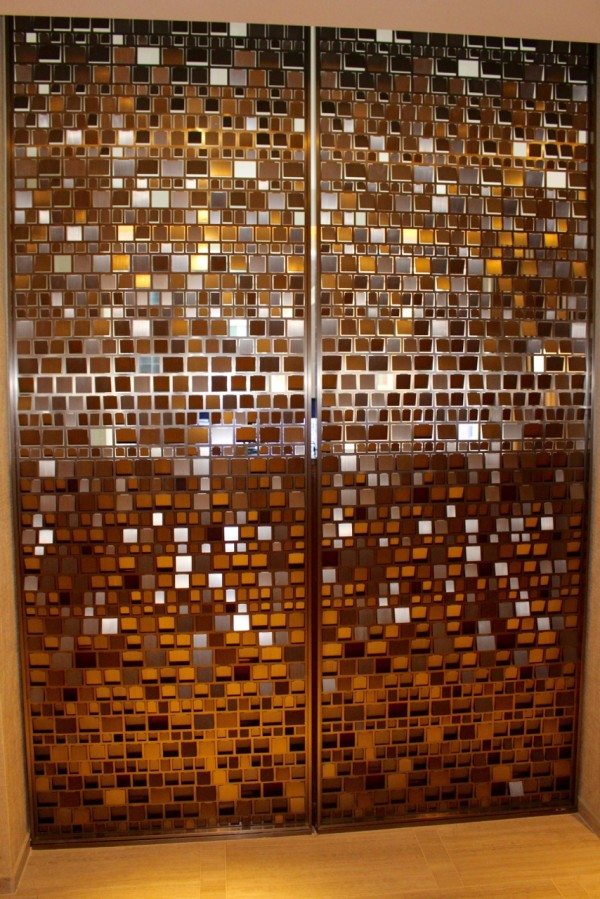 The puzzle-piece shaped coffee table in the living room provided another interesting design element. The contrast of the circles in the weave of the rug, the decorative bowls and the wood table were so cleverly paired, that they became art as well. The genius behind the interior design was world-renowned interior design firm, Yabu Pushelberg.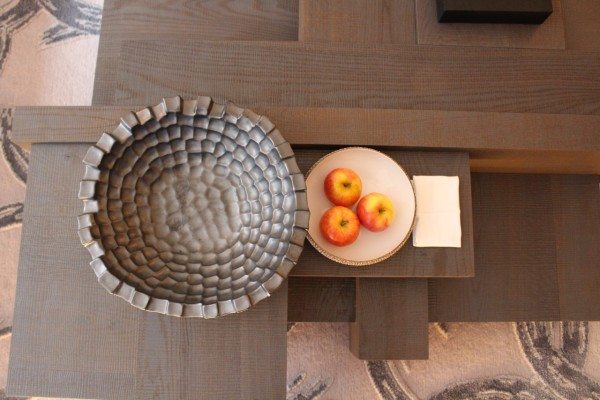 Relax in the bath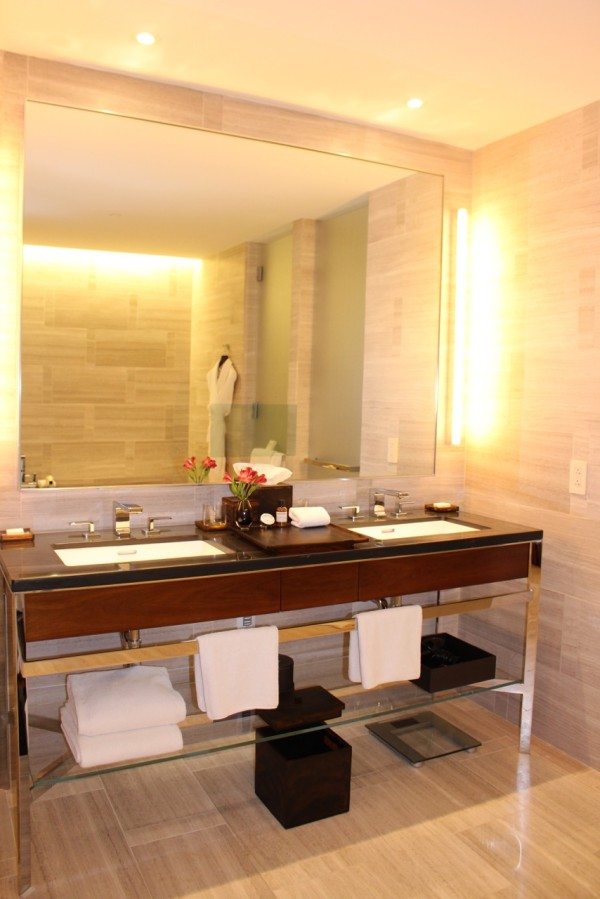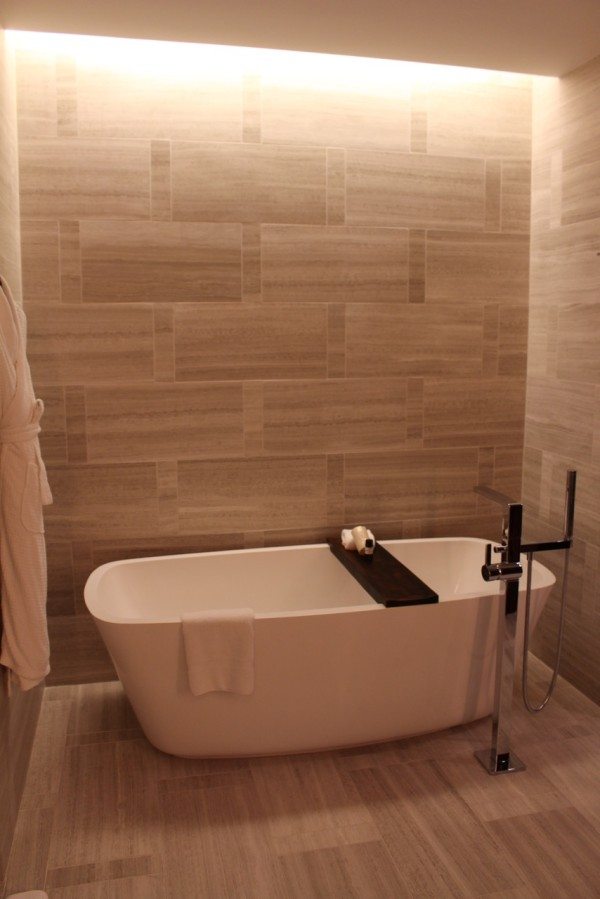 In addition to the relaxing soaking tub, there was an enormous walk-in polished stone rain shower and a water closet that housed the motion sensitive toilet. The lid would raise and the seat was warmed when you opened the glass door to enter. No detail was overlooked on this property!
Relax in the bar
My favorite space in the hotel was called The Living Room, which was essentially a fantastic lounge and cocktail bar. The vast room sparkled like a fine jewel and by combining architectural materials like metal and glass with warm, comfy fabrics, made an opulent room feel inviting and cozy. The room was separated in to many lovely conversation areas where you could appreciate the incredible service, divine handcrafted cocktails and a yummy small plate menu.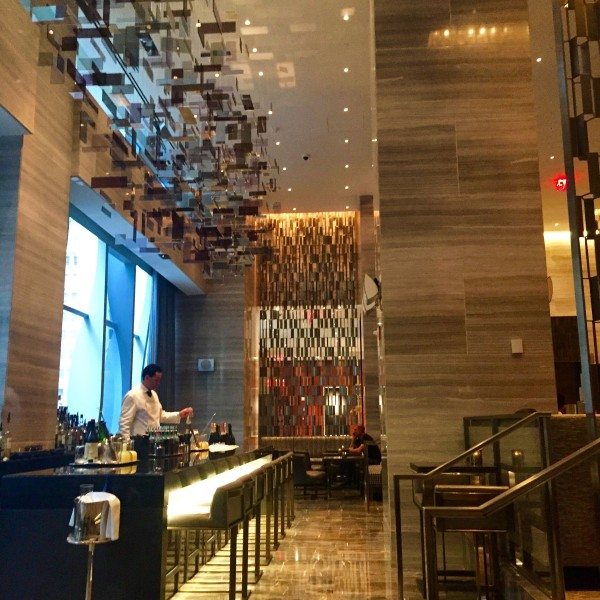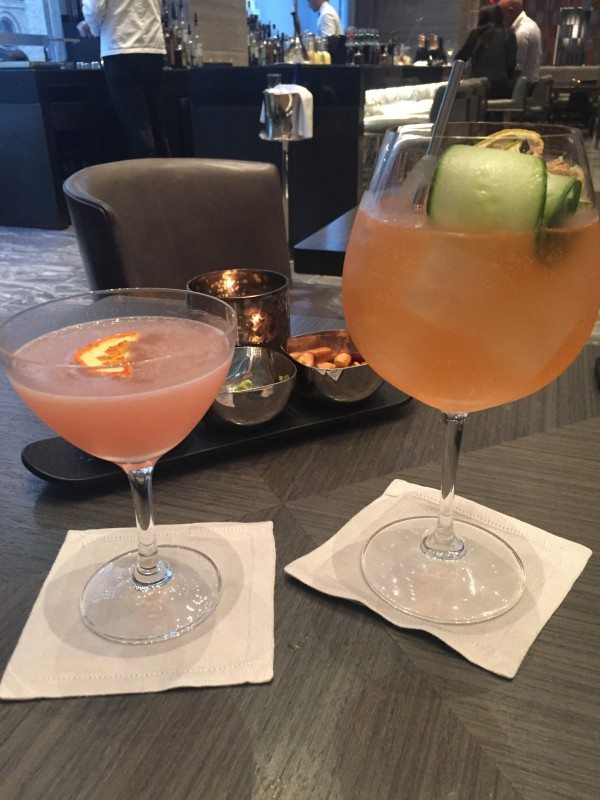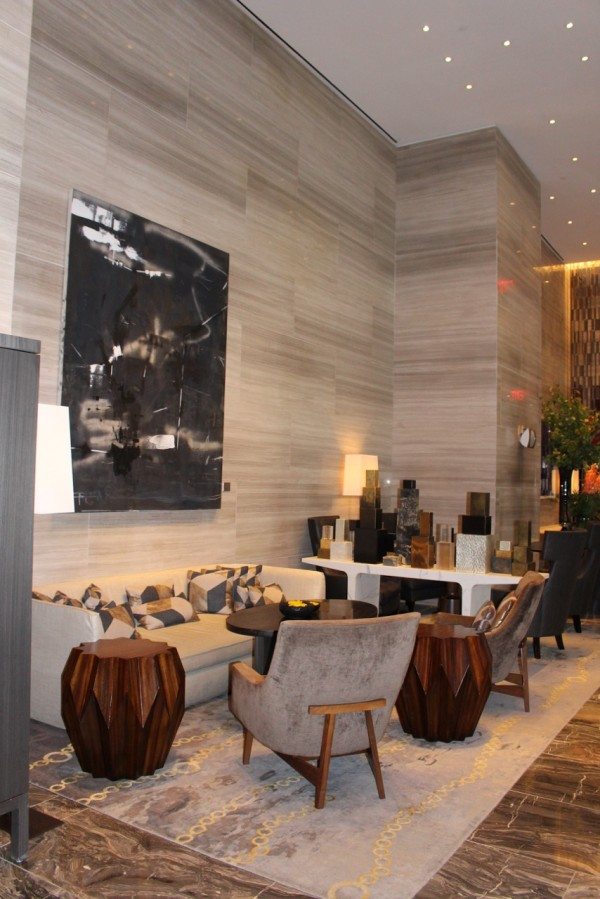 Relax while eating delicious food
In order to experience as much as we could at the Park Hyatt New York, we chose to dine in the hotel for dinner and then the next morning for Sunday Brunch. The Back Room at One57 offers high quality, locally sourced, seasonal ingredients which is exactly what I hope for on a menu. Every dish was delicious, beautifully presented and all prepared by the skillful Executive Chef Sebastien Archambault and his team. The service was outstanding and personal which allowed us to relax and peruse the menu with ease. Typically, we like make reservations for dining outside of the hotel in a big city like New York, but we were so happy with our decision to stay in, to appreciate all the delicious dining.
This is only a small taste of what we enjoyed!
Dinner~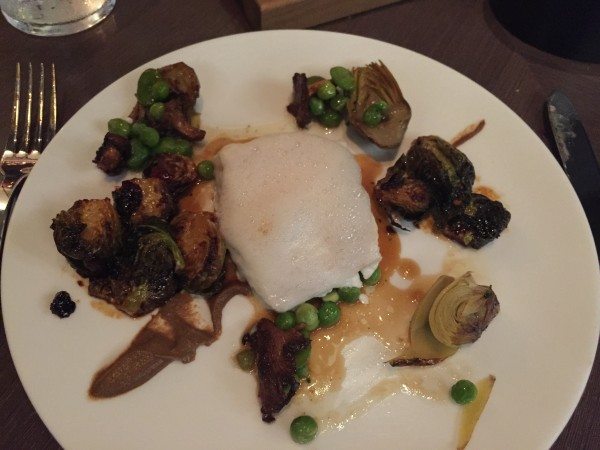 *Soubise is a brown or white sauce usually served with meat.
Dessert~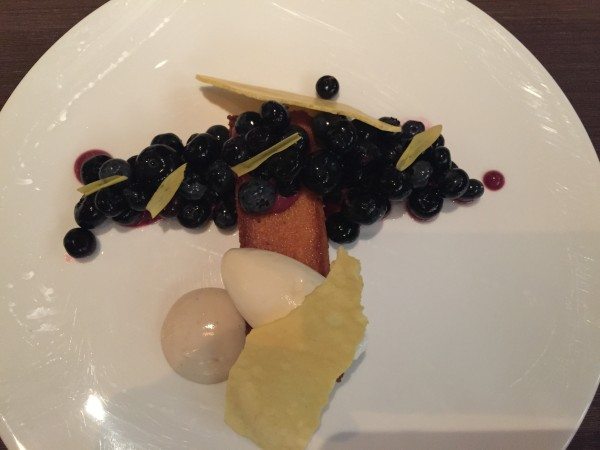 Brunch~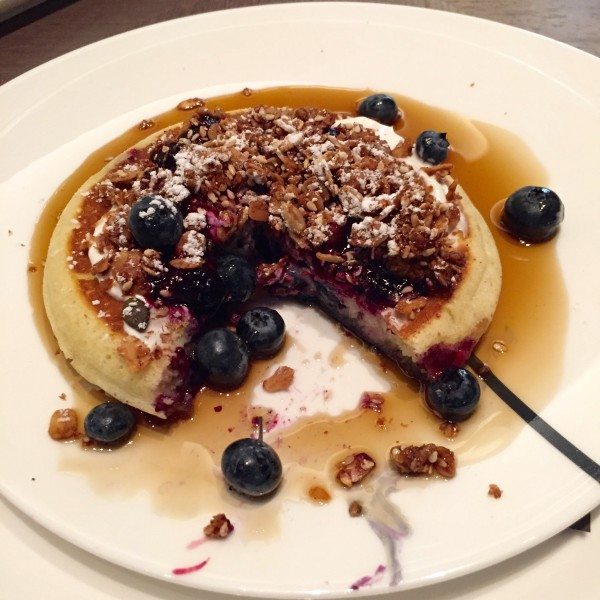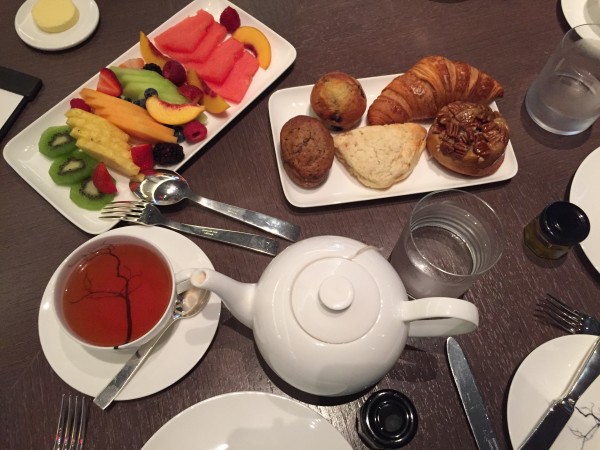 Relax by the indoor pool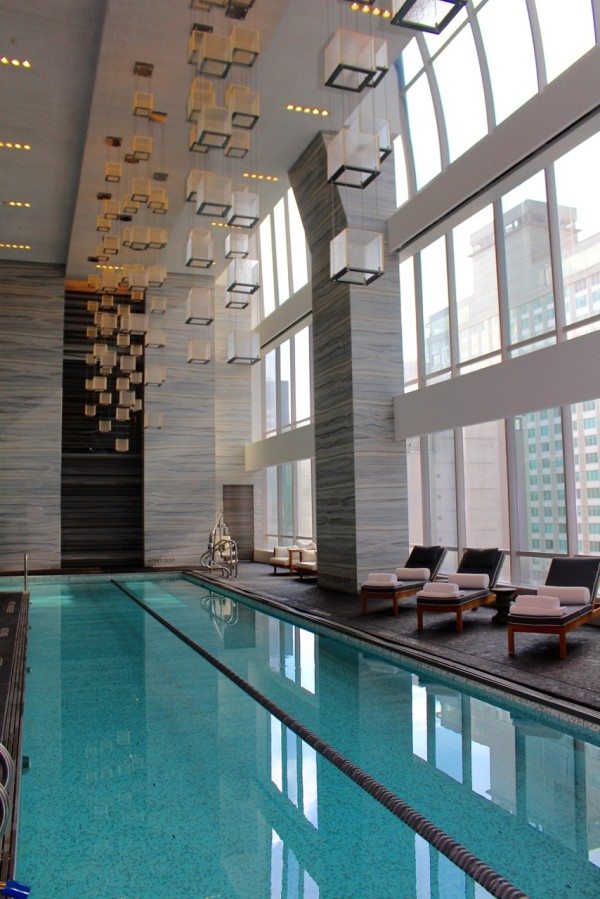 Consistent with the entire spectacular property, it should be no surprise there is also an indoor lap pool with underwater speakers and breathtaking views of Central Park and the Manhattan Skyline. Every detail in the hotel is absolute perfection and every aspect of our stay was as well. Relaxing amidst this type of luxury is a dream and coupled with the exceptional personal service it is unparalleled. I cannot recommend this property highly enough, it has no equal in my opinion.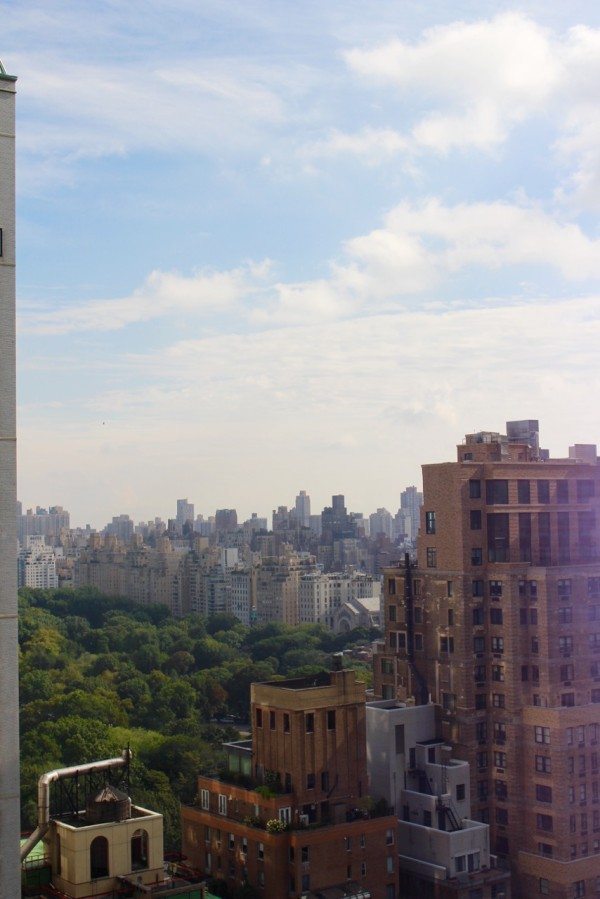 My advice is to make the Park Hyatt New York a destination vacation. Enjoy the entire hotel, delicious food, hand crafted cocktails, exercise in luxury, visit the spa, walk to Central Park, window shop down Fifth Ave and go to the Metropolitan Museum of Art. Soak in all of what the Park Hyatt and surrounding areas have to offer. Although this is quite a splurge and designed for a certain type of luxury traveler, it delivers all of the luxurious qualities a 5-Star hotel should and is worth every single penny.
I am already dreaming up another trip to NYC to visit this spectacular property again.