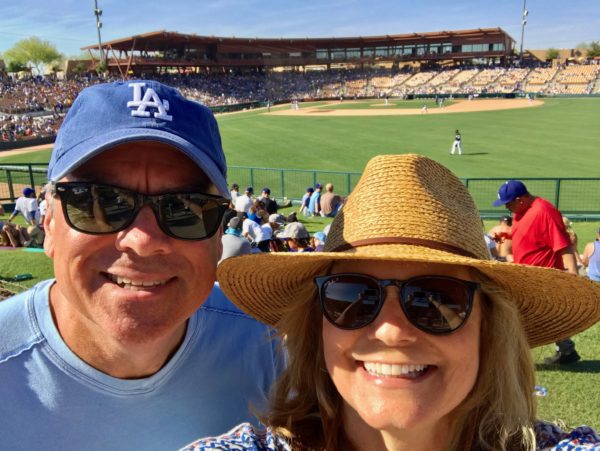 Our busy empty nester weekend in Scottsdale ~
What kind of ingredients do we need to enjoy the perfect weekend in Scottsdale? For this discerning empty nester couple, our list includes, fabulous accommodations, delicious food, fun activities, pleasant weather, beautiful scenery, a cultural excursion, spring baseball and best of all, simple relaxation.
Yes please to the entire list! Craig and I have wanted to spend an adventurous weekend in Scottsdale, AZ for quite some time. However, we truly first and foremost wanted to attend Spring Training to see the Los Angeles Dodgers!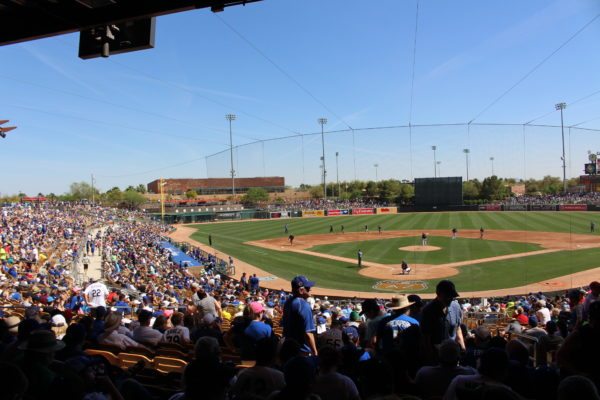 Spring training is super kick back and relaxed and a fun way to get up close and personal with the teams.
We are huge fans of Dodger "Manager of the Year" and UCLA Bruin, Dave Roberts and are enthusiastically optimistic of our chances for a successful season!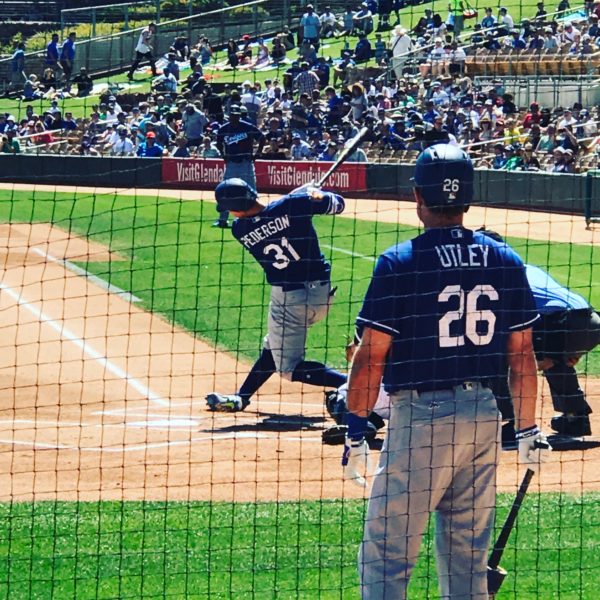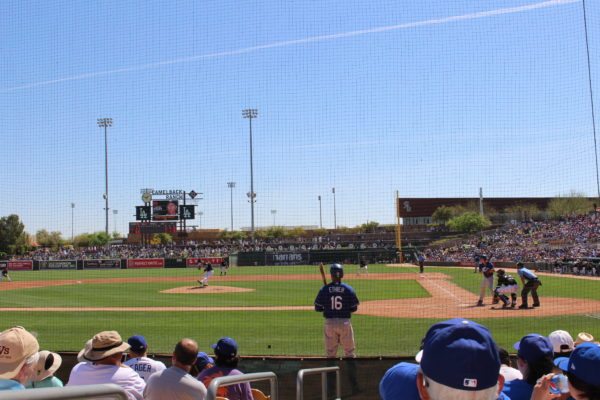 When the Cactus League Spring Baseball tickets went on sale, we worked our entire trip around the game times. We bought great seats, cheered on our favorite team and thoroughly enjoyed the entire experience.
Unfortunately, it was unseasonably warm and we sat in 97 freaking degrees for the Saturday game. The honest truth is that I could barely focus while we were sitting in our expensive, non-shady seats! Boy have we learned where to buy seats for next year!
We ended up standing behind the seats under the portico and watched the game from there. Not ideal, but there was no choice. The weather was more tolerable for our second game a few days later.
Lots of admiration for the Andaz Scottsdale Resort & Spa ~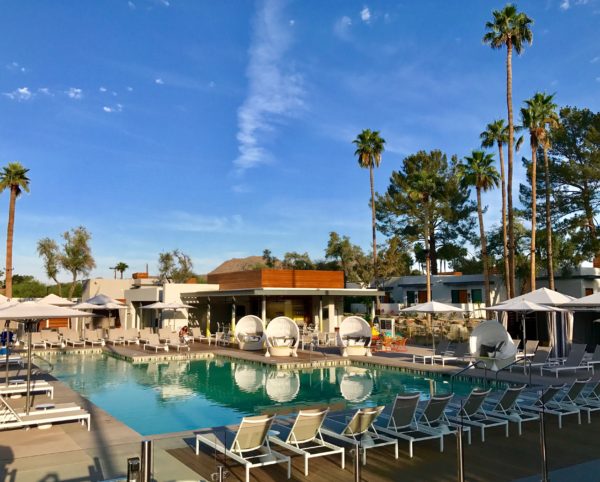 In between our two scheduled baseball games we relaxed in luxury at the Andaz Scottsdale Resort & Spa. Although this property is brand new (Opening in January 2017), the resort runs like it has been in business for years. The newly planted landscape may be the only aspect that might give its age away. As the staff is also new, even if they don't have the answer to your question, they will investigate and let you know.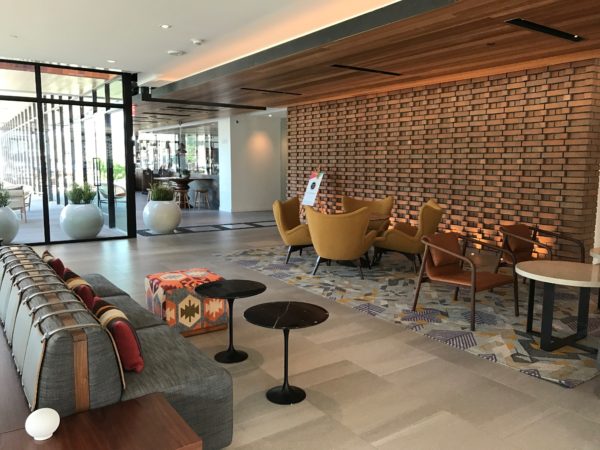 Unique architecture and colorful design ~
Architecture and design are two of my passions and this hotel dazzled me with its unique design. Surrounded by the desert beauty of Paradise Valley, the Andaz offers so many clever nuances that support their design theory of combining art and nature. Artistic themes are found everywhere and even the gorgeous wooden cases in the lobby are actually drafting tables with storage for drawings and art. The hotel interiors are bold and colorful, full of textures, woven patterns and unique combinations.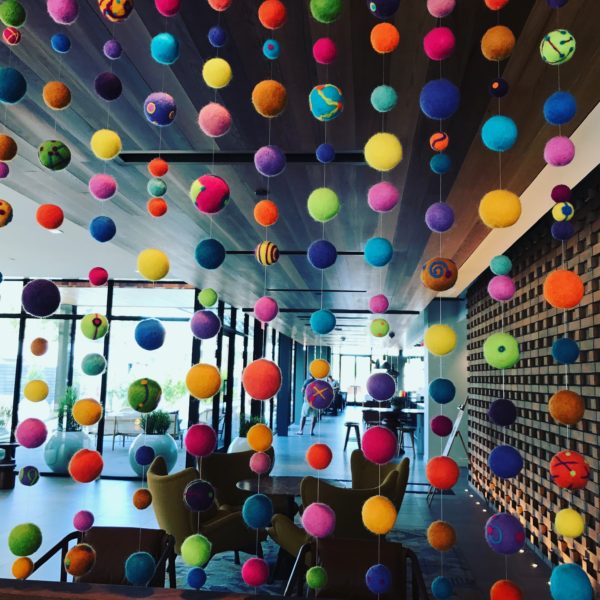 Weft & Warp Art Bar + Kitchen is named after the artistic tapestry of the Sonora Desert. Each of the 201 rooms and suites are decorated with folk art and playful aesthetics inspired by designs of the Zuni Tribe, Alexander Girard, and traditional colors.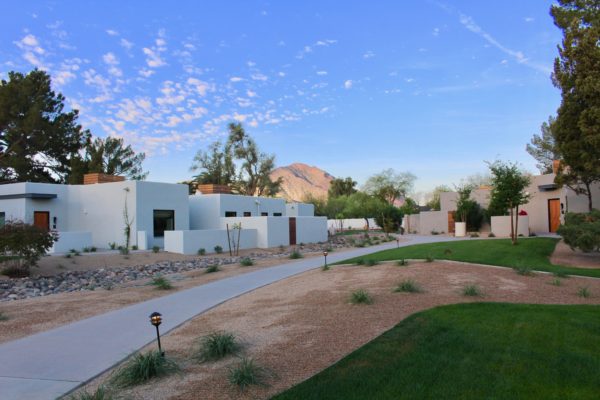 We were upgraded to their gorgeous two bedroom casita with an enormous outdoor seating/dining patio with our own cozy fire conversation area. As you meander your way through the property, each of the guest rooms are casita-inspired bungalows and offer a private space to relax outside and enjoy the desert surroundings. From high in the pine trees there are gorgeous hanging lights that decorate and as well as illuminate your path.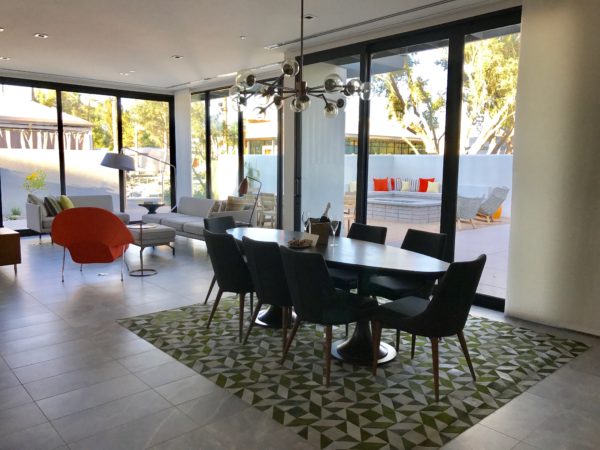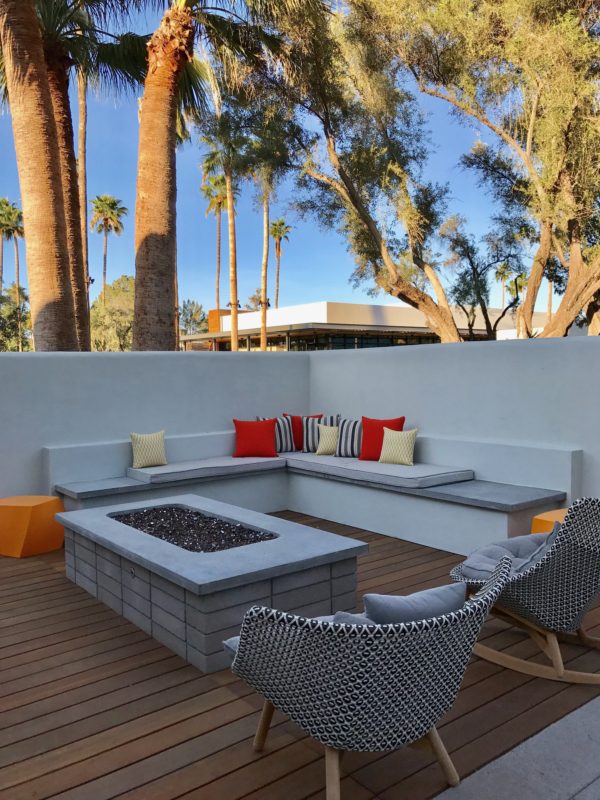 The resort landscape is full of sweet-smelling orange trees, desert cactus and wildflowers that sit in a bed of raked gravel. So artistic and more cleverness!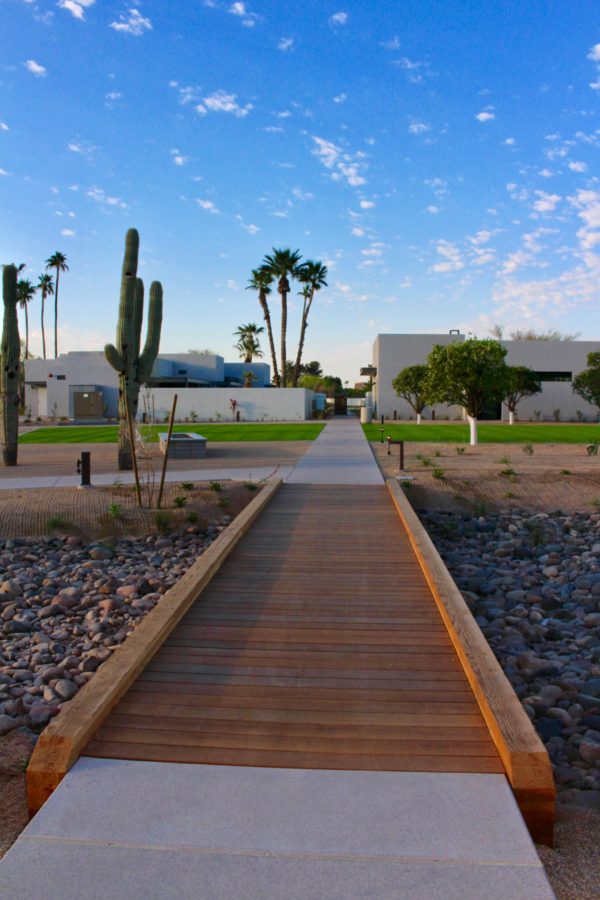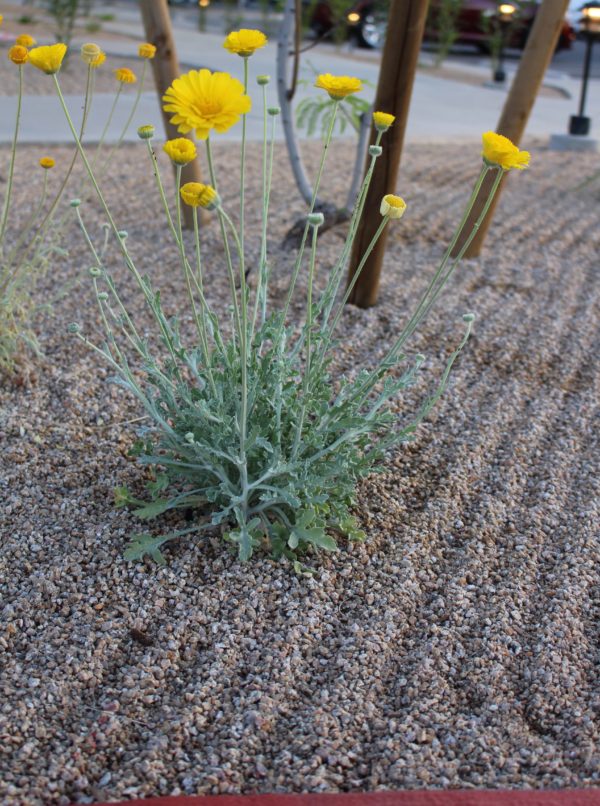 Eclectic Menus at Weft & Warp Art Bar + Kitchen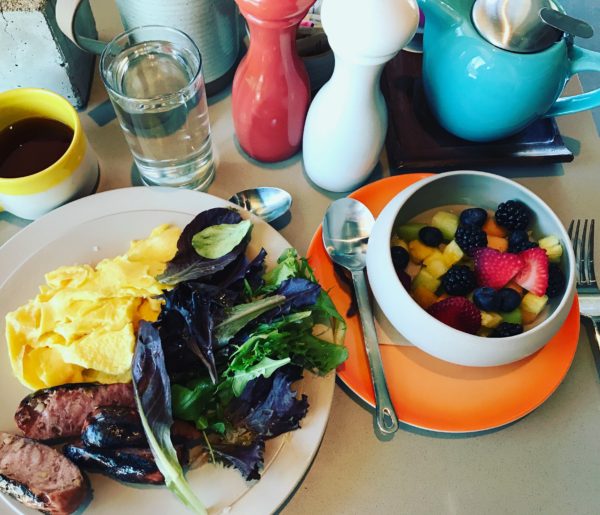 We enjoyed a nice dinner and breakfast each morning at the Weft & Warp. The chef uses local seasonal ingredients and creates some very unique dishes. The knowledgeable restaurant staff is attentive and the presentation of each plate is carefully prepared with a rainbow of desert colors. Every detail syncs with every other detail and is also quite delicious!
The large turquoise swimming pool is refreshing with plenty of relaxing lounge chairs as well as large reclining basket daybeds. Friendly mixologists serve hip drinks and await your every wish, while a range of popular music plays. I did not have a chance to visit the Palo Verde Spa, but hopefully I will on our next visit.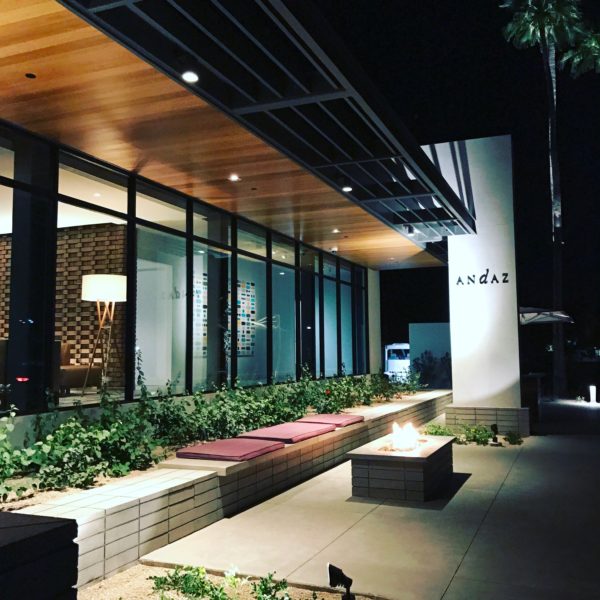 An especially impressive hotel side note –
I accidentally left behind an irreplaceable and sentimental necklace in our room. The manager of housekeeping notified us just several hours after we checked out to let us know that they found it. I had not even realized it was missing. They send the necklace to me in an overnight delivery. Stories like this type of exemplary service need to be shared and I am forever grateful to the staff for being so honest and helpful.
We have not been compensated in any way for this review. I just believe that when Craig and I discover something new and exciting we are thrilled to share it with all of you! I hope you will send this post to all of your traveling friends, because this wonderful new resort in Scottsdale, Arizona deserves some extra special attention! Plus, there is truly nothing like this property anywhere!
Taliesen West – Frank Lloyd Wright's Home in the Desert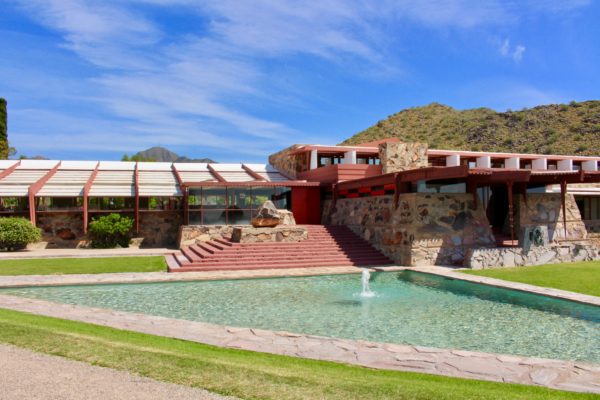 During our stay in Scottsdale we took an architecture field trip to Taliesin West. Taliesin West is a National Historic Landmark nestled in the desert foothills of the McDowell Mountains of Scottsdale. It is also the home of the Frank Lloyd Wright Foundation and Taliesin, the Frank Lloyd Wright School of Architecture.
Wright's beloved winter home was established in 1937 and diligently worked and reworked for 22 years. It was also the home of the Taliesin Fellowship where students lived, studied and learned from the great architect. Taliesin West was built and maintained almost entirely by Wright and his apprentices, making it among the most personal of the architect's creations.
Wright believed in a strong relationship between nature and architecture and every aspect of the home and grounds were meticulously created through his vision. The colors, room orientation, window placement and building materials all fit seamlessly in with the desert landscape.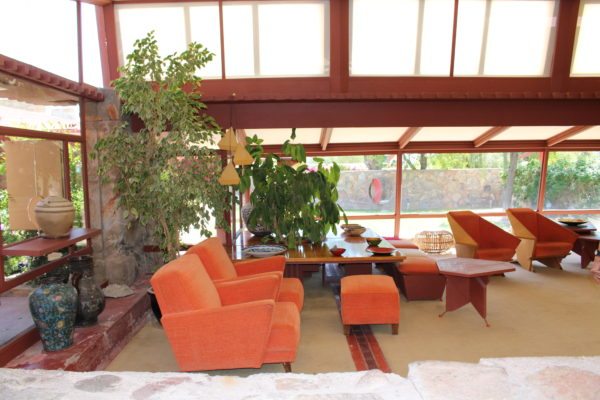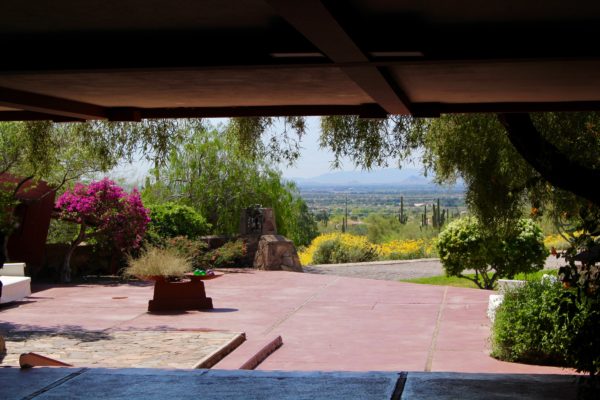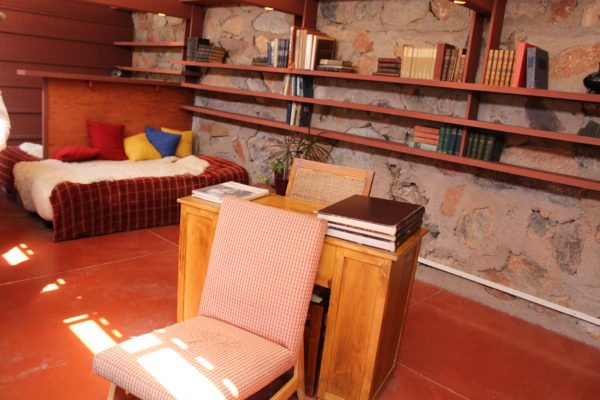 I strolled in awe and wonder through this unique architectural masterpiece as the guide carefully explained Wright's philosophies. It was a day for totally geeking out and thoroughly immersing myself in his work!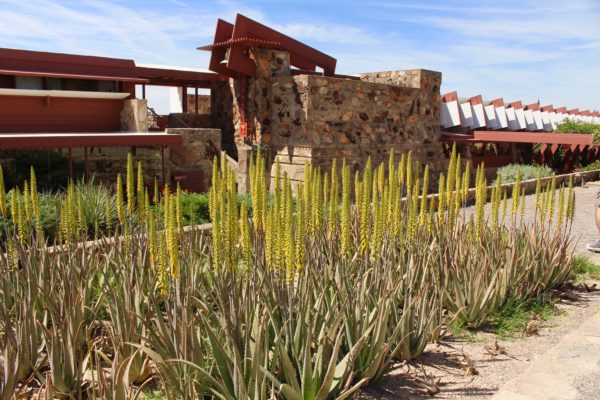 Although it was quite warm, the home stayed cool, due to its location and stone structure. The sky was so blue with just a few puffy clouds and the views from the mountain were spectacular.
Our weekend in Scottsdale fulfilled all of our vacation requirements and more! If it wasn't for the unseasonably stifling temperature, the trip could have been perfect! You should definitely consider Scottsdale as a potential destination, I have barely scratched the surface of possible activities! We absolutely loved our empty nester weekend in Scottsdale!
---
Got a question? Need some help or travel suggestions? Check out the contact link at the top of the page.
Use the subscription box to sign-up and get post updates by email.
Follow us on Twitter, like us on Facebook, check out our photos on Instagram, or pins on Pinterest