Would you like to have $10 off your first order of $75+! Click HERE for my link!
Are you searching for the perfect Valentine's Day gift? Something that is not the "same old thing"? A perfect gift that is unique, clever and cute?  Lucky you, I have a suggestion!
Back in December I introduced you to a fabulous new online gift company called BOXFOX, which was created by an entrepreneurial UCLA graduate named Chelsea Moore. Chelsea and her two business partners Sabena Suri and Jenni Olivero, have created the very foxy, brand new, on-line company.
Based in Los Angeles, BOXFOX is a new kind of gifting company, offering premium, curated & custom gift boxes for life's many moods, milestones, and moments. They are dedicated to making gifting effortless and elegant by handling everything from writing a handwritten, custom-designed card to accompany each box, to packing & wrapping by hand, to shipping/ local hand-delivery.
BOXFOX VALENTINE'S DAY COLLECTION
For their first-ever Valentine's Day, BOXFOX set out to create a collection* of pretty and personalized gift boxes that are a far cry from greeting cards and conversation candies. The result? A range of sweet gifts perfect for any, and every, special someone.
*All BOXFOX Valentine's Day boxes include a custom Cornelia Paper Co. card with a handwritten message.
A Box For Your Fox!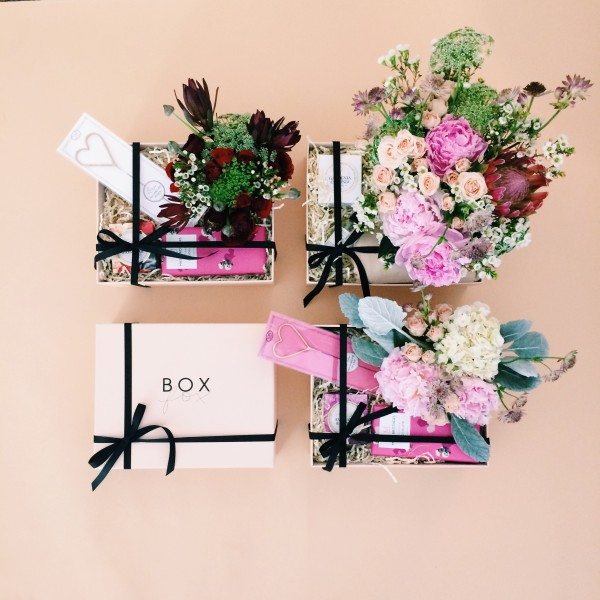 (1) Mon Cheri (LA Local Delivery Only, $100): Custom flower bouquet inside mercury glass jar, Tops Malibu Heart Sparkler, Voluspa Floral Maison Candle, Mast Brothers chocolate bar
(2) Mon Amour (LA Local Delivery Only, $160): Custom large flower bouquet inside mercury glass jar, Herbivore Botanicals Jasmine Body Oil, Voluspa Glass Candle in Mokara, Ivory Pashmina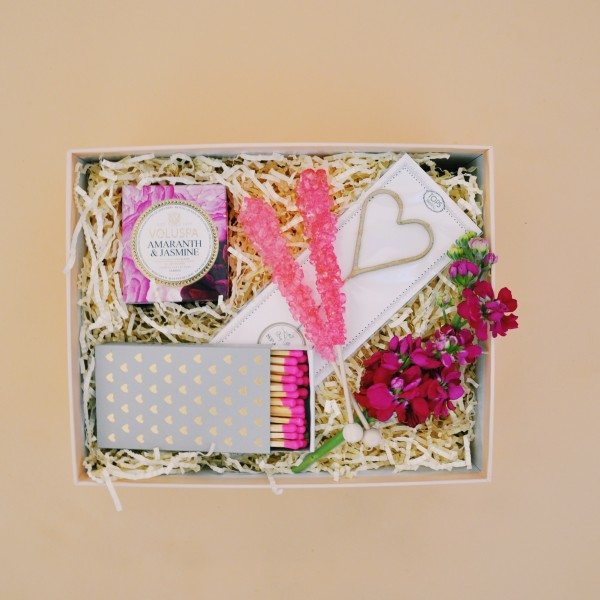 (3) GALentine's ($35): Voluspa Floral Maison Candle, The Social Type matchbox, Tops Malibu Gold Heart Sparkler, 2 pink rock candy lollipops, decorative flowers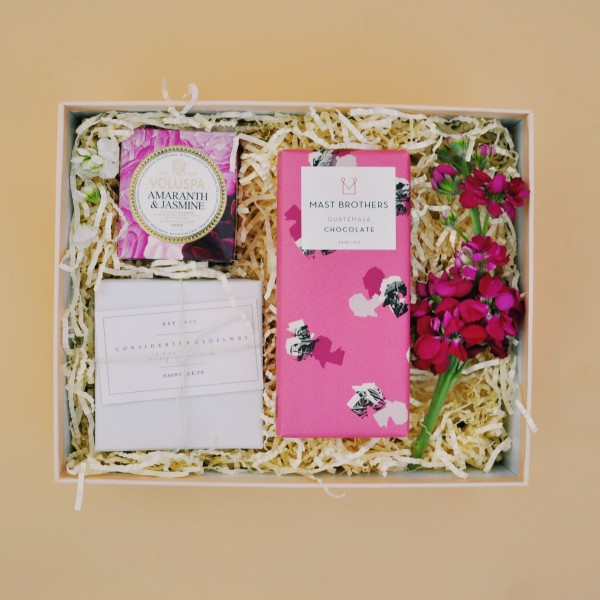 (4) Valentine's ($40): Consider the Wldflwers 14K Gold Ring Stacker, Voluspa Floral Maison Candle, Mast Brothers chocolate bar, decorative flowers