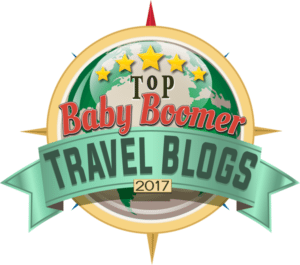 ---
We were honored to be named one of the Top Baby Boomer Travel Blogs! Thank you Southwest Discoveries!
Southwest Discoveries
Last year we were thrilled to be on their list for the Top Senior Adventurers. Southwest Discoveries offers unique itineraries, with expert guides for some fabulous tours of the Southwest. If you have a sense of adventure, want to break a little further away from your comfort zone and be enriched and awed by extraordinary places, these trips are designed for you.
Mitch Stevens, founder and lead guide from Southwest Discoveries shares,"In 2016 we decided to separate the wheat from the chaff and give you the absolute cream of the crop in our blog post entitled the Top Travel Blogs For Senior Adventures. In that post, we rounded up 50 Awesome Senior Adventures Travel Blogs that we felt you should be following. These blogs will transport you to fascinating and beautiful places and provide tools, tips, and techniques to help you get the most out of your travel."
Today AdventuresofEmptyNesters.com is also on this year's list of the Top Baby Boomer Travel Blogs. Can I get a woo hoo! According to Mitch, "If you're looking for entertaining, insightful and educational baby boomer travel articles and websites, you've come to the right place!"
Click here to read more about these great travel bloggers: http://www.southwestdiscoveries.com/best-baby-boomer-travel-sites-2017/#ixzz4igNrAcca
A big thank you!
I am honored that our passion for finding adventure in this new phase of life is well received and helpful to others. Every day I interact with amazing people who share the same challenges, passions and dreams of adventure that I do! Lucky me!
Thank you to Southwest Discoveries for including this blog on a list with very impressive, successful, baby boomer travel bloggers. I hope you visit the other blogs, you will really enjoy them.
Suzanne