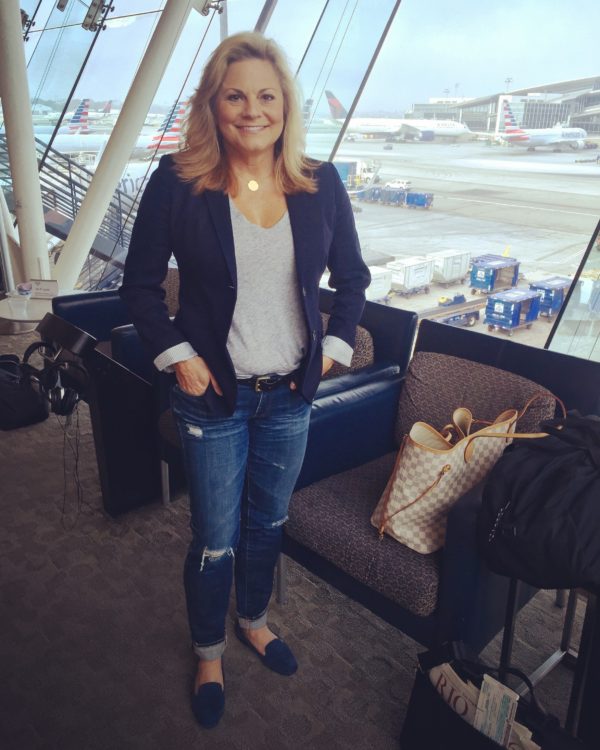 Don't you always want to hear about a few handy packing tips? I sure do. I don't know if these ideas are extraordinarily brilliant, but it sure is a great title!
We have several Fall trips coming up and I have started to plan what I will take with me and thought I would share a few helpful ideas. Packing for a summer trip has entirely different requirements, so for today this is just about the Fall.
Here are just a few of the many packing tips that will help when you travel this Fall ~
Small umbrella ~
Since the weather is much cooler and rain is a possibility, I always pack a compact umbrella just in case of a downpour. However, while living in Seattle and experiencing periodic rain showers, I learned that a hood can be used in a pinch. Since the umbrellas don't take up much room and are lightweight, just in case, pack one. Additionally, I use a weather app called Dark Sky on my iphone and it is very accurate and literally offers minute by minute weather reports. You definitely should have this app on your phone, it has helped us a great deal.
Lightweight rain jacket
I found this cute, lightweight rain jacket by Columbia. The best kind of jackets are a little longer and cover your behind. You can stay much warmer and drier if the jacket is a bit longer and not just to your waist. I think the grey is a great neutral color and a fun alternative to black. BTW, I have plenty of anecdotal evidence from our time in Seattle that proves my jacket theory!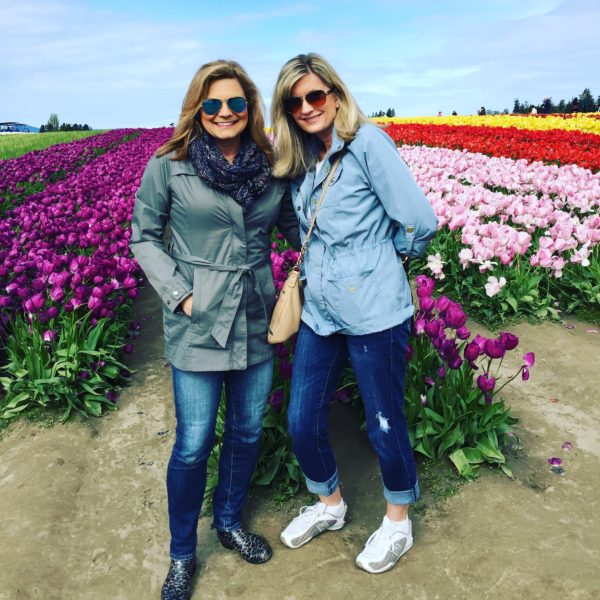 Nice flats (no laces)
I have been waiting for Fall to tell you about these a-dorable blue suede flats! They have a no-slip sole and are so fashionable.! My friends at Rhea Footwear sent me a pair to try and they felt cushy and comfy the first time I put them on and I received compliments everywhere I walked!
Their NeverSlip outer sole is made from an exclusive rubber compound that grips on most slippery surfaces. I actually have a fear of falling (who knew?) and these shoes give me a great sense of security. This shoe even has great traction on ice and snow.
The flats are super cute, functional, fashionable and will keep me from slipping in wet weather or dry. If you are interested in trying them for yourself, they have generously offered you a 20% discount at check out.
Use this promo code: EMPTYNESTERS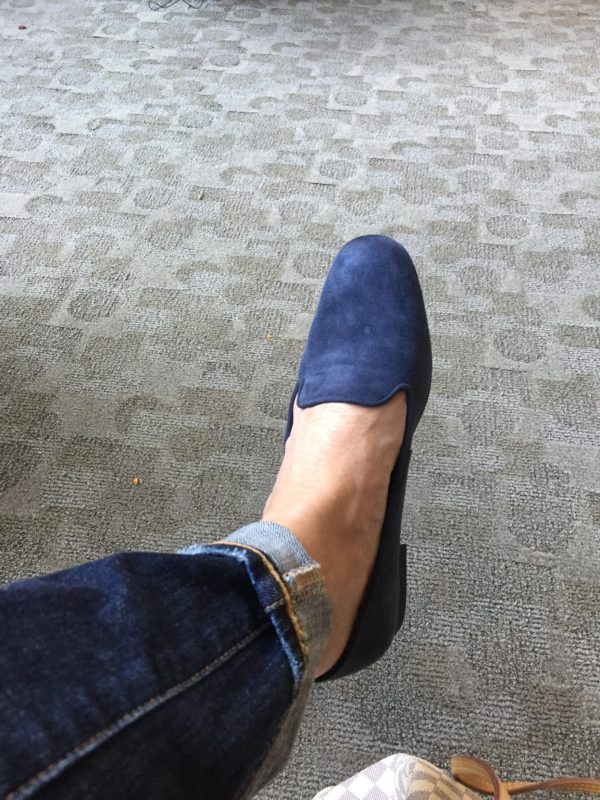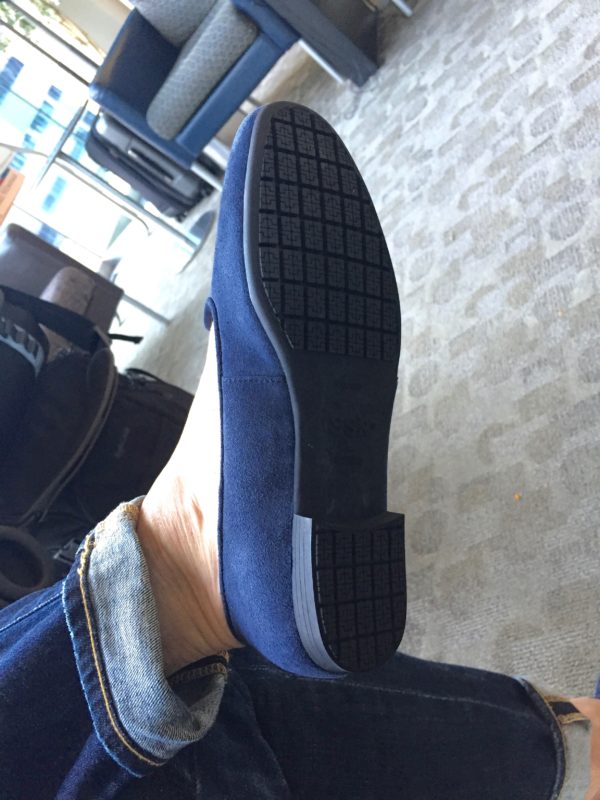 Packing an attractive, comfortable pair of flats elevates your outfit immediately and it makes going through security easier as well (no laces). I feel more fashionable wearing them instead of tennis shoes. I don't worry about fashion too much, but if there is something easy I can do to not look like a typical tourist, I'm in!
Tennis shoes
Although I am not a huge fan of the wear-tennis-shoes-and-jeans kinda outfit there are times you need your tennis shoes. I know I just criticized the athletic shoe option, however, we may get a minute to go to the hotel gym! My cute suede shoes would not be appropriate there! While traveling, our exercise is mostly walking, but every now and then the jet lag allows us to get up early, so we go to the gym.
If hiking is involved with our travel adventure, then the tennis shoes are nixed and an all-weather hiking type athletic shoe replaces it.
Mix and match short sleeve t-shirts with two pairs of jeans. (Black and blue jeans)
This is many tips in one, but this all goes together. I try to only take a couple of pairs of jeans and if one is black and one pair is blue, then you have a plethora of outfit options.
You can never go wrong with black, white or grey t-shirts. I have found these from Madewell and I love them. They run kind of big so you can maybe go down a size, plus they can go in the dryer. Bring a couple lightweight neutral sweaters too. I also bring two scarves and mix and match everything. You can never go wrong if everything goes with everything! I go with solid colors for ease of use too.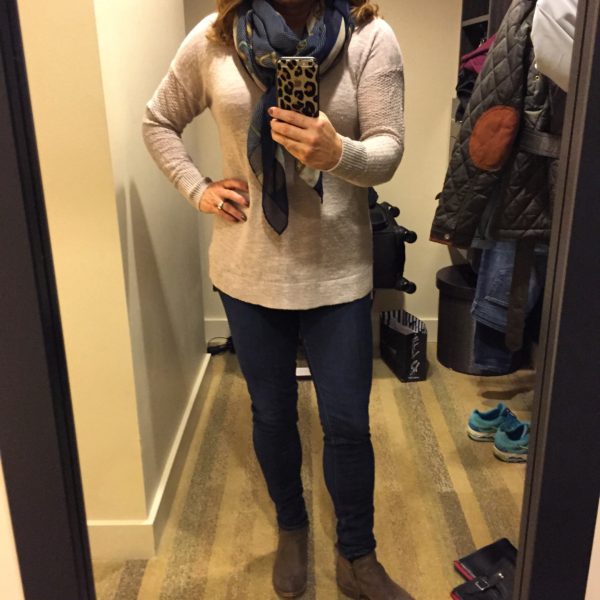 Pair of comfy boots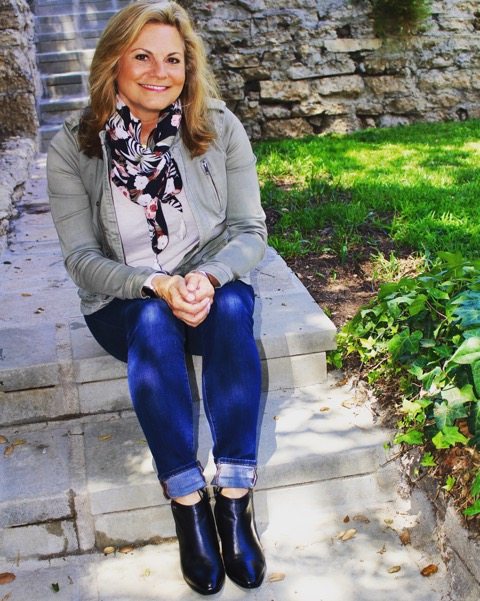 Bring a pair that will go with everything.I really do love this no-slip pair from Rhea Footwear, but any versatile boot will do if you can walk long distances in them.
Foot problems on a trip are quite a hinderance, so I do not recommend wearing brand new shoes when you travel. Too much can go wrong!
Don't Over Pack:
I am a recovering overpacker; I used to always over pack, but I am slowly breaking myself of this bad habit. My excuse was to think that I need to give myself options. To see what I might feel like wearing, that is just dumb. Check the weather ahead of time and make a decision! You may even be able to fit everything in a carry on, which is a much easier and smarter way to travel!
Since creating AdventuresofEmptyNesters I have been introduced to many travel wear companies and I have enjoyed becoming familiar with their products. Just a few months ago I partnered with the Container Store on their blog to share my packing tips with their audience. Many companies do lots of research in order to create products to make our life easier when we travel. It is quite fantastic!
If you can take solid advice from someone who travels a great deal, it can save many a headache.
I bet you have a few ideas you could share. What packing tips do you recommend for this Fall travel season?