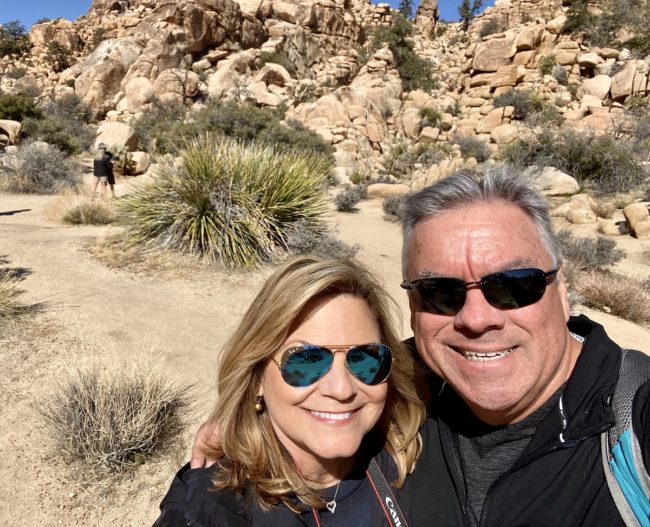 A Visit to Joshua Tree National Park
A visit to Joshua Tree National Park and the town of Joshua Tree will take you away from everyday stress and introduce you to a desert landscape that is so incredibly different from city life!
Recently I have written about finding adventure in woodsy, pine-smelling forests with vast lakes like Lake Tahoe and charming towns like Jackson Hole where the Grand Tetons impress and welcome you.  So today, along with my partner Hotels.com, I share one more destination inspiration! It is time to seek the sandy, rock-climbing terrain of Joshua Tree. We loved it!
The town of Joshua Tree
The tiny town of Joshua Tree (it's called JT by the locals) is a great spot to find artisans and musicians, cute cafes selling healthy food, cocktail bars, and artsy shops. The National Park is smack in the middle of the area and covers 790,000 square acres.
I am embarrassed to share with you that it took several decades for us to plan a visit to Joshua Tree National Park. Have you been?
Joshua Tree National Park – Make a Plan!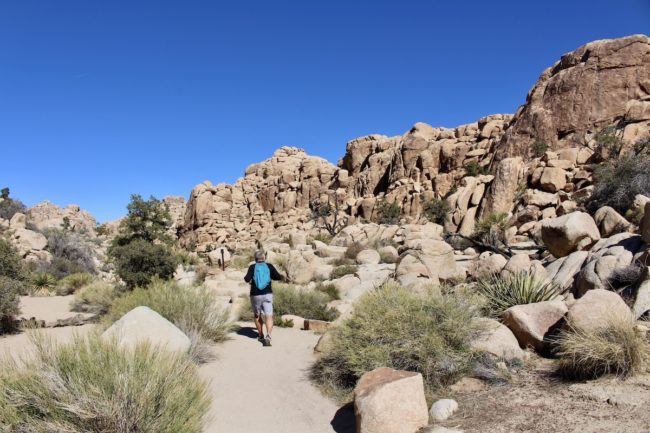 Joshua Tree became a national park in 1994, the year after our son Nick was born. So we have had plenty of time to visit, but chose other destinations instead. Who knew what we were missing!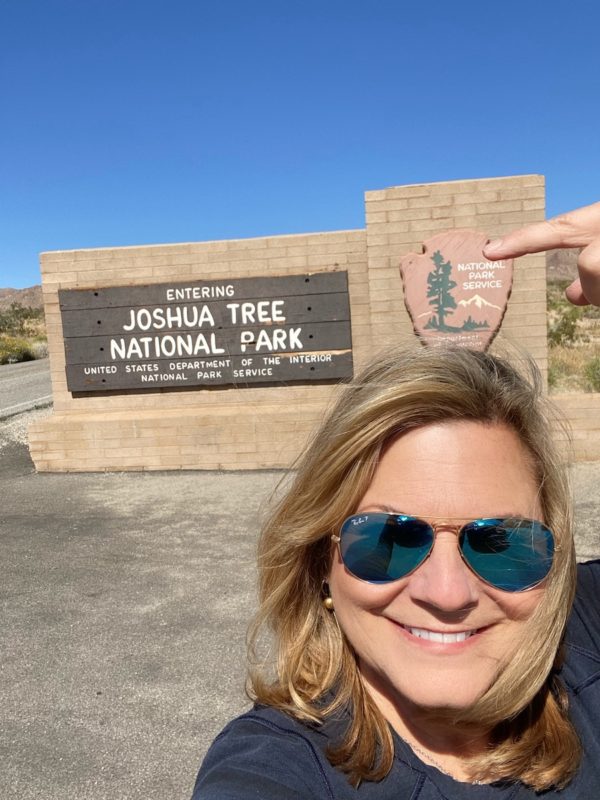 As empty nesters, our travel priorities have changed, and we are searching for the less populated, more serene, more nature-filled destinations. Especially now, since our COVID travel world has created a whole new set of issues, getting to open spaces is more popular than ever. This means more people are deciding to do exactly what I am suggesting!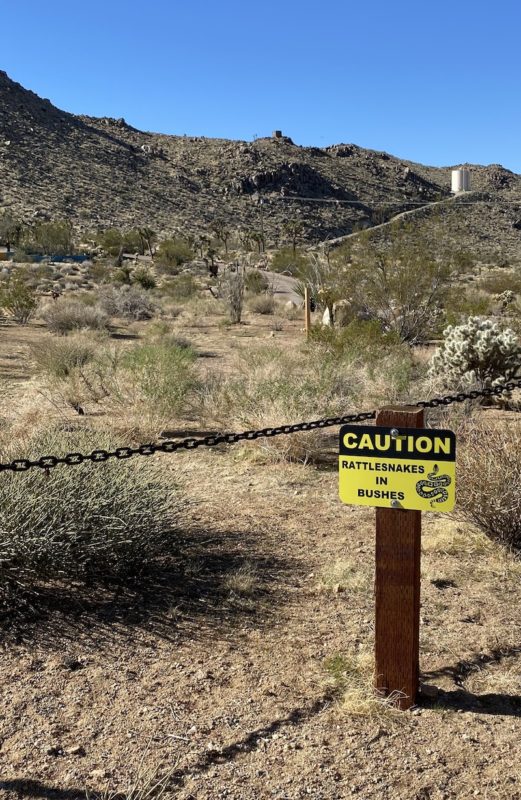 Therefore, my advice now is to decide to go to Joshua Tree, create the plan, make the reservations, and arrive early!
You will find 360 degrees of a lunar-like landscape with astounding rock formations, and of course, the ubiquitous Joshua Tree. There is something for every explorer on your visit to Joshua Tree National Park.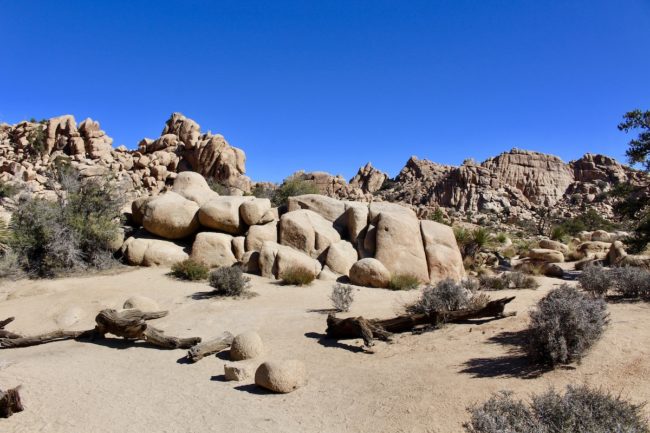 You can stay in quaint, less expensive local motels and hotels in several small nearby towns or you can also stay close by in Palm Desert and Palm Springs, where the options go from modest to luxurious. There are all types of accommodation options, how great is that? Plus of course, you can camp, but you and I know I am not an expert in that!
Located about 140 miles east of Los Angeles, JTNP has something for absolutely everyone! From sunrise to sunset, you can stay busy hiking, climbing, picnicking, camping, and resting if you wish.
This was our adventure.
Craig had to attend a business conference in Palm Desert, so we managed to fit in a visit to JTNP on our way there. We got up early on a weekday and drove east from Pasadena. We arrived at the Joshua Tree Visitor Center just a couple of hours later. The drive is almost effortless, especially if you are traveling early in the day. The traffic can be beastly on the weekend during peak travel times.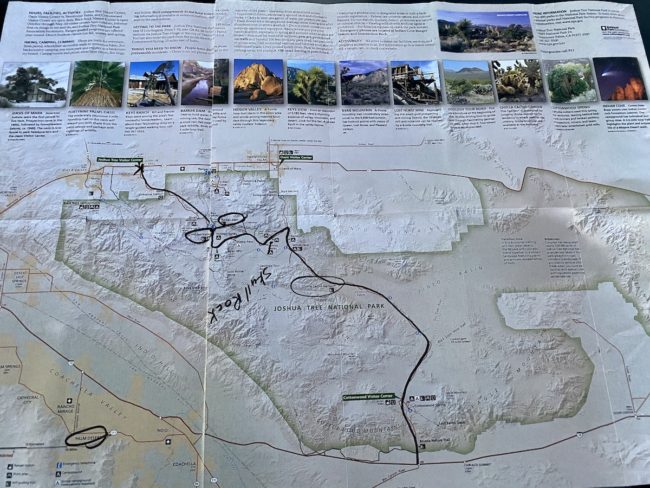 We started our journey at the Joshua Tree Visitor Center. There are three visitor centers; Joshua Tree, Oasis Visitor Center in Twenty-Nine Palms, and Cottonwood Visitor Center.
We talked with a super helpful park ranger, and he marked up a map for us and asked what we wanted to do and see. The drive took us in through the Park from the Northwest side, and we exited out Cottonwood to get to our final destination in Palm Desert. Taking the time to stop in at the visitor center took any uncertainty we had out of the way. The drive is easy and leisurely; you can load up on as much of the history and nature facts as you wish.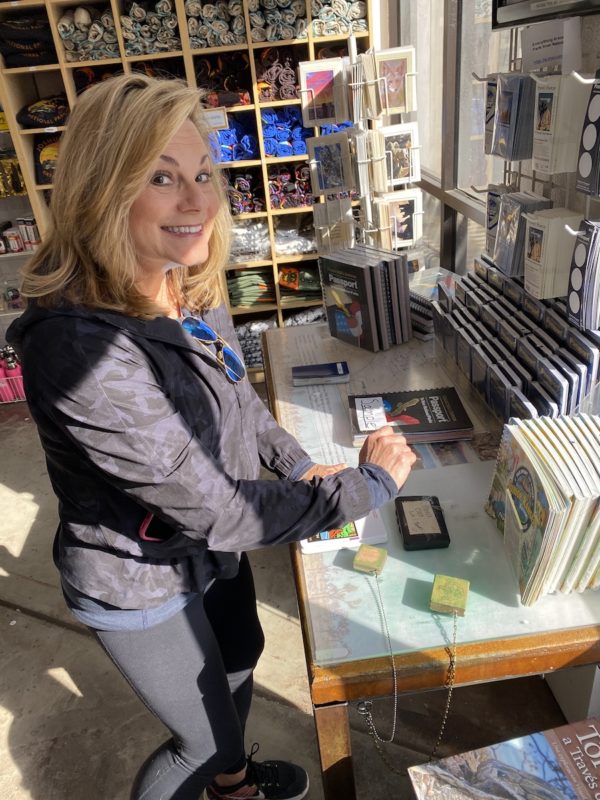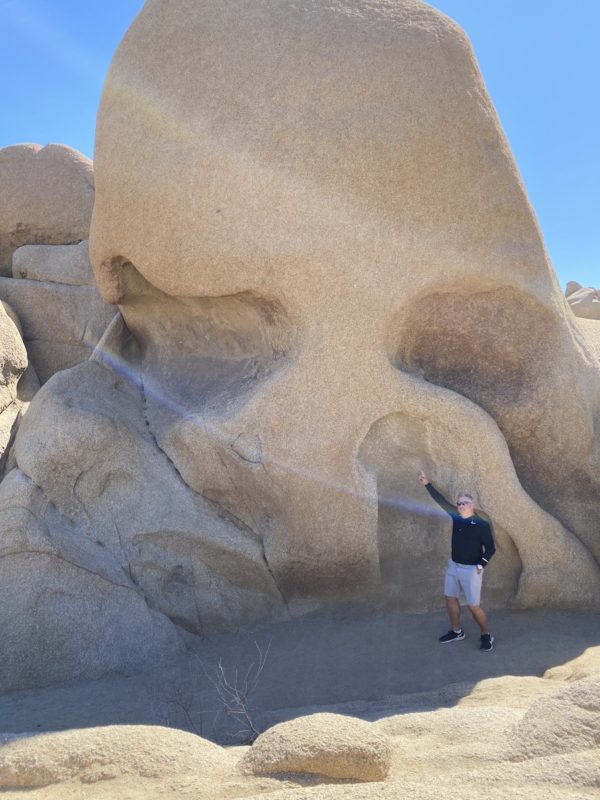 Stop along the way, anytime you like, and experience whatever suits you! At the time, Craig had a knee injury, so we were not taking long hikes. My top five stops were Hidden Valley, Barker Dam, Jumbo Rocks, Skull Rocks, and the Cholla Cactus Garden. There was plenty of time to see them all!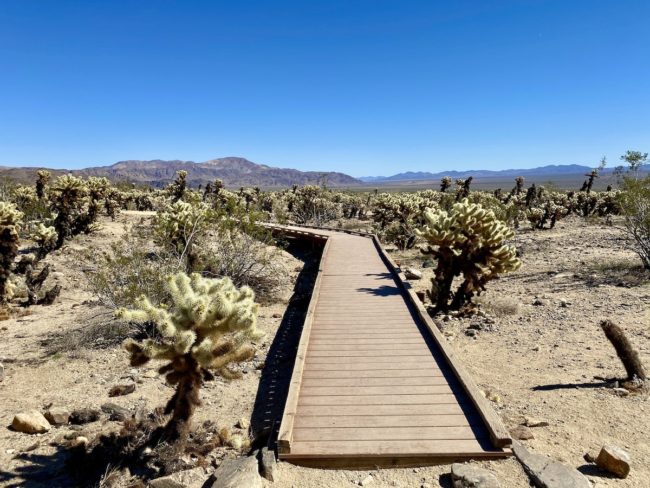 What I liked most about our visit to Joshua Tree National Park was its simplicity. The roads are clearly marked; the desert landscape is jagged, prickly, and unusual, and so different from other road trips. California's history is abundant, and the photography opportunities made me squeal with delight!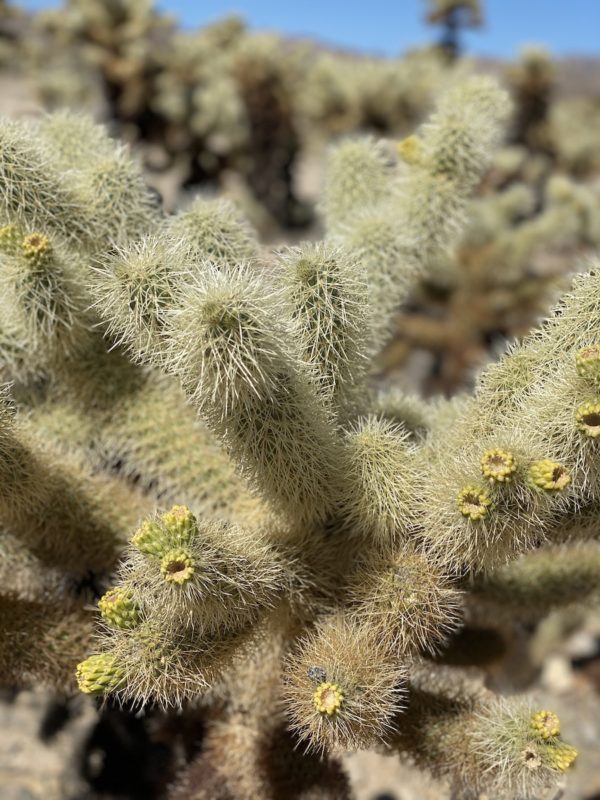 I would love to return for sunrise and sunset, as the sun offers a plethora of shading and a rainbow of color options. Desert stargazing is on my wish list! Also, visiting Joshua Tree at different times of year would provide you with a brand new experience every time you visit. Because of his business obligations, we did not have time to return to the Park on this trip, but you could make a spectacular weekend plan by staying in a local hotel.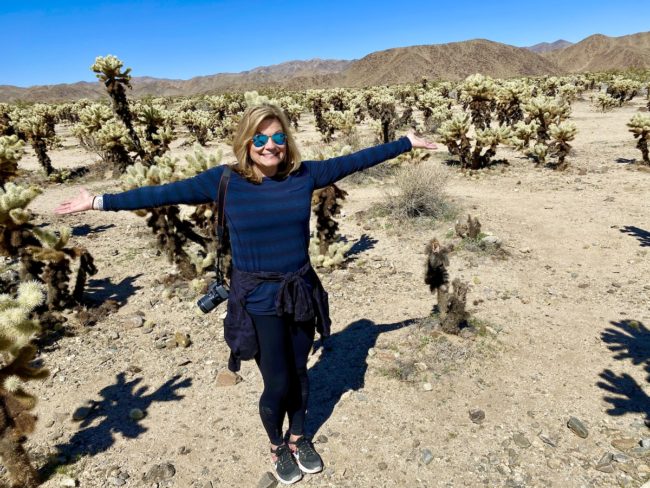 Check out this incredible landscape!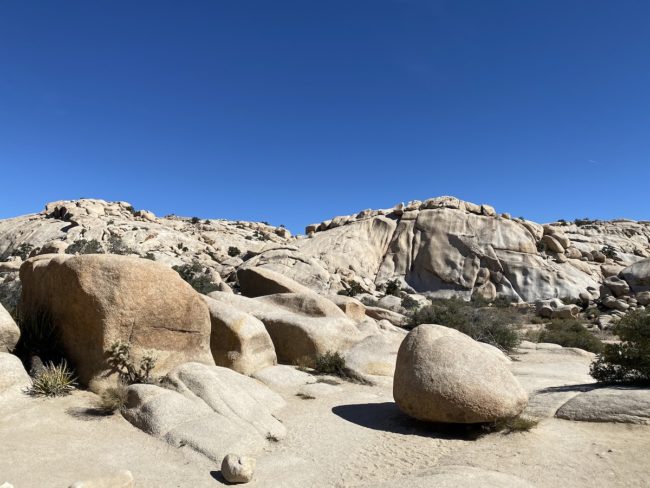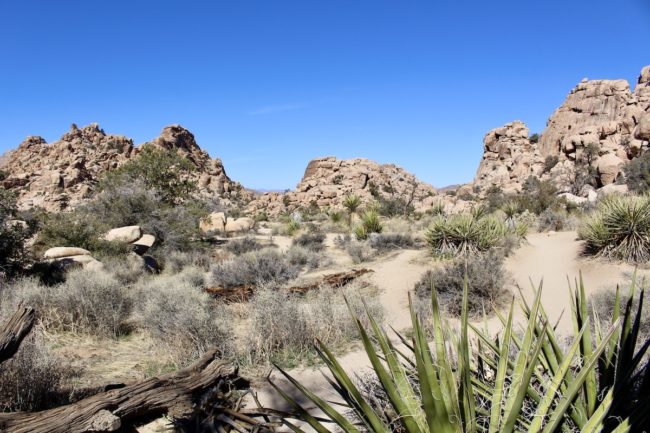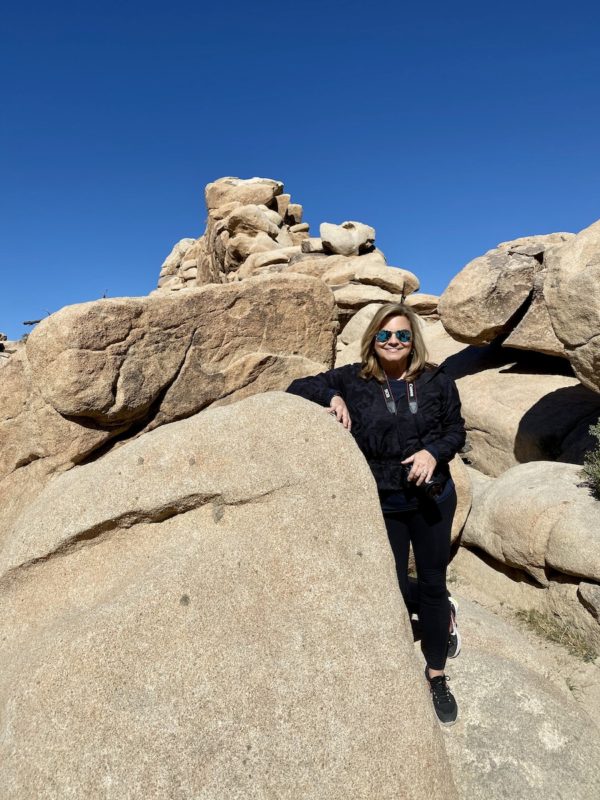 To help you plan:
The rules of travel seem to change daily, but safety is super important! Do your research and check out the destination carefully. The world can feel a little unfriendly at times when we wear masks, so I try to smile with my eyes. Leave yourself plenty of time, no need to rush. Keep a sense of humor and the welfare of others in mind. This is always a useful suggestion, no matter when you travel!
If you do decide to travel at this time, here are a couple of helpful reminders:
Have a mask ready and available, each destination may have different rules.
Check the local websites before your trip for the latest updates on local businesses' policies, closures, and status.
Book a hotel with free cancellation in case you need to change your plans at the last minute!
---
Pin for Later!