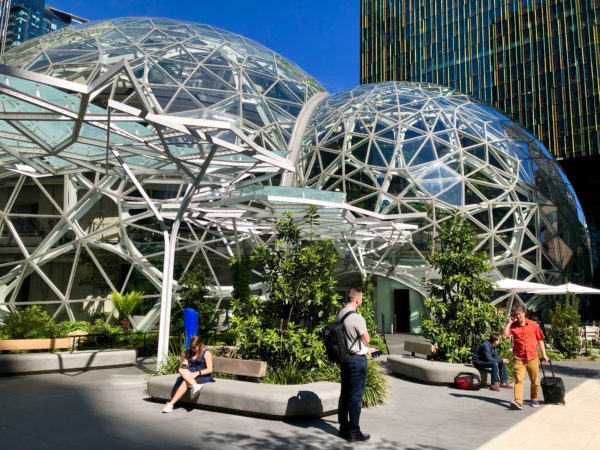 What are The Amazon Spheres?
Once upon a time, 4 years ago, we lived in Downtown Seattle in the state of Washington while we renovated our fixer upper home in Southern California. We were up for a change and both of us could work from home, our daughter lives there and so we moved to the city. We lived in a high rise apartment and had a blast fulfilling an urban-life adventure.
Across the street from our building, Amazon (you may have heard of them) was building several enormous office buildings. Seattle was filled with cranes and one extremely unusual structure, The Amazon Spheres. There wasn't a great deal of information available at the time so we just watched. We watched the changes of metal, glass and the unusual curve of the roof and walls. We had never seen anything like it.
Craig and I got a huge kick out of following the progress of The Spheres and how they rose from the dirt with monstrous, uniquely shaped pieces of glass which were lifted to form these glass domes. A giant terrarium? Was it just for Amazon? Surely Mr. Bezos and the good people at Amazon would share this extraordinary place with the rest of us?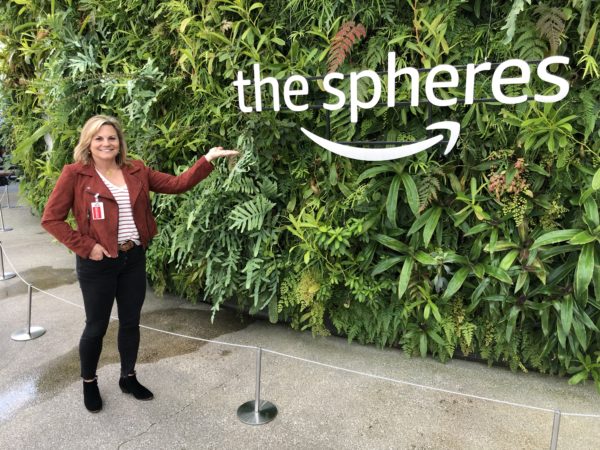 The answer was no, it was for Amazon employees only, but one Saturday a month it was open for reservations and a tour for everyone. Since it opened, it is now available two Saturdays per month. You can find the reservations info on the website=> Here.
However, there is something we did not forecast, my husband was recruited to work at Amazon and is now an employee. Yipppeee for me! I get to go inside! Truthfully, it takes time in a new position to know the rules and Craig was not about to ask about entrance to The Spheres right away, so I waited for a few long months.
By the time of my most recent trip to Seattle, he had the lay of the land (or the info for The Spheres at least) Here's the funny part, he can go there any day of the work week and bring as many as 6 guests. So easy for him! Who knew?
Our Visit to The Amazon Spheres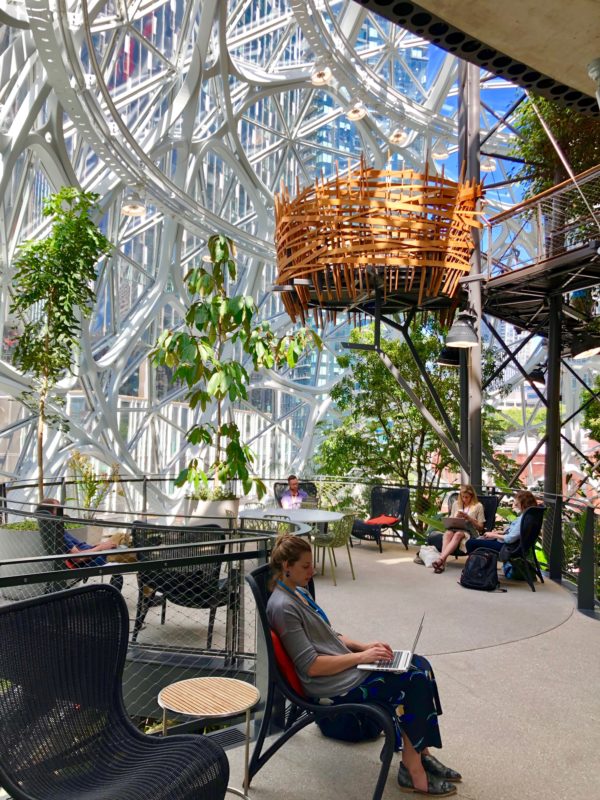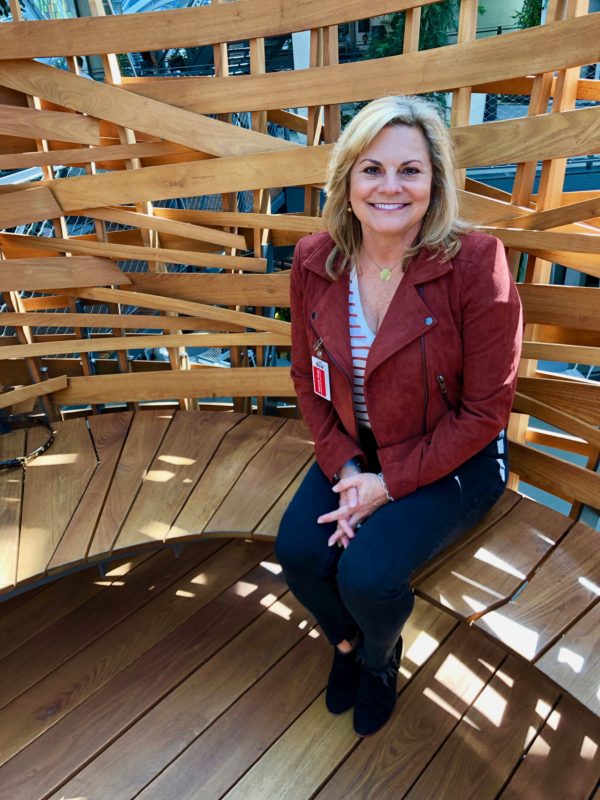 It was every bit as cool as I thought it would be, but even WAY cooler. Everywhere I looked blew my mind. People work here? Read here? Talk on the phone? Buy donuts? Coffee? Yes, Yes, Yes, Yes and Yes!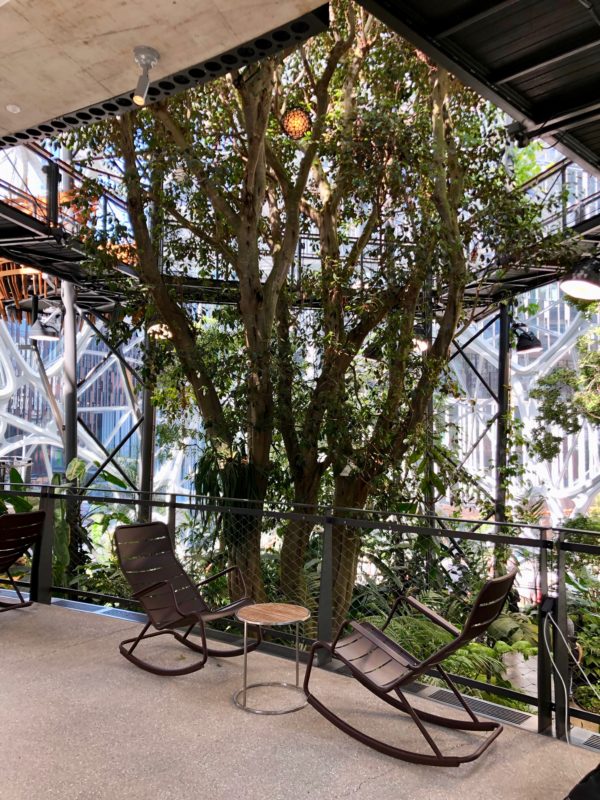 The Spheres' four floors have unique work stations for any Amazon employee to enjoy and there are multiple downtown office complexes filled with employees that have access. This urban oasis can hold up to 800 people at a time and interestingly enough, it was not crowded and there are thousands of people who work for Amazon! I observed meetings and typing and conversations and many, many smiles.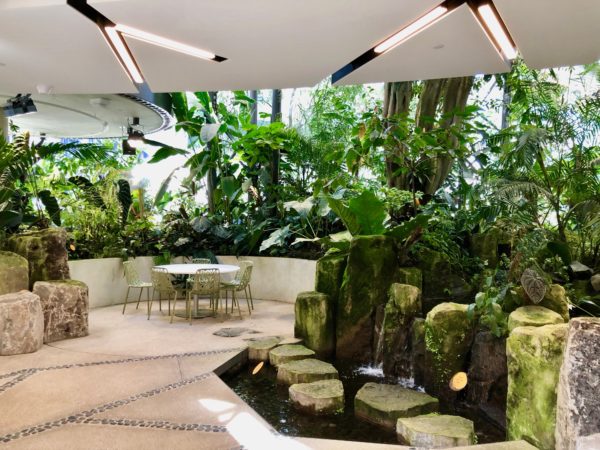 Amazon says that, "The Spheres are a result of innovative thinking about the character of a workplace and an extended conversation about what is typically missing from urban offices– a direct link to nature."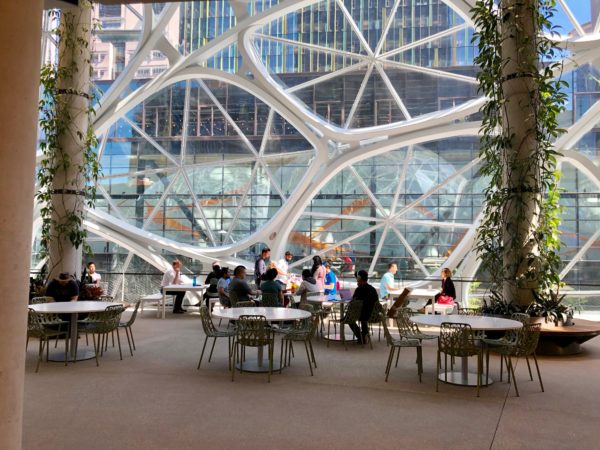 The atmosphere of The Spheres almost felt Disneyesque. It was like I stepped into an amusement park housed in an enormous greenhouse! The air was moist and warm, but not too stuffy and I half expected a roller coaster to dash by us. I can easily understand why these Amazonians would occasionally stop by here, work a little and take it all in.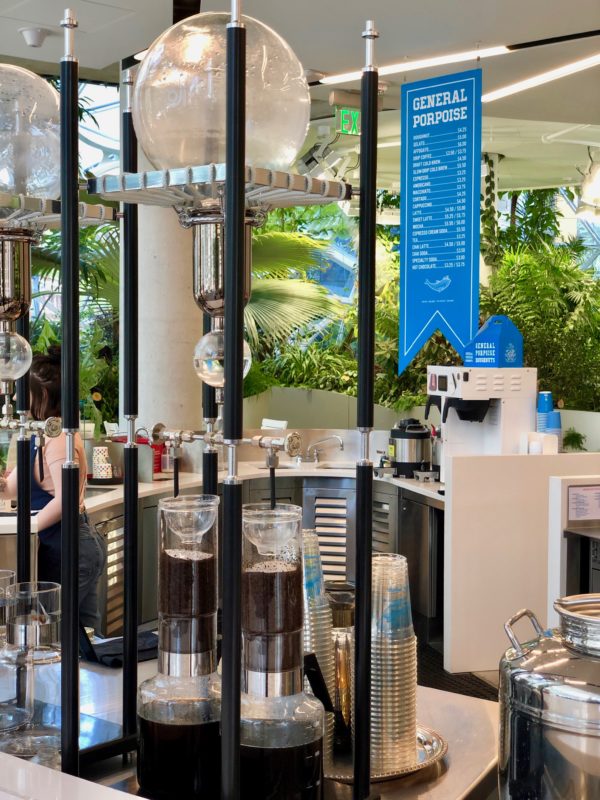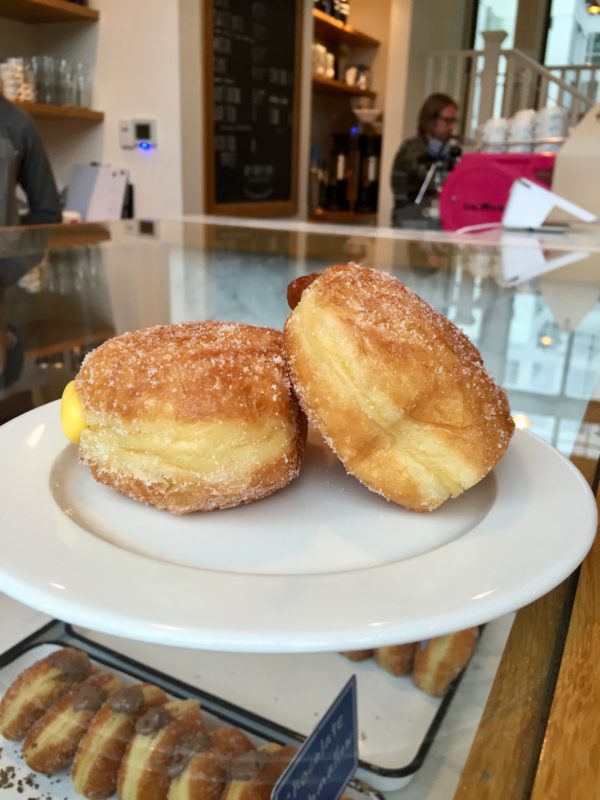 The environment is peaceful, certainly one of a kind, with thousands of plant species and docents standing on every floor to help you and answer questions. Like a science camp, but for adults. They will share their knowledge of the plants and ecosystem and offer new information you have never heard of. It is all quite remarkable. If you visit the website it will offer many more facts about how The Amazon Spheres were built, how they chose the plants and all of the inspiring environmental details. I cannot wait to take my friends there next month. Yes, I am going back!
Check out this post about Seattle as well – What to See and Do in Seattle – Our Favorites!
---
Pin for Pinterest!