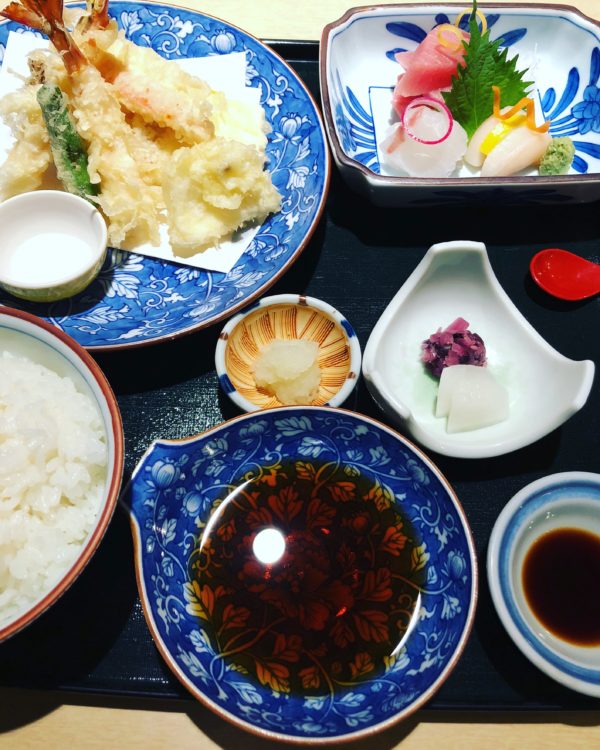 Japan is For Food Lovers Everywhere!
Part of the fun of travel is to immerse yourself in the local culture. To visit the farmer's markets, fish markets and fruit stands to see what is fresh and in season is always at the top of our list of adventures. Our trip to Japan with Collette Travel was no exception, we were treated to some fantastically prepared meals, visited charming local markets and ate like kings and queens.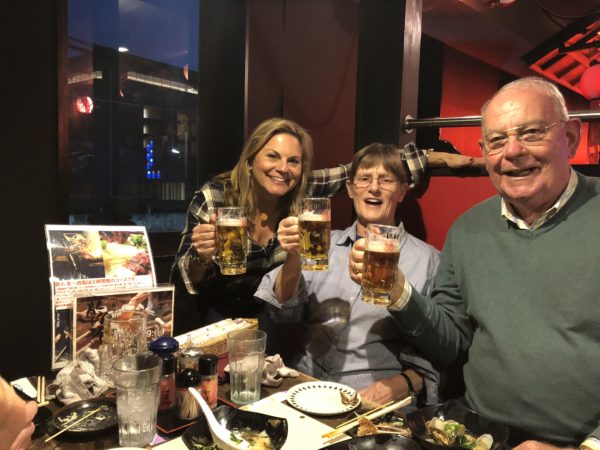 Local Markets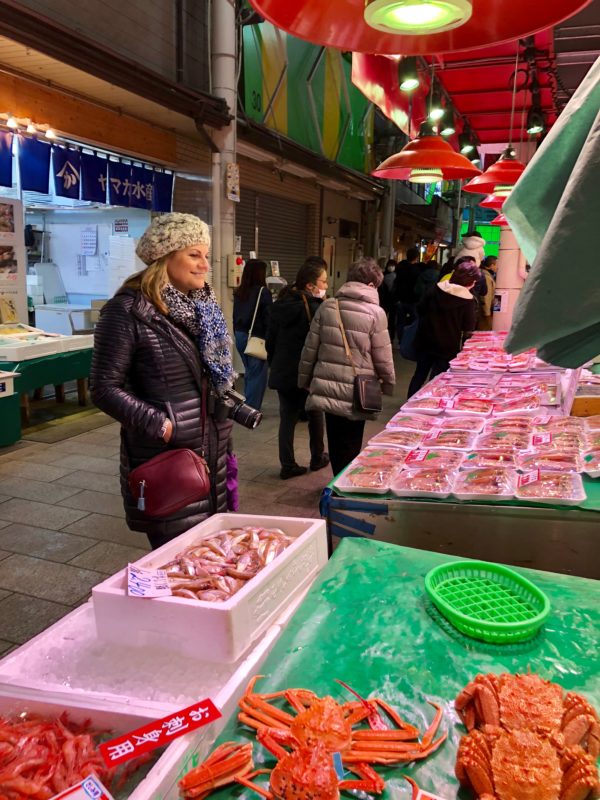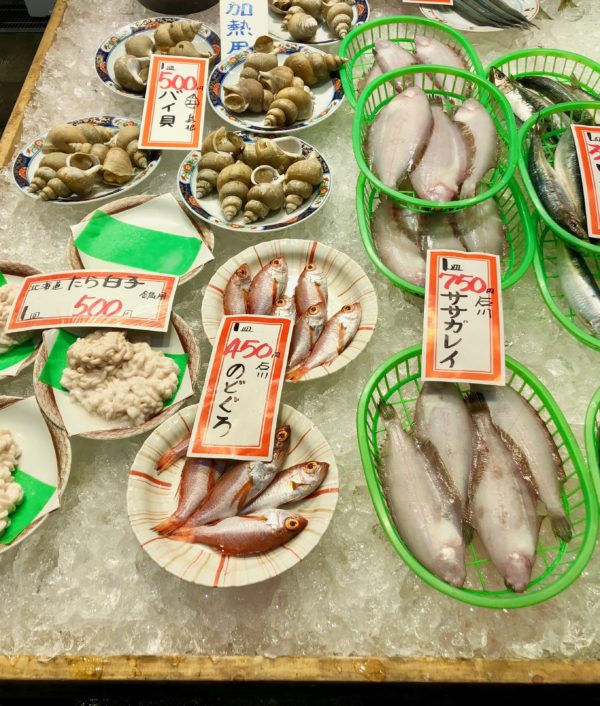 On a really wet and wild Monday we trudged through puddles and hid between tour buses to avoid the pouring rain in Tokyo. It was really kind of funny, we were all just getting to know each other and you can really get to know another traveler quickly when you hurdle a HUGE obstacle like Mother Nature!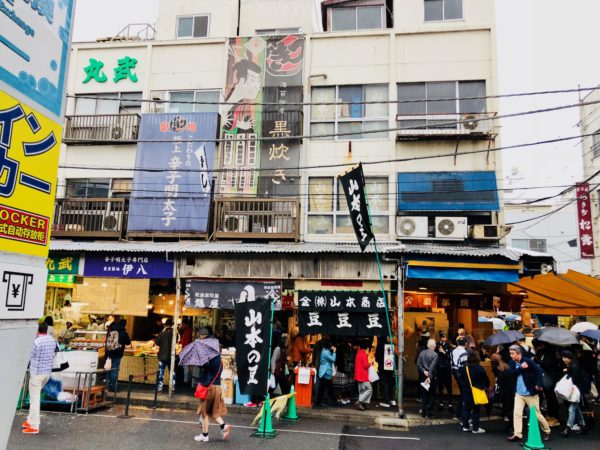 We walked about the circumference of the Tsukiji Nippon Fish Port Market where fish mongers yell in Japanese, crowds sample their tasty options and the photo taking is at a premium!
After our stroll about the market, we walked over to our first sushi lunch! Smooth and buttery, the sushi and sashimi were dee-licious! It was a fabulous beginning!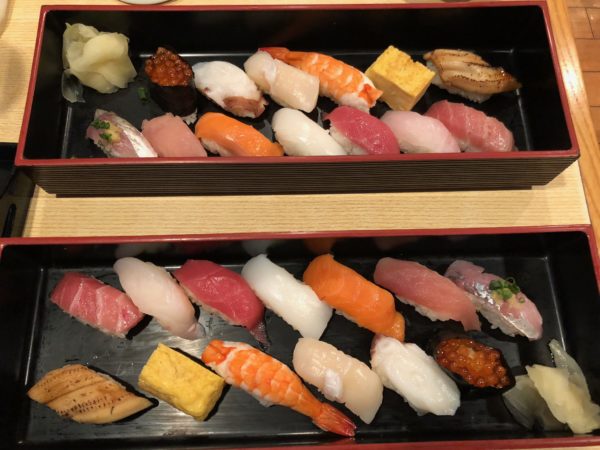 How about a $130 cantaloupe?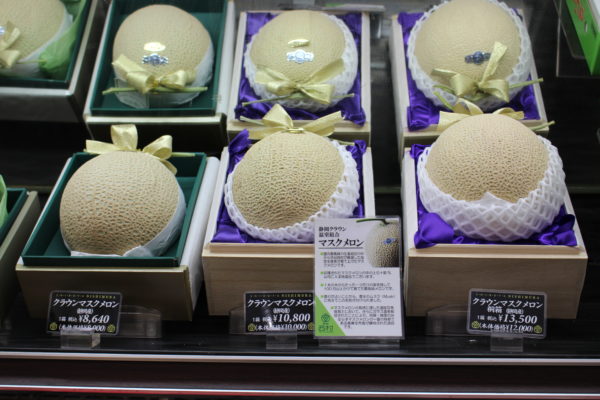 While on our walk in downtown Tokyo, near the Shibuya Crossing, the busiest intersection in the world, we found this gorgeous display of fruits! Have you ever heard of a $130 cantaloupe? Seriously these were expensive melons! The shop smelled like fruity heaven, sweet with the scent of strawberries and oranges.
Pretty as a Picture: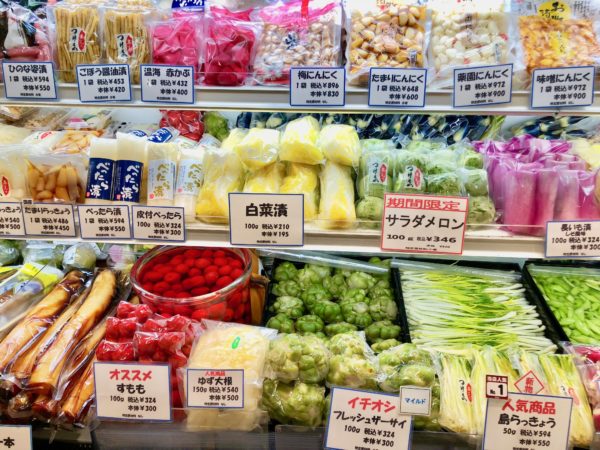 The produce is displayed like a work of art. Most of the items are hand wrapped in plastic and carefully stacked into gorgeous piles of vegetable perfection. I kept saying "This is a regular grocery store?"
Oodles of Noodles ~
Funny story (see fork below)~  It was my first day in Tokyo and I went to a super popular Noodle House. With lots to choose from, I chose tempura and these cold-ish (I didn't actually understand they would be cold) noodles that you dip in that tiny little cup of broth. What? How am I going to get those noodles on the chopsticks, then in the cup and then in my mouth? Fork please! I was also wearing a white shirt, need I say more? I will say that by the end of the trip, I have certainly mastered the skill of using chopsticks effectively!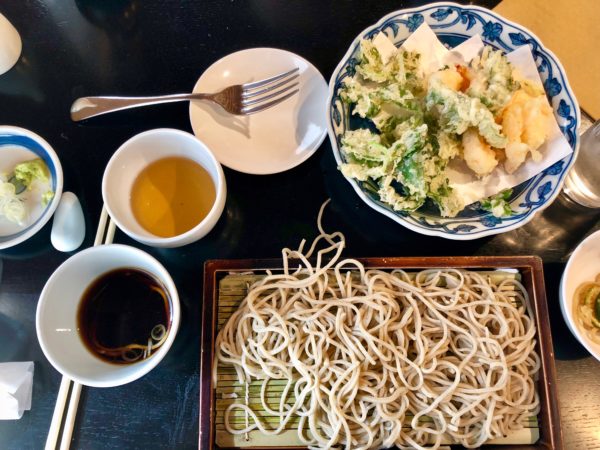 Our experience was quite the mash-up. We were able to sample the specialty dishes from each of the various regions we visited and they came in all shapes and textures. Udon, buckwheat, soba, we sampled them all!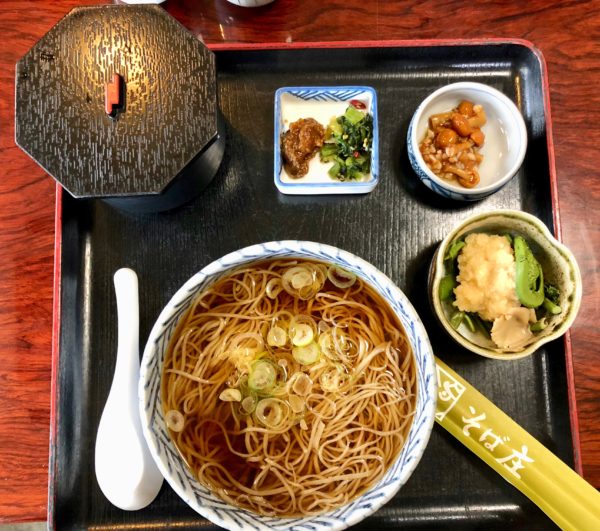 Favorite Meals ~
This is definitely a tough one, because we ate amazing food every single day, but if I had to go for a favorite dinner it would be this one.

We were in a charming old town called Takayama. The air was a chilly 30 degrees, my nose was red and I was happy to be led into this homey restaurant. The menu featured the local Hida beef, which is rich and flavorful like Kobe or Wagyu.
For each of us, a place setting with all of the ingredients to cook our meal was plated like a painting. They lit our own personal hibachi and without much instruction or fanfare, we grilled our own dinners. It was super fun and amazingly delicious!
Lunch Fave– In Kyoto the "okonomiyaki"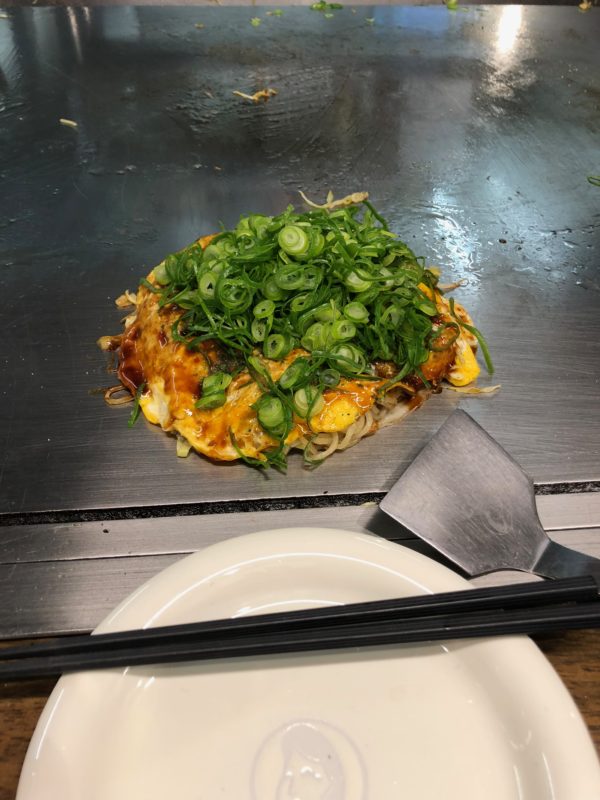 They cook it all in front of you and the entertainment value alone was worth the trip. This yummy dish was made with a light pancake, cabbage, bacon, egg, deep-fried squid,(sounds weird, but wasn't) and a special sauce. It was kind of like an asian tostada. I could barely finish mine, but even the smallest of our travelers gobbled up their dishes. Monday I will give you more details. It was a hoot!
Lots of Variety ~
I know that Japan has the most Michelin Stars of any city, according to the London Telegraph, 302 stars total and twelve 3-star restaurants! We did not have a chance to visit one, but it is on my list for the next trip. The pizza is terrific, the pastries, cookies, matcha lattes too! Street food is safe and super popular. You will often see people strolling with sticks in their hands! Check out my post coming soon all about the street food.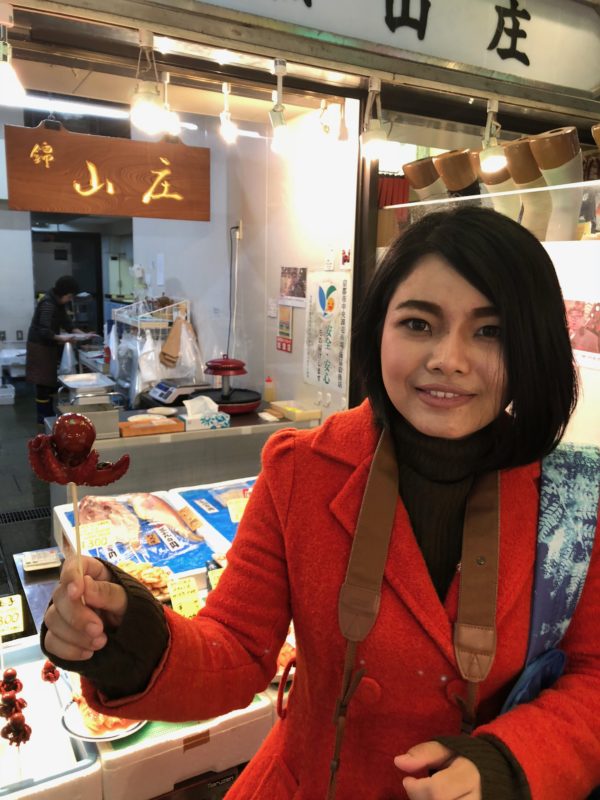 They even eat little baby octopus. Truthfully I nearly gagged, but people LOVE them! There is a quail egg stuffed in the head. YUCK! To each his own as my mother would say!
How About Ice Cream Covered in Gold Leaf?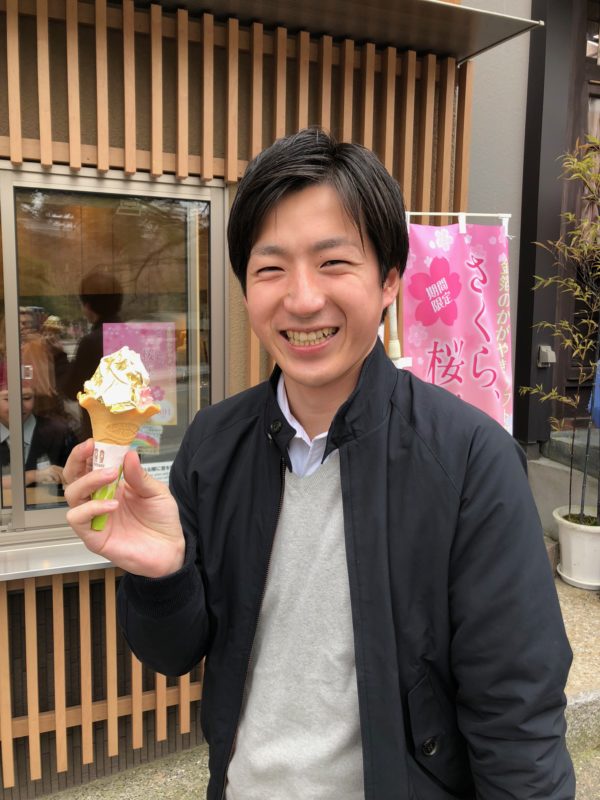 Yes, this is a thing. In Kanazawa, which is on the west coast of Japan, gold leaf products can be found everywhere. Craftsman in this city have been working with gold leaf since the 15th Century. The foodie world has taken this to another lever by offering desserts with gold leaf. I have seen this gold leaf decorative design with candy and pastries, but never on ice cream and never this much gold leaf! The ice cream cone cost $20. Fun!
Presentation~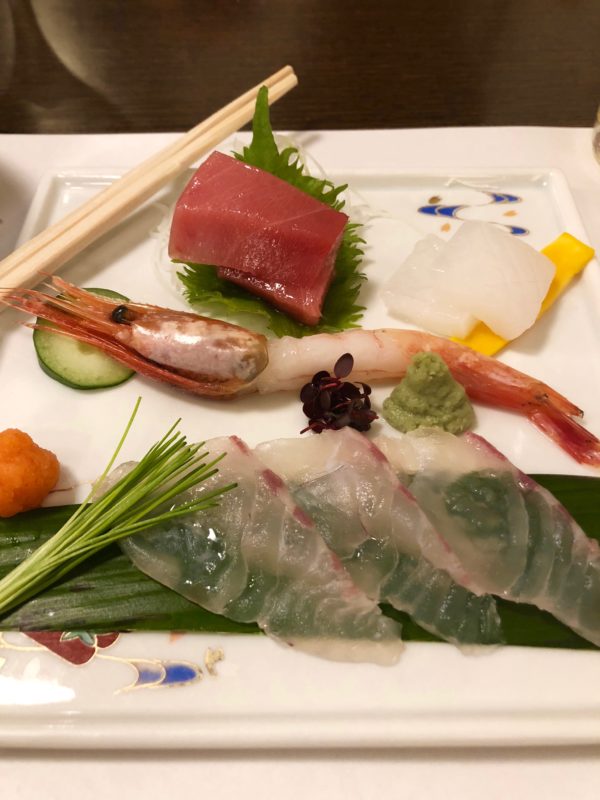 Like an artists canvas, each dish, no matter how simple, was pretty as a picture. At the fancier restaurants we were given radishes shaped like shaped like cherry blossoms and yellow butterflies cut from potatoes. The craftsmanship was so impressive.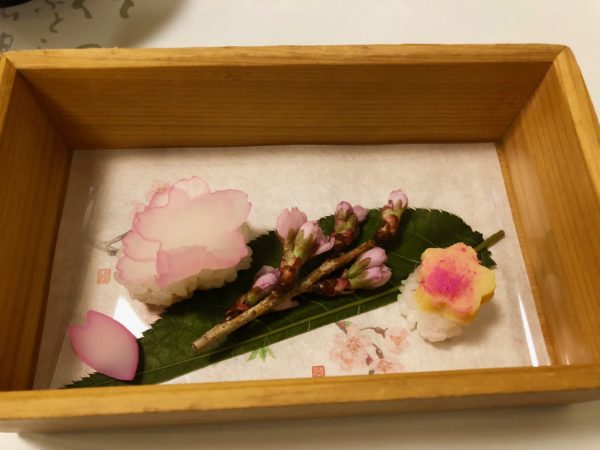 What a foodie adventure – Japan is for food lovers !!
It was exhilarating discovering new and adventurous dishes! I was naïve enough to think that the Japanese food I had sampled here in the United States was all there was to offer. WRONG – The variation in style, texture and preparation is as varied in Japan as it would be for any other country and their different regions. The level of expertise and quality of presentation rivals any other cuisine I have enjoyed. We even had vegetarians in our group that were totally happy.
I would rush back to Japan in a New York minute. Even if the flight is twelve long hours going west, the overall experience is so spectacular that I cannot wait to share it with Craig. YOU WILL LOVE IT TOO!
To learn more about this tour click here ===> Cultural Treasures of Japan
Pin For Later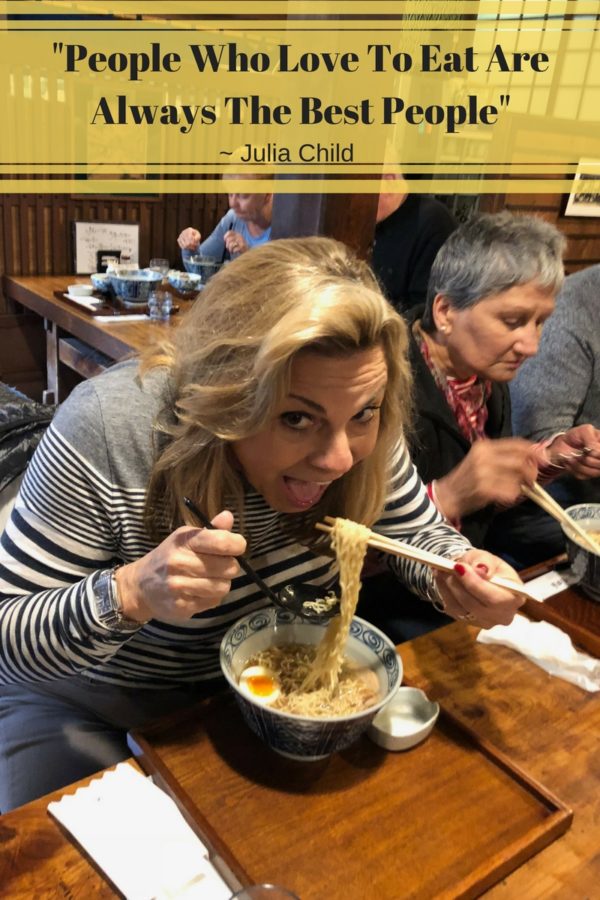 ---
Do you know other travelers who would enjoy the post? Please forward to them!
You can find us here:  Follow us on Twitter, like us on Facebook, check out our photos on Instagram, or pins on Pinterest