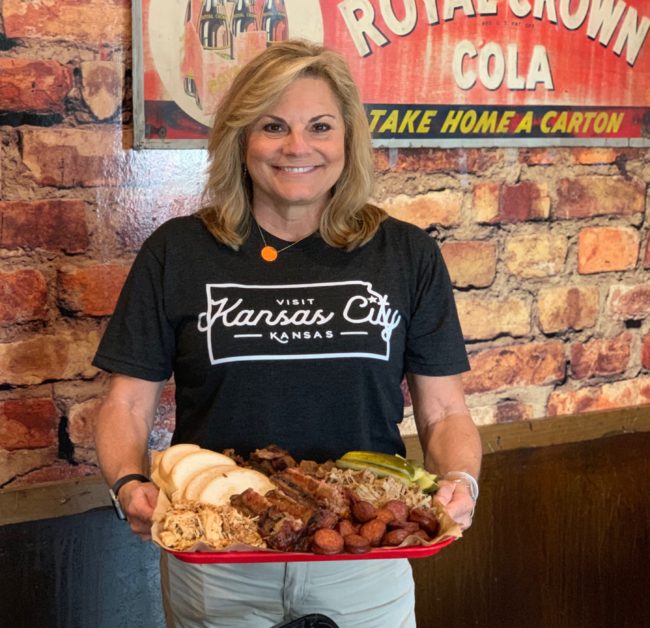 Is there really great food in Kansas City Kansas? Absolutely!
We discovered unique handcrafted cocktails at The Mockingbird Lounge, artisan popcorn at Velvet Creme, the BEST tacos, and authentic family owned and operated established restaurants that will wow every single visitor. All coupled with the nicest people I've met in a very long time!.  Have you made it over KCK?  (BTW, all the cool people call Kansas City Kansas, KCK)!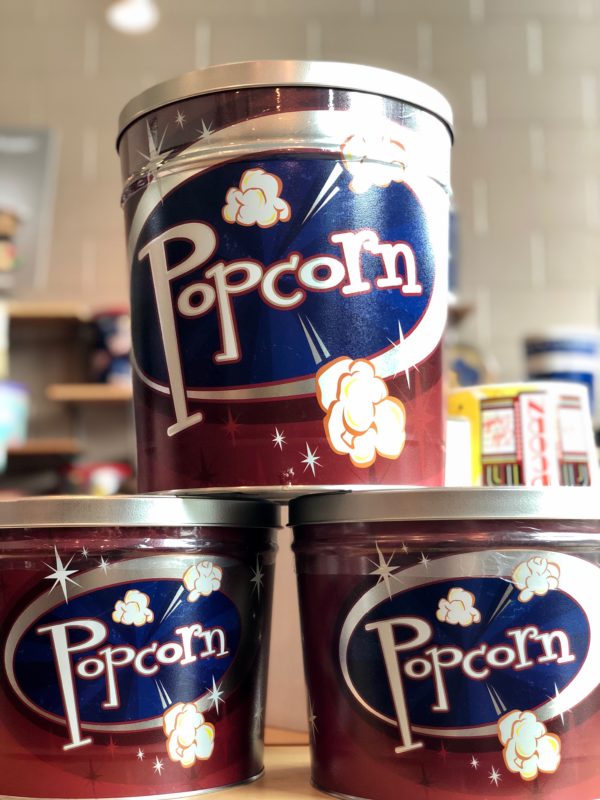 Our friends at Visit Kansas City treated us to a thoughtfully planned, 1 1/2 day-feast, filled with tastes from bakeries, to snack foods, cocktails to bbq.  Since I had never visited Kansas before, this fun foodie trip checked one more state for me to almost complete my visits to all 50 states.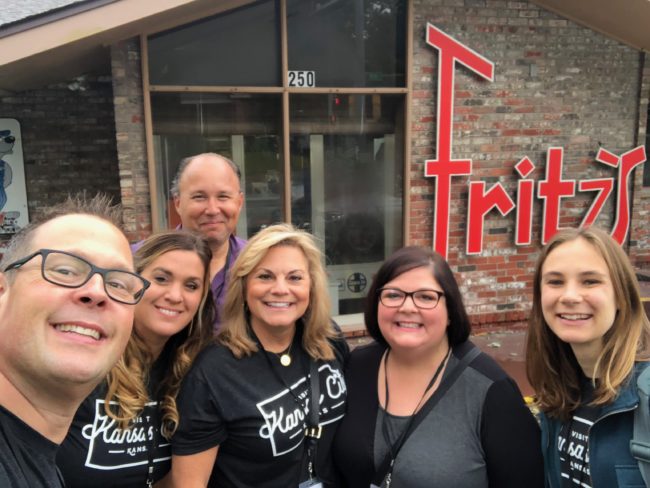 I traveled with good friends Ann and Steve Teget from Postcard Jar and with new friends Tim Wassberg SIRK TV, Nedra McDaniel from Adventure Mom and Stacy Brooks from Tangled Up With Food. Maila Yang and John from Visit KCK kept the van cool and all of us on schedule because we had a lot to see in a short amount of time.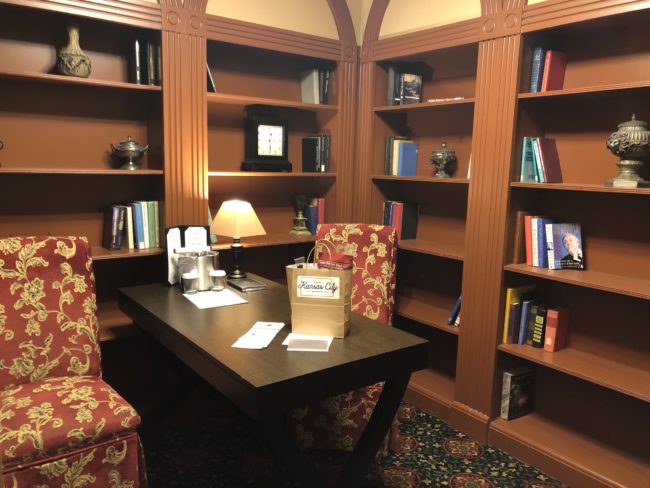 Our lodging was hosted by Chateau Avalon Hotel and Spa where my room had a hidden door behind this library wall which led to my British inspired bedroom.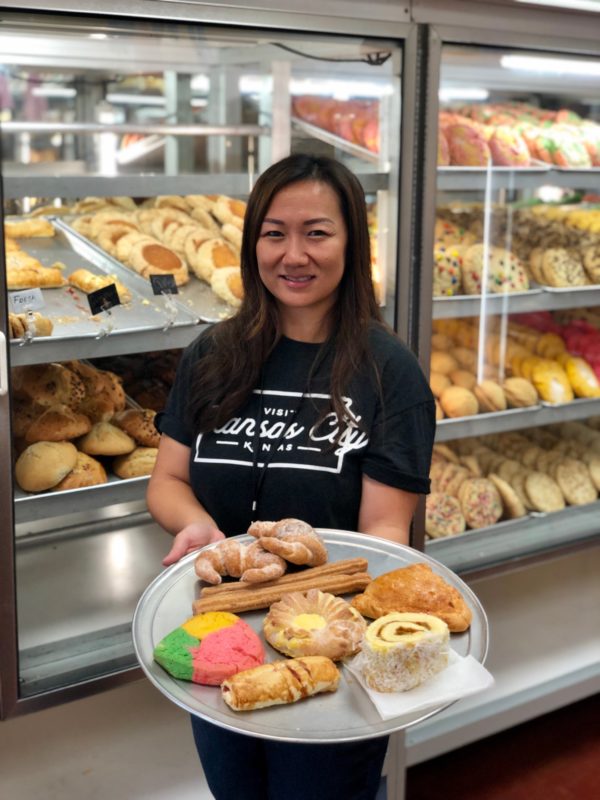 As you read on down our list and realize we nibbled, tasted, toured, observed and ate some more, you might be alarmed our tummies were just too full, but don't be, we all survived our food extravaganza with smiles and appreciation. We may have needed to take a breather here and there and we did that as well!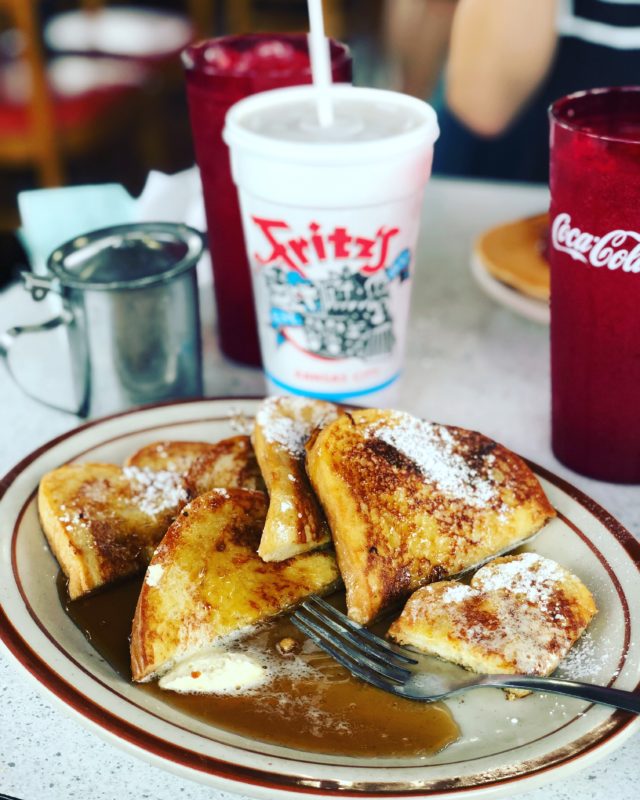 With an 8:30 am  start time we began with breakfast at Fritz's Railroad Restaurant – A hometown favorite where a tiny train delivers your tasty breakfast in its tiny little rail car. Great for kids and adults who feel like kids. We all got a huge kick out of this railroad themed restaurant and the diner breakfast meal was delish.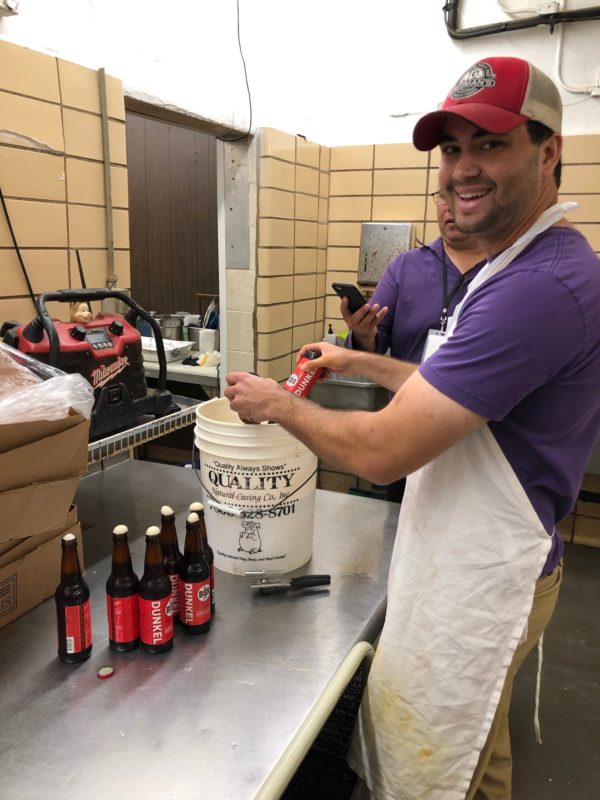 Was it lunch yet? How about an early lunch? Not quite, let's stop at family owned Krizman's Sausage where the sausage is in the spotlight and not an after thought. Excellent, high quality ingredients where happy and handsome men (can I say that?) create this very popular KCK deli delight. In December, the line is out the door for their traditional ethnic sausages that families enjoy for the holidays.
Now Lunch?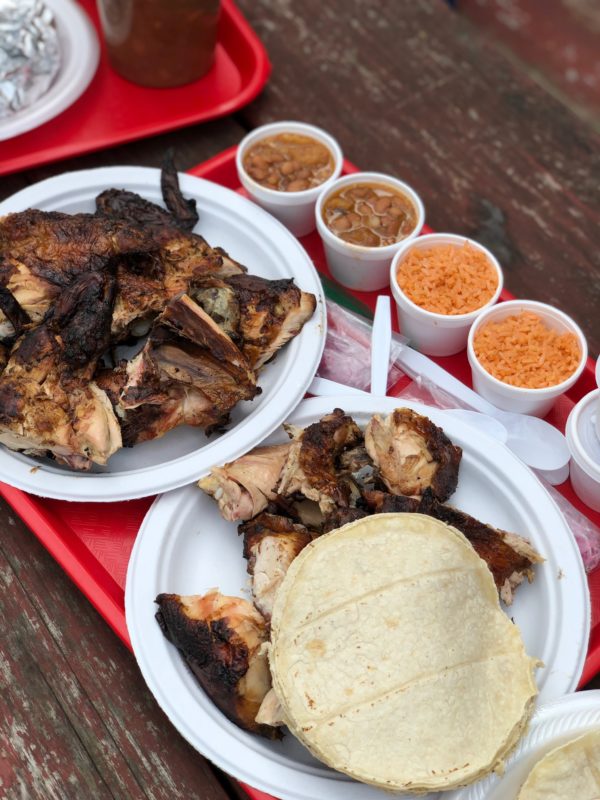 El Pollo Rey is a casual, muy popular lunch and dinner spot with a small but fantastic menu. Diners go there for the grilled chicken, pinto beans, rice and soft tortillas. OMG was this good. I was sorry that I couldn't eat more, we had multiple stops still ahead! Yikes. I could have ended here a happy camper. The relaxed, come as you are, casual stop was my kind of food and reminded me of what I might find in Los Angeles.
But there's more!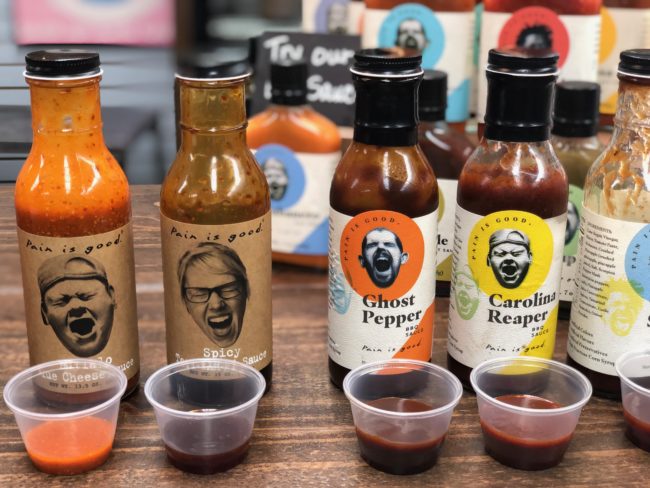 Are you a spicy food lover? How about hot sauce fanatic? We toured (our lips are sealed, no secrets shared here!) Spicin Foods to see this enormous operation where they make hundreds of types of hot sauce, specialty sauces, salsas and snacks. My crew at home was so jealous! I cannot handle spice, but I watched and asked questions of my foodie tour mates.
Our very own Adventure Mom tried the hottest of the hot sauces with no issues at all. However hot sauce makes her hiccup and she gave us quite the show. Hilarious and so fun!
It's BBQ Time!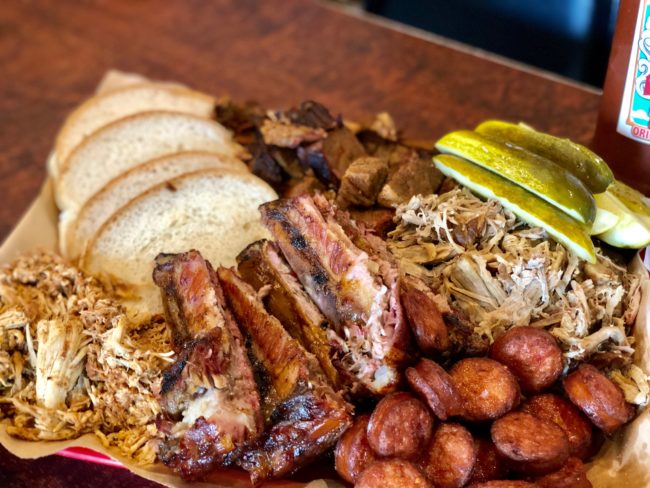 With so many options for KC Barbecue it is a tough job to choose where to go. We had a great time talking with Marisha Brown-Smith at Rosedale Barbecue, whose parents started this very popular family establishment in 1934. We were served literally piles of delectable meats and sausage with all of the tasty side dishes too. Sides like gooey potatoes, house made dill pickles, slaws, beans and even fried green tomatoes have now become as popular as the meats they support.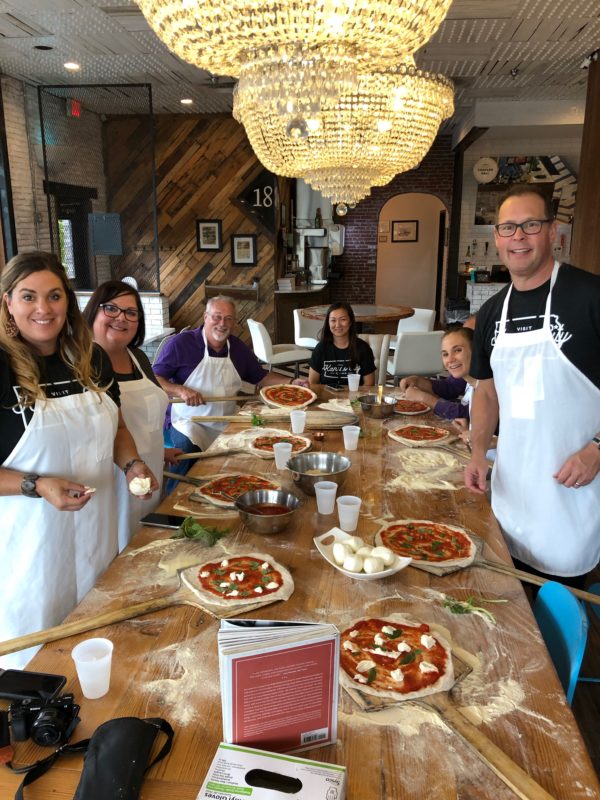 At 1889 Pizza, not only was the pizza the most authentic West of Naples, Italy the interior design was elegant and welcoming. This is not your typical pizza place. I wish they would open one in Los Angeles!
Cocktails and more great food in Kansas City Kansas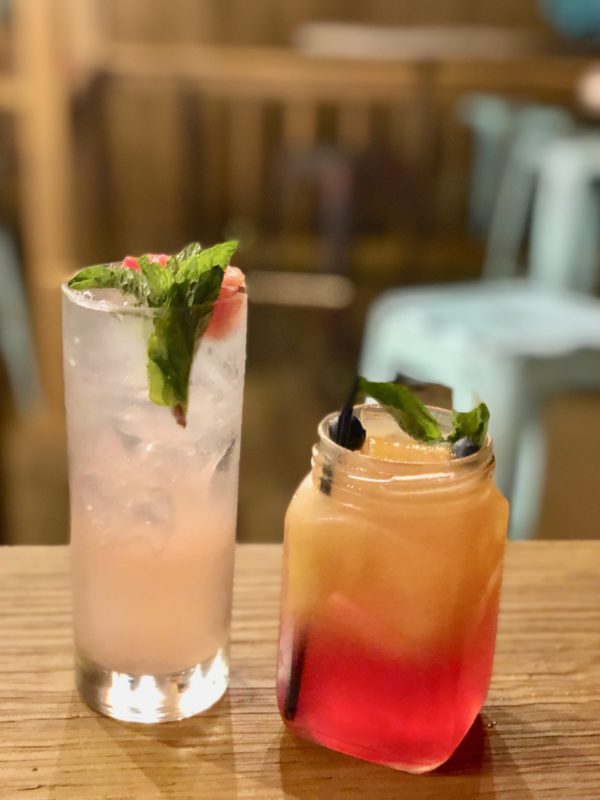 No foodie tour would be complete without an excellent handcrafted cocktail. In my opinion, Kansas City is as hip as any other big city with innovative cuisines, lively bars and artisan coffee like we tasted at Splitlog Coffee.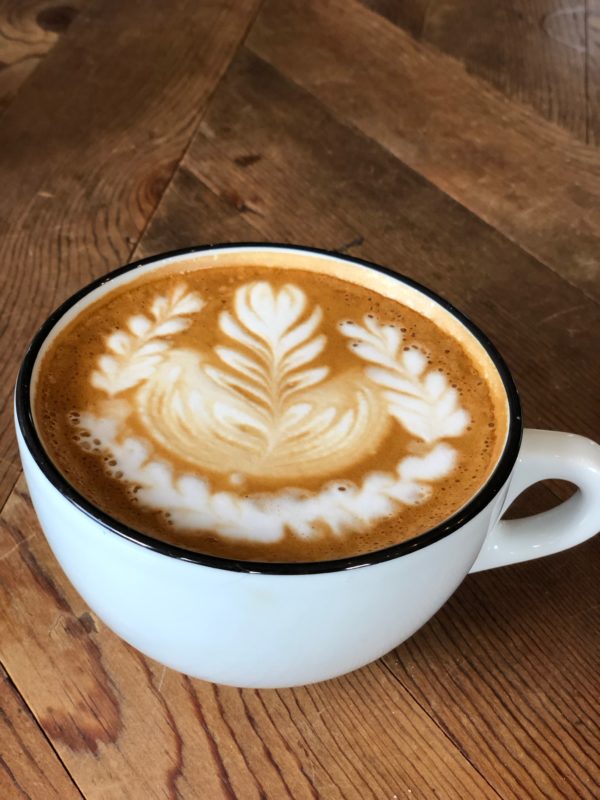 Beer & Pinball at the "Barcade"
Not really knowing what I was doing… I had a blast playing pinball and trying the local beers and cider at 403 Club.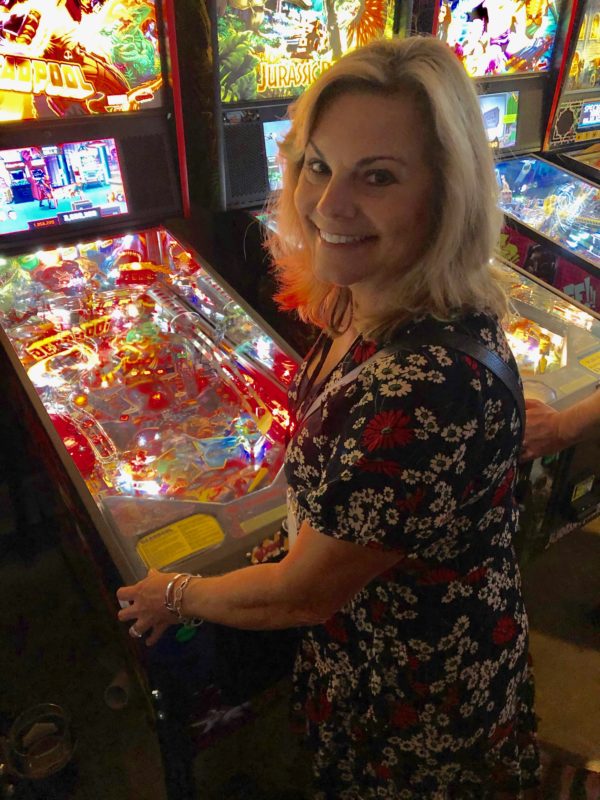 More snacks and treats to be found in KCK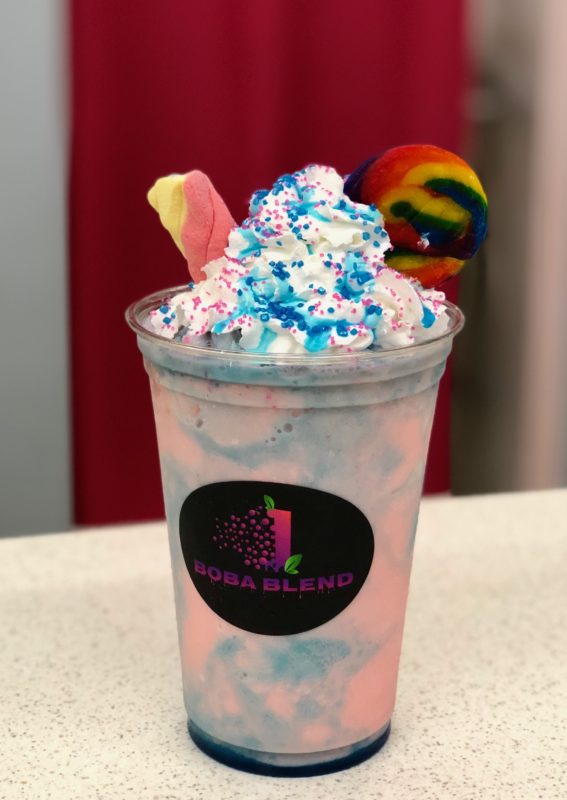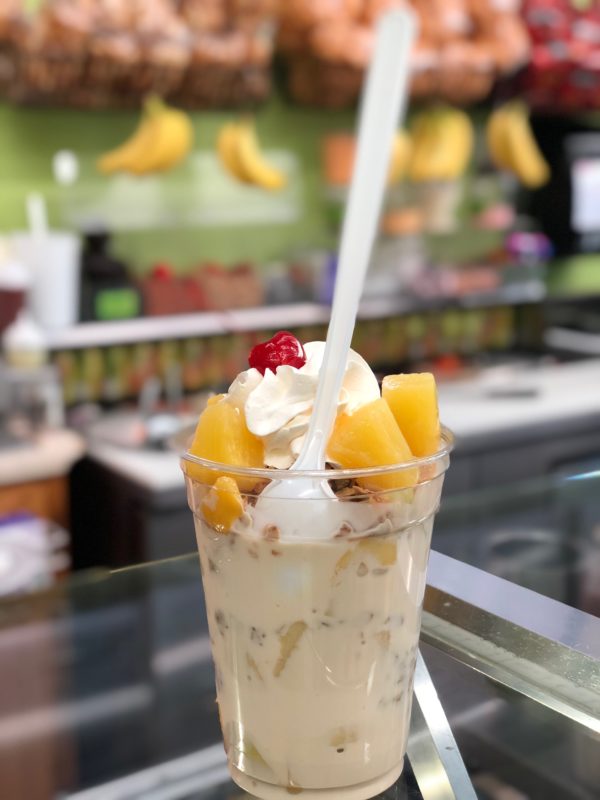 Last two stops…
Did you know you could find a winery in Kansas? Yes you can. We enjoyed our time at Rowe Ridge Winery and getting to know Pam Rowe and hear about her passion for making wine.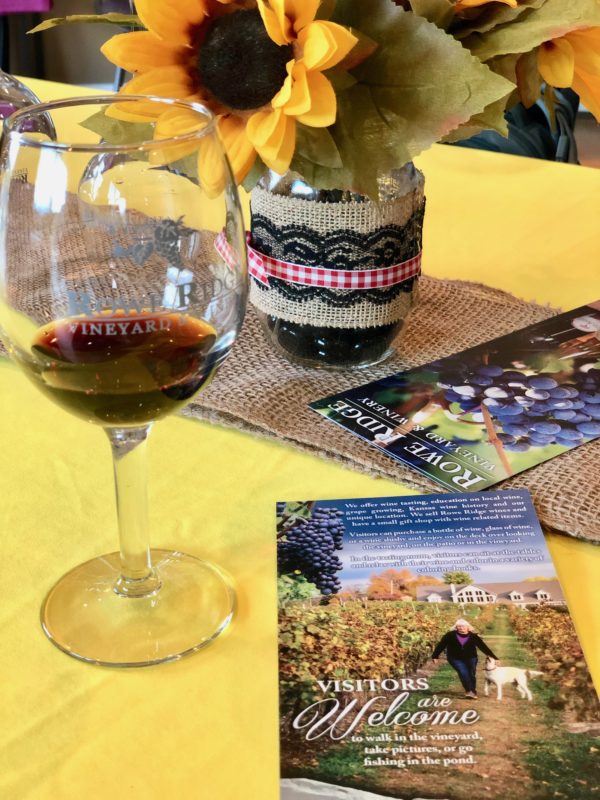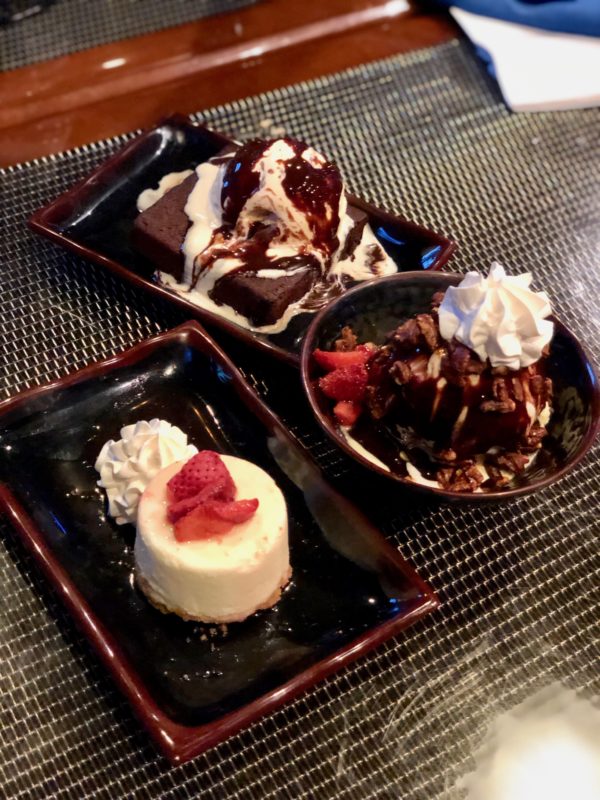 Final Thoughts
Was I full? Yes. Was it worth every calorie, heck yes. Was I introduced to a long list of delightful, delectable, savory and sweet bites I had never ever tasted before? Yes, at 15 different stops. The foods, dishes and drinks we tasted were handcrafted, made with love, heart and probably a little sweat. The owners care deeply where their ingredients come from and for the careful execution of family recipes used for decades. Every package, every box, every plate has been created under the watchful eye of these professionals. Everyone cares, everyone wants their customers to enjoy every single bite or sip. I find this philosophy heart warming and refreshing. These are the types of people I want making my food and serving my meals.
Did I know that KCK was such a foodie town? I had an idea they had great food in Kansas City Kansas, but truthfully did not know to this extent!  Thanks to Maila and her team, I was able to be led around by the taste buds sampling these tasty foods just for you! My list is long, but it will certainly narrow down the possibilities for you on your next visit to Kansas City, Kansas. Don't have any plans to visit now? Make some, I promise you will love it!
Another Foodie Tour in the Midwest – A Delicious Walking Tour in Chicago!
---
Pin for Later