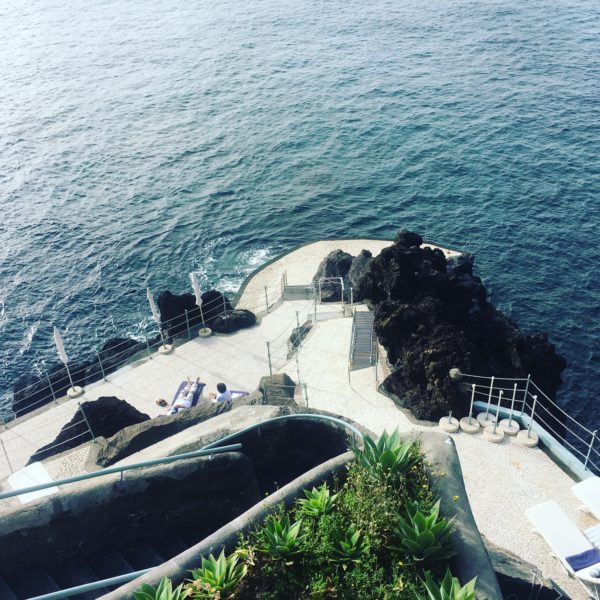 Please welcome back Angela, my long time friend, world traveler and frequent contributor to the blog. After reading her description of the magical island of Madeira, I am ready to make my reservations and I know you will be too.
The Magical Island of Madeira
Island hopping—the perfect way to round out an amazing trip through the mainland of Portugal. The Azores or Madeira? The Azores, often described as Eden, is a nine-island archipelago in the middle of the Atlantic known for stunning landscapes, fishing villages, green pastures and somewhat rustic surroundings. Madeira Island is the largest of the Madeira archipelago and closer to the African continent than Europe.  It's a volcanic island with a perimeter of spectacular ocean cliffs and few beaches. It's small; 35 by 13 miles and includes a vibrant capital city, Funchal. I'm certain the Azores are amazing, but we chose Madeira. Since our visit, it was named one of "The Fifty Best Places to Travel in 2019" by Travel + Leisure. We made a wonderful choice!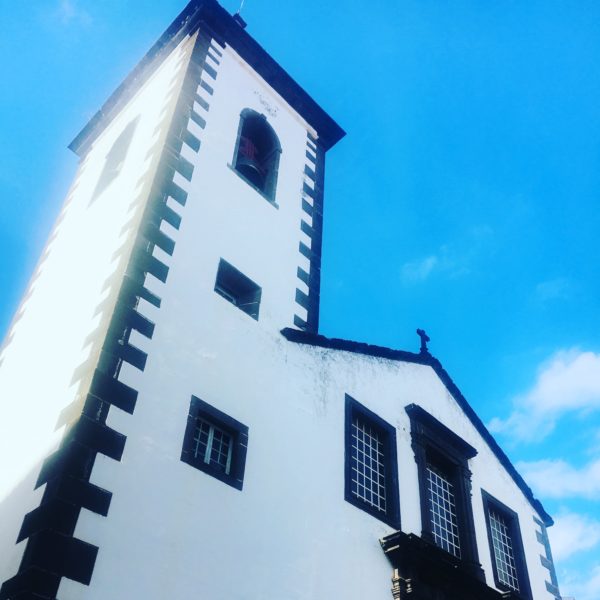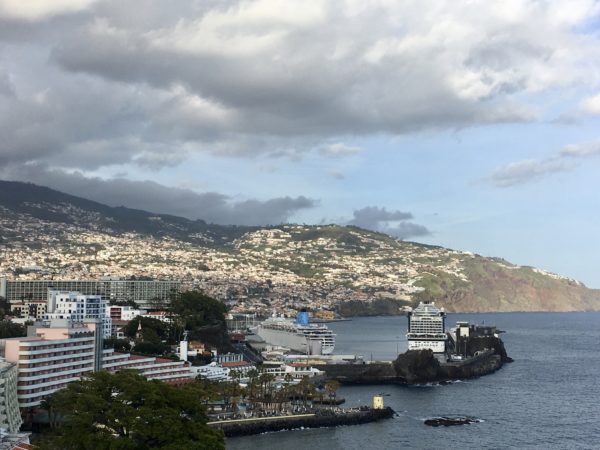 Belmond Reid's Palace
We spent five nights at the iconic Belmond Reid's Palace in a suite overlooking the Atlantic.  It's a historic property that could use some updates in some of its spaces (they are undertaking a renovation in 2019), but the charm, hospitality and extraordinary views live on. There are three swimming pools—two of them salt water—that look out at the Atlantic. We found ourselves devoted to our chaise lounges one particularly lazy pool day in the middle of our spring stay. The property also includes a multi-level sea platform where one can sunbathe on the edge of the Atlantic and jump in for a dip. It was an extraordinary place to take in the sea, sun and shoreline—like nothing we'd ever experienced.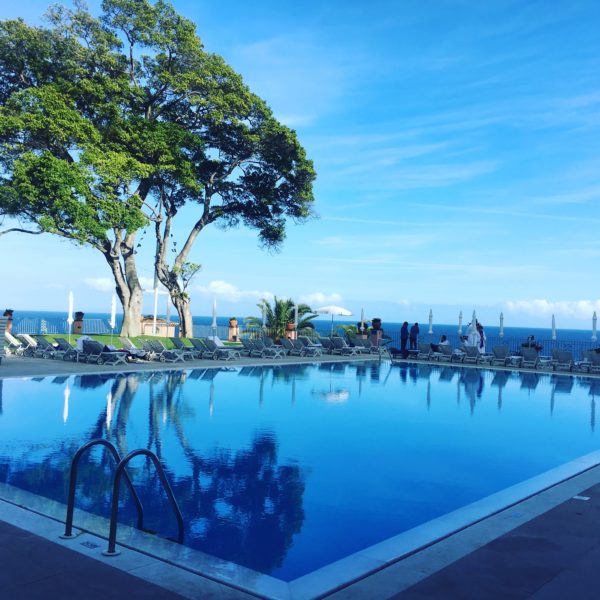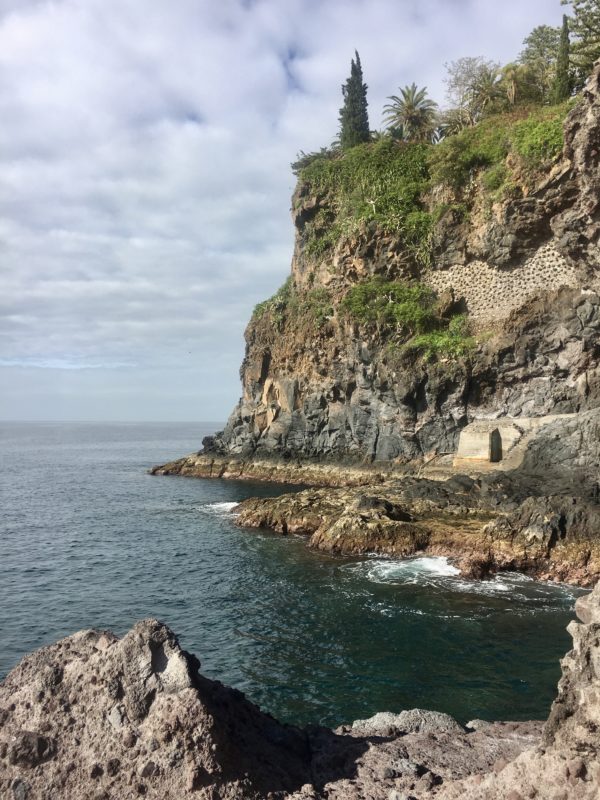 Madeira does not appear to be a big destination for Americans. There were plenty of international travelers, however, most are from Europe. One evening, after returning from dinner in town, we met a lovely British mother-daughter pair. The four of us had great fun listening to live music, getting to know one another and watching an enthusiastic and tipsy Russian couple as they strutted their stuff on the dance floor into the wee hours. The property has two excellent restaurants: William, a Michelin-star restaurant with an amazing view and a delicious tasting menu to match, was our favorite. After our incredible dining extravaganza and the generous wine parings from our lovely server, we (barely) managed to meander back to our near-rooftop room. We also enjoyed the adjacent Ristorante Villa Cipriani where we dined on delicious Italian food and enjoyed their warm hospitality.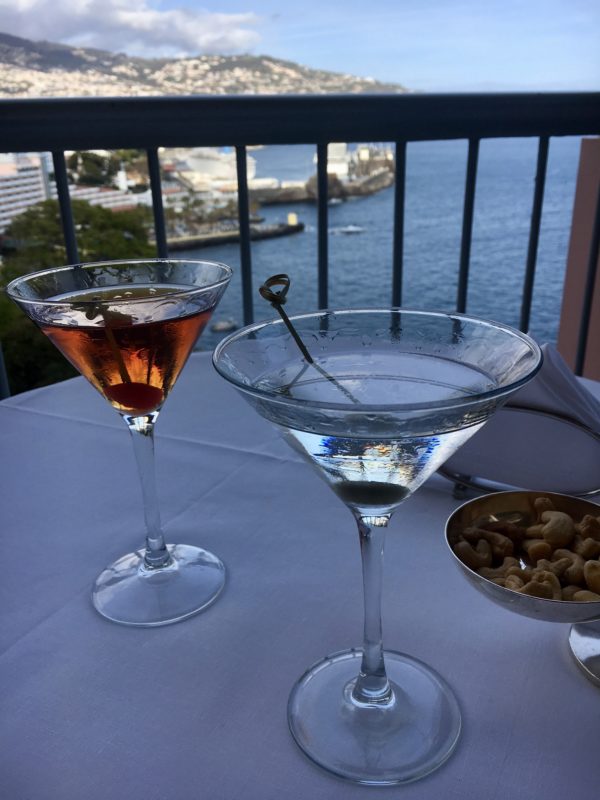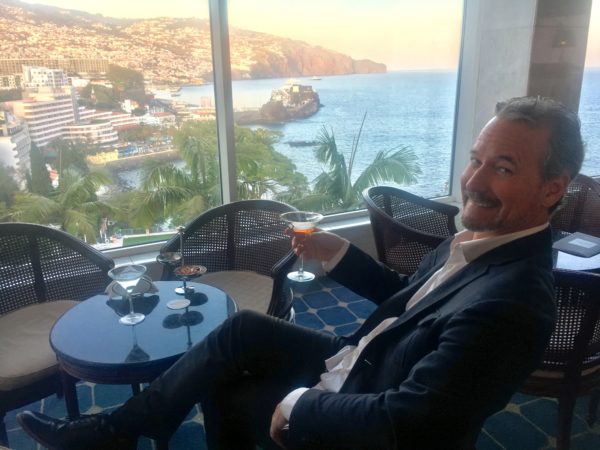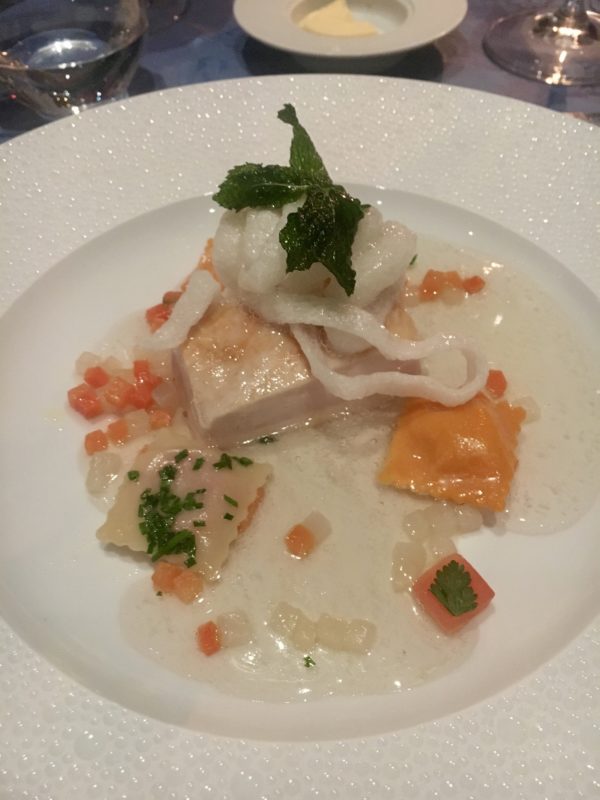 The Capital of Funchal
The capital of Madeira is Funchal, a bustling hillside town. We explored the city on foot a number of times throughout our stay, stopping in for lunch one day at an idyllic outdoor space with red-checkered tablecloths and a view of the sea. We meandered through the cobblestone streets and mosaic sidewalks and stumbled upon the most interesting and beautifully curated vintage store. Not usually a vintage shopper, I couldn't resist a perfect-fitting, circa 1970's French blouse. On another afternoon we found a wonderful place on Rua da Carrereira, called O.Giro, for coffees and the biggest, most delicious churro ever. We sat outside, taking in the people-watching on that picture-perfect day.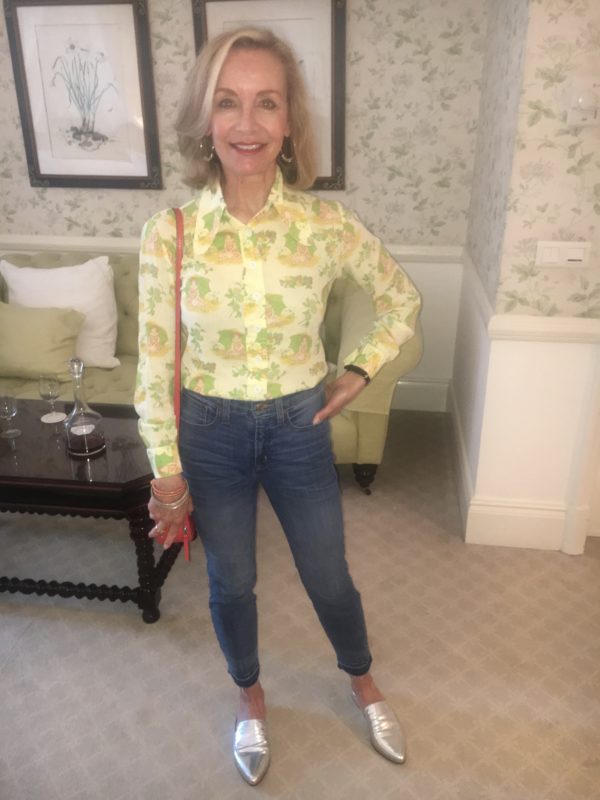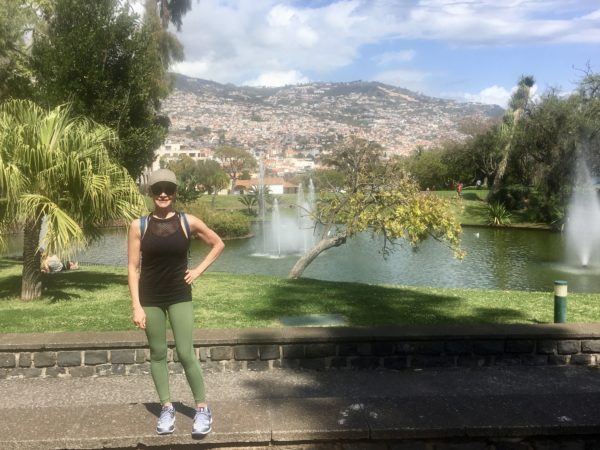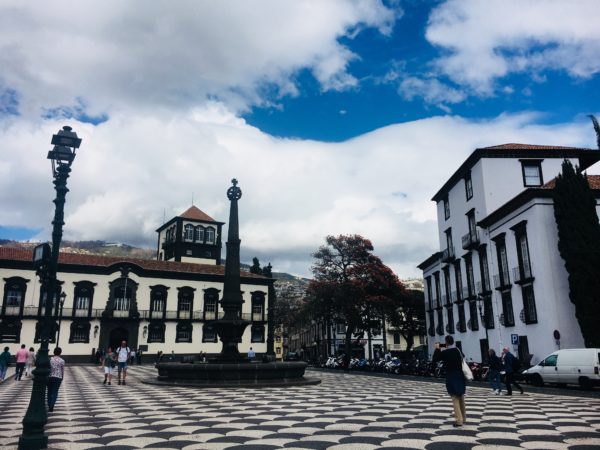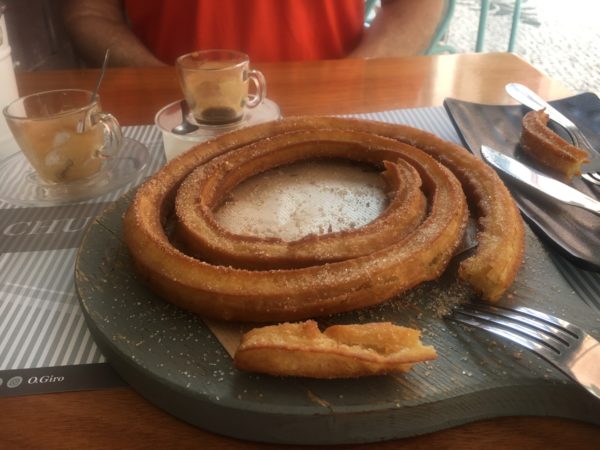 The coastline along Funchal is a gorgeous treat and we enjoyed the extraordinary scenery as we explored the landscape.  As always, we found the city's public market. It was relatively small but there were some of the most beautifully displayed produce vendors and a fish market that included a Madeira fish specialty, the prehistoric-looking espada. I tested my fear-of-heights with a 15-minute ride on the Funchal Cable Car, a gondola lift that rises 1,800 feet above Funchal to the smaller village of Monte. High on the hillside, we discovered the Monte Palace Tropical Garden, an extraordinary and surprising delight. Unbeknownst to us at the time, Conde Nast Traveler had proclaimed it one of the top 25 botanical gardens in the world. It definitely stood up to the many amazing gardens we've visited.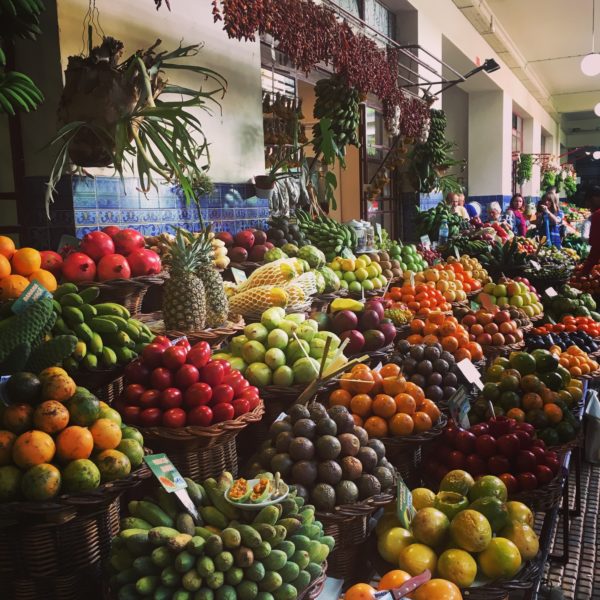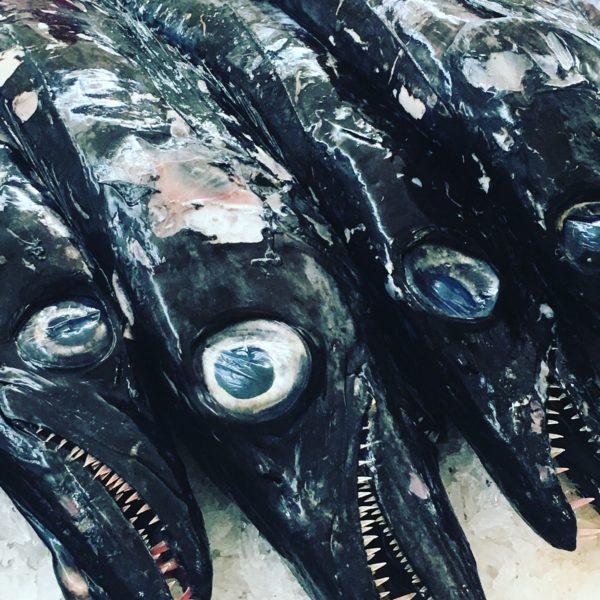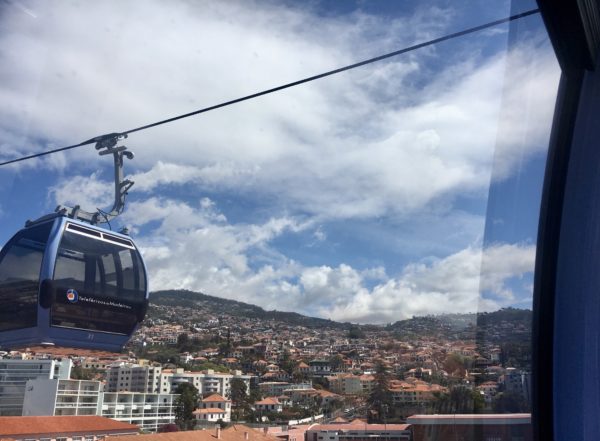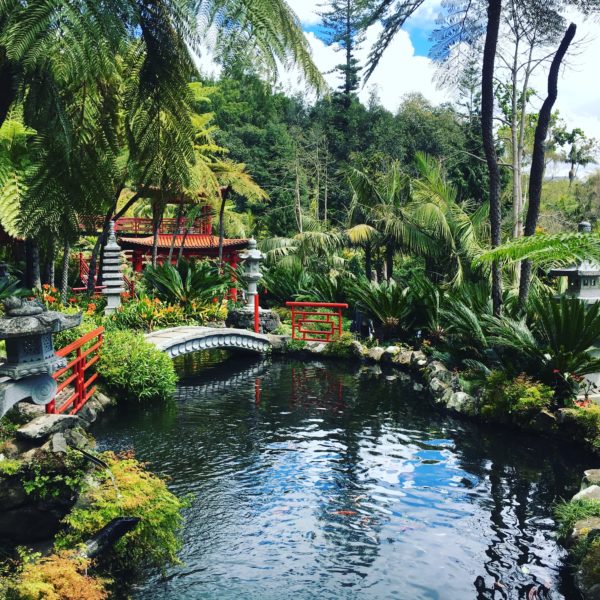 That same afternoon we made our way further up the incline of Monte to the spot where the wicker toboggan run begins. This was a highlight! These asphalt road sleds, years ago, were used to transport produce down to Funchal but the rides evolved into a popular tourist attraction. Two drivers, wearing thick-soled shoes that serve as brakes, guide the open wicker toboggan, with the riders inside, down an asphalt road full of twists, bumps and just enough acceleration along the way—a kind of Portuguese Mr. Toad's Wild Ride. It was great fun!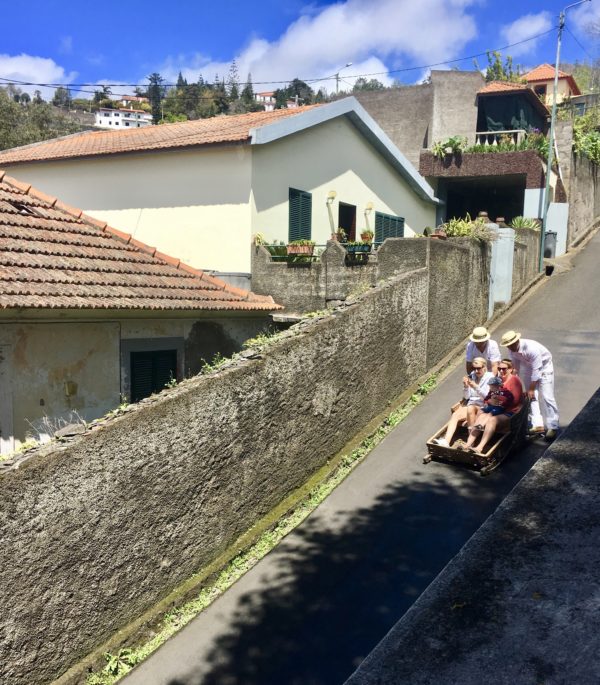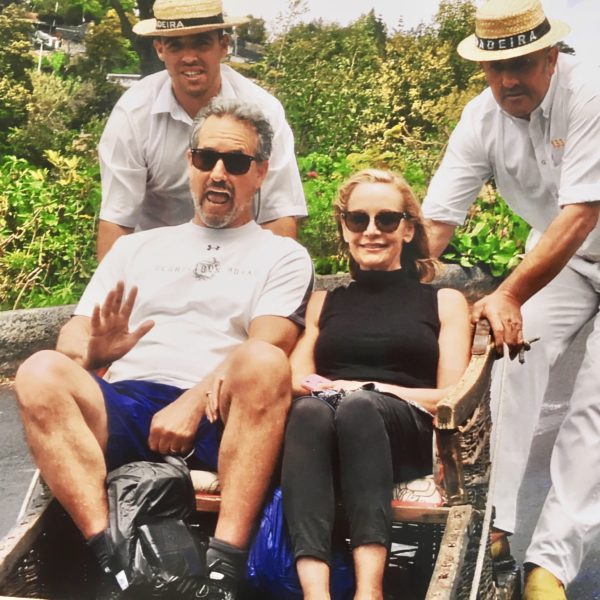 And a video – So fun!
Another day we arranged for a guided hike along one of Madeira's famous levadas, the mountain irrigation canals, with narrow walkways paralleling them, that were originally built by the Portuguese beginning in the 16th century. We chose the Levada do Fudado, a nine-mile journey that required a van ride to the center of the island, high above our digs at sea level, to begin the trek that ended near the small town of Portela. The adventure lasted about 4 hours. It was mostly wet and cool up in the mountains but a spirited multi-lingual guide, the dense laurel forest and the stunning views made it worth every chilly raindrop.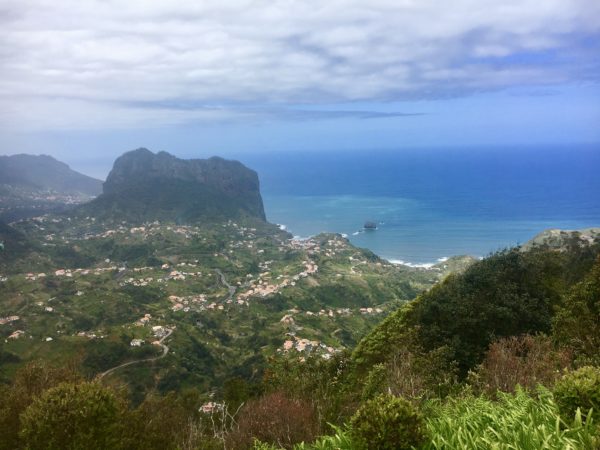 We packed a lot into our five days and although we never went Madeira wine-tasting, we indulged in a delicious bottle gifted to us by our hotel. Madeira—with its stunning views of the Atlantic, delicious food, vibrant capital city, lush mountain interior, international visitors, and welcoming residents—was the perfect way to relax and enjoy the final days of our magical adventure in Portugal, a nation that captured my heart.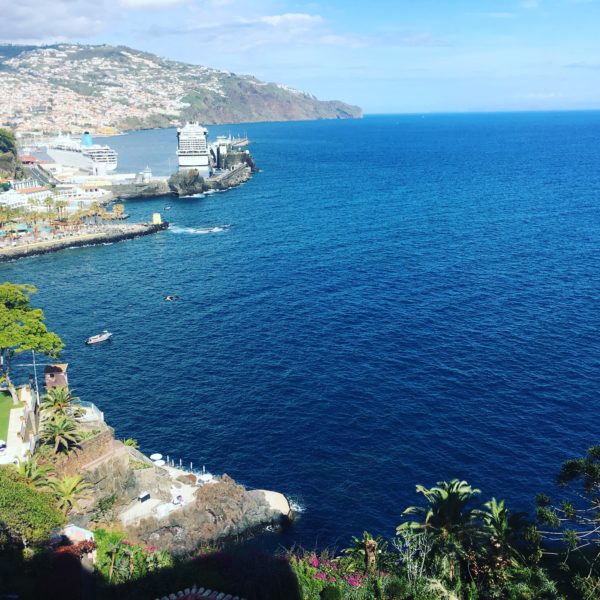 Have you been to Madeira? Are you adding it to your travel bucket list?
More posts about Portugal :
Plan your next adventure! A Trip to Portugal Should Be On Your Travel Radar
---
Pin for Later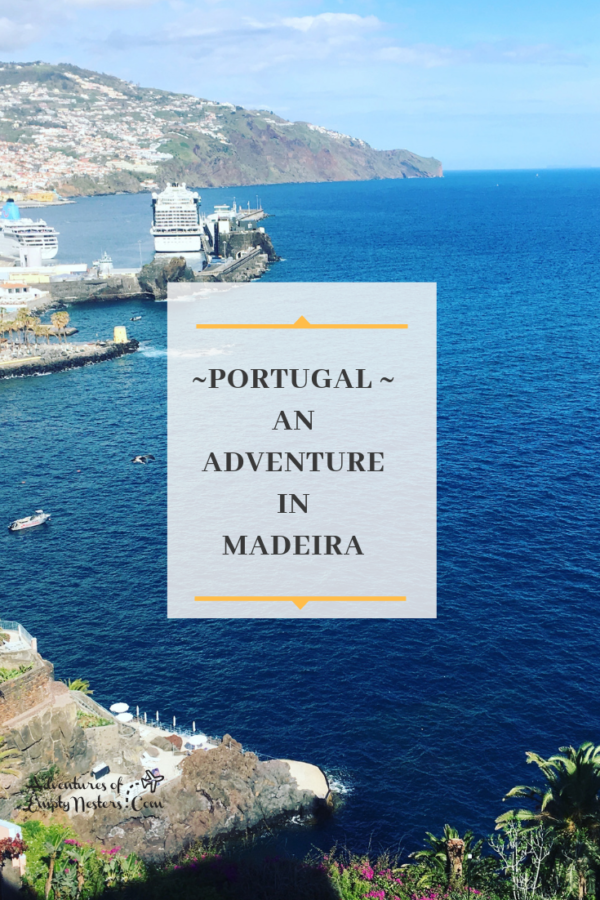 ---
Do you know someone who would enjoy this post? Please forward to them!
Let's connect over on social media here ==>  Follow us on Twitter, like us on Facebook, check out our photos on Instagram, or pins on Pinterest