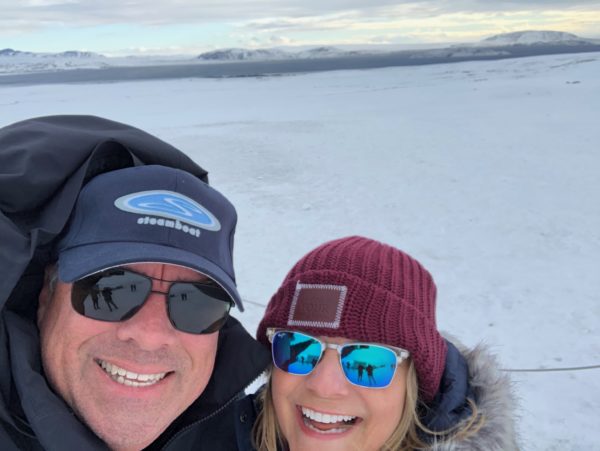 Craig and I are a small part of the making of a travel video of epic proportions. Nature in Iceland is so BIG, so incredible that it could be a challenge to capture it. However the professionals from Colette Travel that we worked with, brought their A game. Both Dan and Drew manage to capture the essence of the landscape as well as the sheer magnitude of our surroundings. Any traveler will jump at the chance to travel to Iceland after watching this!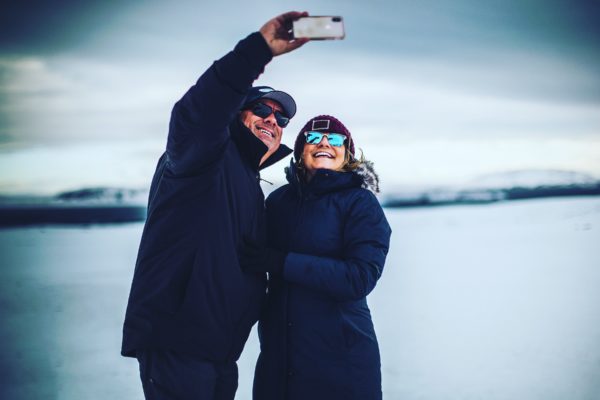 How it started
When Collette Travel asked if Craig and I were interested in filming a video about our tour of Iceland, we gave them an enthusiastic, YES! We did not know what to expect, but were ready for the adventure. We arrived in Reykjavík at 6:00am local time, after getting 2-3 hours sleep on our flight from Seattle. There was one day free prior to the start of the tour to find, explore and shoot several locations.
When I travel, I wear comfortable clothing and no make-up, but I was going to be on camera! Our room wasn't ready yet, so I dragged my enormous bag into the tiny hotel lobby bathroom, added layers of clothing (because it was cold out) fixed my hair as best I could, added my all important make up, and met our new friends the Collette filmmakers.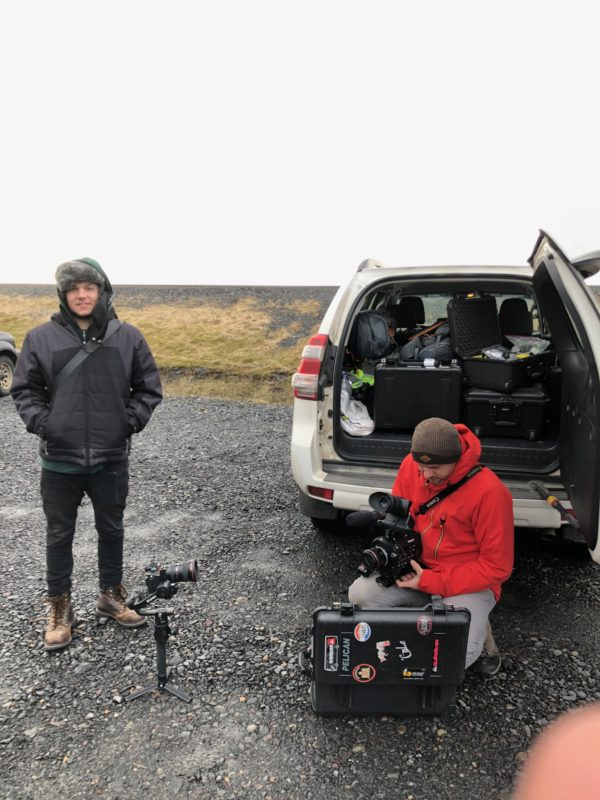 The Land Cruiser was piled high to the ceiling with video equipment and we were off. Having never seen the unusual volcanic landscape of Iceland, we were already in awe of our surroundings within minutes of leaving the city. At this point in the trip Craig and I didn't really know Dan and Drew yet, we had never been to Iceland and we had never shot a professional travel video. But we were ready to find adventure!
Just about ten miles outside of the capital city of Reykjavík, we came across this vista in the photo below. The temp had to be in the thirties and the wind was incredibly strong. However, we leaped out of the car like it was on fire. We didn't want to miss a thing!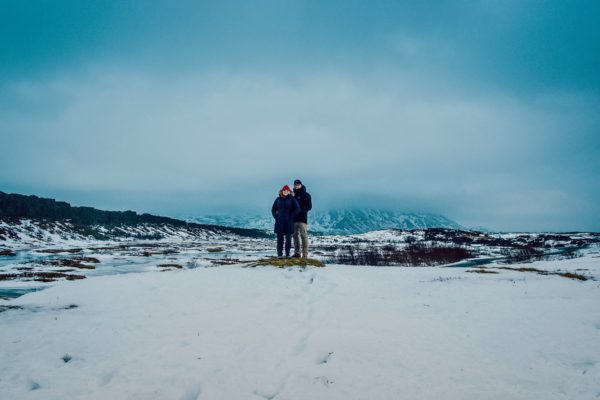 There were several appointments scheduled with new locations for tours in the future and we had to keep a schedule. But with landscape like we were experiencing, spontaneity became our mantra.
Ah the horses!
On the side of the road we saw two cars parked, literally in the middle of nowhere, so of course, we just had to stop! Our interaction with these wild Icelandic horses was something unexpected and utterly delightful. Filming had begun!!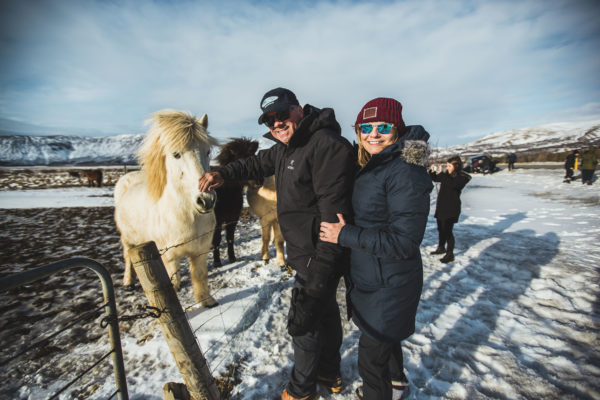 The video below is the adorable owner and hostess of Efstidalur, a dairy farm which 
is run by four siblings and their families. They are the 
7th generation living on the property, but their family has been living there since about 1750.
Drones!
Have you ever worked with drones? No, me neither, but these guys captured the most amazing water features in Iceland. They needed to calculate the wind and direct the drones to just the right location to film the perfect scene. The drones were flying high above Gullfoss Waterfall and it was so exciting watching them do this!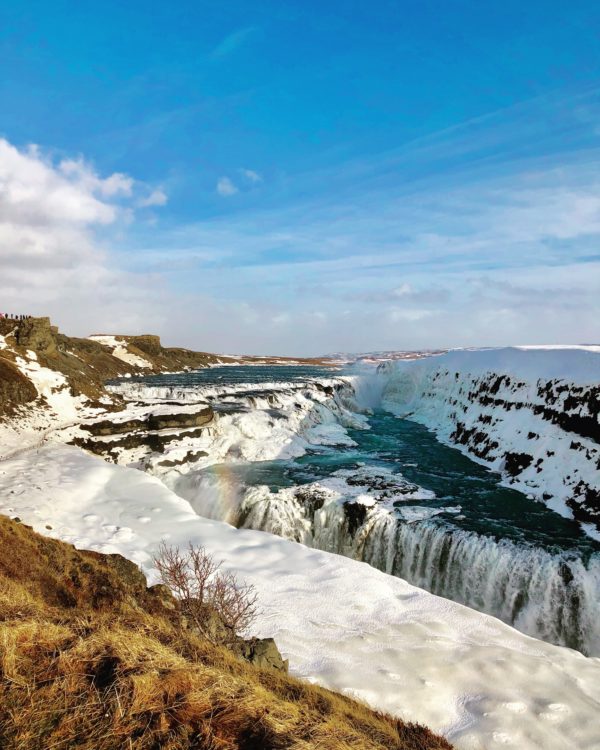 We took direction
Can you and Craig walk this way? Can you look left, look right, hold this, be excited, stand over there, sit on that, run your hand over that, look up, stand still. Etc… This was the real deal and both Dan and Drew were patient and so easy to work with. If I offered an art direction idea, they took it gladly and we implemented it. Collaboration was key and we all had a blast.
Filming the tour
We ended up riding with the guys the entire tour. Once we arrived at the location we toured with the group, but would step aside to film. The four of us would go ahead to the next stop or hang back at a location depending upon the weather or the size of the tourist crowd. We worked from early in the morning and often late in to the evening. Planning was done in the car for the next shoot as we were getting to know each other. The four of us became a cohesive unit and as the experience blossomed, we knew we were experiencing something very special.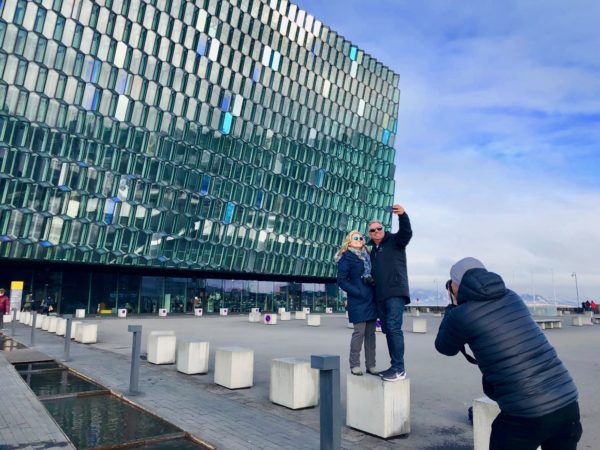 My husband is not a blogger or an experienced travel video guy and handled the itinerary like a champ and a professional. It was fun to be a couple on camera and let our natural reactions come through. My goal was to make sure that anyone watching this video could easily feel our sincerity and enthusiasm for this spectacular itinerary. Collette's tour creators do an incredible job to include every detail possible and most certainly offer activities that are personal and explorative.
This is my second tour with Collette and my experience on the Cultural Treasures of Japan Tour was equally as impressive. Entirely different of course, but just as impressive.
Behind the scenes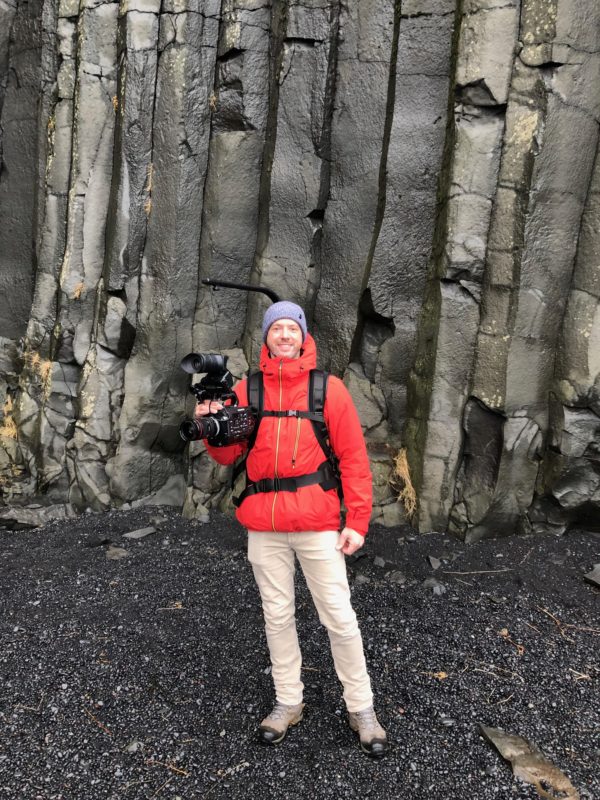 After a few days of filming, Dan broke out the super-duper camera brace in order to help him carry the cumbersome camera. Both Drew and Dan had to physically hold the heavy camera, run back and forth, go up the stairs and then walk backwards down on icy terrain. We were in awe of their talent. I started to film them as they worked because it was so impressive and this post was born! They also took a few moments for a selfie or two.
Filming on the Black Sand Beach
On this spectacular, somewhat eery, world famous beach, we were directed to stroll back and forth, Craig let the ebony sand fall through his fingers and as the mist touched our faces we smiled ear to ear. This location is so surreal you honestly can't believe your eyes and it was also featured in Season 7 of Game of Thrones – "North of the Wall". So cool!
Thank you to Collette Travel and to Dan and Drew for the experience of a lifetime. I know you will enjoy this video as much as we did making it.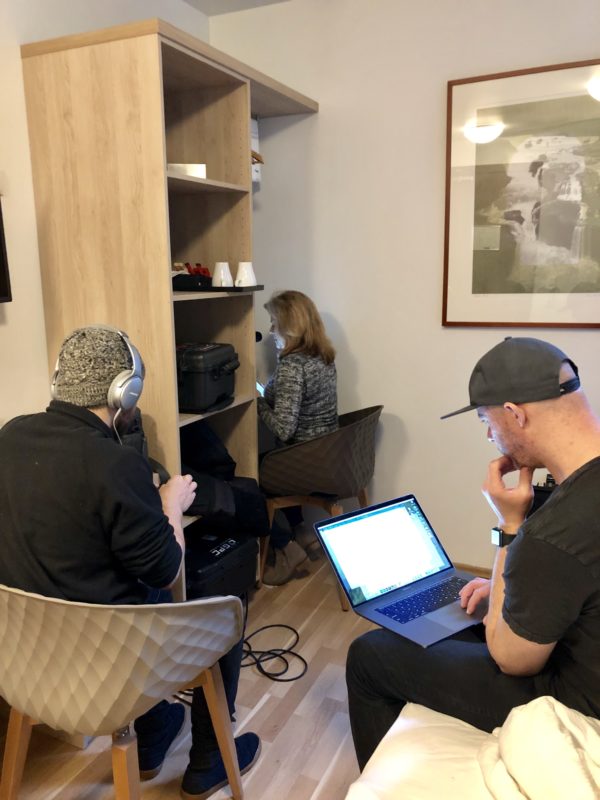 Voice over
Do you recognize that voice on the video? That is me doing my first voice over. We set up a make shift recording studio in the photographers' hotel room. I was tucked in the closet area and both Dan and Drew directed me. Craig also offered a few creative ideas and supportive thoughts.
What was most surprising to me, is that I needed to sound a certain way. Not super perky, but more calm and gently enthusiastic. It was hard! You may think that voice over is only reading copy, but often we improvised on the fly and I needed to say things in several different ways. I loved the experience and it was exhilarating and a bit scary at times. I truly wanted to make my contribution the best it could be.
 WATCH THE VIDEO!
If you would like to take advantage of a supremely AMAZING offer of up to $650 off your next tour with Collette, click ===> HERE and use this code EMPTYNEST19
More of our tour in Iceland – An Epic Tour of Iceland You Need to See & Experience
---
Pin Me