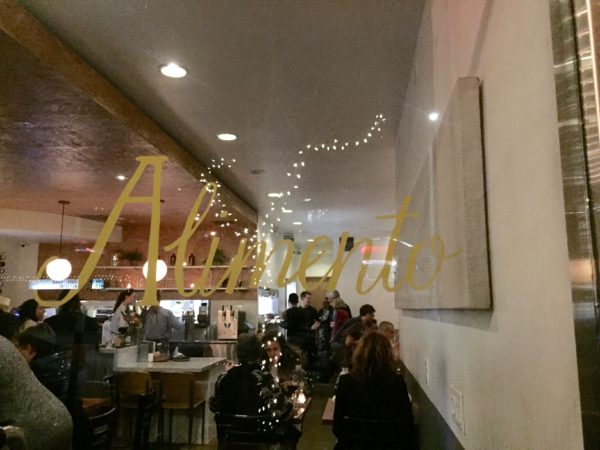 Our visit to Alimento in the historic Silver Lake neighborhood ~
If you have visited here before, you know that delicious food and fabulous restaurants are very high on our adventures list. We do try to search out the most talked about and well reviewed restaurants around the U.S. so we can share them with you! Today's focus is located in our very own La La Land, Los Angeles. We travel a great deal so our Los Angeles restaurant adventure is a little slow going. I did however just go with my friend Keri to Petit Trois for an authentic French bistro experience recently! You can check that out => here.
However, we were able to get a reservation this week to experience another one of LA's best restaurants. The tiny and hip area of Silver Lake boasts many fantastic restaurants and now that we live in Pasadena, we are less than fifteen minutes away from this outstanding foodie village.
Craig and I have wanted to visit Alimento for quite a while. You can't just show up and get a table, you need to make a reservation and that means we have to do some pre-planning.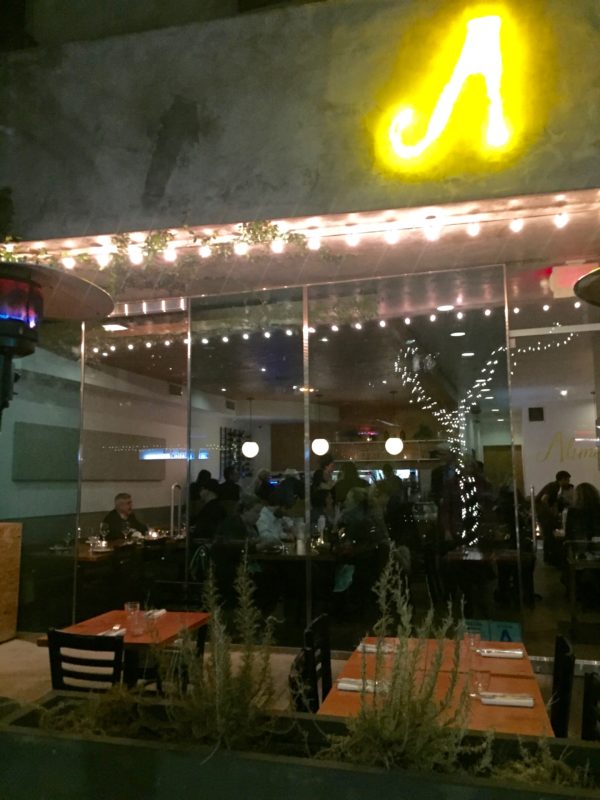 The restaurant is small, the decor is spare and chic, but comfortable. The lights are low and the tables are lit by candlelight. We were surprised and delighted to learn that one of our son's good friends, Nina, was to be our server. She said, "You are Nick's parents, I recognize you from Facebook." This is not the first time this has happened, evidently social media does connect people.
Our really delicious meal ~
I must say that my only regret for the evening was that there were only two of us! With so many incredible and clever flavor combinations to choose from, we could only eat just so much! Next time I would bring a group of friends so we can try a larger variety of their small plates!
The wine list is extensive and the menu is Northern Italian, but nothing like you would expect. Chef Zach includes ingredients in his recipes that are not typically Italian. The dishes are full of strong flavors that are light on the tummy. You don't get up from the table groaning over how much food you just consumed. You are busy discussing how amazing each dish tasted.
We started with two different salads and the pork meatballs.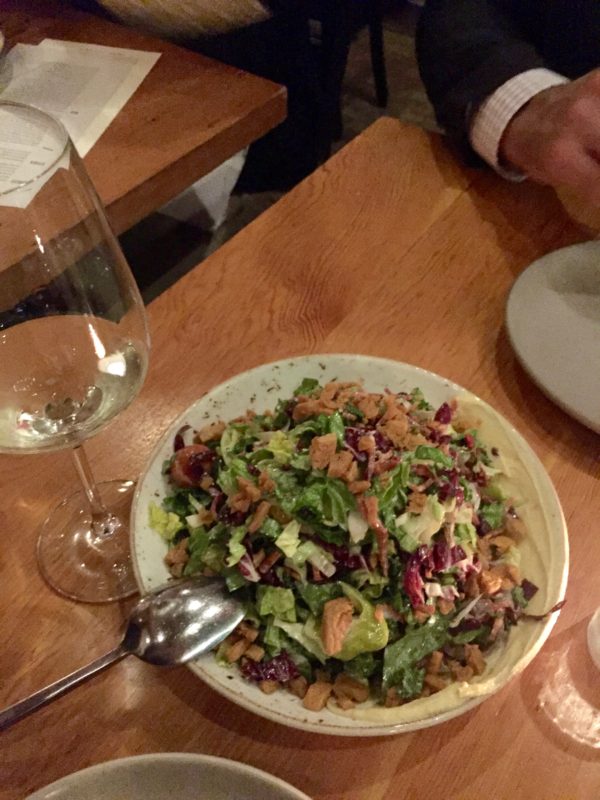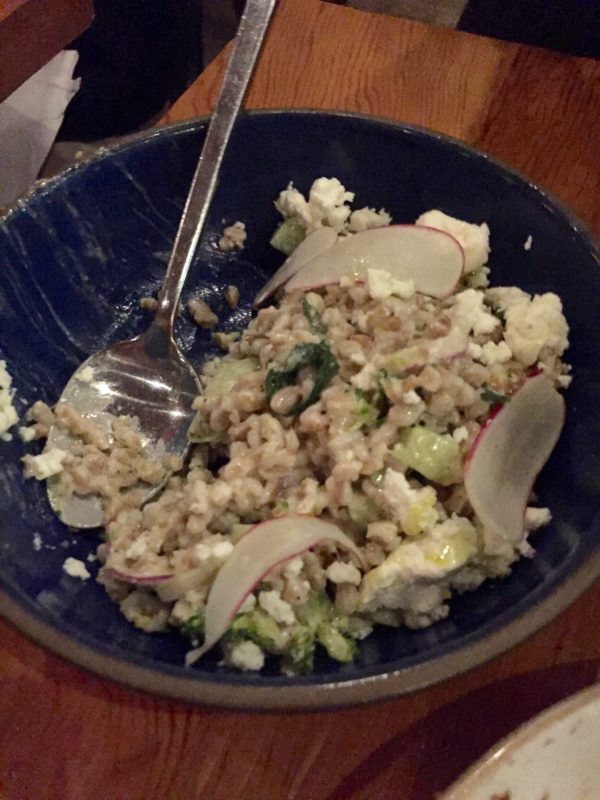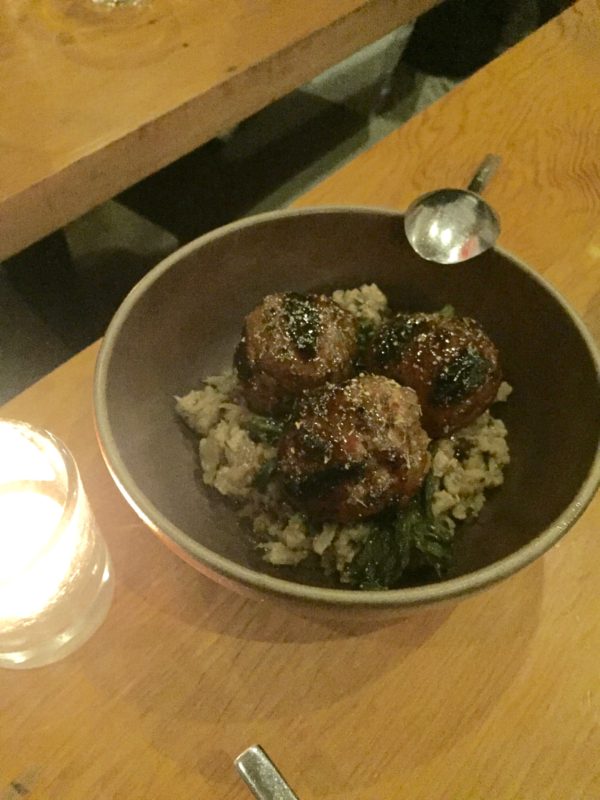 For our second course, we shared two different pasta dishes that were truly divine. I cannot choose which I loved more, honestly I can't. One had a deep rich tomato-based pork ragú poured over some perky little radiortori. This short pasta has a ruffled edge and is said to resemble a radiator…clever.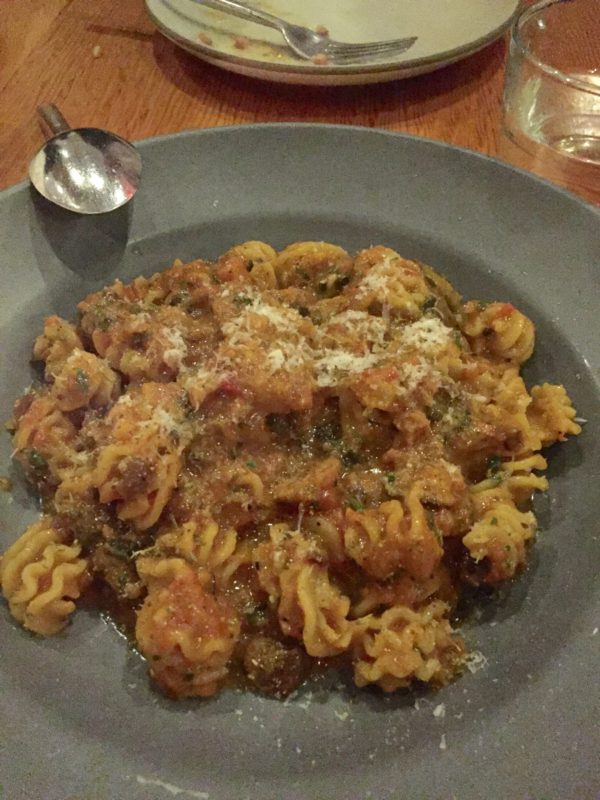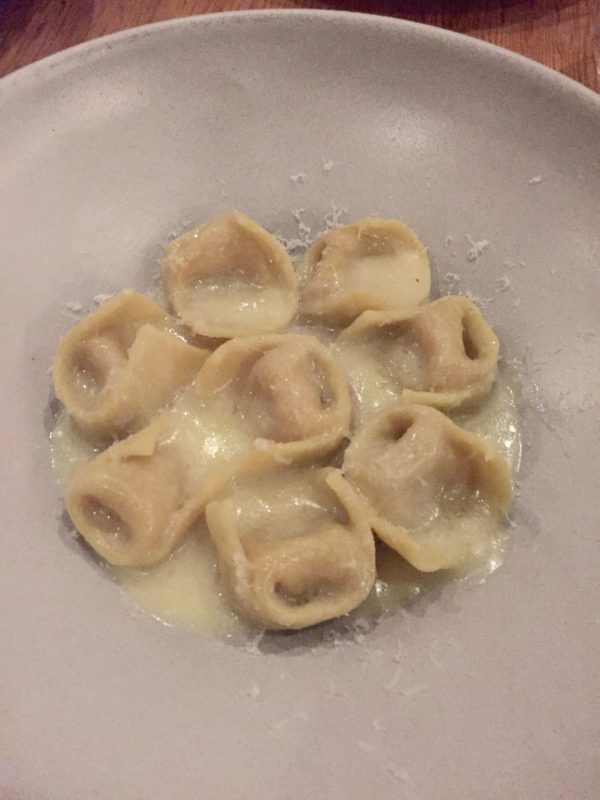 The second pasta dish we chose was the restaurant's signature dish, Tortellini in Brodo "al contrario". These were beautiful handmade tortellini in a light flavorful broth.
The lighting in the restaurant was not conducive to food photography, but that is just fine. The atmosphere is serene and laid back, not the sort of place you saw flashes going off. It would certainly ruin the mood.
I was happy to tell you about Alimento and suggest you make a reservation when you are in Los Angeles. Chefs like Zach Pollock put their heart, as well as their superb talent, into the dishes and are hopeful we appreciate it. Check out the website for more details!
Where have you been to dinner recently? Any food adventures?
Alimento
1710 Silver Lake Blvd
Los Angeles, CA, 90026
323.928.2888
---
Are we connecting on social media? You can find me here ==> Facebook, Twitter, Pinterest and Instagram
Would you like to receive these posts via email? Just leave your email in the small box, top right corner.