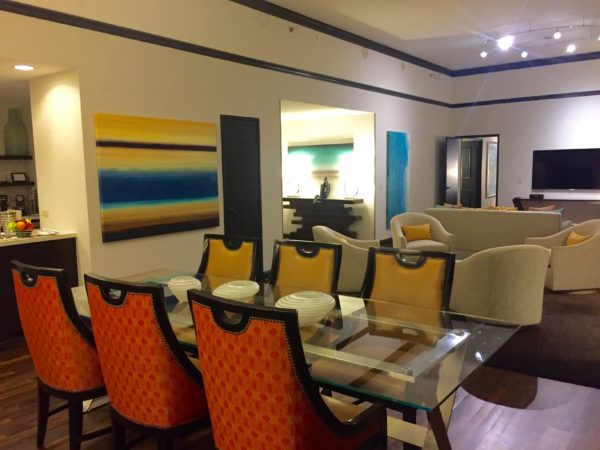 To stay in a Presidential Suite is VERY special!
Being loyal is an important personal attribute and being loyal to a particular brand(s) will help a great deal when you travel. We have been traveling for years together as a couple and my husband travels almost every week for business. We discovered years ago that paying special attention to your choices in accommodations as well as the airlines, makes a HUGE difference. If you stay within one chain of hotels, you build loyalty points that can be used for more travel, upgrades and for status.
If you travel a lot, it is especially nice to be upgraded and/or offered lovely amenities, bottles of wine and delightful snacks. Traveling isn't always as glamorous as it seems. It can be frustrating, exhausting, confusing and there is no one there patting you on the arm telling you all will be ok. If we have issues with our travel plans, we have to solve them. If there are delays, we have to endure them.
There are spectacular birds-eye views!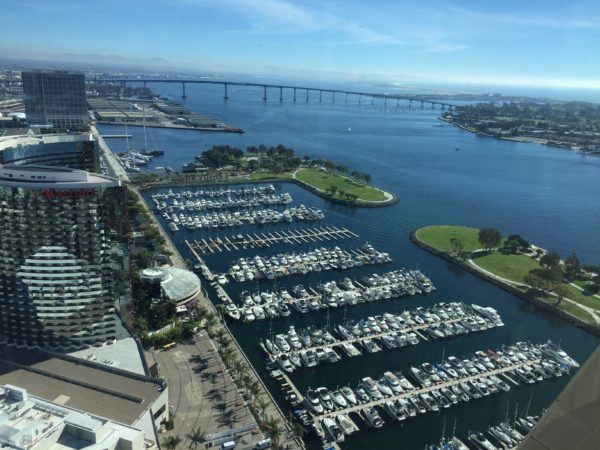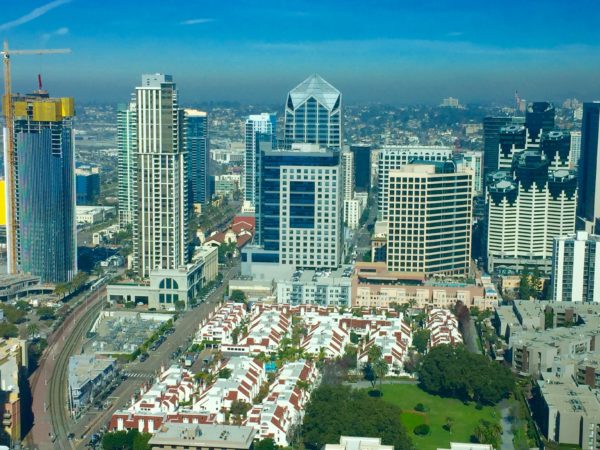 BUT… when a company like Hyatt rewards our loyalty and offers us a lovely upgrade opportunity to stay in a Presidential Suite, it feels pretty fantastic! We recently were in San Diego for just one night and chose to stay at the very large and fabulous Manchester Grand Hyatt in Downtown San Diego. It is conveniently located close to great walking paths, the Gas Lamp District, the Convention Center and to the USS Midway.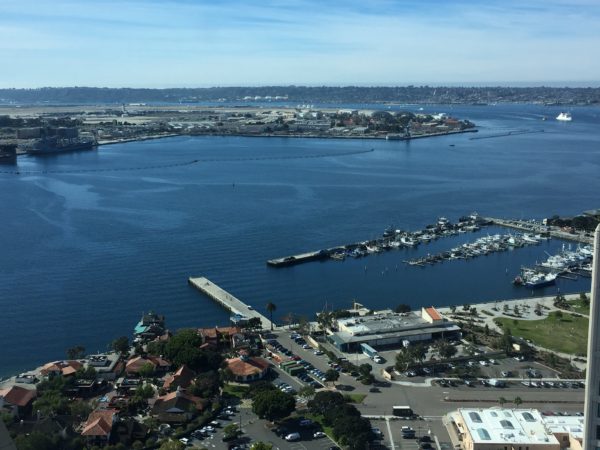 From our 40th floor vantage, the views were breathtaking! The room was gigantic with several conversation areas, colorful artwork, a spectacular dining room table, two marble bathrooms, a lovely soaking tub and massive floor to ceiling windows. I took a few photos to celebrate our stay and I think you will love them!
We were greeted by a gorgeous buffet of lovely treats, snacks, wine and champagne – So amazing!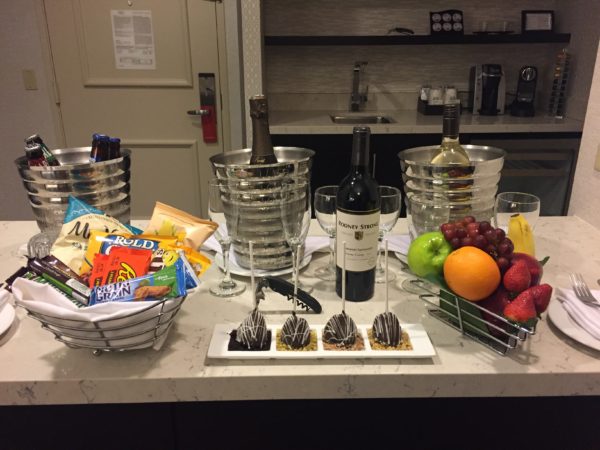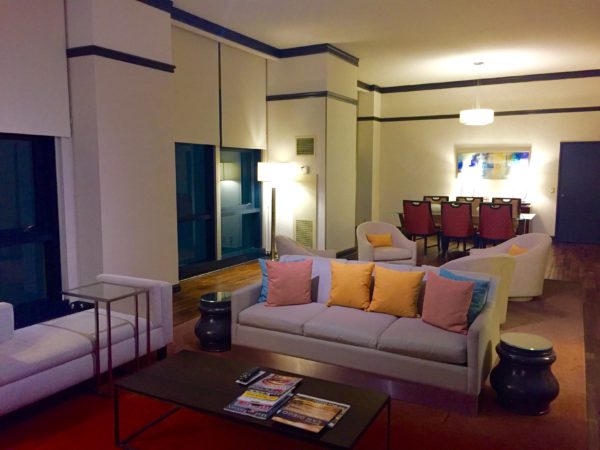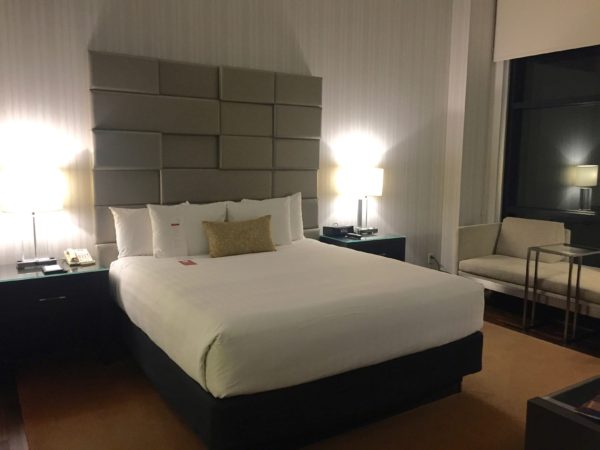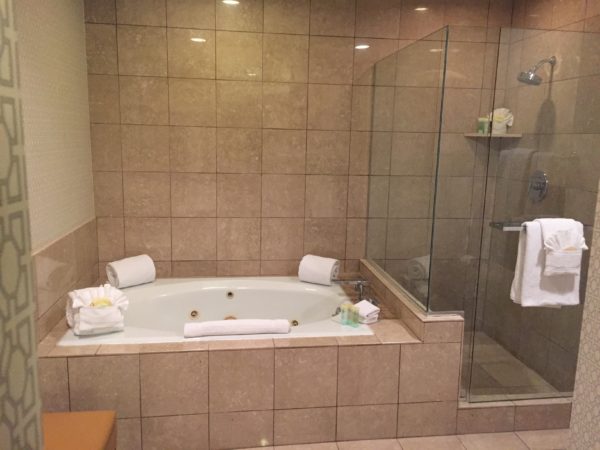 Shall we take our breakfast in the dining room?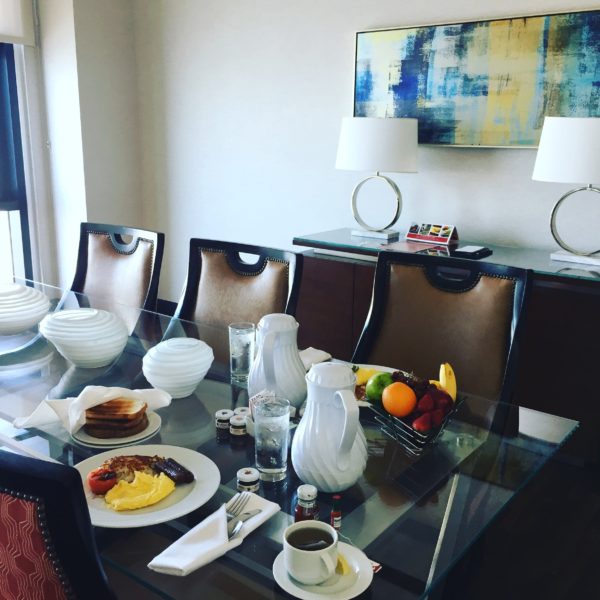 San Diego is a wonderful city to visit any month of the year. The weather is always about 70 degrees or more and the happy blue sky is filled with white puffy clouds. With its never-ending coastline, water sports are abundant, the restaurants are farm to table fabulous and there many fantastic museums to visit as well. There is never a bad time to visit San Diego and it was one of the cities on our recently published list of Ten Romanic Getaway Ideas for Empty Nesters.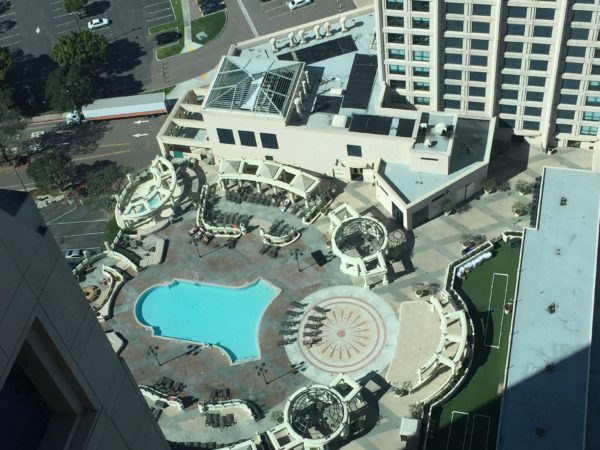 Have you been to San Diego recently?
Here are some other Presidential Suites you might enjoy seeing!
What's it like to stay in a Presidential Suite?
The Spectacular Presidential Suite at the Hyatt Regency Maui
---
Are we connecting on social media? You can find me here ==> Facebook, Twitter, Pinterest and Instagram
Are you receiving these posts via email? You don't want to miss an adventure!