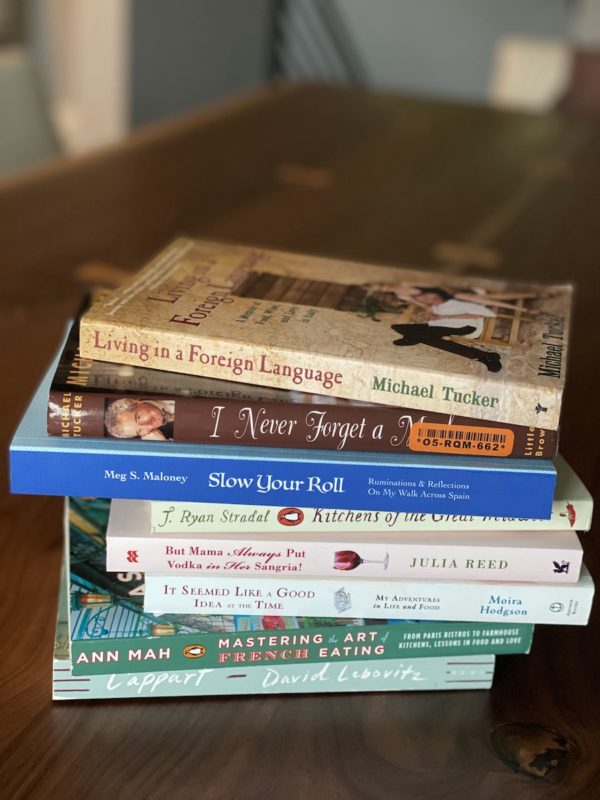 Books about Food and Travel!
How did books about food and travel save me during the COVID pandemic? They provided me a way to escape during a challenging time and envelope myself in a world that means so much to me. Exploring interesting destinations, reading about exciting adventures, and real-life memoirs about chefs and food entrepreneurs is my passion. In addition to a personal escape, reading as much as I do helps to make me a better writer! As a brand ambassador and travel writer, the lockdown was particularly agonizing because I wasn't planning and experiencing travel, nor was I working.
Some days were slow and relaxed, while others were depressing and sad. Most of us felt this way during the Quarantine, right? Confusion, sadness, and a longing for normality were the catalyst for my positive, uplifting reading choices.
My Book Club
I cannot continue to write about my reading life without acknowledging my online book club, Modern Mrs. Darcy. It was created several years ago by author Anne Bogel and her team. I joined on the first day, which coincided with my move to Pasadena, where I lived 50 miles from my in-person book club. The timing was perfect! The MMD Bookclub has been an exhilarating online community for me to indulge in my bookish needs and fuel my heart and soul with information to help me thrive. It was especially beneficial while living in COVID limbo. (I know, we still are living it!)
There are monthly book picks, suggested titles to accompany the selected book, a Summer Reading Guide, author chats, book discussions, online forums, zoom classes, and so much more. Yes, you too should join!
Wonderful Books About Food and Travel That I Loved!
I narrowed my long list of recent books to fifteen to keep this post more manageable, but I am always interested in talking about all books! My TBR (to be read) list is still super long, but so is my FB (finished book) list! I have been keeping a book journal since 2005. I jot down the title, author, and two sentences describing the plot/main characters and give a star rating. My memory is not what it used to be, so this list helps me keep track of what I read!
For this post, I started with ten titles in my head, but when I sat down to decide which books to write about, I kept thinking, but no, they need to know about this one … and this one… and this one! I had to stop, so fifteen it is for now. Some of them I already owned, I purchased new paper copies and I also read a lot of ebooks I purchased on my iPad,
My iPad can hold so many titles and is perfect for travel. I cannot live without it! I wrote a funny post about the time I lost it in an airport lounge. You can read about that HERE!
The titles in no particular order:
Click HERE to get to the entire list of books and see the covers!
 Kitchen Confidential – Anthony Bourdain
One of the most irreverent books I have read on the subject of restaurant kitchens and chefs. I read this book years ago and decided it was time for a re-read. Anthony Bourdain was a maverick and took us inside places we haven't seen. In addition to his books, Anthony Bourdain traveled the world and shared his stories and adventures through his television show No Reservations. My husband and I are currently watching the new CNN Travel Show with Stanley Tucci. I like this new version, but I dearly miss Bourdain's wit and insight.
The Kitchens of the Great Midwest – J. Ryan Stradal
This is a quirky, yet super interesting novel that follows the lives and kitchens of characters living in the Midwest. It was surprising and clever and the February main pick of Modern Mrs Darcy. Anne Bogel recently interviewed the author during a Zoom event. It was terrific.
The City Baker's Guide to Country Living – Louise Miller
This is a completely charming story of a small town in Vermont with a cast of lovely characters; add the baking and culinary adventures, and the book is perfect for me. Louise Miller is a delightful person and has just written another terrific book, called The Late Bloomers Club. Anne Bogel hosted a wonderful author chat with her too, and I was captivated!
Living in a Foreign Language
 and 
I Never Forget a Meal – Michael Tucke
r
A reader of Adventures of Empty Nesters wrote to me and shared these books by actor Michael Tucker. You may remember him and his wife Jill Eikenberry from the popular television series LA Law. Michael writes about their adventures buying, renovating, and living in Umbria, Italy. Each of these books is a gorgeous and delicious travelogue of my favorite country. I ate them up quickly! 
But Mama Always Put Vodka in the Sangra – Julia Reed
I don't know how I discovered this book, but her sense of humor and storytelling abilities warmed my heart and made me laugh out loud. This book covers a lot of ground and offers some great insight into her Southern roots and her worldwide travels. Loved it!
It Seemed Like a Good Idea at the Time – Moira Hodgson
Not sure where I found this gem either, but I gobbled it up in just a few days. The author is the daughter of a British Foreign Service Officer and spent her childhood in many strange and exotic places. She discovered American food in Saigon, ate wild boar in Berlin, and learned how to prepare potatoes from her eccentric Irish grandmother. Her stories of living in Berlin just after the war blew my mind. I was spellbound, and she introduced me to new destinations and culinary adventures.
Cork Dork – Bianca Bosker
I wanted to know more about wine and found this engaging book by journalist Bianca Bosker. She didn't know much about wine—until she discovered an alternate universe where taste reigns supreme, a world of elite sommeliers who dedicate their lives to the pursuit of flavor. 
Astounded by their fervor and seemingly superhuman sensory powers, she set out to uncover what drove their obsession and whether she, too, could become a "cork dork." She took me inside this world of sommeliers; I learned a great deal and will never look at wine the same way again.
Mastering the Art of French Eating

and

The Lost Vintage by Ann Mah
I read both of these intriguing and tasty books by journalist Ann Mah. The first title was a MMD Book pick, and the second one, I searched her back titles for more! She moved to Paris with her diplomat husband, but he had to be called away to another country and so she lived alone in the City of Lights. 
It follows her Parisian discoveries as well as touches on her own passions for cooking and for eating. I followed Mastering the Art… with The Last Vintage, which I paired with Cork Dork I mentioned above.
Book Pairings
I cannot take credit for the term "book flight"; this is all Modern Mrs. Darcy. But like a wine flight, a book flight is when you pair books that would go well together and enhance your reading experience.
I created my own "book flight" with Cork Dork and The Lost Vintage. I took the metaphor to a new level by choosing books actually about wine! The Last Vintage jumps back and forth between an intriguing story from today and a gripping family saga. A woman returns to her family's ancestral vineyard in Burgundy to study for her Master of Wine test. She uncovers a lost diary, a forgotten relative, and a secret her family has been keeping since World War II. Loved it! 
The pairing of the two books was genius (if I do say so), and I thoroughly enjoyed the experience.
L'appart "The Delights and Disasters of Making Paris Home"- David Lebowitz
When the author began to update his Paris apartment, the renovation adventures were piled high with problems. I love his sense of humor, and I was captivated from the first page. The book is also full of tasty recipes and colorful anecdotes. 
Paris is one of my favorite destinations, and it was fun to see it from the inside and an American's perspective.
Travels with Charley in Search of America – John Steinbeck
You may have heard of this great writer, John Steinbeck? Lol. I have always loved his work and realized I had never read Travels with Charley. Steinbeck takes a road trip across the US with his dog Charley for three months.
Besides his prolific prose, what I loved most about this book was his need to get to know the people he met along the way. He hid the fact that he was a famous writer and just engaged each person without his notoriety getting in the way. I felt like I could get to know him as a human and found the book quite special.
Picnic in Provence – Elizabeth Bard
New Yorker Elizabeth Bard and her french husband, take a trip to Provence to a small town called Céreste, fall in love with the area, buy a home and raise their child here in rural France.
I don't want to give too much away, but these culinary entrepreneurs create some delicious ideas, and this memoir follows their inspirational journey. I did not want the book to end!
Slow Your Roll – Meg S. Maloney
This last and final suggestion is Slow Your Roll, written by my talented UCLA sorority sister, Meg Maloney. She bravely decided to fulfill a lifelong dream of walking the Camino de Santiago in Spain. She shares her emotions, anecdotes, and inspiring commentary on the 550 mile walk across Spain. 
She enjoyed this adventure alone, successfully navigated her way, and walked 15 to 20 miles each day! I am proud of her and enamored with the entire book. I highly recommend reading this captivating story.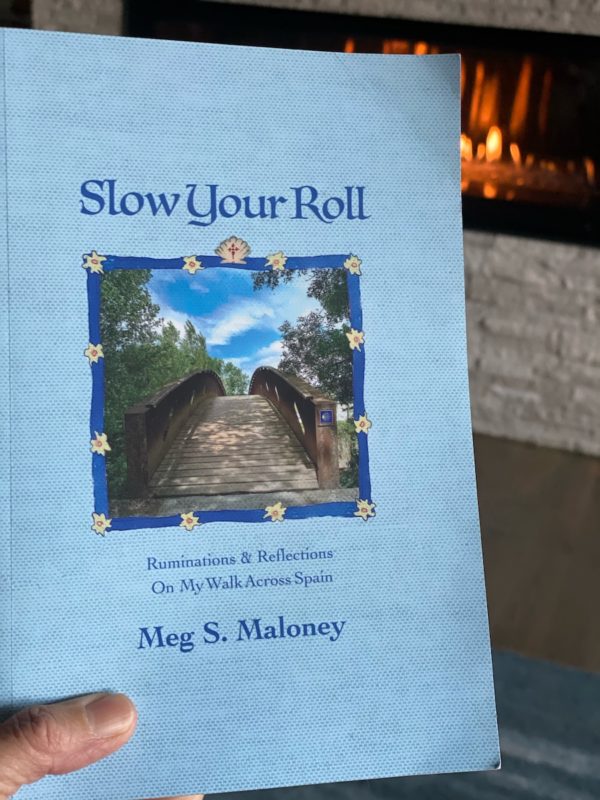 London Fog – My Newest Indulgence While Reading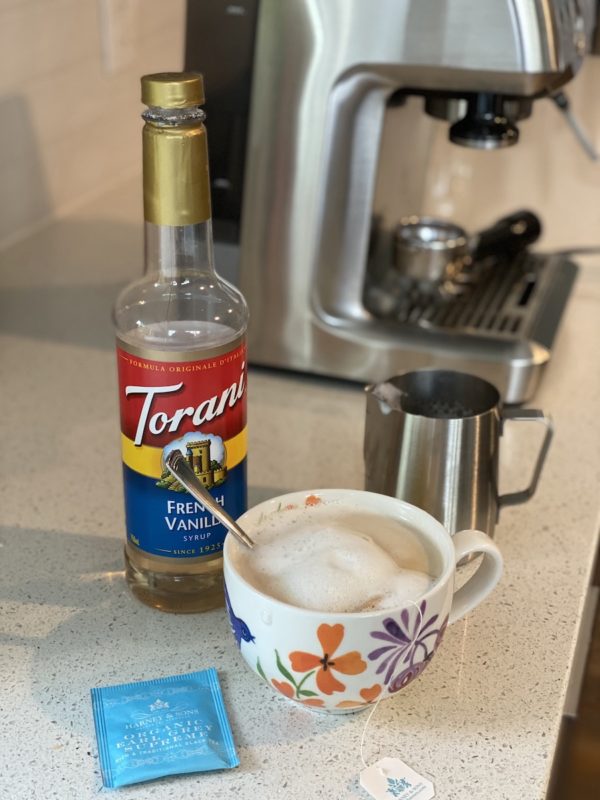 A London Fog consists of tea, two teaspoons of Torani French Vanilla Syrup, and steamed milk. My favorite tea is Harney & Sons Organic Earl Grey Supreme. The ingredients are listed in my Amazon Store too!
Final Thoughts
I realize there are fifteen books here, and the list may be too long. However, that is what a TBR list is for! File the titles away for another day or another year when you want to read more books about food and travel.
I am not a book reviewer, just someone who is passionate about reading, and these titles truly saved me during a pretty rough year.
I created a special book shopping list through my Amazon Store, and as an affiliate, I earn a small commission.
Happy Reading!
---
Pin For Pinterest