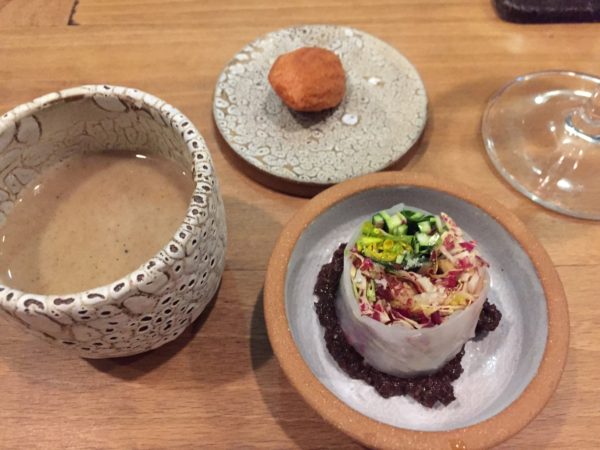 I think it was for sure my best dinner in Los Angeles. No contest.
Yes – it's true. This may have been my Best Dinner in Los Angeles ~ maybe my favorite meal ever. Whoa – BIG statement. Don't forget that I have been to the French Laundry in Napa and thought that dinner was my favorite. Those are some big shoes to fill.
Trois Mec, roughly translated, means "three guys" in French. So three guys, who happen to be accomplished and now famous Los Angeles chefs, created this one of a kind restaurant. I have known about it since it opened, but this was not an easy evening to put together. We lived in Orange County which is located about 90 minutes to 2 hours each way (only because of typical Los Angeles traffic) plus, the reservation is not easy to get.
It actually isn't a reservation at all, but a ticket, a golden ticket. Every other Friday, they release about 30 seats for two seatings each night. The meal is pre-fixe and you pay in advance. Sounds a little sassy and daunting doesn't it?
But after following the careers of these exceptional chefs, Ludo Lefebvre, Jon Shook and Vinny Dotolo as well as their other restaurants, I totally get it. These "guys" are super popular and they are chefs who put their hearts on a plate. Unfortunately and also sad but true, Los Angelenos tend to cancel at the last minute – a lot. This can cause major miscalculations, not to mention a waste of valuable ingredients and can throw a small restaurant in to a tailspin.
Through the last four years, Trois Mec has mastered this reservation system and I decided to give it a try once more. You must decide the day, which seating, how many guests and then pay for it in advance ($85 plus gratuity and tax). This is a pretty big commitment, but totally worth the splurge.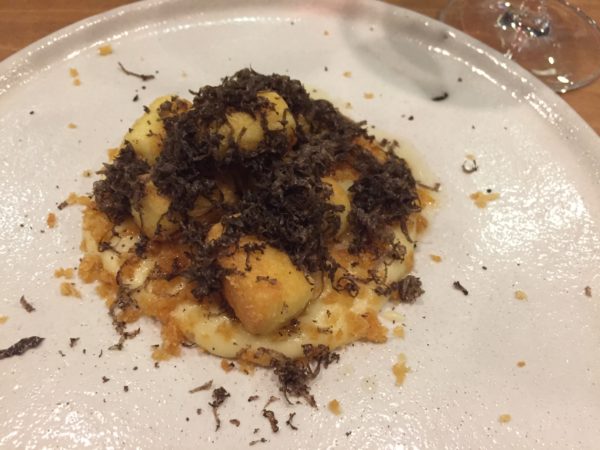 If you want to add the Chef's Special Dish (We did) and wine pairing with dinner (Of course) then there is an extra charge for both.
Five Gorgeous and Distinctive Courses are Served ~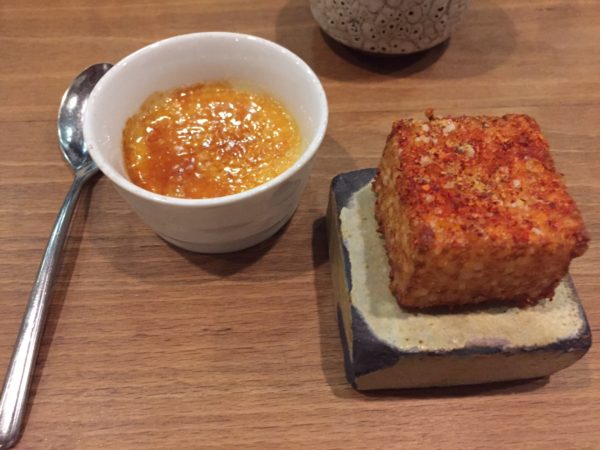 These were both so unusual and so amazing. The hard sugary top of the brûlée crunched as you spooned the creamy custard that tasted slightly of Dijon mustard. Sounds weird, but it wasn't. The crispy little bit of goodness? Holy cow it was like a big tater tot, but refined.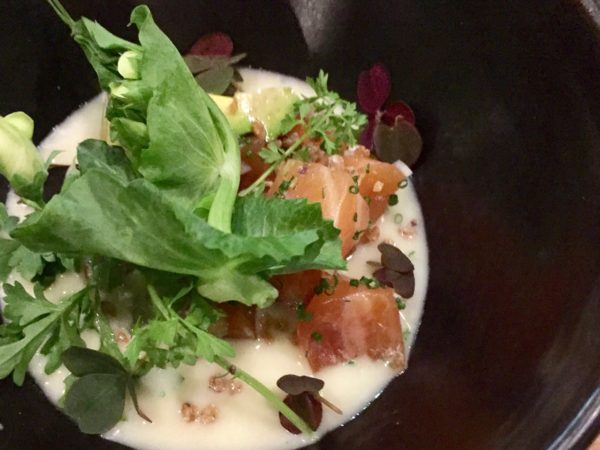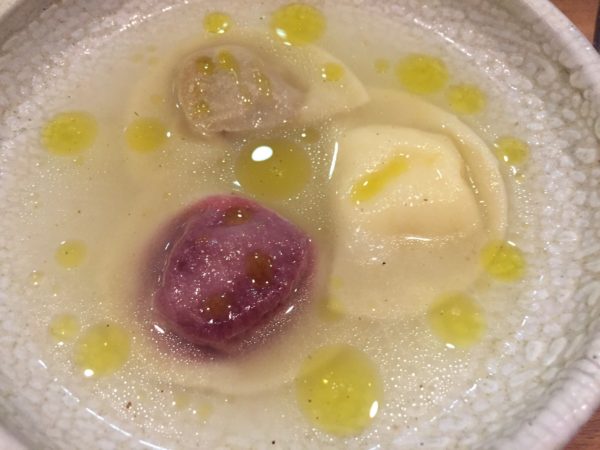 I can seriously oohh and ahhh over every ingredient, in every single dish, but that would be very boring to read. However, the flavor combinations of the dumplings above were so unique, so incredible that I must say it. The broth was light and tasted like lovely salty parmesan and yet the dumpling filling was slightly sweet like a yam and then drizzled with olive oil. Crazy.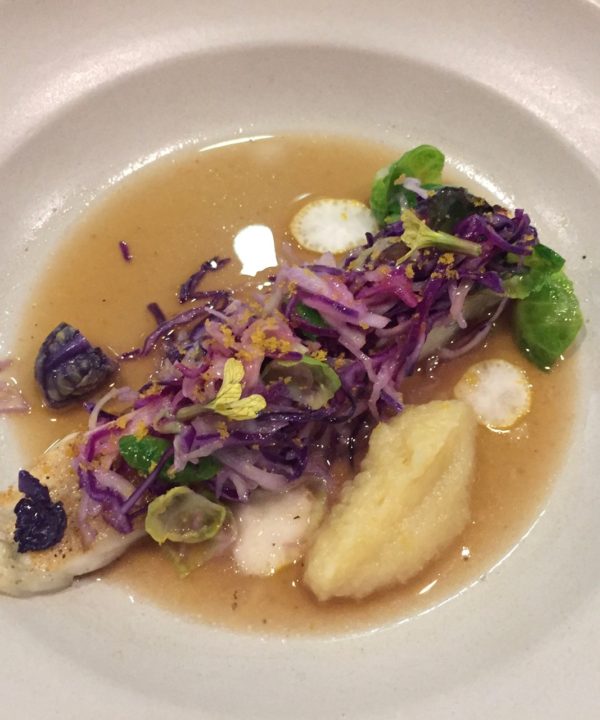 Are you full yet? Oh but there is more!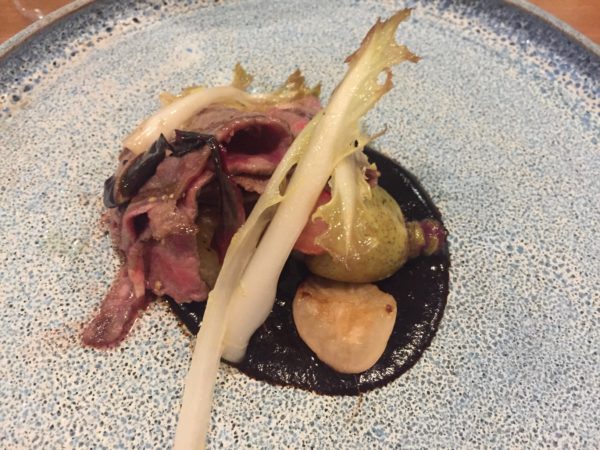 And finally desert…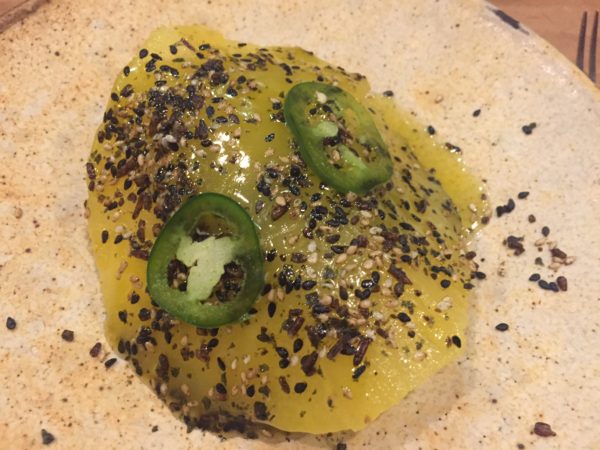 After such a filling meal with so many different ingredients, although quite unusual, the dessert was super light and fruity.
So many details! But that is just the point of this post. The genius is in the details of this dinner. I am not a restaurant critic, but I do know incredible food when I taste it!  I am so appreciative of the painstaking details and exactness of each dish. The flavor combinations are one in a million and yet they change the menu often and with the seasons.
As you enter the restaurant the entire cooking staff yells Bon Soir! The kitchen is small and shiny with lots of hanging copper pots and stainless steel. The line of chefs are respectful, orderly and so meticulous! We had so much fun sitting along the bar top. Since there are so few seats, only 8 lucky guests are seated at the chef's counter.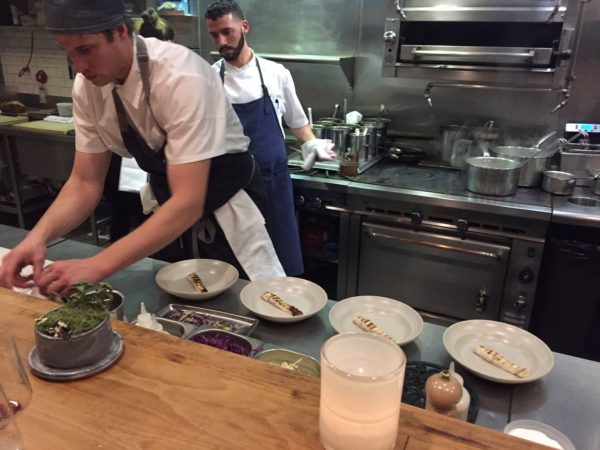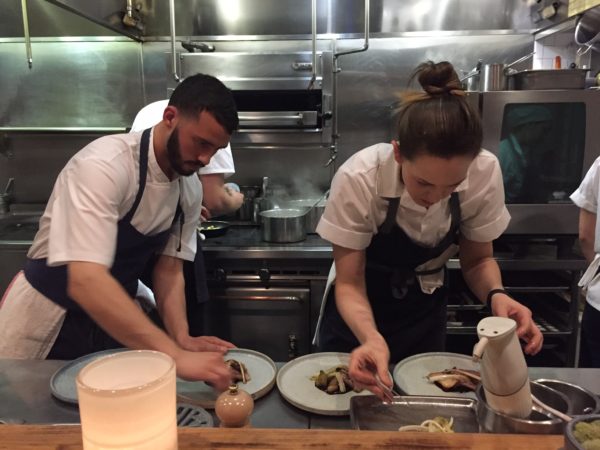 Fun Fact:  The restaurant was created inside of the old Raffallo's Pizza in a very un-fancy strip mall on Highland in Los Angeles. The sign still hangs above the door outside, but that is intentional. Although the food is five star, it is a friendly, unpretentious, fine-dining experience.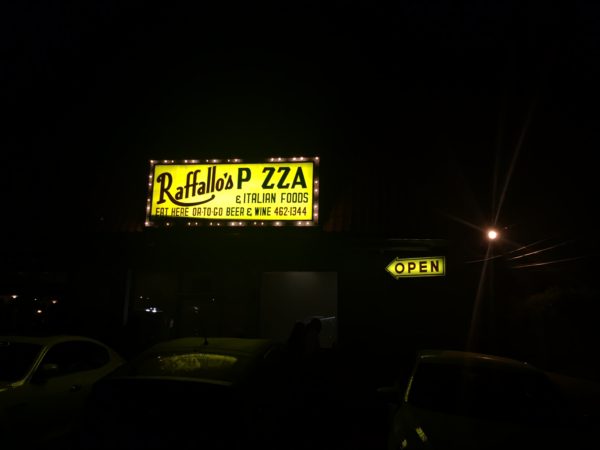 Both Craig and I were so blown away by this experience and grateful to have dined in such a special restaurant. We definitely hope to do it again. If you follow the foodie world and appreciate fine dining, you must plan a time to get a golden ticket.
716 N. Highland Ave
Los Angeles, CA
---
Got a question? Need some help or travel suggestions? Check out the contact link at the top.
Use the subscription box to sign-up and get post updates by email.
Follow us on Twitter, like us on Facebook, check out our photos on Instagram, or pins on Pinterest