The travel year is barely halfway through and we can already pick the Park Hyatt Mallorca for the luxury resort of the year. It is five star and beyond amazing. When we decided to plan a relaxing retreat in Mallorca, we knew it would be special, but it was not only special it was probably our favorite hotel experience of all time.
Where on earth is Mallorca? Mallorca is the largest of Spain's Balearic Islands in the Mediterranean. It is known for beach resorts, sheltered coves, limestone mountains and Roman and Moorish remains. It was just a forty minute plane ride from Barcelona and is truly the quintessential Mediterranean postcard. It's gorgeous.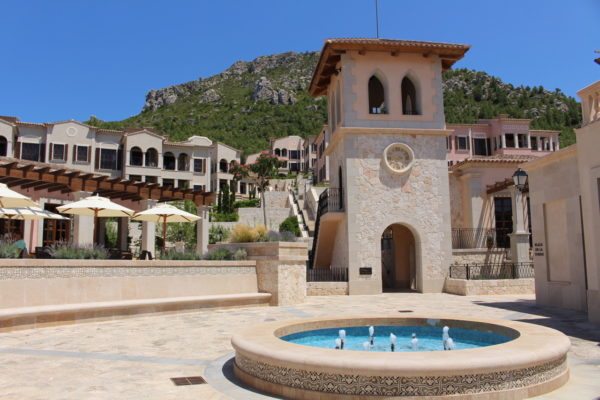 Travel there was simple. From the moment we landed in the easy-to-navigate Palma Airport, we sped off in our automatic Renault and headed over to the east side of the island. A rental car is a must,the roads are excellent and the signage is very clear.
Fun sidenote: The rental car was brand new and came with an awesome navigation system, however it was in German. Evidently there are so many German tourists in Mallorca, the cars at Hertz were ordered this way. Ha! I took Spanish in high school, not German.
We ultimately ended up using the navigation on our phones when available and the rest of the time we used a map, made of paper. Do you remember those?
Both Craig and I were under the impression that Mallorca was fairly small in size. Wrong. We were surprised to learn that travel from one side of the island to the other can easily take 2 – 2 1/2 hours by car. This made a day trip over to the west side too arduous, not an option for us this time. There would be too much extra driving and not enough relaxing.
We wanted to relax and unwind away from busy cities and loud noise. With no pressure to be somewhere or stand in line or be on any sort of time-table. Our time in Barcelona was fantastic, but we were ready for some tranquil downtime in a private setting.
If you think of Mallorca as a clock, we were staying on the east side around two o'clock. Our day trips took us up and down the east coast as far as six o'clock. For the short five days we were there, that was just enough ground to cover.
If you have visited the blog before you will know that I am a huge fan of architecture. I love to study the building design and to indulge in the specific design details of the luxury hotels we visit. The Park Hyatt Mallorca is truly a gift of authentic, local Mallorcan architecture.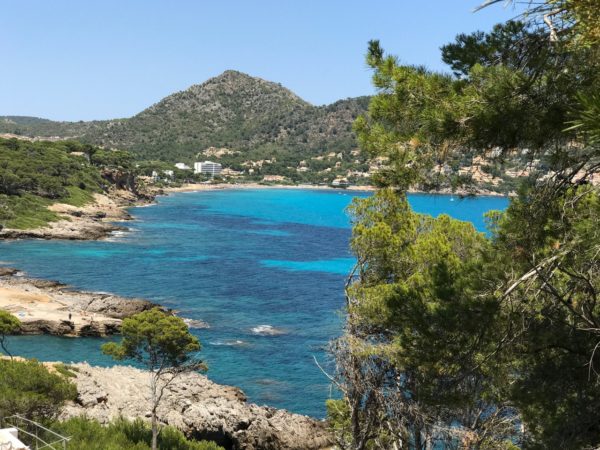 The hotel is located on the east coast of Mallorca about five minutes from the Balearic Sea, way up on a hill that overlooks the Canyamel Valley and the historic area of Cap Vermell.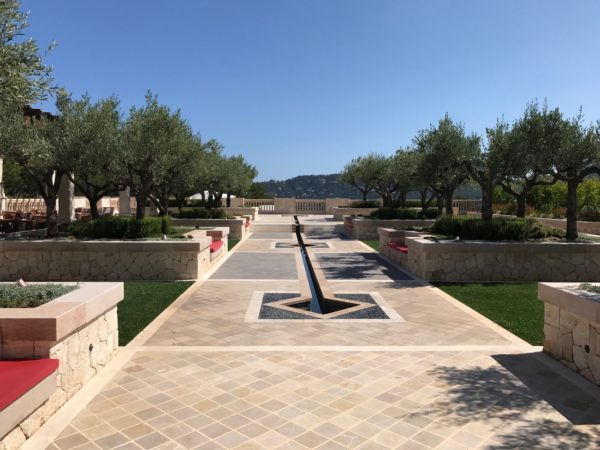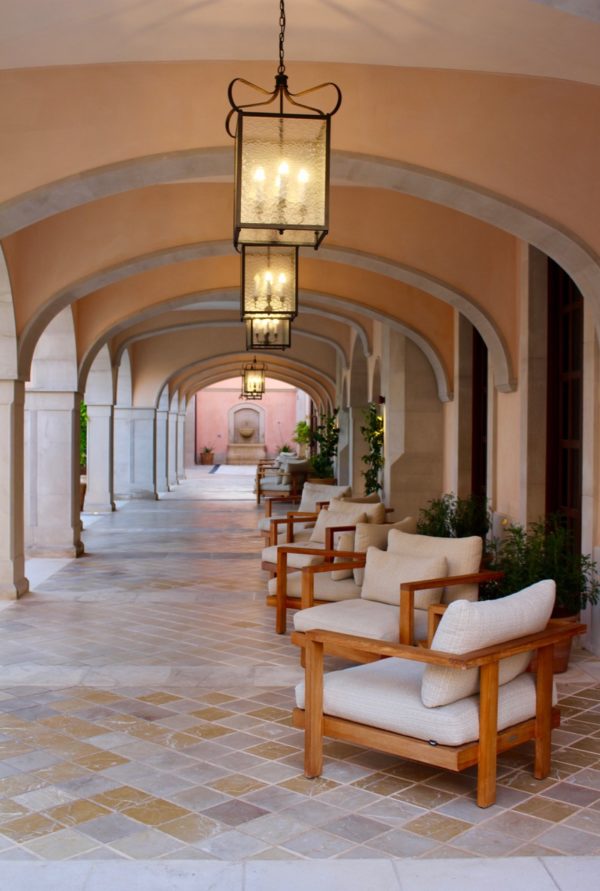 The idea behind the design of the resort was for it to reflect the style of a traditional Mallorcan hilltop village. The local stone bricks were hand chiseled to create a hotel unlike any I have ever seen. It looked like it could have been built hundreds and hundreds of years ago. Everyday we leisurely walked through the hotel grounds, but felt like we were in our own private village.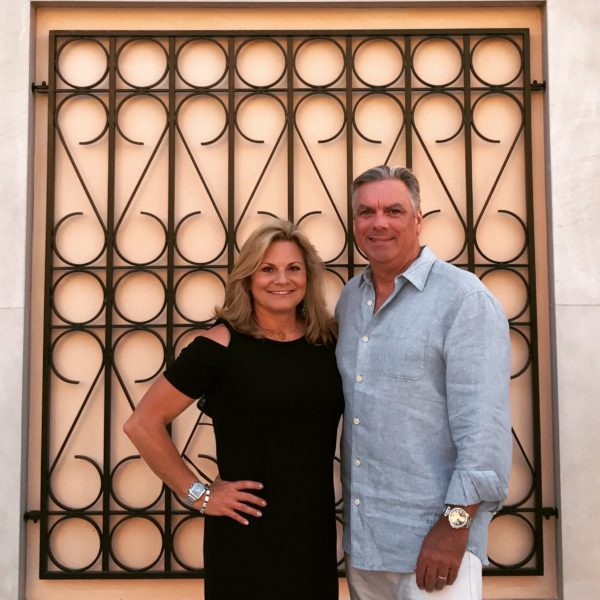 There were clever touches of wrought iron, man-made rocky streams and large beautiful pots with cascading local vegetation. Although the resort was booked solid, the grounds are so vast that you never really see other guests unless you were in one of the four restaurants or by the pool.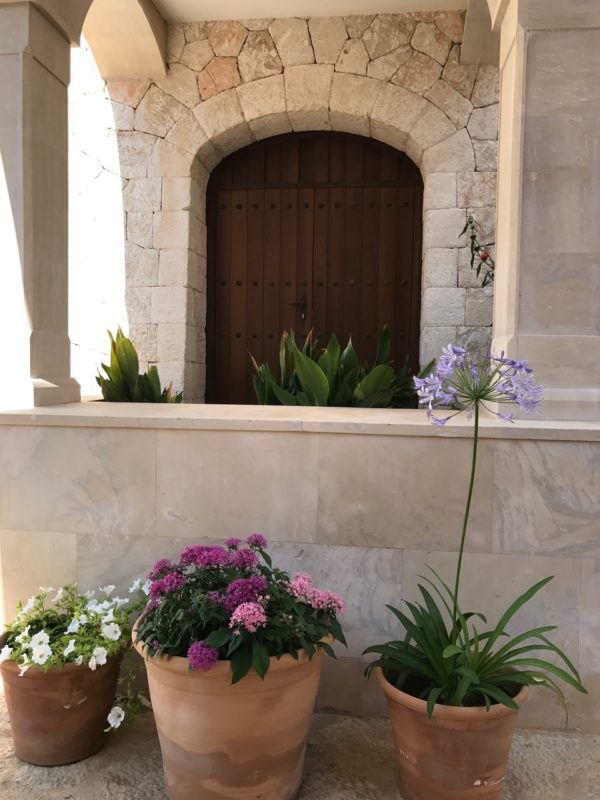 The resort grounds at night ~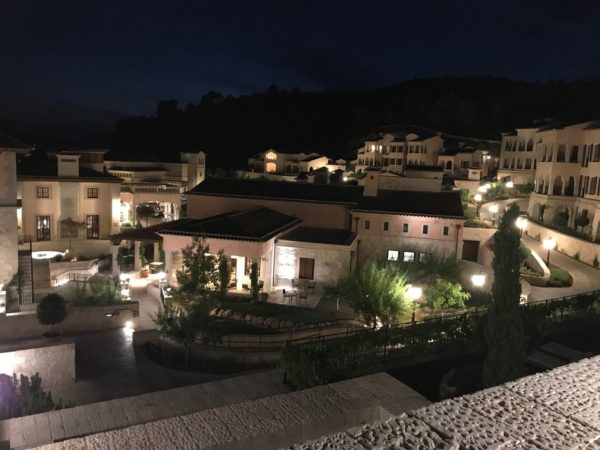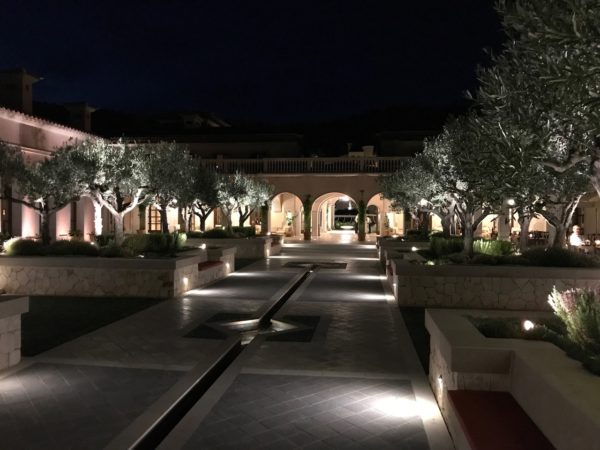 Our suite ~
Craig stays exclusively in Hyatt Hotels while on business and we choose all Hyatt Hotels and Resorts for our vacation travel as well. We have attained their highest level of status and this brand loyalty offers some fantastic benefits.
We were upgraded to a suite which was elegant, refined and so luxurious! There were two bathrooms, a dining room, an office, a bedroom and an enormous patio. The tag line for the Park Hyatt is "luxury is personal" and they really mean it. It felt like we were staying in the guest house of our chicest friends! Not so formal that you felt uncomfortable, but so lovely I would marvel every time I turned the corner.
It was complete with a small coffee and cocktail bar, and of course, beautiful sculptures. Seriously!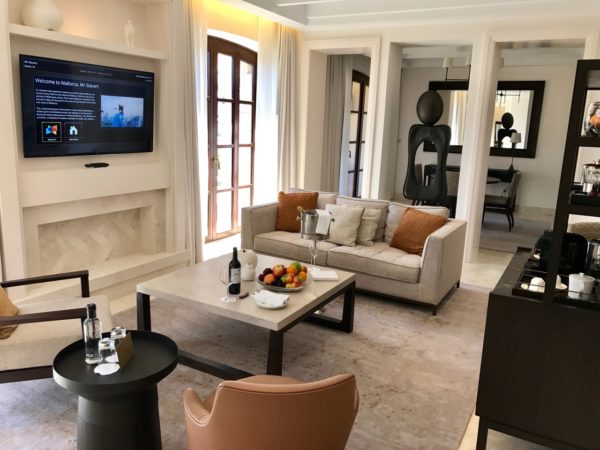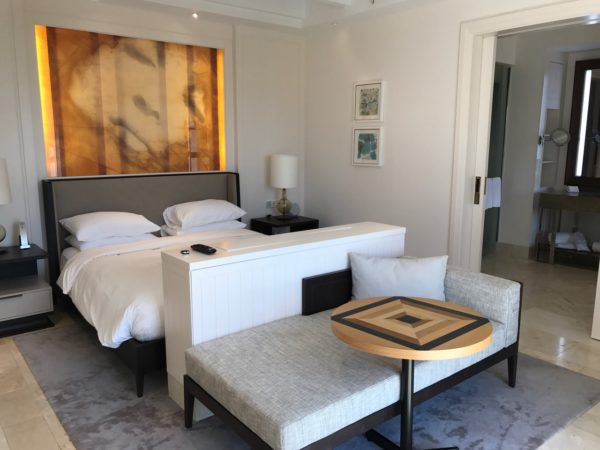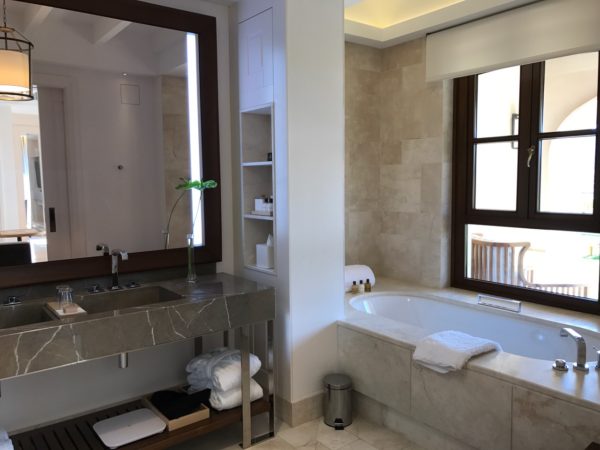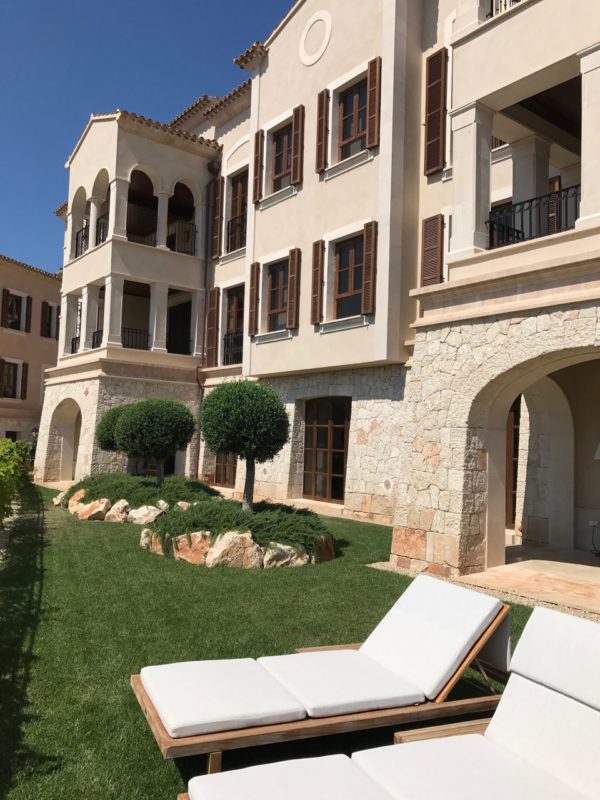 Ah, the food ~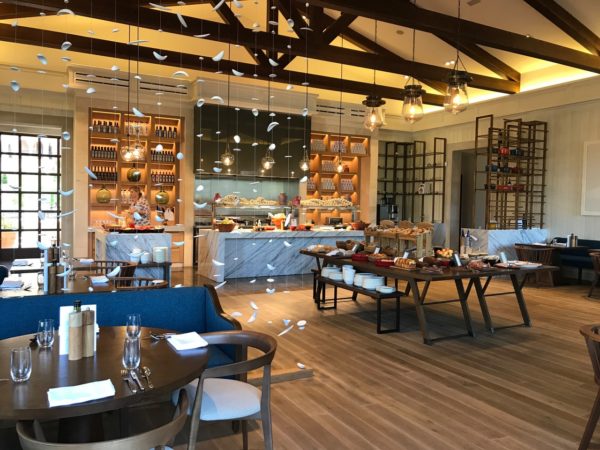 The resort offers four distinctive restaurants with menus offering lots of delicious choices. Our dining experiences on the property were far more progressive, delicious and innovative than any we found off the resort. This is not to say that we didn't enjoy eating at the local restaurants, but on this trip we didn't find any that could hold a candle to what was available at the Park Hyatt. The cuisine is some of the best we have eaten anywhere let alone in a hotel restaurant.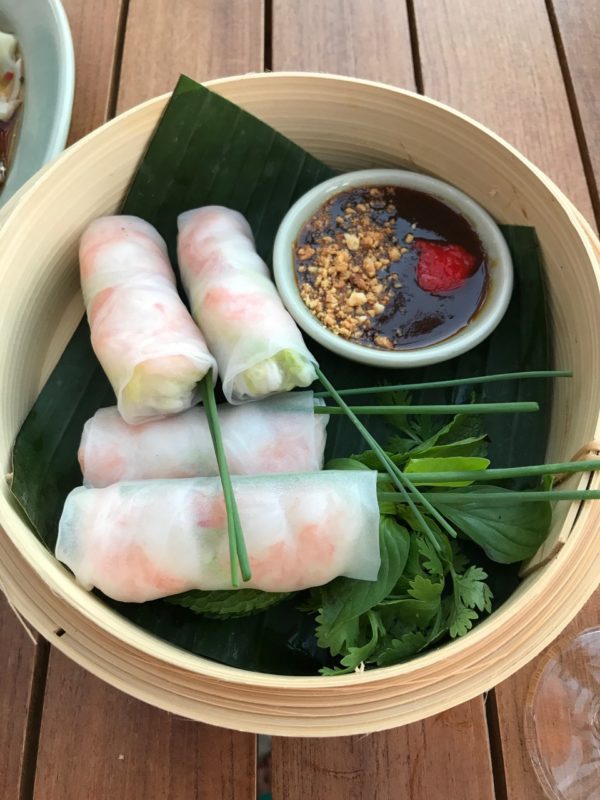 Asia served fantastic Southeast Asian cuisine in an exquisitely designed setting. Tapas was a casual dining restaurant with gorgeous views of the fountain patio and served small plates of traditional Spanish cuisine.
We especially enjoyed Balearic, where amazing Spanish and Mallorcan cuisine was served using fresh ingredients from local farms and fishing ports. Local,mouth-watering summer tomatoes and fish with lemon and herbs baked in parchment paper were two of my favorites. Don't forget the sparkling cava rosé!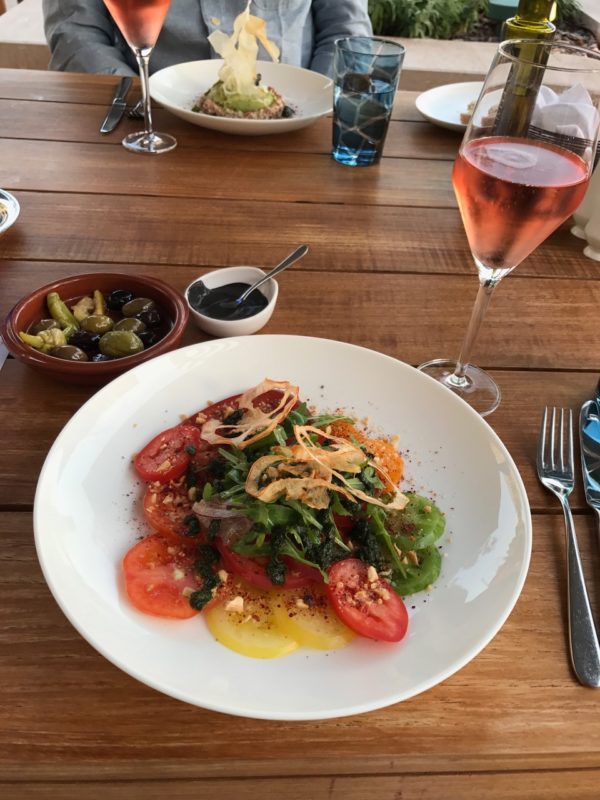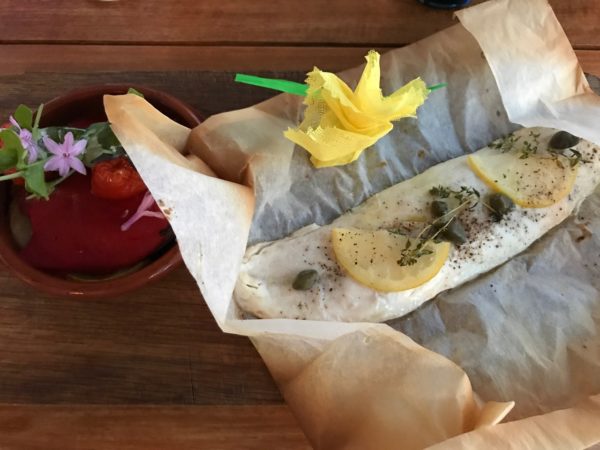 The service was so personal and friendly and we enjoyed thoughtful conversations with the staff. We were greeted so warmly every morning and asked how we had enjoyed our evening. We learned about their local towns and why they loved Mallorca. It was easy to see why everyone would be happy living there!
The breakfast buffet was tremendous with so many fresh-baked goods, meats, bowls and bowls of fruit, egg dishes,  and many more authentic local plates. We almost never ate lunch, we were far to full from breakfast!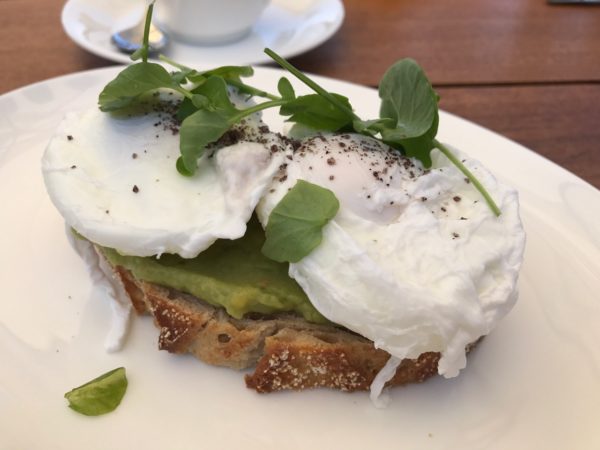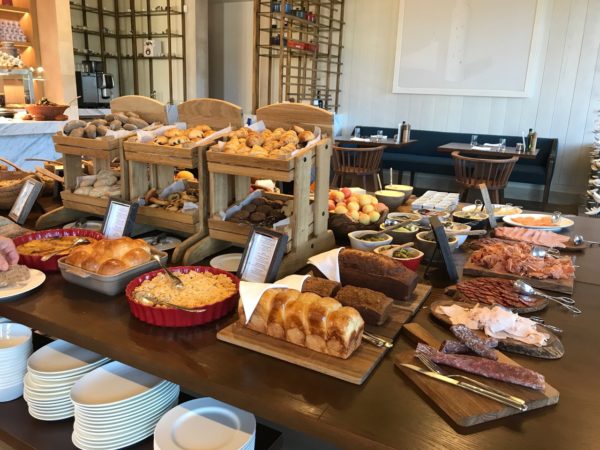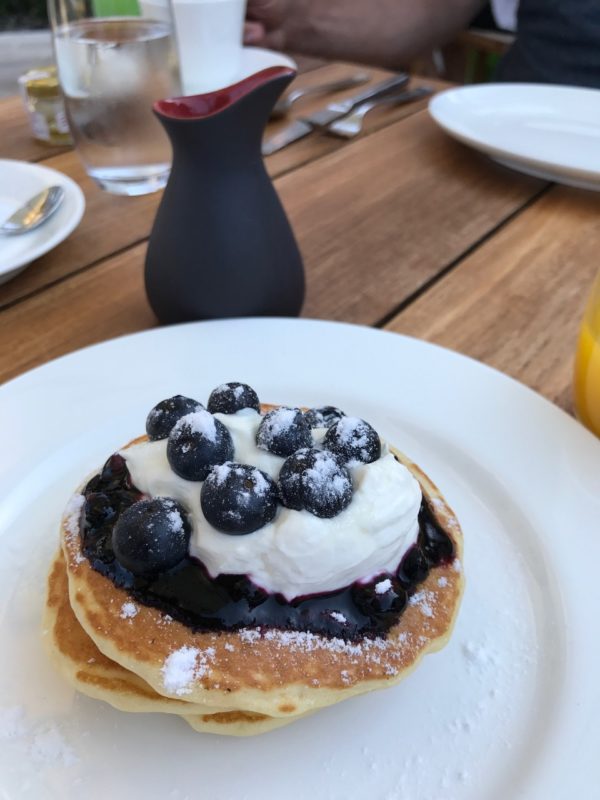 We also enjoyed the experience at Café Sa Plaça where we would share this amazing quinoa salad. So fresh and light! At each of the Spanish restaurants we adored their dining ritual. Prior to the meal, they always served Mallorcan sea salt with Spanish olives and olive oil with fresh bread, just out of the oven. Divine!
We loved to sit at a small café table adjacent to a garden stream. We could easily make a meal from this bread and oil appetizer. It was a challenge not to ruin our appetites!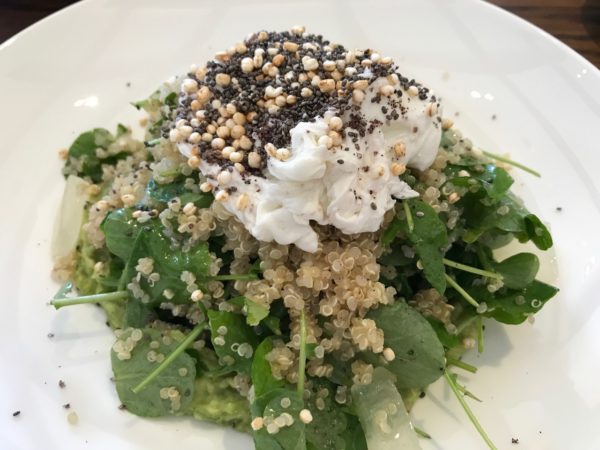 The pool ~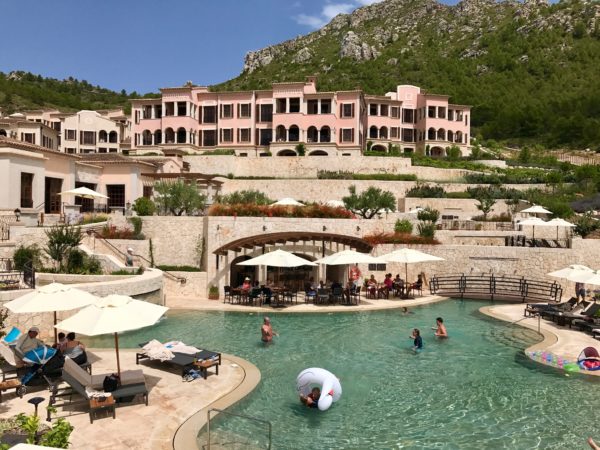 There was large and sparkling family pool and a smaller quiet, adult swimming pool. We did not spend but about four hours total by the pool, but it was so impressive!
I know that I keep gushing, but our entire, extravagant experience was so heavenly and the resort and staff deserve this praise. The Park Hyatt Mallorca does everything right and offers a stunning architectural setting while their guests are pampered in every way.
We also used our Hyatt Hotel points to pay for our room which made the experience even sweeter. I hope that you will consider a vacation here on the magnificent island of Mallorca.
In addition to these palatial accommodations, Craig and I toured several charming towns on the island. Check back to read more of our Mallorca adventures.
Have you been to Mallorca? Do you build hotels points by being brand loyal?
---
Don't forget to forward this post to your friends ~ 
You can find us here:  Follow us on Twitter, like us on Facebook, check out our photos on Instagram, or pins on Pinterest