CHECK OUT OUR NEW EPISODE OF COCKTAIL ADVENTURES!
THE PIÑA COLADA – HERE!
A  Maui Style Menu
Are we dreaming of a tasty trip or virtual vacation Maui Style? We cannot travel across the vast Pacific Ocean to the island of Maui, but we can pretend like we are! Virtual Vacations can transport us to a place we can't get to for one reason or another. This Maui Style Menu will help you bring all of the essential elements together!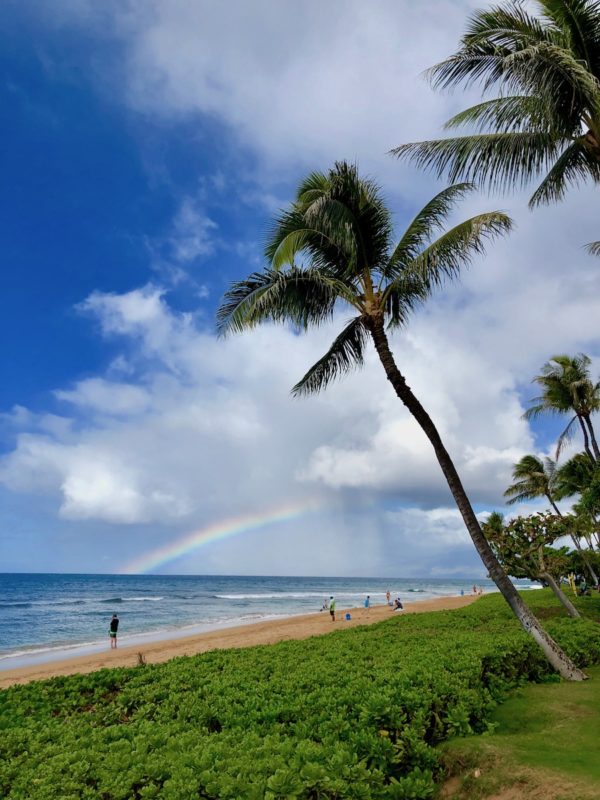 Building a Maui Style staycation for you has been an absolute pleasure. Using my decades of Hawaiian memories and experiences has fueled my dream to share it with YOU!
I was frustrated by my lack of travel choices and had a hunch that you were too. I created a Virtual Vacation Guide – Maui Style to offer ideas, suggestions, links, and recipes to assist you in your next Maui adventure at home. Choose one authentic Hawaiian Maui Style menu item or all of them and have some fun tasting these wonderful family tested recipes in your own backyard.
Start your day!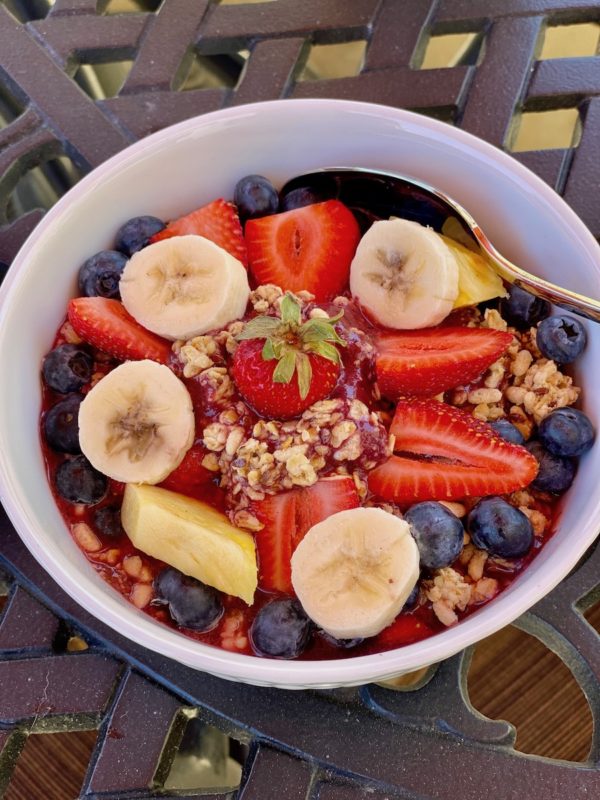 Start your day with a tangy Acaí Bowl, layered with tropical fruit and berries, and finish with the Hawaiian granola crunch you hid in the bottom of the bowl. Want it, sweeter? Drizzle some local organic honey over the top!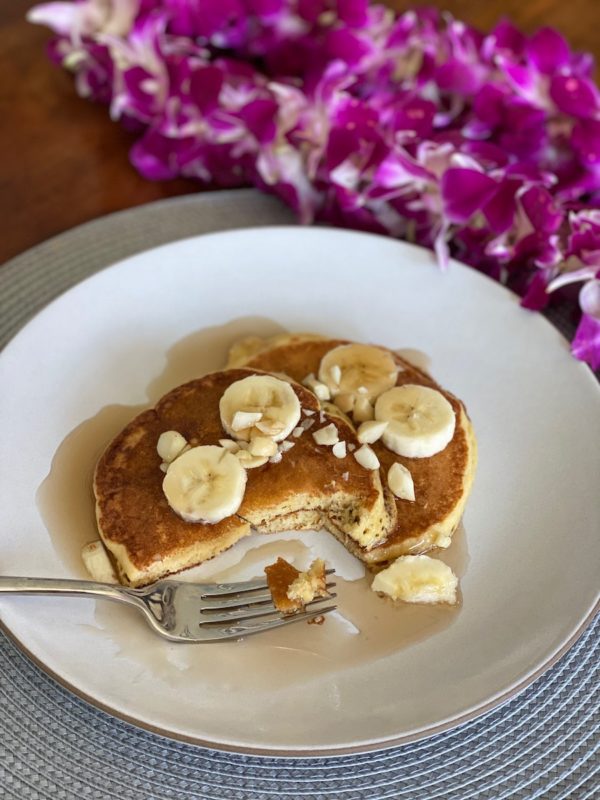 Maybe you and your family are more of the Banana Macadamia Nut Pancake kind of people? I have Maui-adapted an excellent whole-grain pancake recipe I found in the NY Times. It has a lot of ingredients, but it is totally worth it. The pancake texture is sheer perfection, and they come out perfect every time we make them.
We freeze the extras in sandwich baggies so that we can eat them anytime we have the urge, but don't have the time to make them.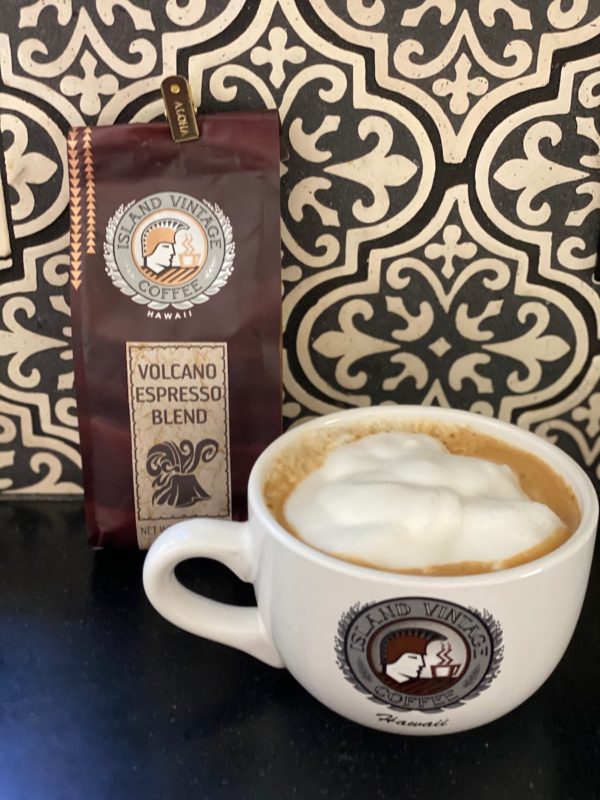 Lunchtime ideas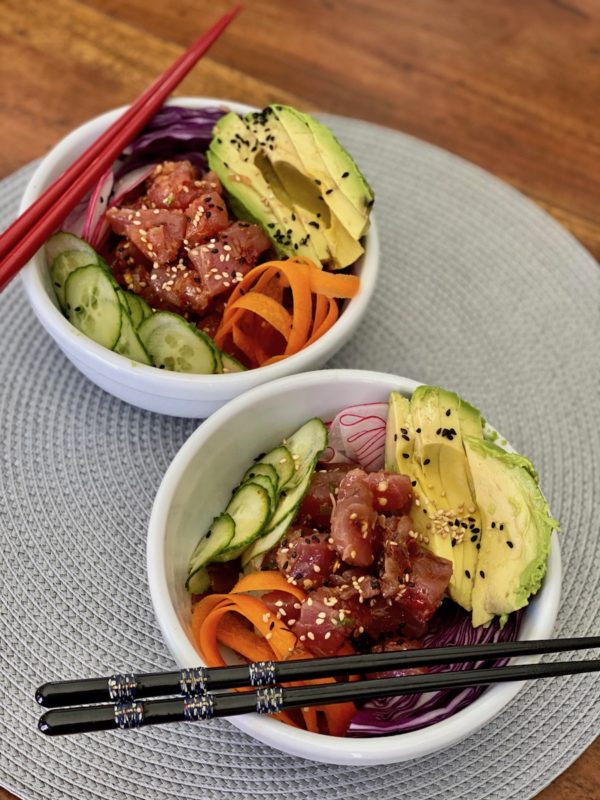 For lunch, there are two options in The Guide – You can, of course, create your own favorite lunch or why not try a Poké Bowl? Have you ever tasted one before?
I have become obsessed with this dish for lunch, as well as a low-cal dinner. I love the mixture of firm, fresh tuna, combined with the garden goodness of fresh veggies and Asian rice. It is light, healthy, and so flipping delicious!
You can buy your fresh tuna and add Poké spices (like this one) to it, or go to the local luxury grocery store and order their ready-made version. We buy ours at Bristol Farms in California. If freshly caught tuna cannot be found in your neighborhood, you can substitute bbq chicken or even buy fresh fish online and have it shipped.
This virtual vacation is yours to create, so live it up! Try something new!! People are using their creativity these days by buying their favorite bagels from a New York Bakery or ordering specialty BBQ from Kansas City. With just the click of a button, we can buy anything we desire from anywhere in the world.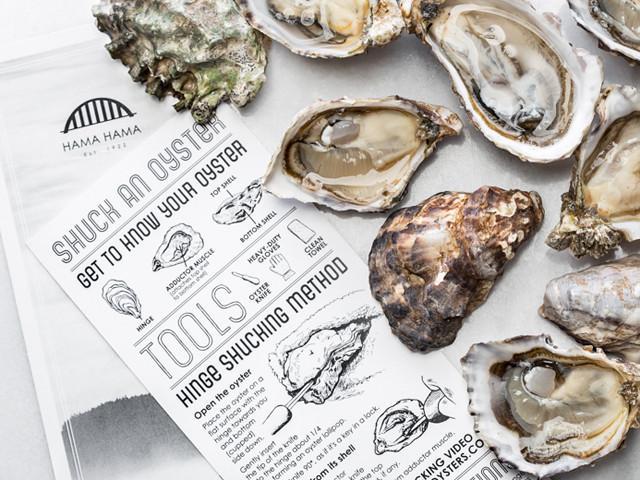 Another appealing lunch or afternoon snack option is to order Hama Hama Oysters from Washington State and pop them open on the grill. Maybe this would be best sampled late in the day with an adult beverage like a Piña Colada! Honestly, my mouth is watering as I type!
The Guide has suggestions for oyster toppings as well if you don't like them plain.
The Piña Colada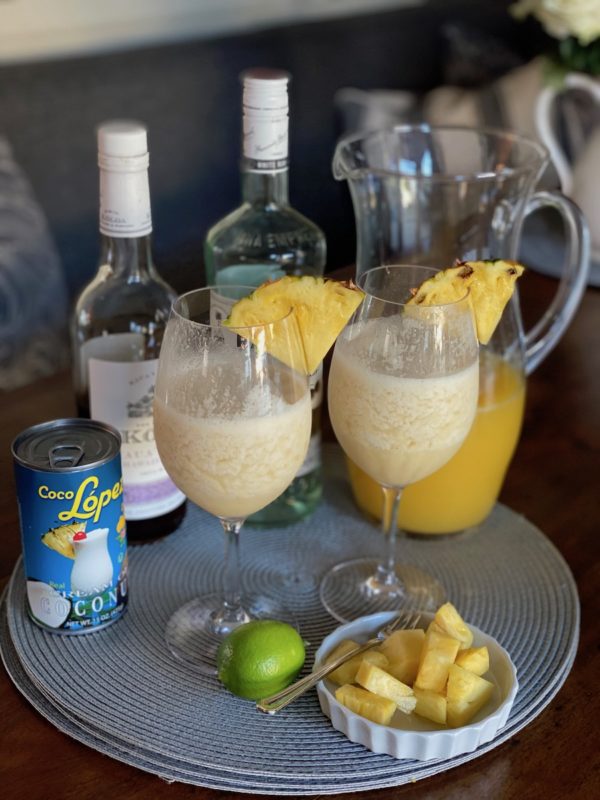 We taste-tested different Piña Colada recipes for you and want you to know we survived! LOL! We ended up really liking this one, and it has just essential ingredients, nothing unusual. It is terrific, just the perfect combo of pineapple and coconut flavors.
Sit back on your patio, sipping tropical Piña Coladas, slurping a few oysters, and listen to Hawaiian music. Sounds pretty relaxing, doesn't it?
We even created a DOUBLE BONUS EPISODE OF COCKTAIL ADVENTURES – PIÑA COLADA – HERE!
The Perfect Mai Tai – Recipe by Monkey Pod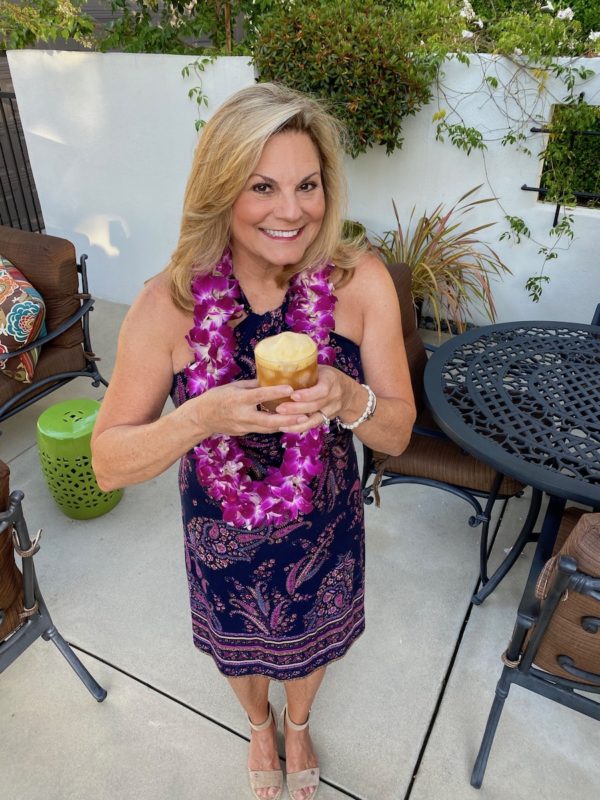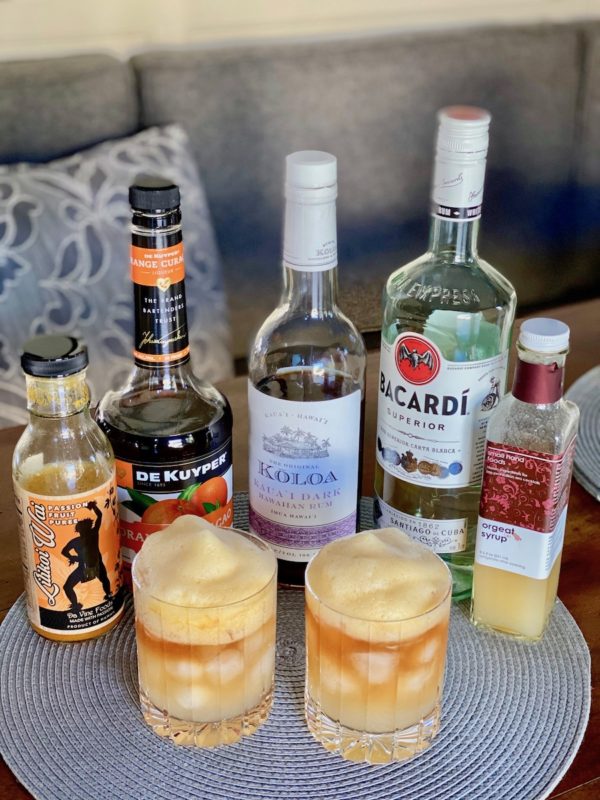 In the Introductory Post for the Virtual Vacation – Maui Style, I share why we love this Mai Tai recipe so much! The secret is in the Lilikoi foam made from passion fruit pureé and eggwhites which are beaten until a firm foam appears! Simply amazing. All links to the products are in The Guide too.
Two Dinners to Choose From!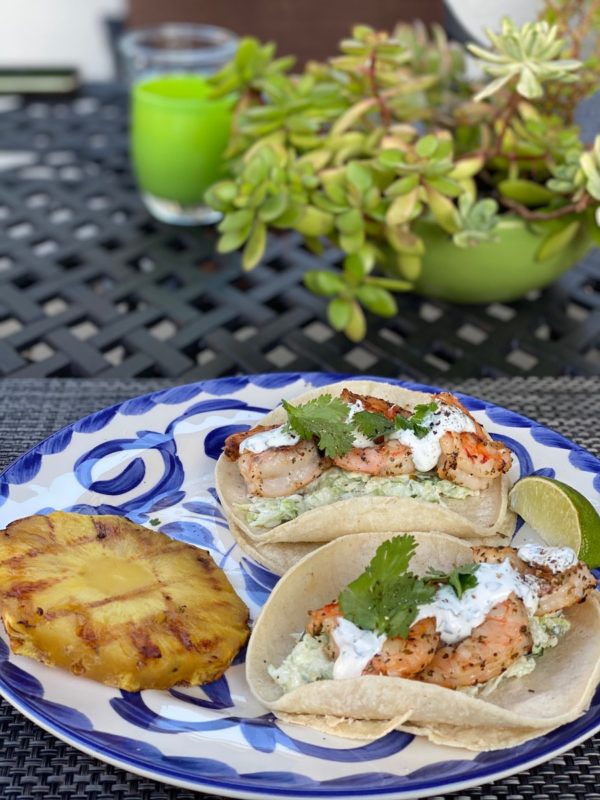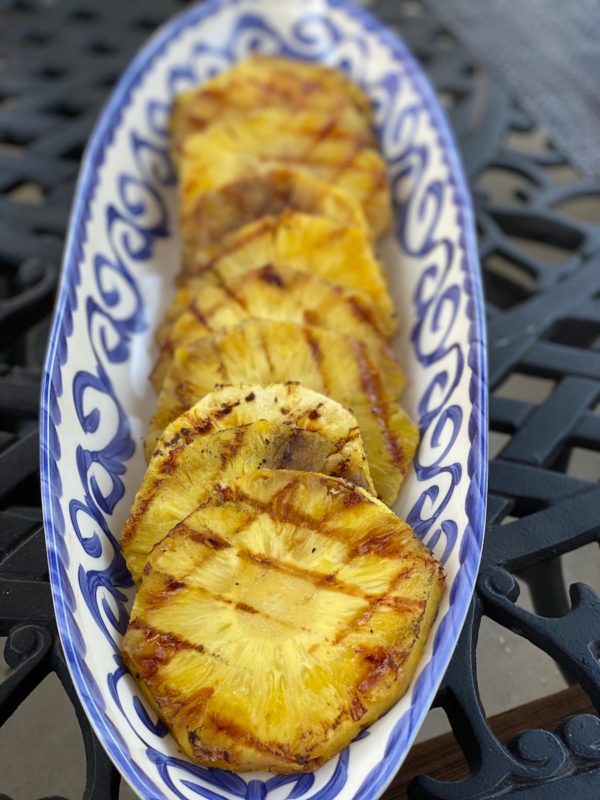 Grilled Shrimp Tacos with Creamy Cilantro Sauce
Taking your family's preferences in mind, you may know exactly what to make for a Maui-inspired dinner at your house. In The Guide, there are two recipes; Grilled Shrimp Tacos with Creamy Cilantro Sauce and Grilled Pineapple, or Seared Ahi Tuna with Easy Fried Rice and Cabbage Slaw with Ina Garten's Dressing
Substitute steak or chicken in the tacos, add refried beans instead, or a fruit salad. This meal is yours to make to your liking! Maybe you aren't a fish eater? If you want to step out of your comfort zone, do it, Maui-Style! Try it!
Seared Ahi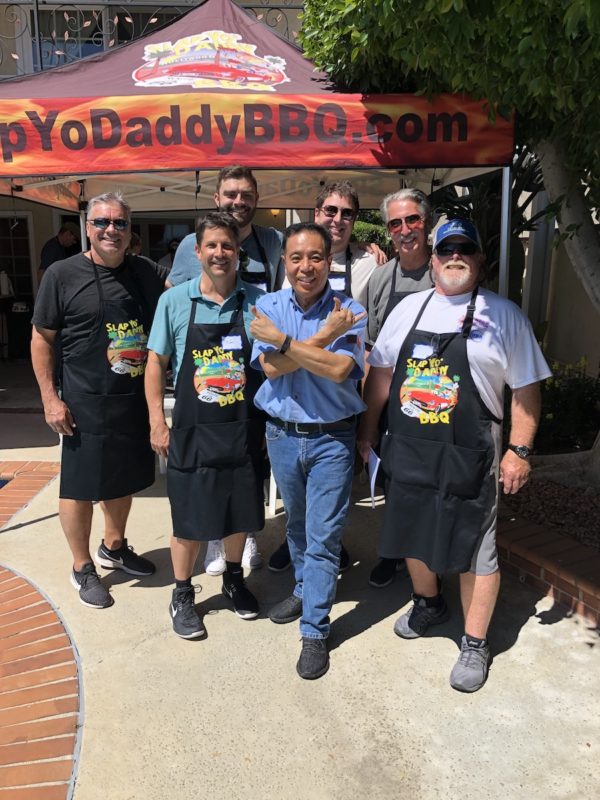 This recipe has a super fun back story. Troy, our dear friend and excellent cook, suggested Craig join him for an incredible barbecue class. Troy's skills are exceptional, and Craig's are not far behind. However, why not learn from an award-winning pitmaster, Harry Soo from Slap Yo' Daddy BBQ.
Craig enjoyed his first time so much that he asked our son Nick, son-in-law Brent and my stepfather Gus to join him at another class. During the lesson, they learned techniques, recipes, and sampled all of their cooking! They came home to share great stories and to then rest from their meat feast.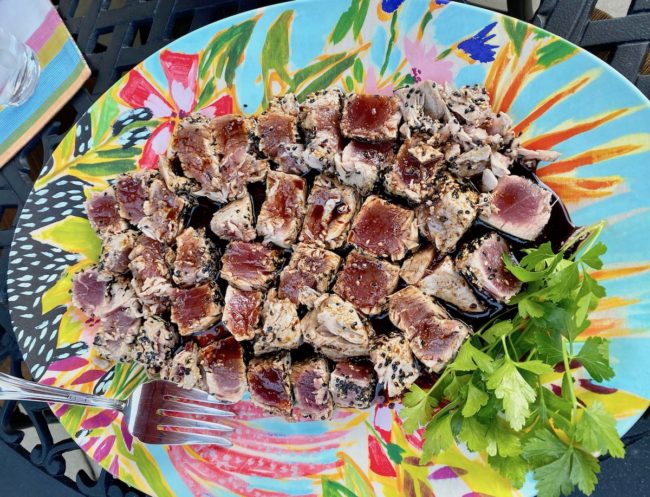 The Seared Ahi recipe is all from Harry Soo. It seemed like an intimidating recipe that perhaps you would only eat at a restaurant. We found it not hard to make and looks so impressive. Your guests will be blown away at how tender and delicious this is! We make it all the time now!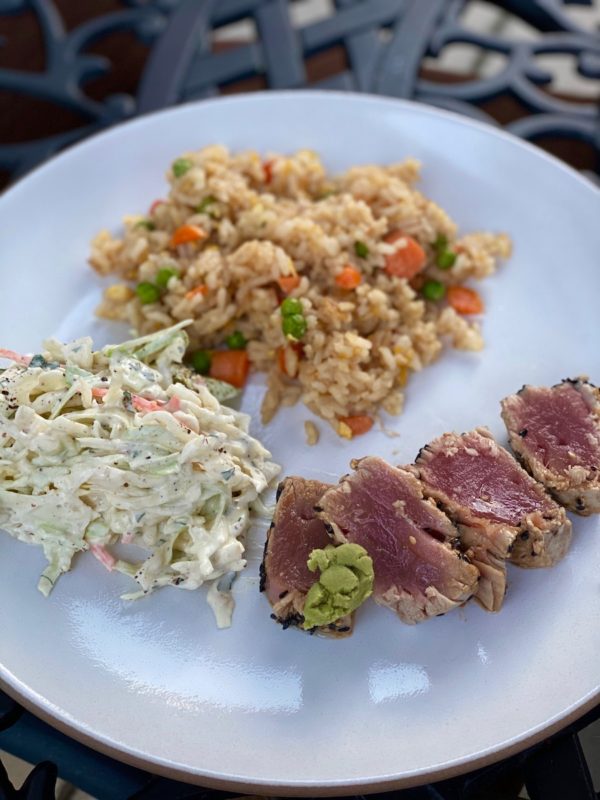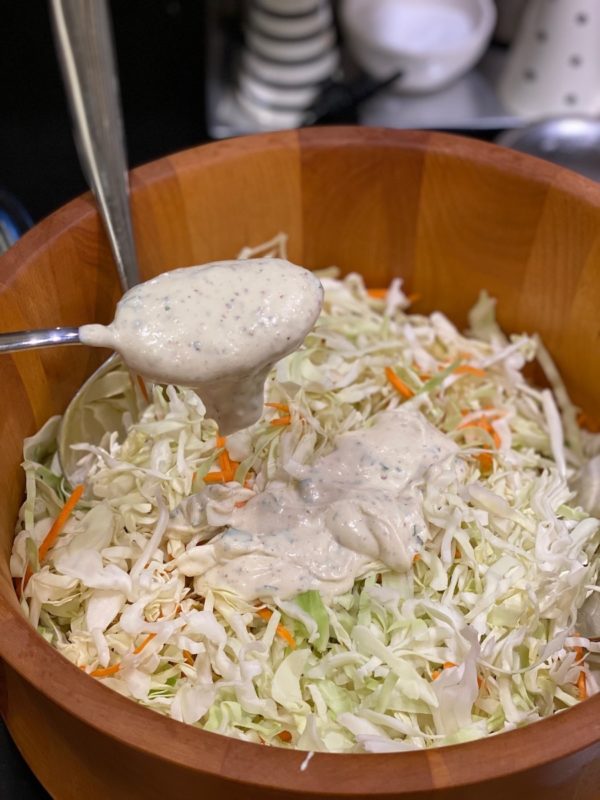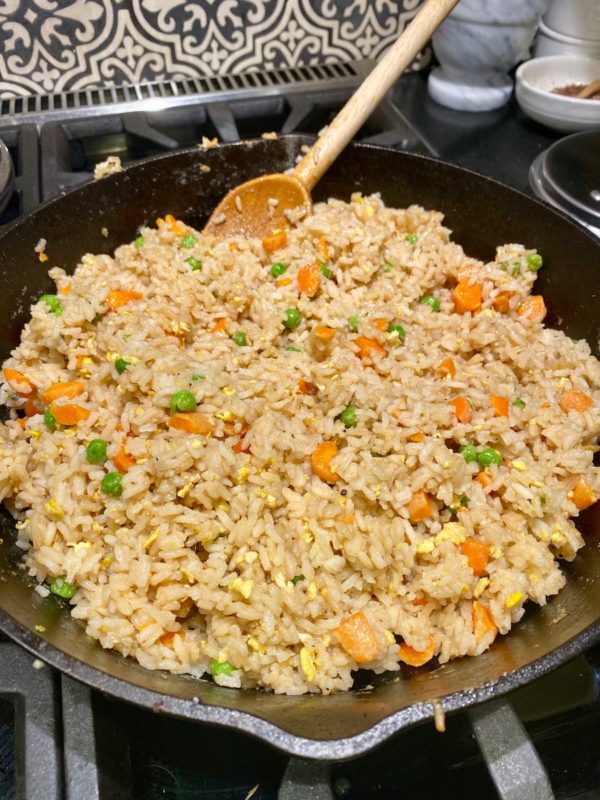 Dessert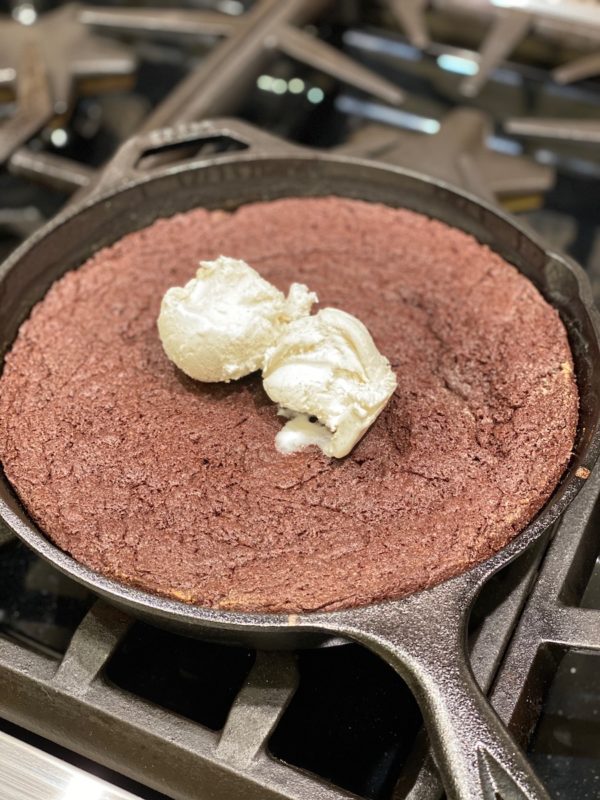 No special meal during a virtual vacation would be complete without a knock-your-socks-off kind of dessert! We use this Brownie Dessert recipe all the time and we love it!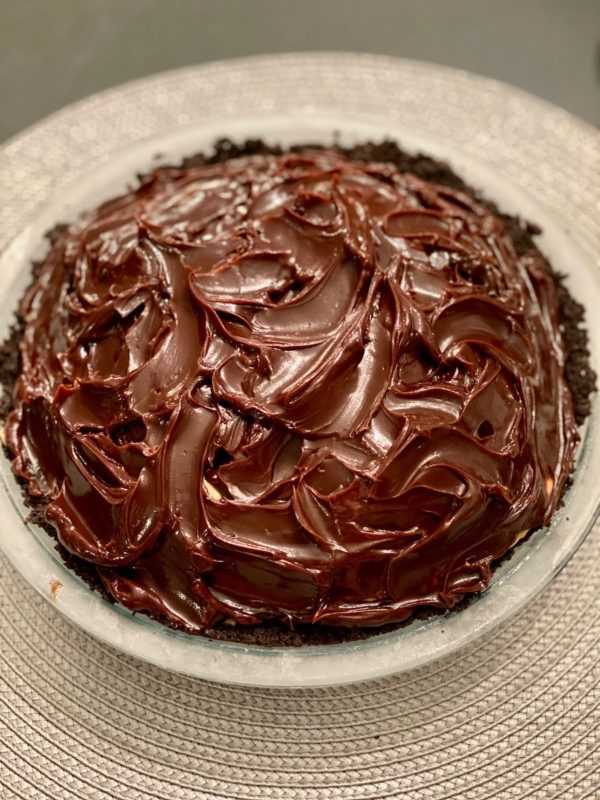 My recipe for Hula Pie is inspired by a special dessert we always order at Kimo's, located in Lahaina Maui. Kimo's has been serving traditional Hawaiian style cuisine since 1977. You can sit at the ocean's edge at this Hawaiian dining oasis and wait for a vibrant Maui sunset while tiki torches light your table. We love the variety of grilled fish dishes and sides and always look forward to sharing a piece of their world-famous Hula Pie.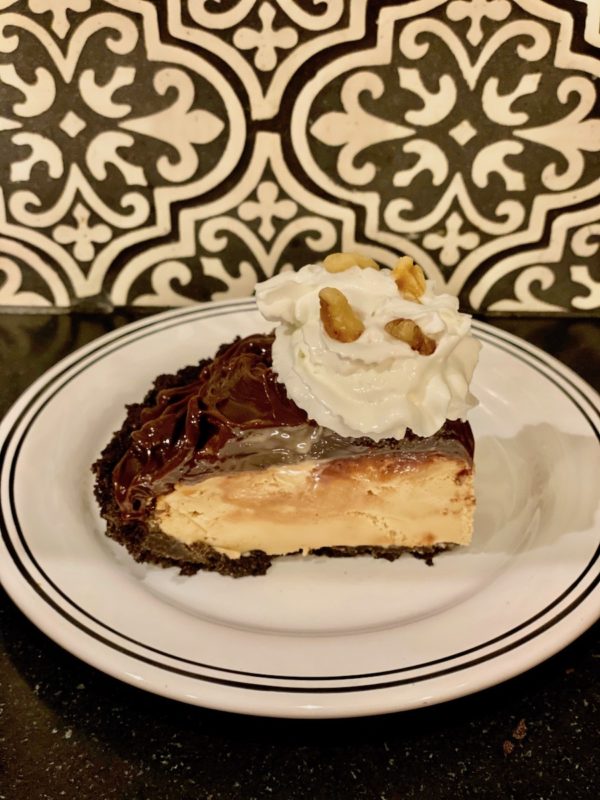 Each piece of pie is piled high with ice cream, covered in chocolate fudge and finished with whipped cream and nuts. 
Which recipe will you make first? I love them all and would spread them out over a few days. Although they are all Hawaiian inspired, they are entirely appropriate at any time of year!
More posts on the Virtual Vacation Guide:
How to Create Your Own Virtual Vacation – Maui Style
Get Everything You Need For Your Maui Staycation
When you recreate any of these ideas, please let me know! Use the tag #virtualvacationmauistyle on Instagram or Facebook and tag me HERE and HERE.

---
Pin for Later