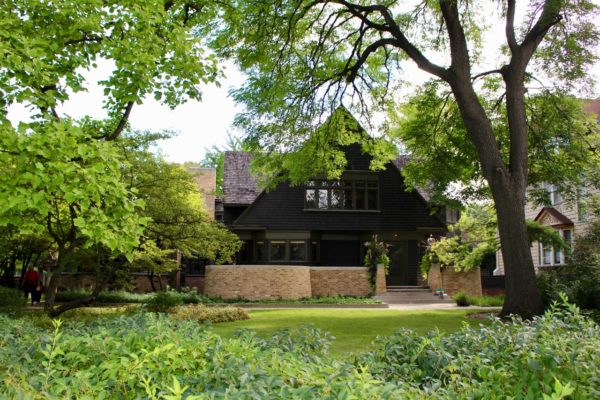 While planning a trip to Chicago I stumbled (luckily) upon a tour of the home of Frank Lloyd Wright. There were twelve different tours to choose from and I chose to take the Wright Around Chicago tour.
"Truth is life
Good friend, around these
hearthstones speak no evil
word of any creature" 
Frank Lloyd Wright
I am absolutely fascinated with Frank Lloyd Wright and have been for years, but I actually never knew that I could tour his home! While I was in Chicago, I wanted to divide my time between the more touristy places like the world-class museums, Cloud Gate, aka "The Bean", shopping on Michigan Avenue and Millennium Park, as well as satisfying my passion for architecture. There is a long list of architecture tours to enjoy directly in the city, but on this day I was trying something different.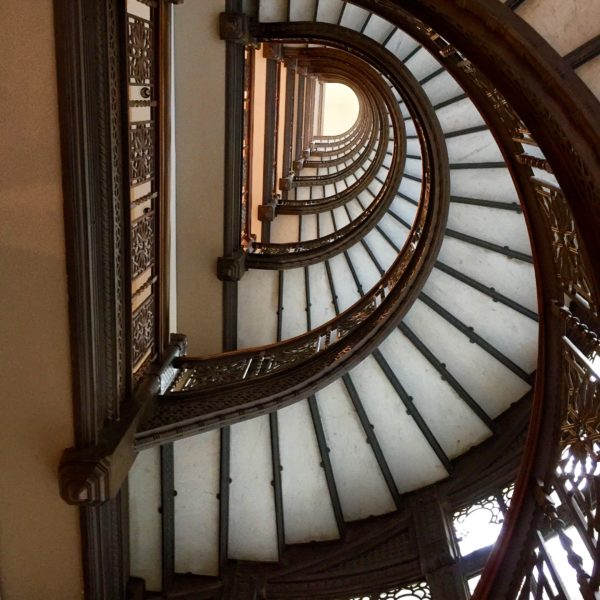 I planned to dive a little deeper into the allure of Mr. Wright, Chicago and the surrounding area by taking this special tour. The FLW tour began at The Rookery in Downtown Chicago at 8 am and didn't conclude until 5:00pm. We spent a little time touring the historic Rookery building, admiring this astounding staircase and enjoying the unique architecture. We then hopped on an air-conditioned bus to go out to Oak Park, IL.
As we traveled to Oak Park to tour the home of Frank Lloyd Wright, our guide entertained us with several captivating personal anecdotes and began an introduction to the architect's humble beginnings. Each of the Wright tour guides we met that day added another layer to the compelling world of the famous architect.
Frank Lloyd Wright lived and worked in this home from 1889 – 1909. He and his first wife Catherine, raised six children here and he began his remarkable career next door in the studio he built. In this unique home he created a brand new type of American architecture known as Prairie style because it reflects the landscape of the midwestern plains.
Wright felt home design should allow nature inside and reflect the natural surroundings. The interior spaces should be practical and yet speak to the human soul. Two of my favorite FLW architecture philosophies are that there should be no clutter and nothing should be placed in the center of the room. For this reason, he often would build the furniture into the edges of the room. He also preferred an open floor plan with few hallways and easy flow.
The staircase ~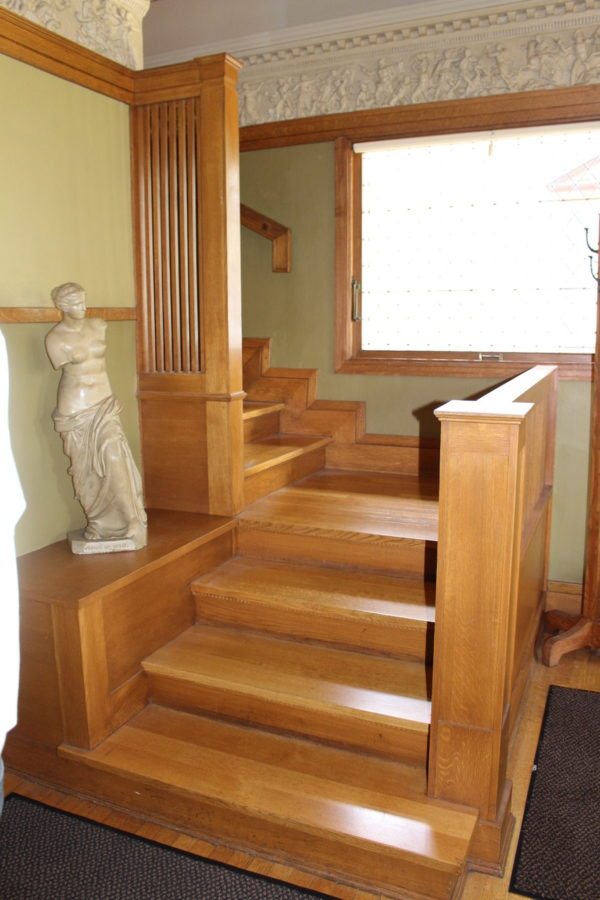 This handcrafted staircase is in the foyer of the home and it introduces his guests to his life long affinity to geometric shapes. It is hard to believe that he built this home when he was only twenty-one. As you can see he also indulged his fascination with Greek sculpture. He was definitely a fascinating, creative and complicated soul.
My favorite place in the house ~ The hearth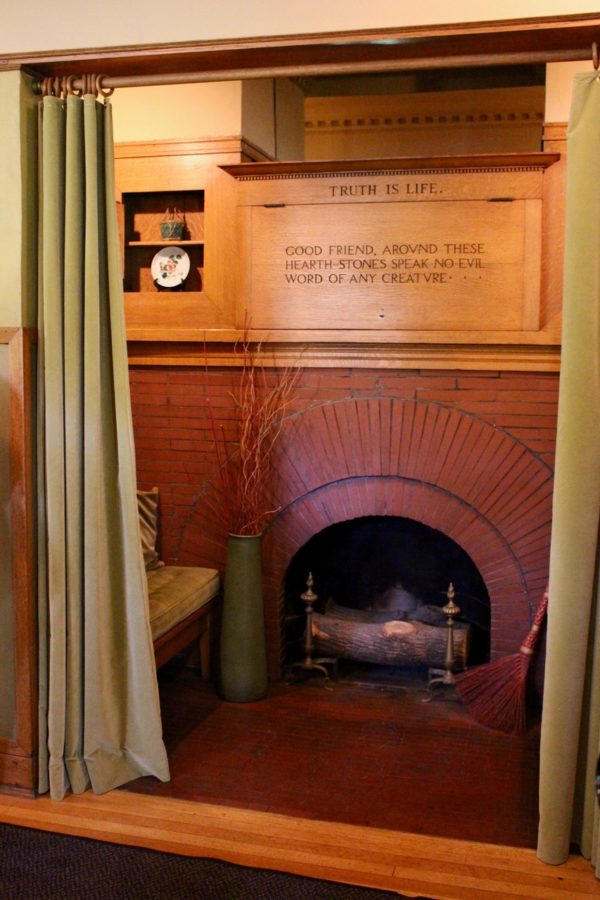 This unique area was just off the living room and there were two tufted seats facing each other. He called this fireplace niche an "inglenook". On the mantle are inscribed Wright's two lifelong ideals of individual integrity and fellowship.
Did you know that he did not have any formal architectural schooling? He did however attend school for two semesters and studied engineering. He received his hands-on education working as an apprentice for architects, Louis Sullivan and Dankmar Adler. In 1889, Sullivan loaned him the money to build this home.
The pantry ~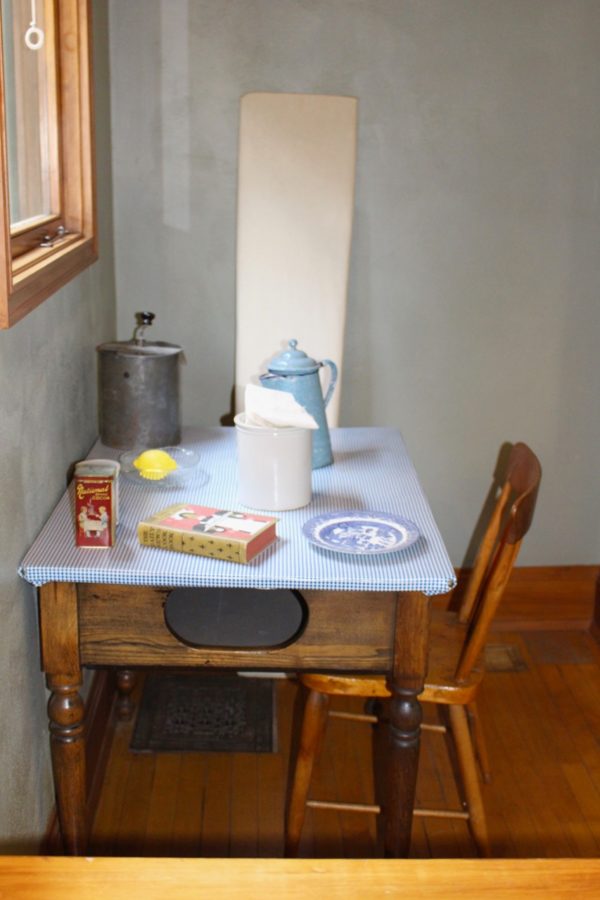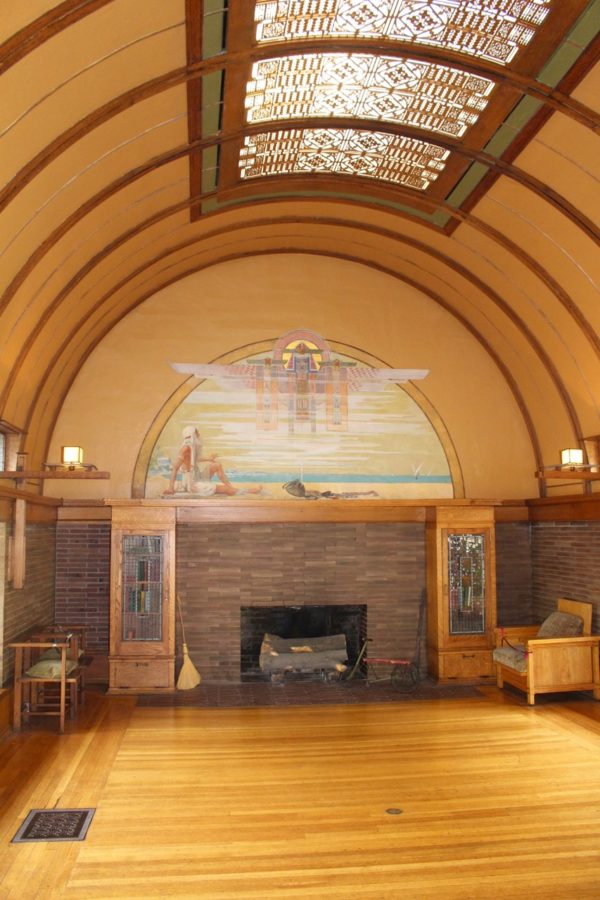 The playroom ~
The winters were harsh in Illinois and he built this "gymnasium" for the children to play games, to learn and to play music. The vaulted barrel ceiling was eighteen feet across and allowed the children an opportunity to toss a ball. He used "child proof" brick on the walls and there was a piano inserted in the wall on one side of this room. The upper area above the bookshelves was like a "fort" for the children to hide and play inside. Interesting isn't it?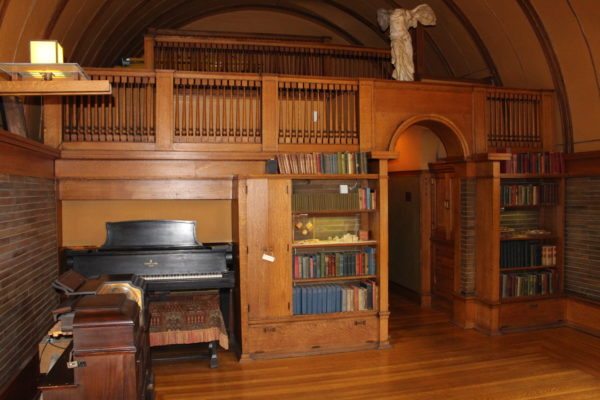 His office and studio which was attached to the house ~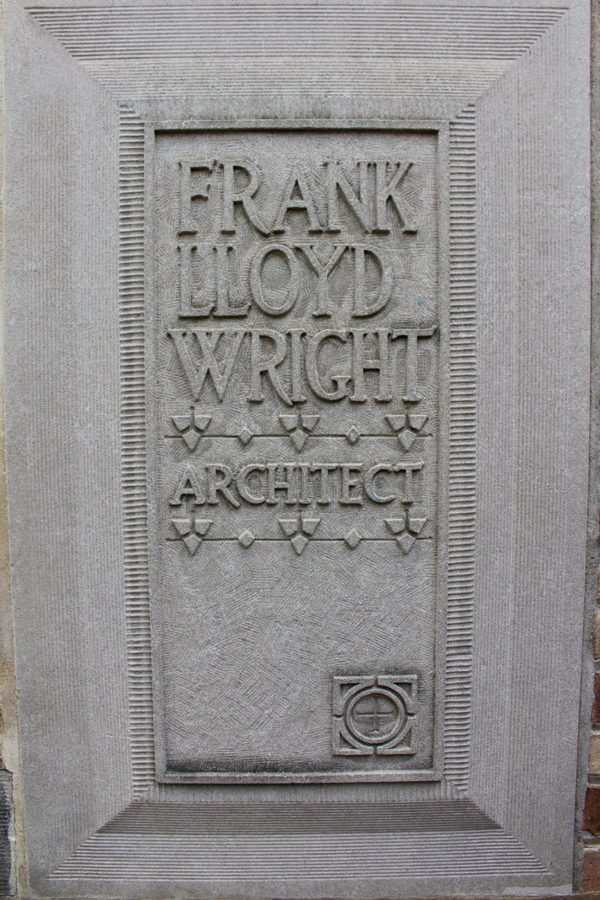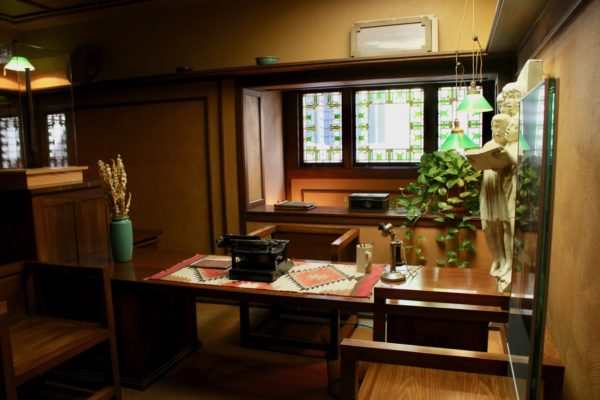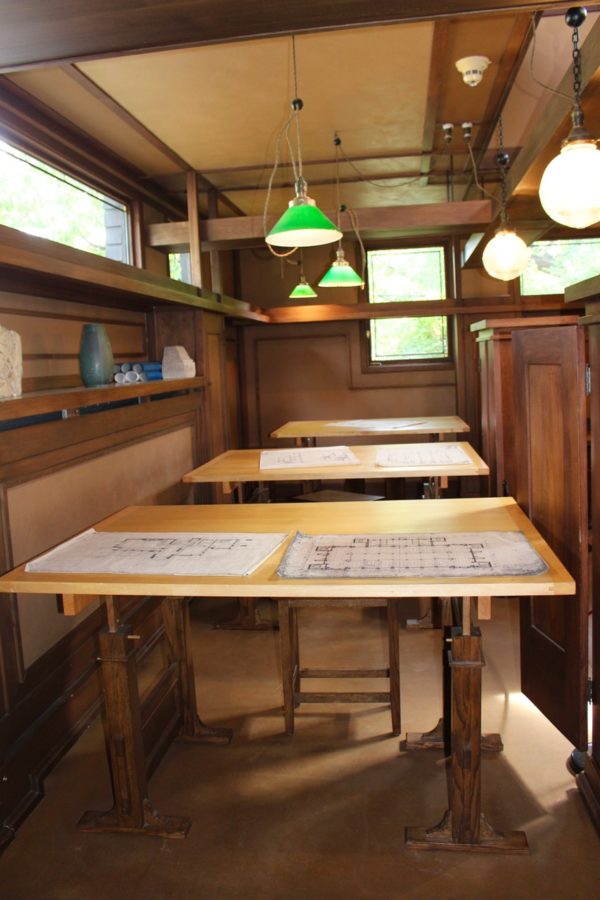 He employed several apprentice draftsman who would help him with his various projects. The studio was adjacent to the house, so he could move freely back and forth. Interesting tidbit: Most of the windows of the studio were set higher than eye level and up through the ceiling. FLW didn't want his apprentices to get distracted by the lovely natural setting outdoors. In just eleven years, he completed 125 buildings and that was only a quarter of his life's work.
 More homes built by FLW in his neighborhood ~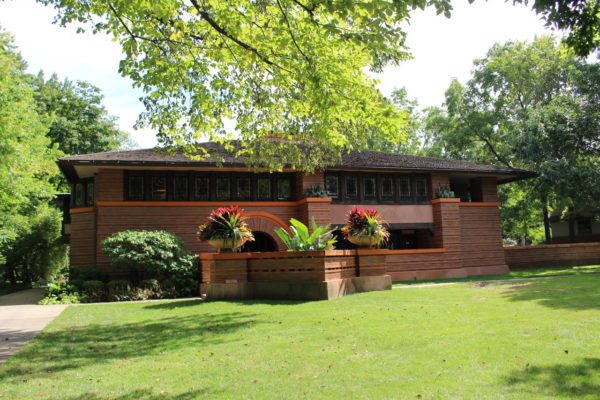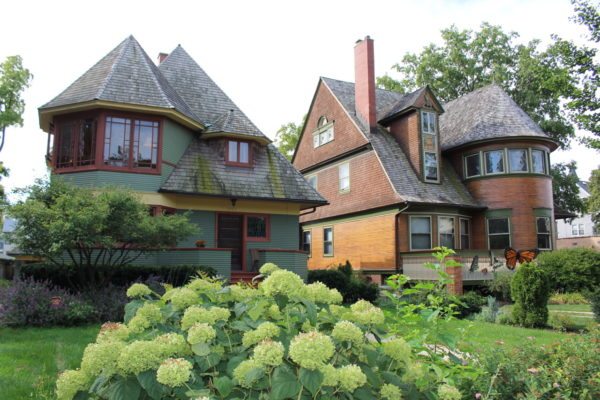 I have tried not to get too caught up in all of his architectural details, but given you a few as a take away! He was an American architect whose genius is still greatly admired today. Now I have an even greater appreciation for his work and obviously thoroughly enjoyed this tour!
I highly recommend making a reservation while in the Chicago area. All of the proceeds go to the foundation which keeps his personal homes, as well as homes he built for clients, open for tours.
If you want to learn more go to their website ~ FLWright.org
---
Do you know someone who would enjoy this post? Forward it to them!
You can find us here:  Follow us on Twitter, like us on Facebook, check out our photos on Instagram, or pins on Pinterest