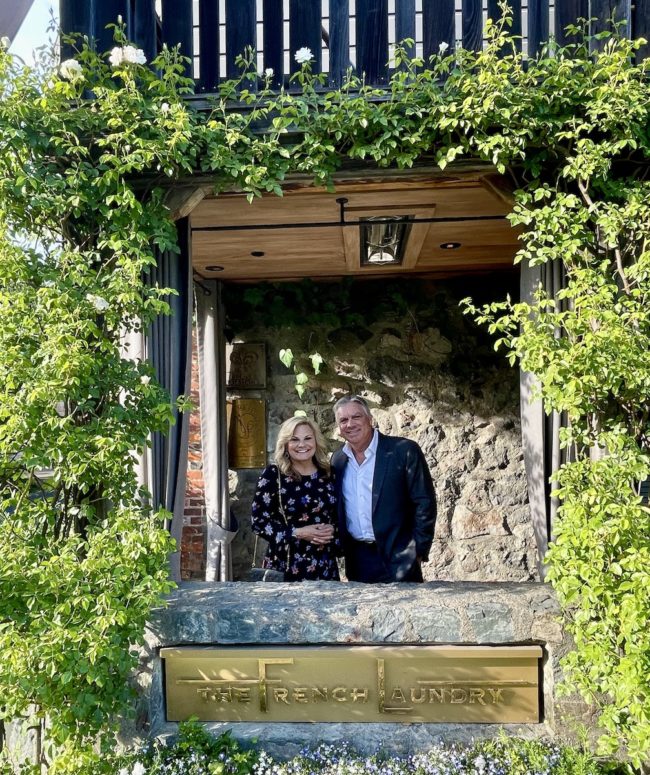 Dining at The French Laundry has been a dream of mine since my passion for food, restaurants, and the presentation of dishes bordered on obsession. This world-famous, three Michelin Star, pinch me I'm dreaming restaurant is the place where food lovers spend an evening of a lifetime.
Seven years ago, my wish to dine at The French Laundry came true and Craig and I experienced this spectacular dinner for the first time. As expected, it met every one of my expectations and more. The entire food adventure was dreamy and surreal, delicious and memorable. I wrote about my experience here on the blog way back when I first started Adventures of Empty Nesters. 
Fast forward to 2020 where it was a challenging year for everyone. (I know it's an understatement!) We put our travel dreams on hold and continued to postpone and cancel every trip, every adventure. However, it was time for me to plan my 2021 60th Birthday celebration during this lockdown even where we saw no end in sight. But I planned it anyway! Always the optimist and planner, I thought, why not, let's plan something, we can always cancel.
My 60th Birthday Wish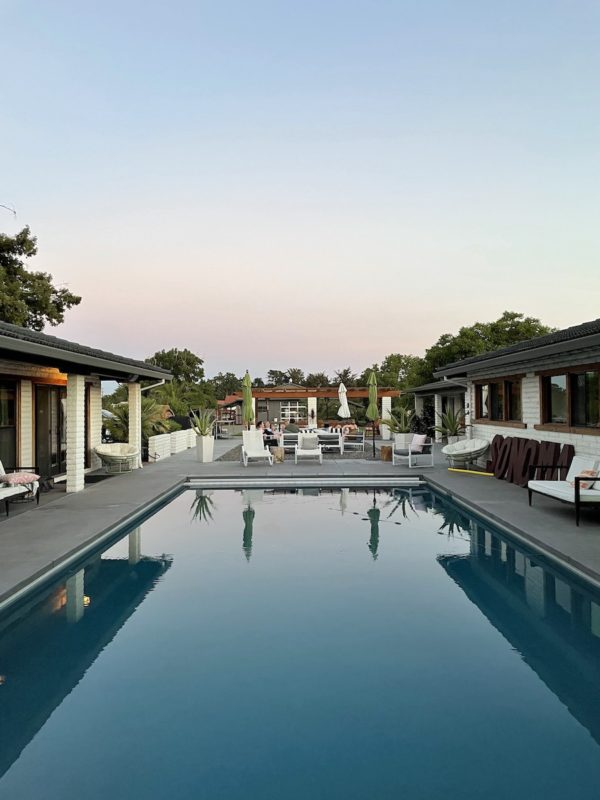 My wish was to spend several days in California's wine country with our kids and their spouses and my mom and stepfather. I found a ridiculously chic house with a pool in Sonoma, CA where every couple could have their own room and bath, and I planned dinners, wine lunches, and tastings. It was going to be perfect.
However, my husband wanted to take it up a notch by securing a reservation at The French Laundry on the evening of my birthday. The restaurant was slowly reopening from the lockdown, masks were still partially in use, and it is also the hottest ticket in town to get! How was this going to happen…again!
Our daughter-in-law Kylie and my husband Craig teamed up to be ready and online at the exact moment the June reservations went on sale. Kylie used her Chase Sapphire Card as her entry point. Evidently, Chase is allotted a few reservations per month, but she could only get a reservation for four guests. Guess who is coming to dinner with us!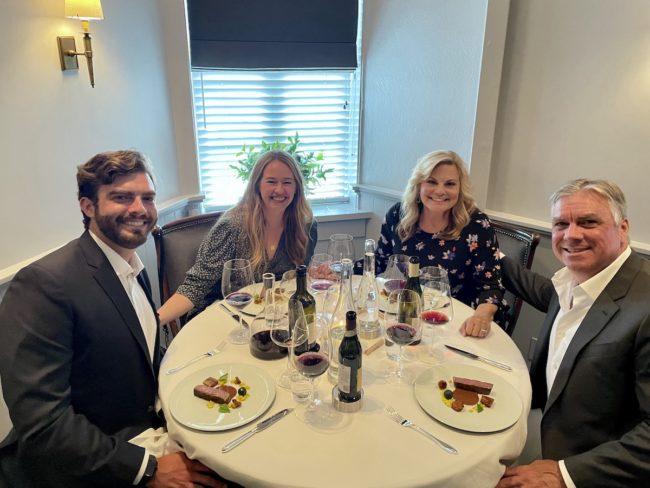 One of the best parts of dining at the French Laundry is sitting beside your food-loving grown children and watch them experience this dining magic for the first time!! To share this bucket list adventure with the people you love and care for elevates it even higher. 
The French Laundry Experience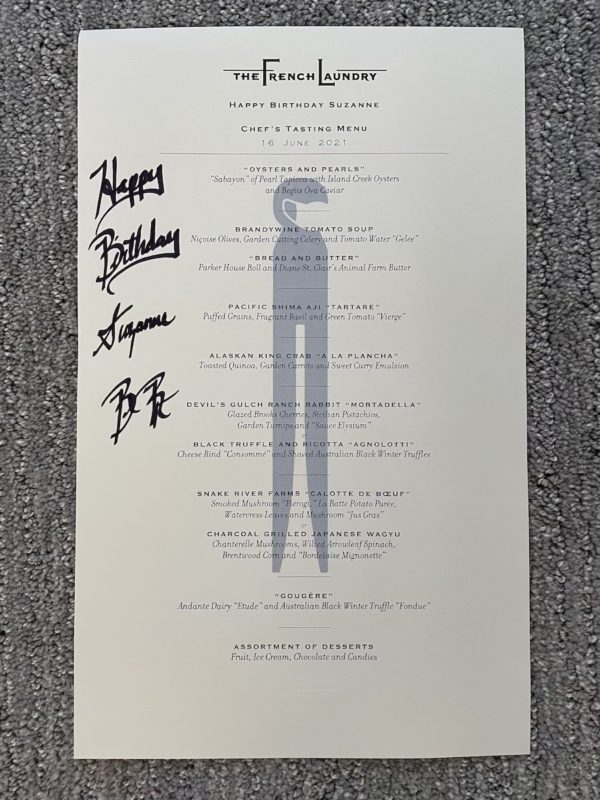 We arrived for the 4:00 pm seating and were warmly greeted at the door, and immediately (it seemed that) every staff member wished me a Happy Birthday. Any time someone new came to the table, they said, "Happy Birthday, Suzanne!" It was surreal, totally, and completely surreal, but we were just getting started!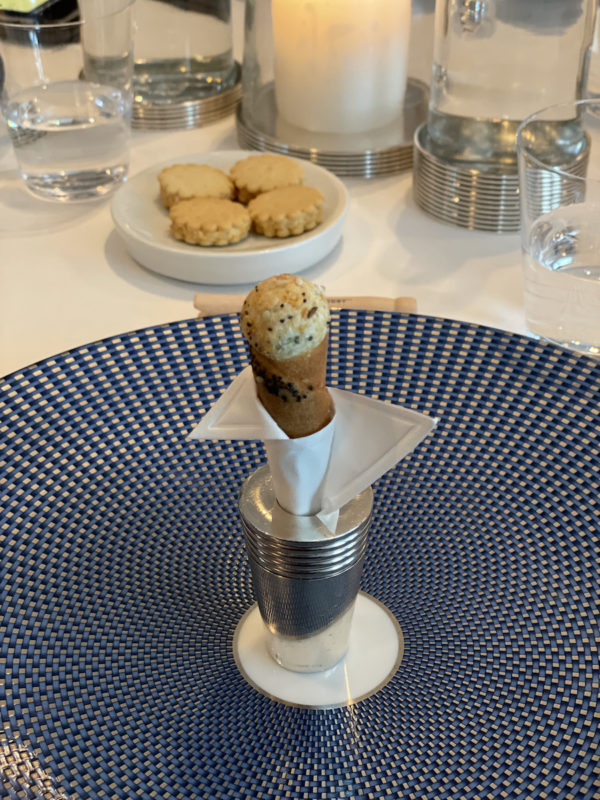 What is it about this dining experience that means so much to me?  It is the artistry and the attention to detail. The precision, creativity, personalization, and brilliant presentation of every dish are not only clever but SO delicious. Also, every selection from every farm and proprietor is of the finest quality.
The chefs carefully select their suppliers and purveyors to ensure the best possible ingredients. In addition to the evening's menu to take home, we were presented with a beautifully presented, detailed book with the story of every one of the purveyors who supply the food for the restaurant. A family of people passionate about their craft created this meal for our enjoyment. So special.
For one of many creative examples, in the First Course, which has been on the menu for years, "Oysters and Pearls" is served with this description: "Sabayon of pearl tapioca with Island Creek Oysters and Regiis Ova Caviar".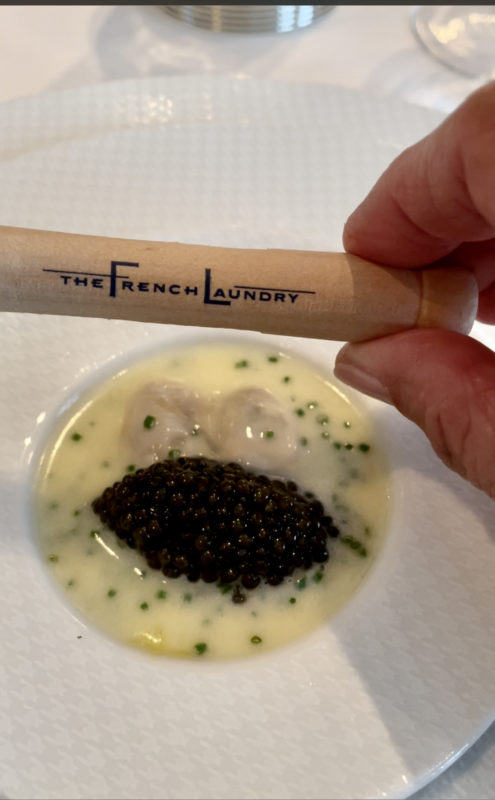 This dish is warm and smooth, with just the right amount of teeny-tiny diced herbs—umami in every single bite. The delightful play on words with oysters and pearls, along with the fabulous taste, is the perfect first course.
The Parade of Courses!
Without any further interruption, this is the parade of extraordinary dishes we oohed and ahhed over for nearly three hours. We chose four different wines and kept pinching ourselves. This was a culinary adventure of epic proportions.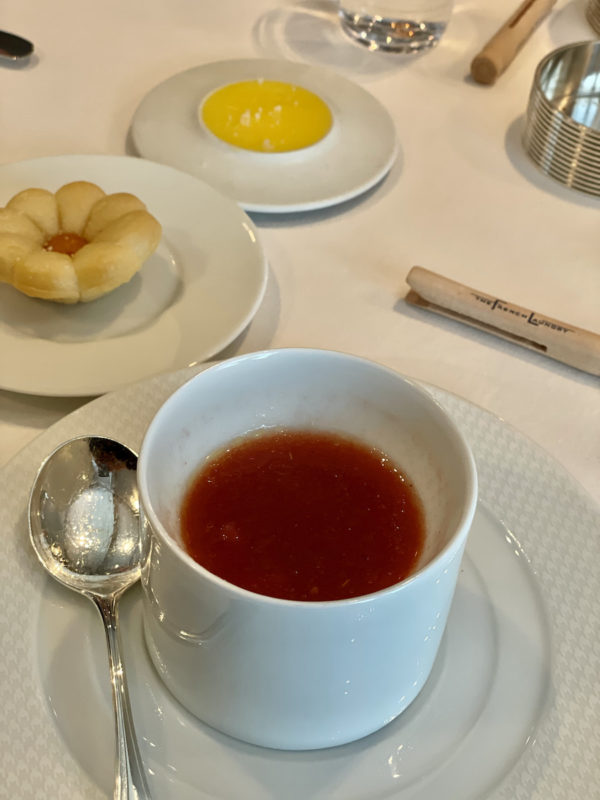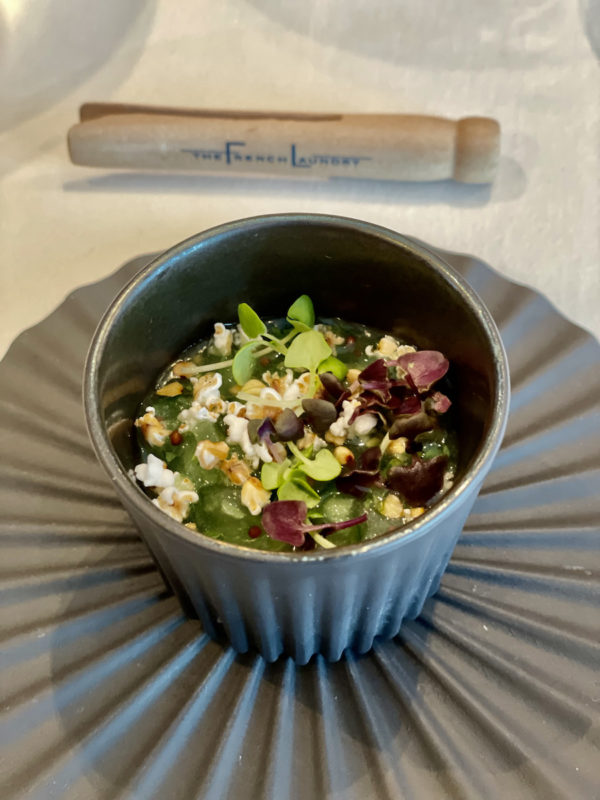 This was a standout and a favorite dish for all of us! The lightness of the fish selection and colorful melange, coupled with the crunch of the puffed grains was sublime!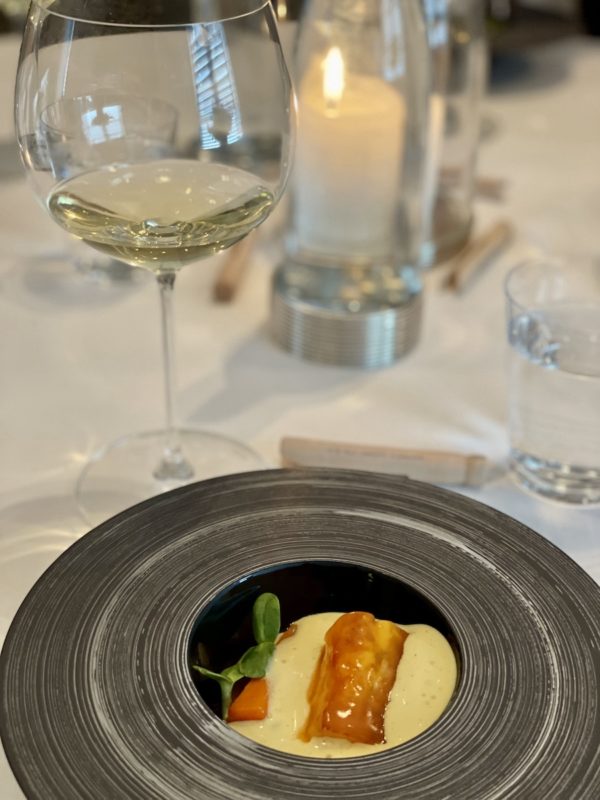 The combination of creamy and crunchy along with the sophisticated serving dish made this an unbelievable couple of bites. With over ten courses, plus dessert, you have plenty to eat, but you don't feel like you need to loosen your belt. The chefs dazzle you with their creativity and there is time in between each serving to discuss and revel in the presentation. All courses are timed and presented to perfection!
Here come the truffles!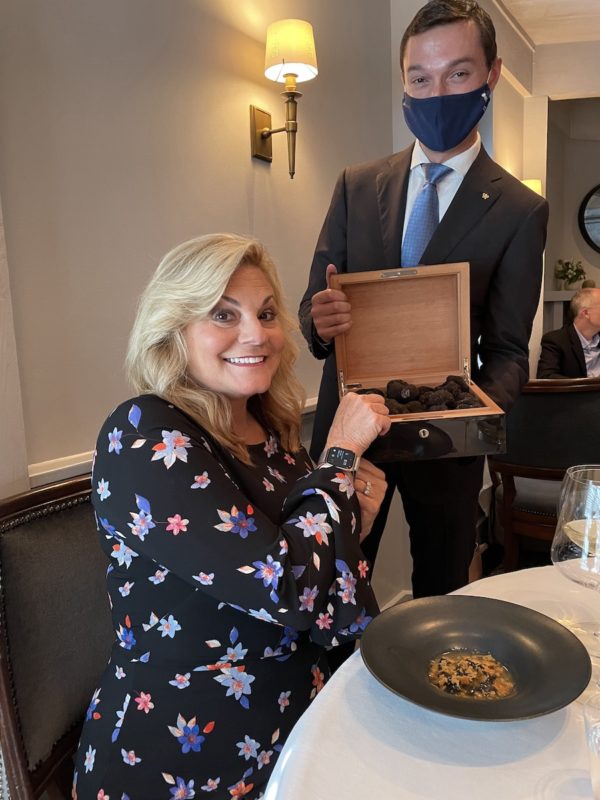 We all chose to upgrade to the decadent Black Truffle and Ricotta Agnolotti. The server presented us with a lidded wooden box full of truffles! I have never seen anything like this, ever!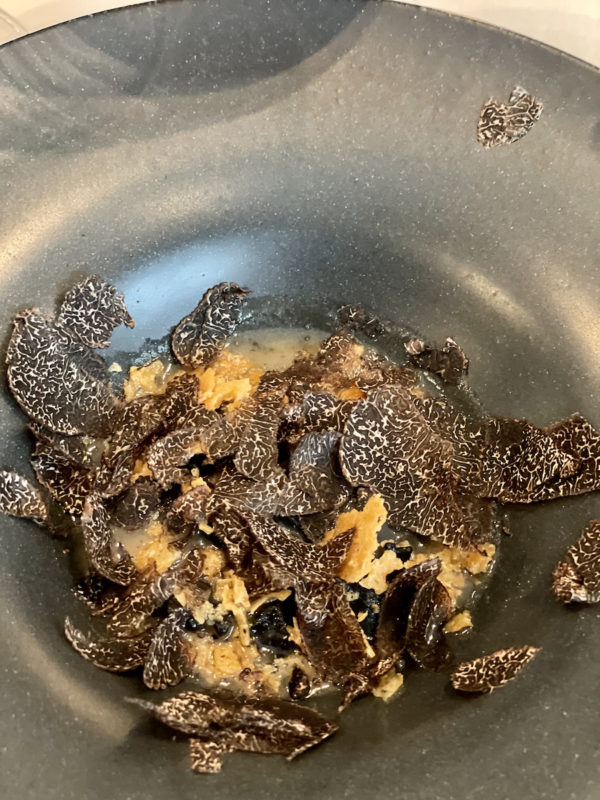 The Wagyu Beef Course – Oh My!
If black truffles were not decadent enough, let's add the sumptuous Wagyu beef! I have only had Wagyu once before and that was in Japan. I am not a red meat eater, but for this evening, I splurged and it was so worth it.  Rich with savory umami with just the right amount of salt – the perfect combination.
WAGYU – In Japan there are four breeds that are considered Wagyu. These cattle are raised to ensure a unique high-quality product for meat lovers around the world.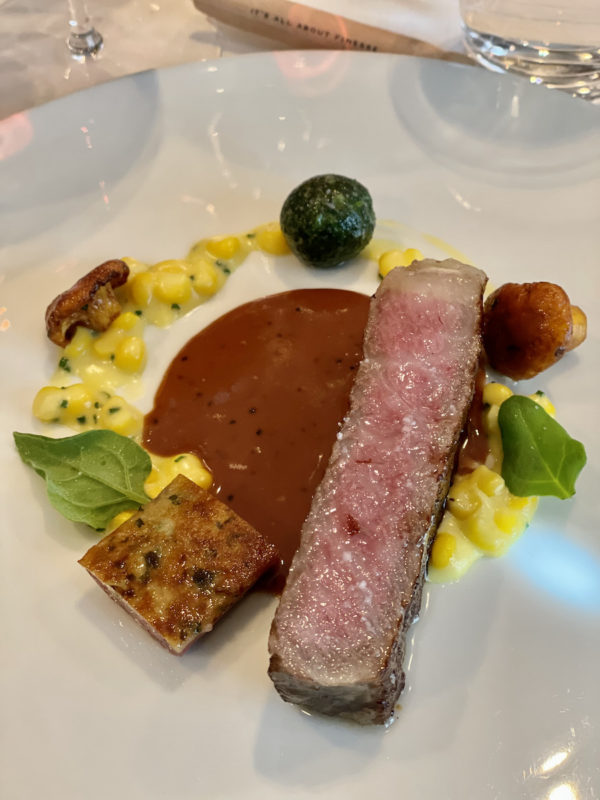 One last course!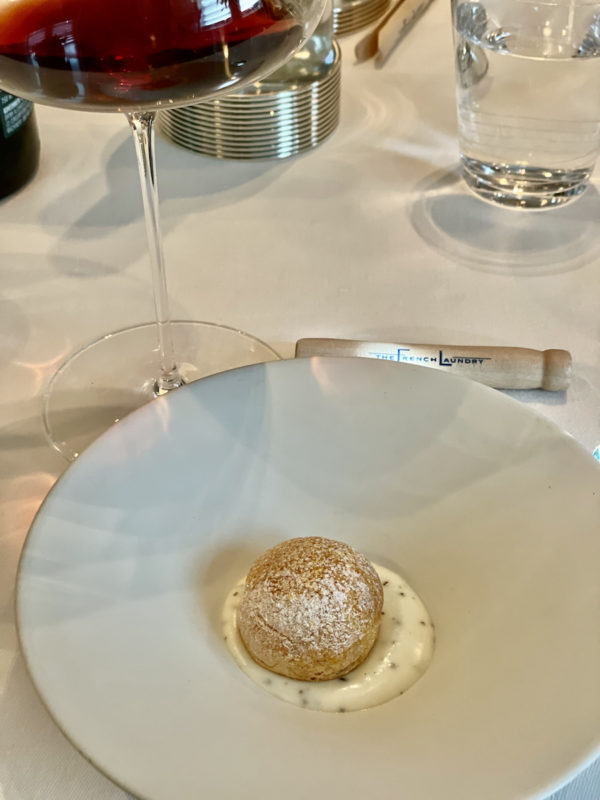 Dessert is served!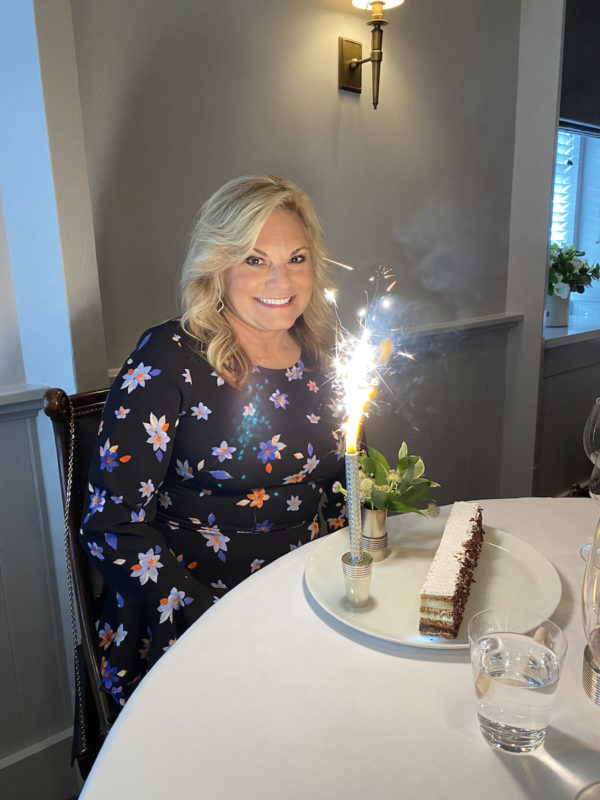 Here come the desserts, almost too many to remember! In addition to the incredible birthday cake, there were donut holes, chocolate truffles, macarons, strawberry cake, ice cream, and "espresso", a luscious coffee mousse served in a cup and saucer.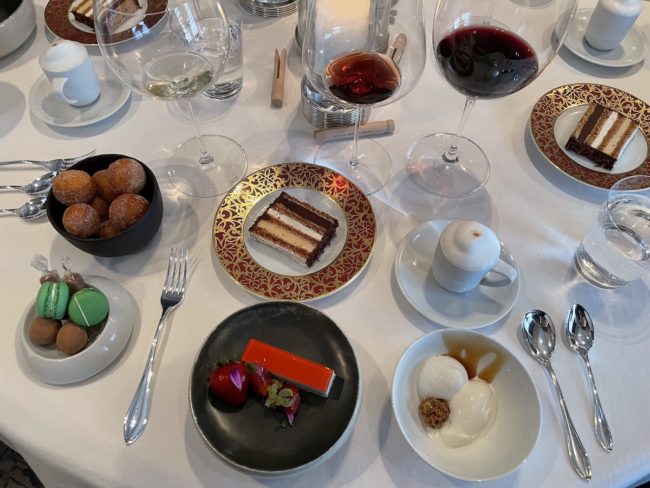 But there's more!
After the dinner, the wine, the dessert buffet, we were presented with a selection of a variety of truffles. Gorgeous works of art! I reached out to the Concierge at French Laundry and she just sent me all of the details of these dishes! See Below:
Silverado Trail Strawberry "Delice," Aged Balsamic Pur

ée, Yogurt "Panna Cotta" and Victoria Cake

Toasted Oat Ice Cream, Vanilla Milk Chantilly, and "The French Laundry" Honey

"Gâteau Marjolaine," Hazelnut "Dacquoise," Chocolate Ganache and Praline Buttercream (Birthday Cake)

Cappuccino Semifreddo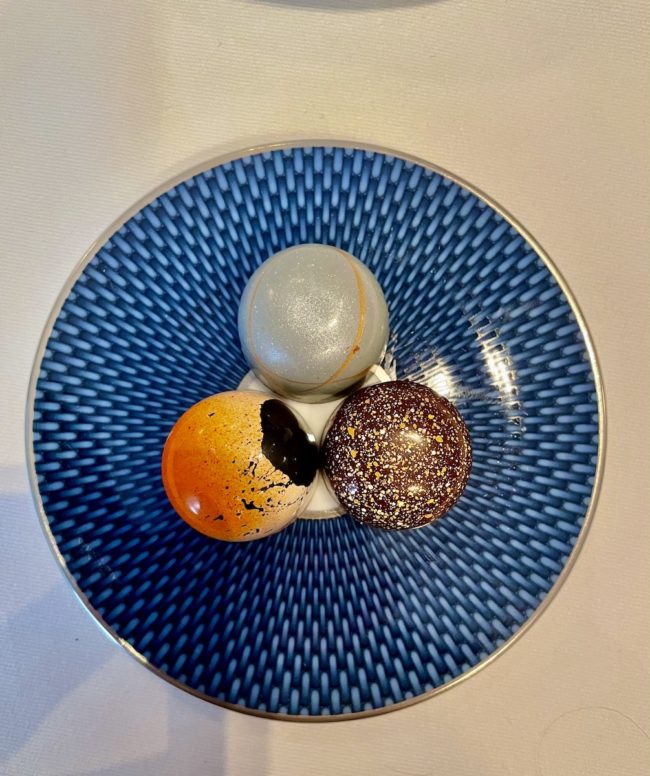 Just when you think your heart is so full of love and happiness they presented me with this gift!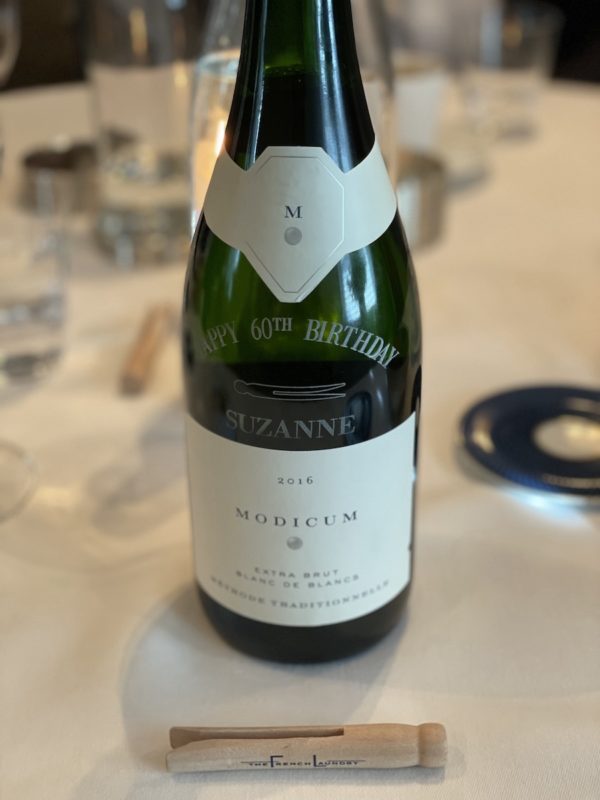 Inside the kitchen
And then the pièce de résistance! A personal tour of the renovated kitchen! I cried. Honestly, I was so overwhelmed by the food, the service, the extreme kindness, and my proximity to greatness, I shed a few tears in the state-of-the-art kitchen designed in 2018 by Snøhetta. A perfect adventure for this birthday princess.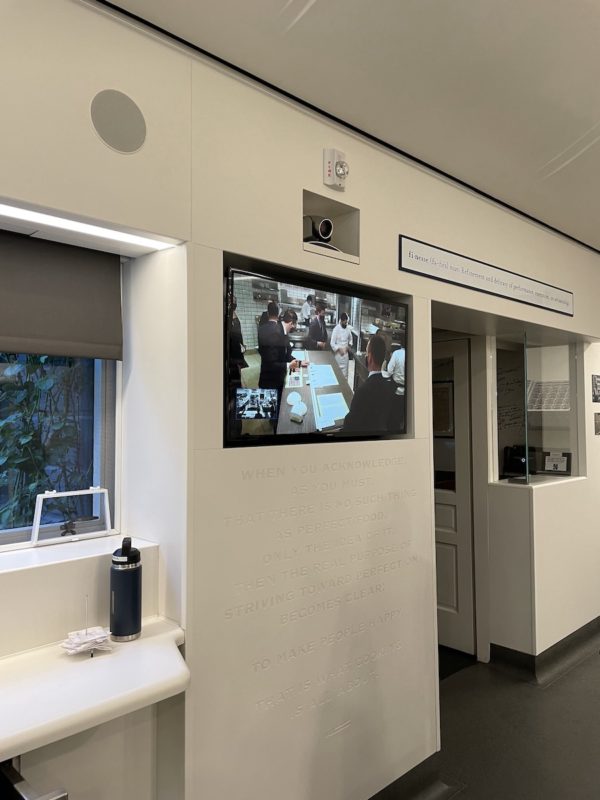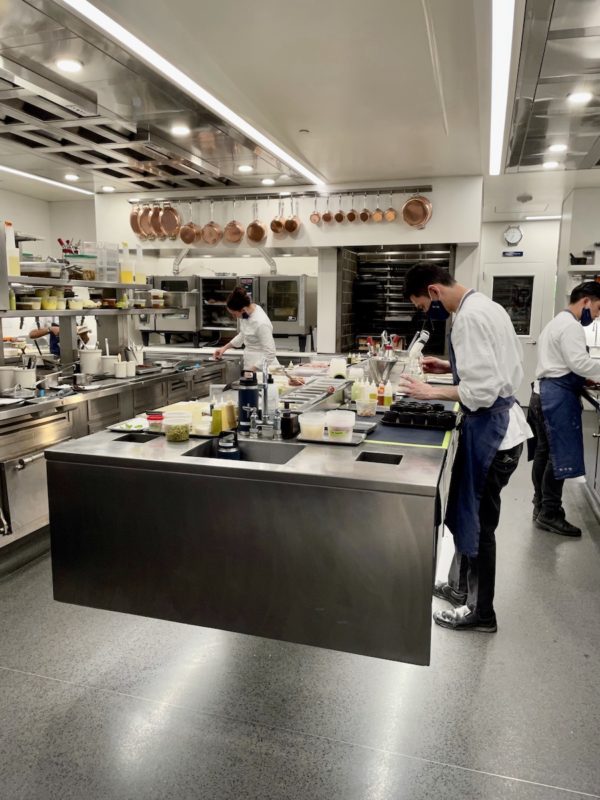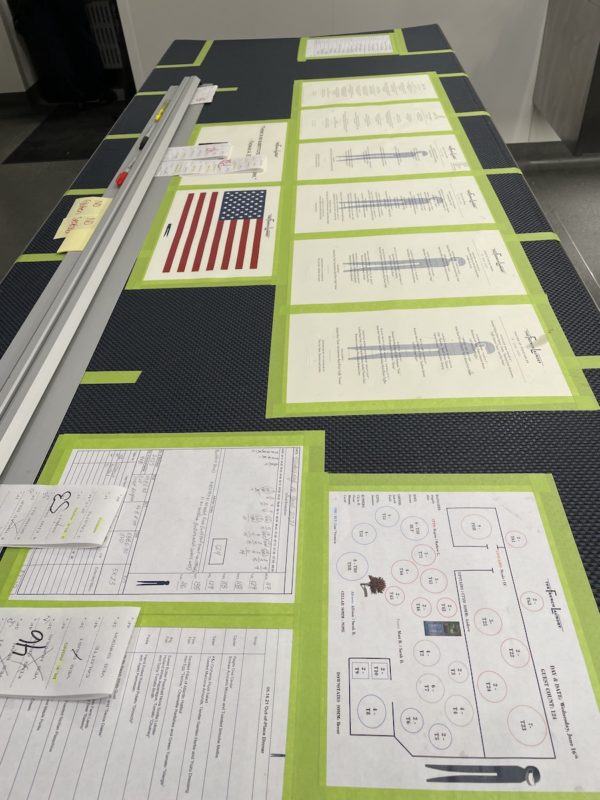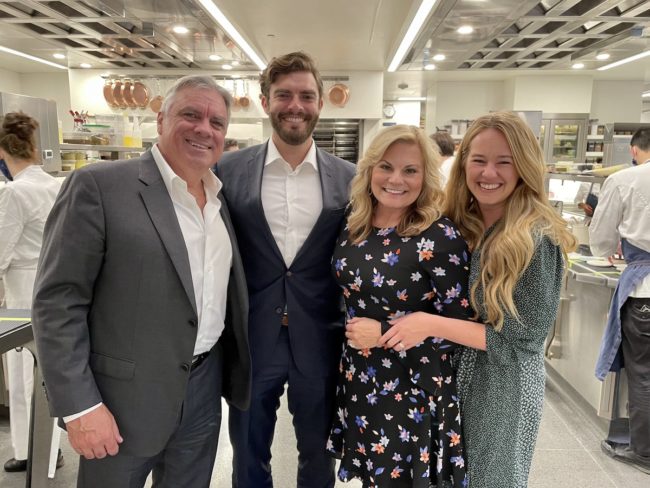 Final thoughts about dining at The French Laundry
My magical birthday trip was so memorable that it makes me sad that is it over! Writing this article and going back over and over the details of this dinner caused me to appreciate the experience even more! Craig was so thrilled to see how happy I was and not surprised by my emotional response. We will be married 37 years in October, how lucky am I?
Having Nick and Kylie there with us meant so much to me and to see them enjoy this dining fantasy was a mother's dream too! There is so much to appreciate and I can understand that this type of dinner isn't for everyone, but it certainly was for me and my family. I am deeply moved by the personal touches and thoughtful gestures.
Many may wonder if the atmosphere is intimidating or stuffy, not in the slightest.  From the moment we walked through the famous blue door, we felt nothing but a welcome and delicious embrace!
Let's connect on Facebook, Twitter, Pinterest, and Instagram – Hope to see you there!
---
Pin for Pinterest