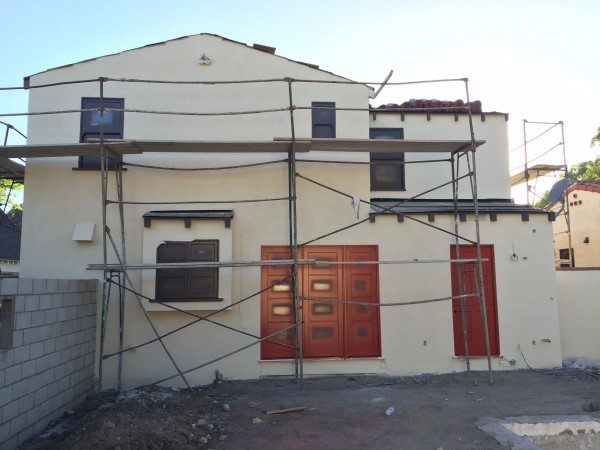 The outside stucco color is a vanilla malt, the doors are a fabulous color of persimmon, and the trim is a chocolate-brown.
More news on the fixer upper renovation!
Oh boy, there is a lot to talk about. I started reviewing older posts from as far back as September. My video makes it fun to see the old house and I was so optimistic that we would be completed in seven months but the reality is more like nine months. What is a couple of months when we have a lifetime of enjoyment ahead of us!
My original video:
If you receive this post via email, click HERE to see the video.
When we started the project we knew that there would be hurdles and roadblocks. We discovered deteriorated, really old plumbing (not too big of a surprise) and we also needed to replace all of the knob and tube electrical wiring. In our backyard there were actual wires strung from the garage to the house (very typical of old homes) and we put all of the wiring underground. Lots of money, lots of time, but no more unsightly wires!
Fast forward seven months to today:
A few weeks ago we discovered that five of our windows needed to be replaced, we thought they could be saved, but they were just crumbling. Instead of putting the entire project on hold, our contractor Paul, was able to complete three of the four sides of the stucco and outside paint and will compete the final side when the custom windows have arrived.
The cabinets are in, the hardwood floors almost finished, the countertops are in, the tile floors are in and they are prepping to paint the interior and cabinets. Can I get a woo hoo? Now is the fun part! No longer looking old and tired, our sweet little Spanish señorita gets prettier by the day!

Samples of the masterbath marble with the light grey paint color for the walls and the darker grey for the cabinets! So excited!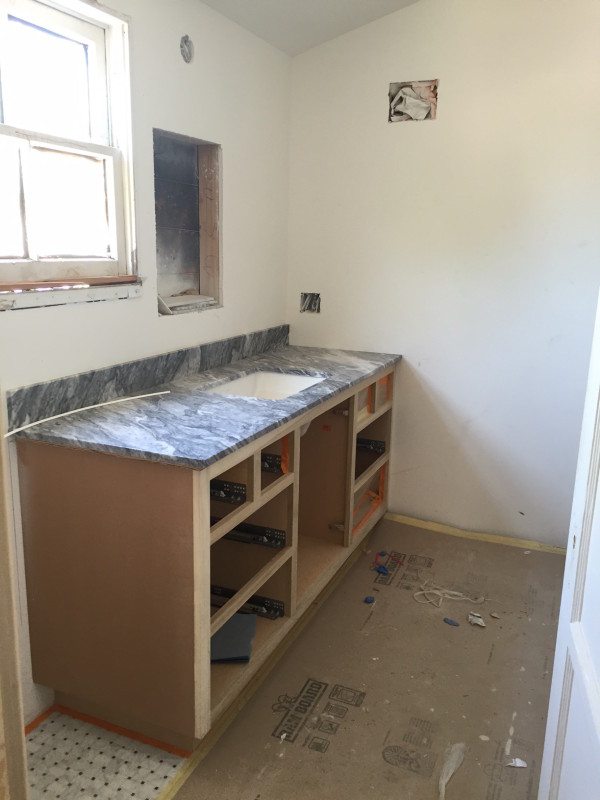 Guest bath marble countertop is installed. The very dramatic stone is a great contrast to the lighter colored floor. This is one of the rooms that needs a new window. The walls will be light grey and cabinets dark grey like the master.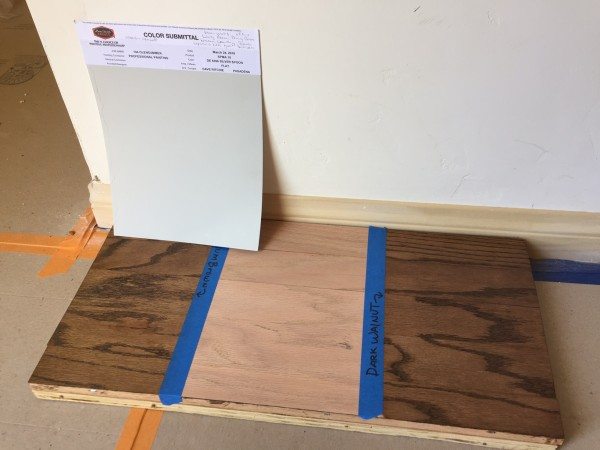 Possible stain colors for the new hardwood floors. I believe we will go with the one on the left.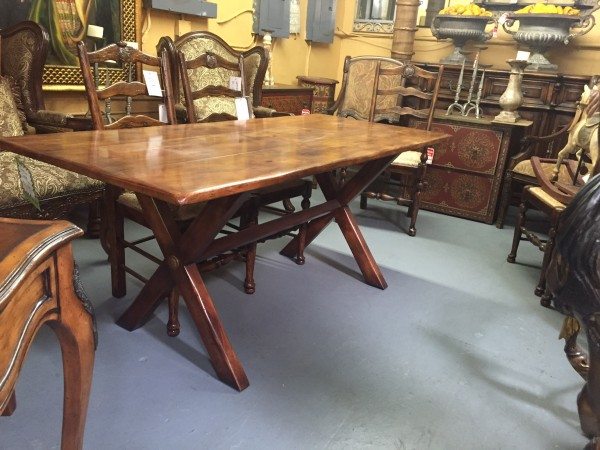 New table for the banquette in the kitchen!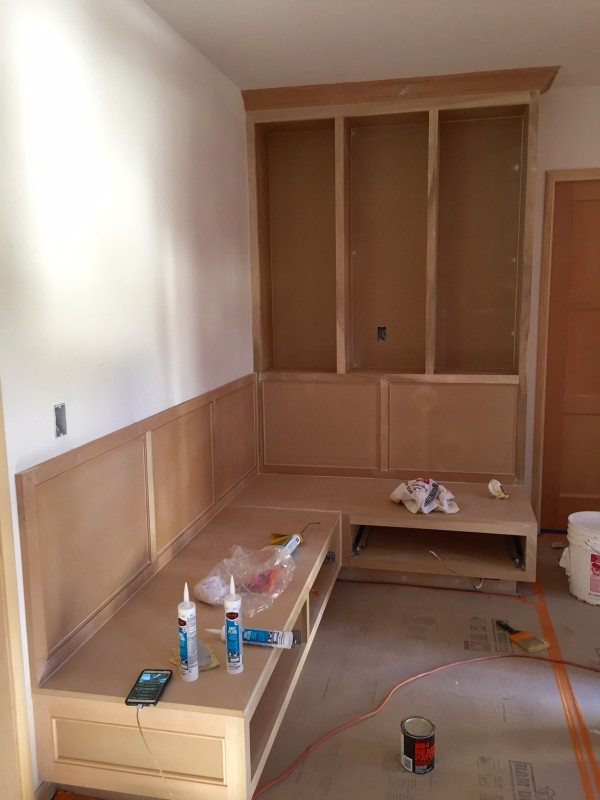 The finished (but not yet painted) banquette where the new table belongs.
Great story about the table:
We were at an enormous home design store called Art de Mexico in Burbank, CA looking at potential chandeliers for the dining room and kitchen. We have found the perfect design for the dining room and they will custom make it for us. Yay! While we were there Dan (from Art de Mexico) said "Do you need anything else?". Well yes… We have been searching and contemplating what type of table (size, shape, materials,etc) we wanted for the kitchen nook and have been going round and round discussing it.
It has to be just the perfect size and ultimately we decided on a narrow, rectangular wood table. I said to Dan "Yes, but it is very specific. I need a long narrow trestle table (a table with the supports in the center, that does not have four legs, this makes moving in and out of the banquette much easier) made of wood 5′ 6″ x 3′." He said, "I have just the table." What???
When he showed us the table we could not believe our eyes. It was 6′ x 3′ and absolute perfection! He even offered to cut it down on both sides and refinish the ends to make it exactly 5′ 6″. Also… because he received the table from a very friendly manufacturer that offered him a great price, he passed on the savings to us!! This table was a little over 1/4 of the price we had seen while shopping elsewhere for this table. AMAZING! It is about time we actually saved some money on this house.
Stay curious and young-minded
This fixer upper renovation, labor of love, has been quite the roller coaster, filled with challenges, heartache (my father's passing) decisions and lots of accomplishments. We have never taken on a project of this magnitude and we are doing it, really doing it and honestly I am super proud of us. People say that challenges like moving, illness, death and house construction can be the most stressful of all stresses. We endured them all…at the same time. It's a freaking miracle that we are still smiling.
Craig and I have done a fabulous job of communicating with each other and with our contractor, architect and designer. This past year has been the most stressful of our lives, but knowing that we have persevered, is incredibly empowering. At 54 years old I have embarked on this second half of life adventure with nothing but optimism and excitement. I want to find new adventures, challenge myself to step way out of my comfort zone. Why the hell not? What I have got to lose?
I do not plan to sit on the couch waiting to be old and I honestly don't think that is going to happen. Age is a state of mind, and I plan to stay young minded and curious forever.
How about you? What are you curious about?
---
More posts about the Empty Nest renovation:
Update of the Renovation of the Empty Nest
The Empty Nest Home Renovation is Delayed…a little
It's Time for a Fixer Upper Update
The Challenges of Moving Into a New "Old" House
Our Empty Nest Renovation and 6 Months in Seattle
You can always receive these posts via email! Leave your email with me, I promise it will be safe.
Please follow us on Facebook, Twitter, Pinterest and Instagram and we look forward to following you!
Suzanne