From Your Favorite Travel Podcast: Celebrating the Return of Travel
Friday October 28, 2022
Exciting News from your favorite Travel Podcast!
I am very excited to share this episode with you! I know I say that before every episode, but seriously, this is cause for celebration. In this episode, I will be interviewed by my creative business coach and podcast mentor, Linsi Brownson. We are turning the interview spotlight on me! Linsi has been instrumental in supporting this challenging goal of creating a brand-new podcast!
We are celebrating the first anniversary of Travel Connections, and it feels fantastic! Linsi is a seasoned podcaster, and it would be a fun exercise to have her interview me about my experience with one year of podcasting under my belt. 
At Travel Connections, we recorded thirty episodes with the most interesting and enlightening guests. These episodes include colorful and exciting destinations, delicious food, wine and spirits, thoughtful conversations, inspiring personal travel connections, and much more!
It's all right here and created just for you. 
I can't wait to get started on this special episode, but first, let me tell you about Linsi! 
Linsi Brownson is a business coach for artists, designers, and creative entrepreneurs. Her motto, "love your business, own your life," is centered on her belief that entrepreneurship is a powerful tool to create the life you want. But to have this life, you must take charge of how you spend your time and energy. She aims to help entrepreneurs banish busyness and focus on what is most profitable and fun. 
Before becoming a full-time coach, Linsi owned an interior design firm and a branding and marketing agency, and she currently co-owns a custom kitchen company. She loves building businesses and helping creative people turn fantastic ideas into inspiring life stories! In addition to her work, Linsi hosts the Be Brilliant In Your Business Podcast, A creative cocktail of pep talks and practical tools to help entrepreneurs have fun and get things done.
Highlights from this episode:
Why was Travel Connections created?

How podcasting is storytelling at the highest level

Juicy stories from BTS

How Linsi was integral in the success of the podcast

Why are these summary pages so important?

How connecting through travel will make the world a better place

Where does Suzanne find her guests?

How every connection seems to link back to someone or something

Exciting News for the 2023 Season
Final Thoughts
I wondered how it would feel talking about myself for an entire episode, but it was cathartic. It allowed me to pause and look at what we do from the outside. I saw that we have succeeded in our goal to create a thoughtful and enlightening podcast with incredible guests talking about super exciting things. And the stories that have come to the surface are epic.
Storytelling is the best way to explore a fascinating subject like travel. Honest conversations with experts and enthusiasts help to pave the way for the perfect podcast. In addition to travel, we eagerly discuss food, wine, and spirits.
I can't wait for you to hear Season 2. But while you wait, make sure you listen to all these fantastic episodes in Season one. You will learn a lot, smile, and be totally engaged in what my guests have to say.
This podcast could not happen without my humble team of experts. I want to give a special thank you to Erik Hulslander of Hear No Evil Media, who makes everything sound amazing! And a big thank you to Linsi Brownson for offering her incredible interviewing skills and making this episode so personal! 
I appreciate you listening, and don't forget to share this podcast with everyone you know! And get ready for the season, which begins in February 2023.
Episode Topics: art, audio, author, books, bourbon, Culinary travel, equestrian travel, Italy, Kentucky, Ouita Michel, Pacific Northwest, podcasting, responsible travel, Travel, wine
"Podcasting is storytelling at its highest level"
— Suzanne Stavert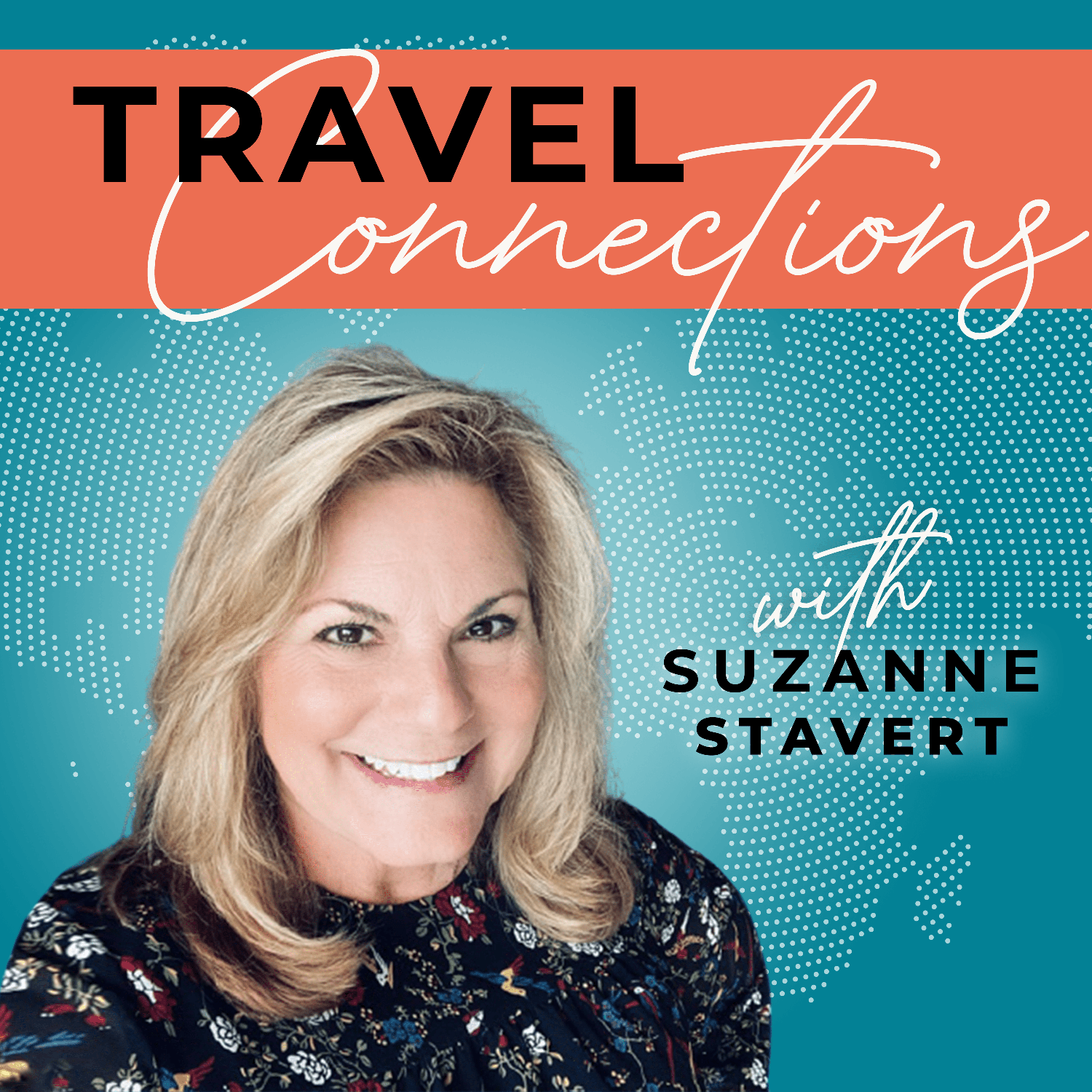 Please consider leaving a review!
If you are a fan of Travel Connections, would you take a minute to write a review where you listen to podcasts? Please share it with your friends too! Thank you.

Subscribe to get the latest episodes delivered to your inbox.
By subscribing, you agree to receive emails and updates from Adventures of Empty Nesters. You can unsubscribe at any time.