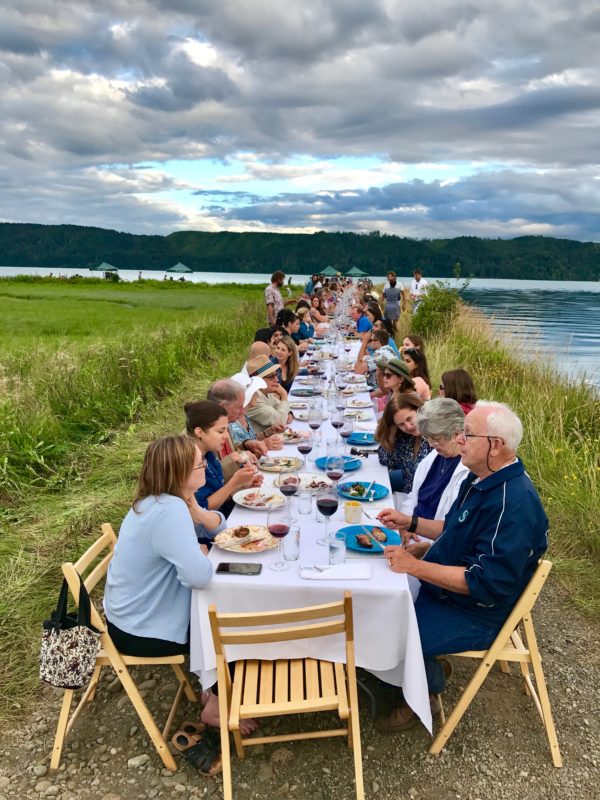 A farm to table dinner in a magical location ~
Location, location, location. This "restaurant without walls", farm to table dinner feast was in Lillywaup, WA at the Hama Hama Oyster Farm. Just imagine dining on the west shore of the Hood Canal where the water was so close you worried the tides would rise too fast. It wasn't scary, it was dreamy.
Although the was dinner was located in the state of Washington, notorious for rain and grey skies, we experienced none of that. Just bright blue sky and vivid green grasses and trees, with white puffy clouds sprinkled on top. Goosebump scenery. You know that other worldly feeling of discovering a new place that you can hardly put in to words how incredible that moment in time feels? This is how I felt and most likely everyone sitting at the one long table set for 150 food loving diners did as well.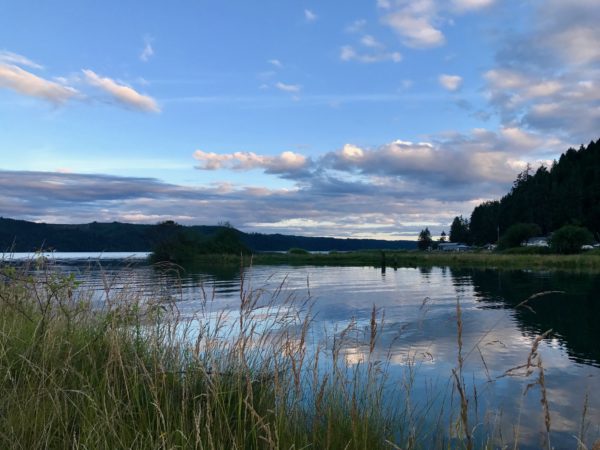 A truly one of a kind experience ~
I am describing a one of kind dining experience created by Jim Denevan called Outstanding in the Field. His unique and brilliant idea is to connect passionate food lovers with local chefs, farmers, ranchers and fisherman. The idea is for everyone to sit at a community table and share a memorable meal with local ingredients cooked by a talented local chef.
Created in 1999, this roving farm-to-table outdoor feast goes from state to state – from the sandy beaches of the Pacific Coast to the Rocky Mountains, the Southwest and the Eastern Seaboard and for the first time over to France.
This event was our fourth Outstanding in the Field adventure. In 2015 we traveled to Hollywood, CA. Who knew there was a farm there? Next was a dinner in a beach cove of Santa Cruz, CA. Number three was celebrated this year in the hills of Big Sur with our son Nick and girlfriend Kylie, and just recently here in Lillywaup, WA with our daughter Alex and boyfriend (now fiancé!)Brent. Because each farm to table dinner experience is so individual, it is difficult to compare, but they all have one thing in common for sure. Each of the purveyors share the same passion for their craft, the concern for the quality of what people should eat and how it all interacts with the environment.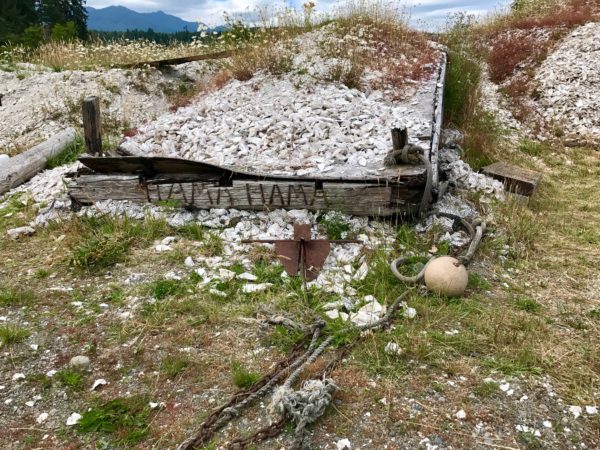 We started the evening slurping oysters, sipping wine and tossing sandbags for the corn hole game.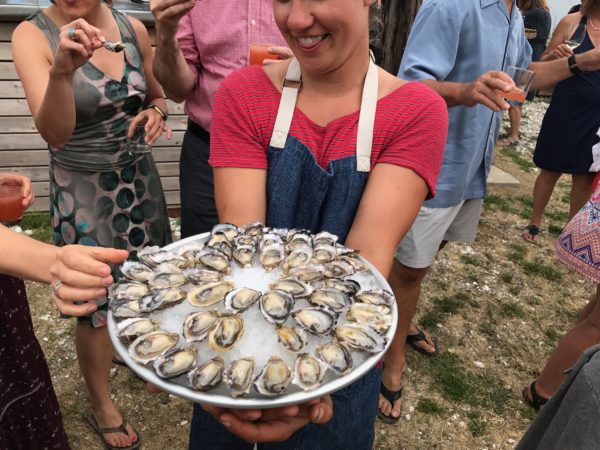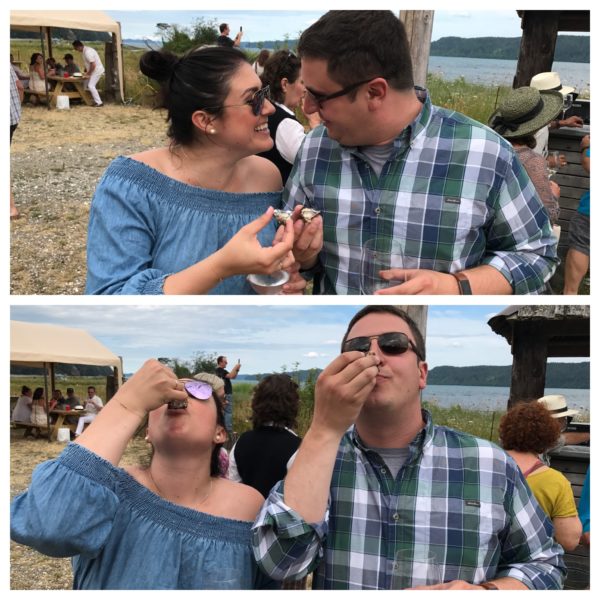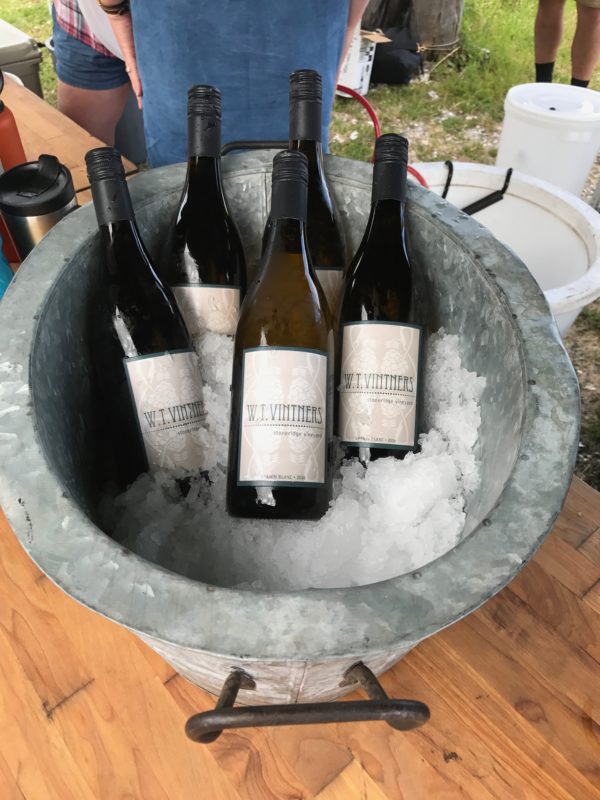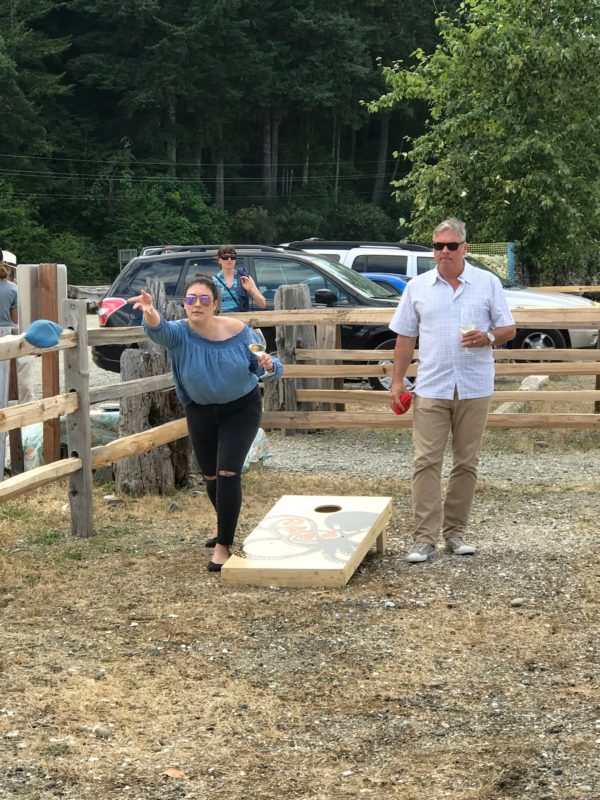 These food artisans care deeply about how our food is raised, that it is sustainable and chemical free. They care about the land and keeping it healthy for generations.
Ethical and intentional ~
As ethical and intentional craftsman they put their heart and their all into the products that they sell to us. Craig and I both could feel their sincerity and commitment to quality. It was quite refreshing. Real people, creating real products, for real consumers who care about the quality of the food they feed their families.
We took a walk over this bridge to get to the table – Simply breathtaking!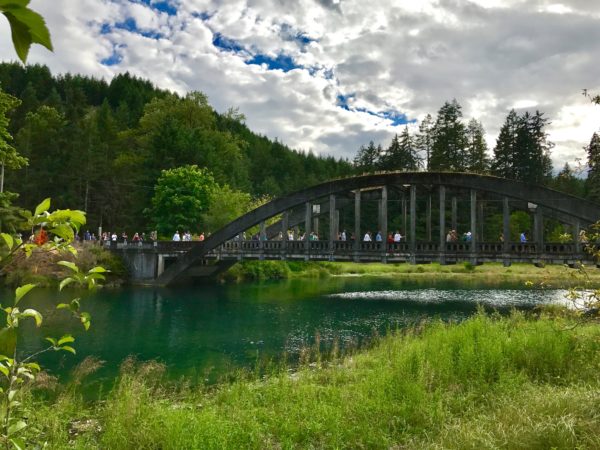 The Dinner ~
In addition to harvesting the purest ingredients, Chef Jason Stoneburner of Stoneburner at the Ballard Hotel in Seattle, used an artist's palette to create beautiful as well as super fresh and tasty dishes. True to his name, Jason's cooking is mostly done on the stone hearth. His outdoor cooking methods may or may not include cooking with stones, depending on how many are found and how big they are.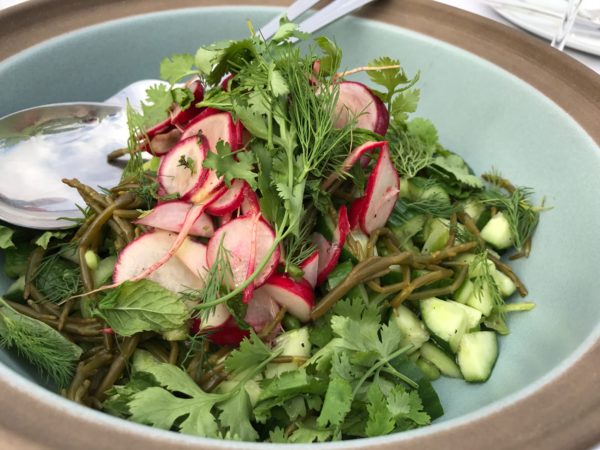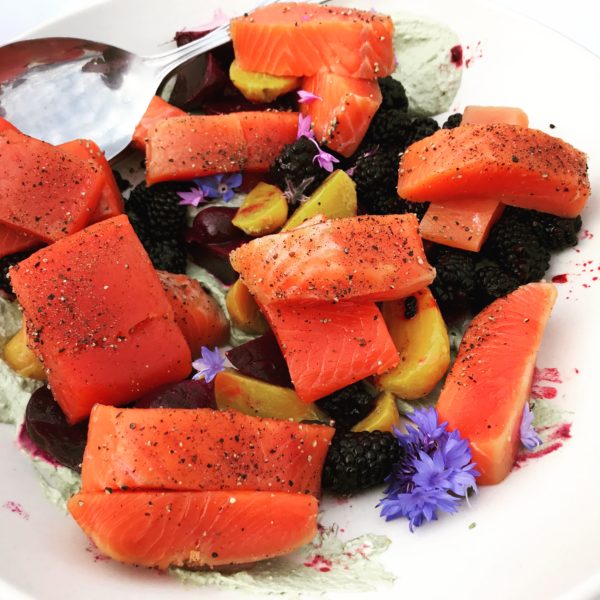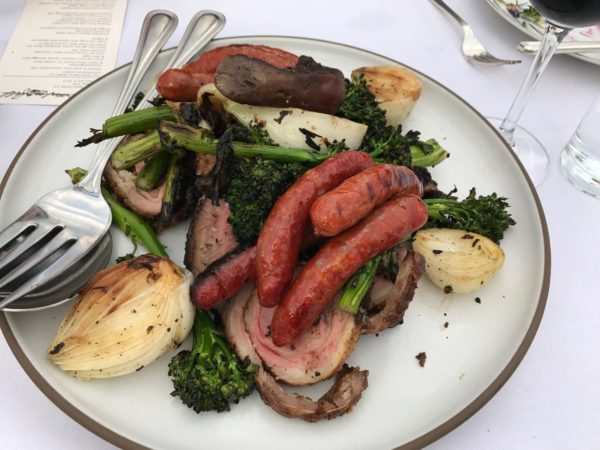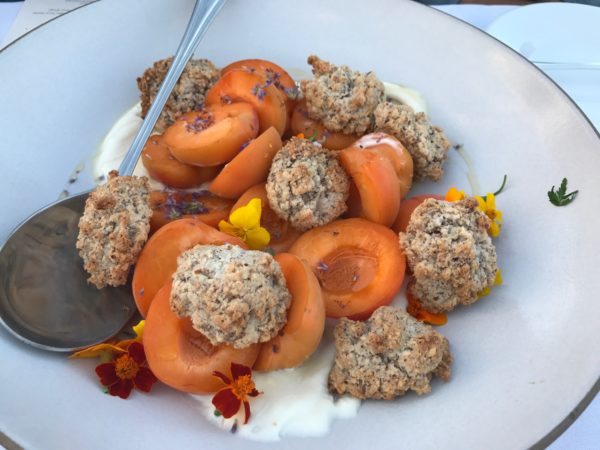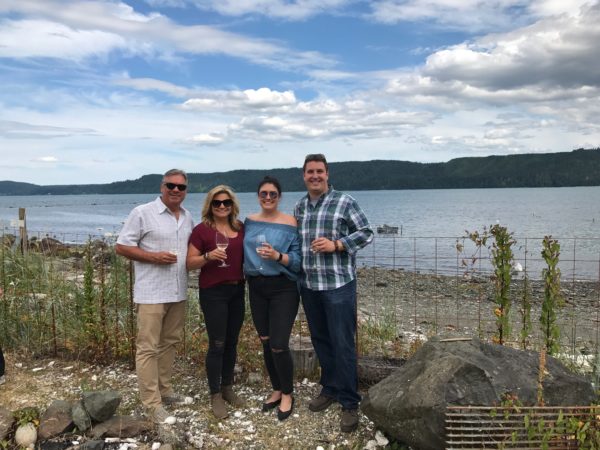 For more details of our past Outstanding in the Field farm to table dinner adventures clink on the links below!
Hollywood, CA ~ A Memorable Farm to Table Meal by Outstanding in the Field
Santa Cruz, CA ~ A Magical Meal on the Beach by Outstanding in the Field
Big Sur, CA ! A Farm to Table Dinner in Big Sur with Outstanding in the Field
---
Do you know other food-lovers who would enjoy the post? Please forward to them!
You can find us here:  Follow us on Twitter, like us on Facebook, check out our photos on Instagram, or pins on Pinterest