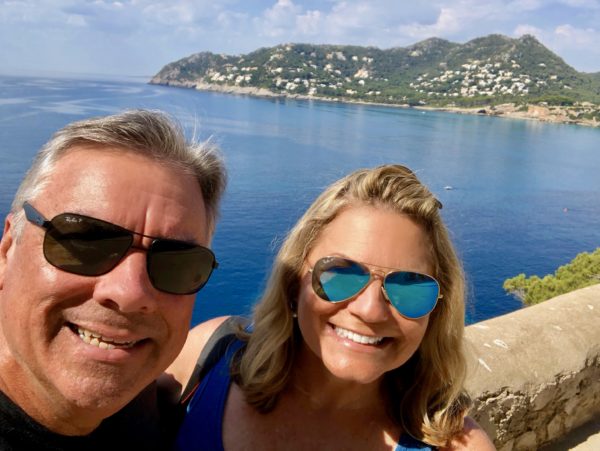 Today I will take you to Mallorca, Spain where the Mediterranean Sea is so magical and so deeply blue, the sun is bright in the sky and the air is sweet with vacation vibes. A relaxing time for two was spent with my favorite person in the world, my husband.
My Most Romantic Dinner … Ever!
Valentine's Day is quickly approaching and some of us may be in the beginning stages of making some romantic dinner plans? What really qualifies a meal as "the most romantic dinner ever"? This is certainly a very personal opinion and preference. Some couples enjoy snow-capped mountains and a picnic by the fire sipping champagne or some love watching the sunset at the beach, while others may enjoy a private dinner at their favorite restaurant.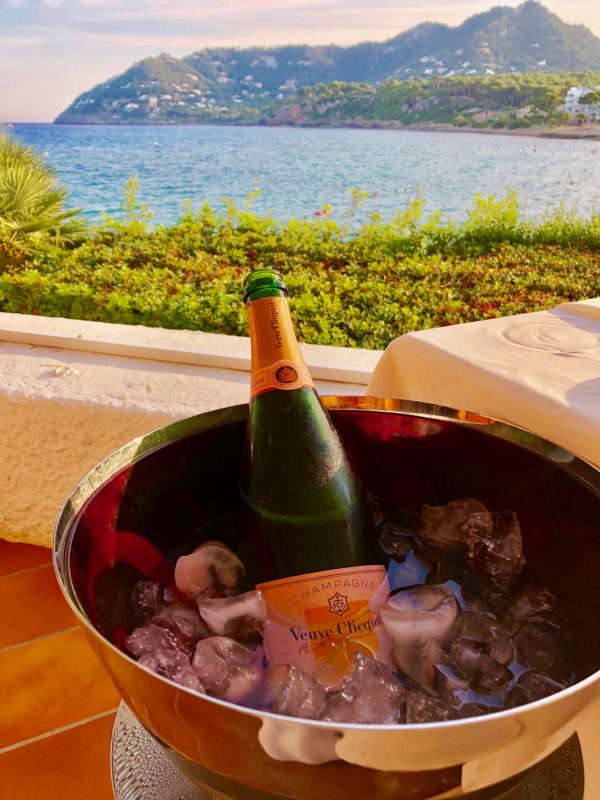 We have enjoyed several over the top amazing dinners together during our thirty-four years of marriage and I think aside from sitting across from my husband, the setting is the most important criteria for me. I know I am a food lover, but for the romance part, you must have set design.
If I am away in a somewhat tropical, beachy location, it ranks high on my list for romantic destinations. I love to spend a relaxing day by the pool or beach, lounging in half sun/half shade, sipping ice tea, watching the water and reading a compelling book.
This is followed by a beautiful sunset dinner with all the trimmings. Location, champagne, white tablecloth, beautiful china, Craig (a must), delicious food and did I say location?
Recently we experienced a dinner just like I have described and the memory is still so strong and details still so clear!
The Details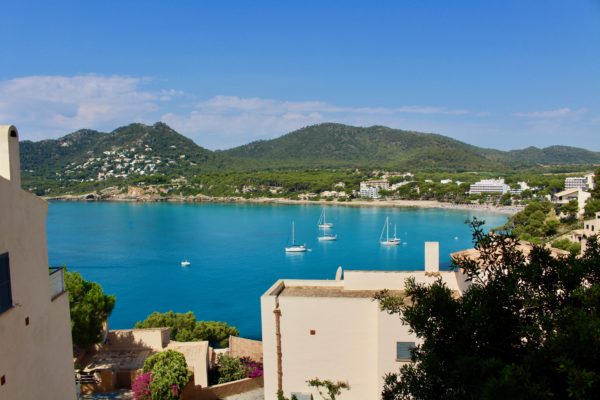 We stayed at the Park Hyatt Mallorca, a spectacular luxury resort on Mallorca, a small island off the coast of Spain. A special restaurant was recommended to us by the concierge and we exuberantly accepted the suggestion and made the reservation. We dined at the impressive and newly renovated restaurant called Restaurant Vintage 1934. It occupies the sea-view side of the lobby area of the Cap Vermell Beach Hotel. The artistic and clever interior design was bright and inviting.
No tuxedo, no long gown, just short sleeves and lightweight slacks for Craig, sun-drenched shoulders and a sundress for me.  Our reservation was for just before sundown and we sat directly at the water's edge of the bay in a magical place called Cap Vermell. It felt like James Bond could be sitting next to us in this exotic and sexy restaurant.
The beach was still busy with families playing in the water and on the sand. You could hear the faint sounds of summer joy in the distance. The restaurant started filling up with other patrons, but we never noticed, we were content with our little world and the makings of the most romantic dinner ever.
My words on this screen can barely do justice to the warm golden light and memorable view of the Mediterranean Sea or the sound of the rushing of bubbles from the bottle of Veuve Clicquot (it was a celebration after all and we were on vacation!)
Crisp French champagne, handsome husband, warm sunset, attentive but not too attentive servers, ironed white tablecloth, summer breeze and the FOOD! I mentioned before that the romantic part of the most romantic meal ever was the location, however, top that with bites of rich lobster and gastronomic art on a plate that tastes delicious? This my friends, put this "most romantic" meal over the top!
Food as art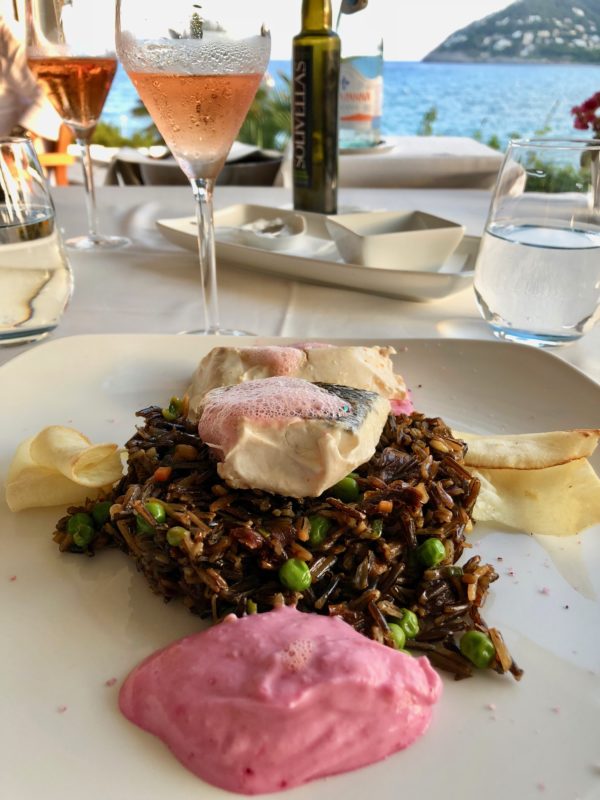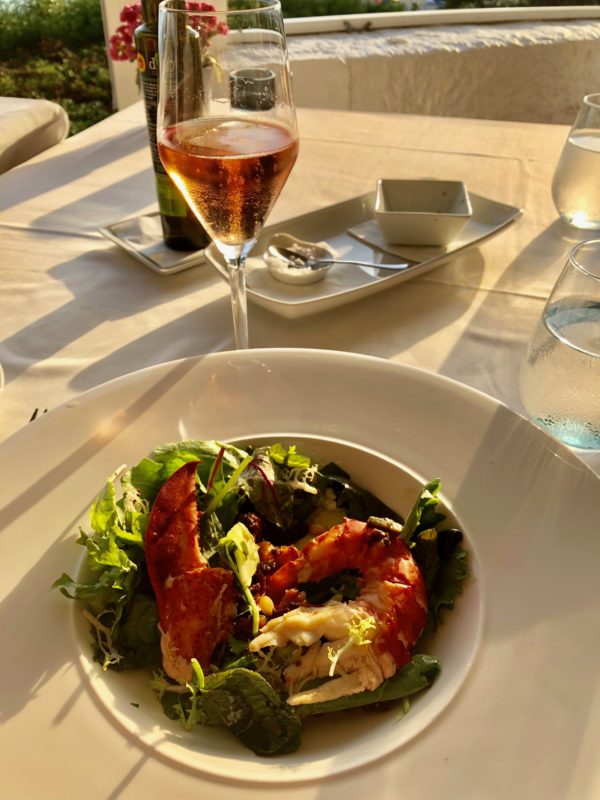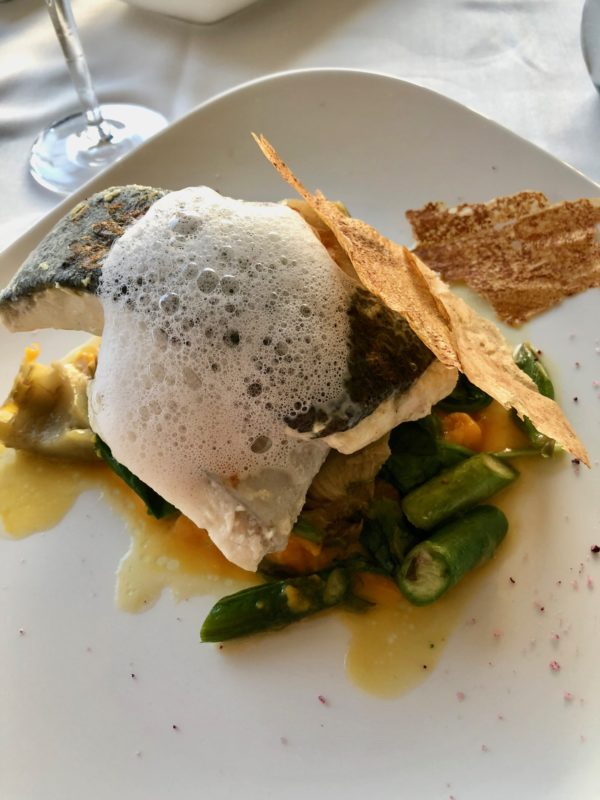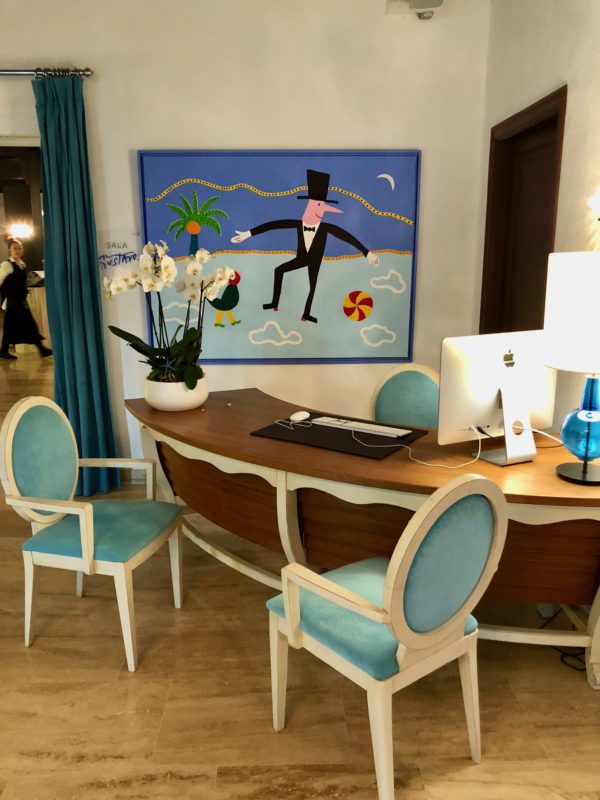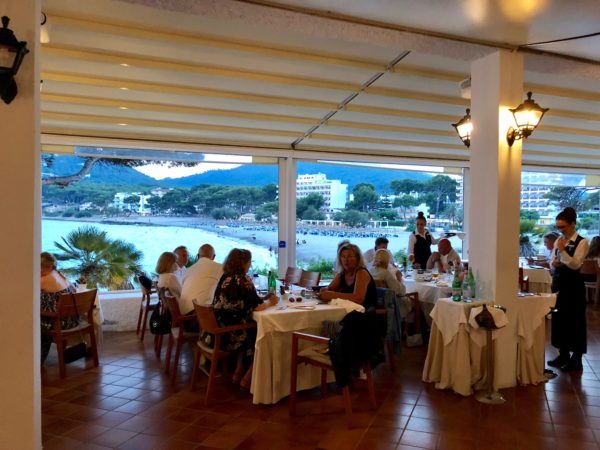 When we set out for this special evening, we had no idea that all of these romantic dinner pieces would fall into place just like this! It was kind of nice that we did not plan for our meal to be so incredibly one of a kind, we just got lucky! Even when you plan something down to the last detail it doesn't always measure up. However, based upon the Mallorca beach location and time of day, we had a head start!
I don't know that we will ever duplicate this dinner, or even want to try, but the memory is still as vivid as ever and aren't we fortunate to have experienced something like what James Bond might of enjoyed?
Pin Me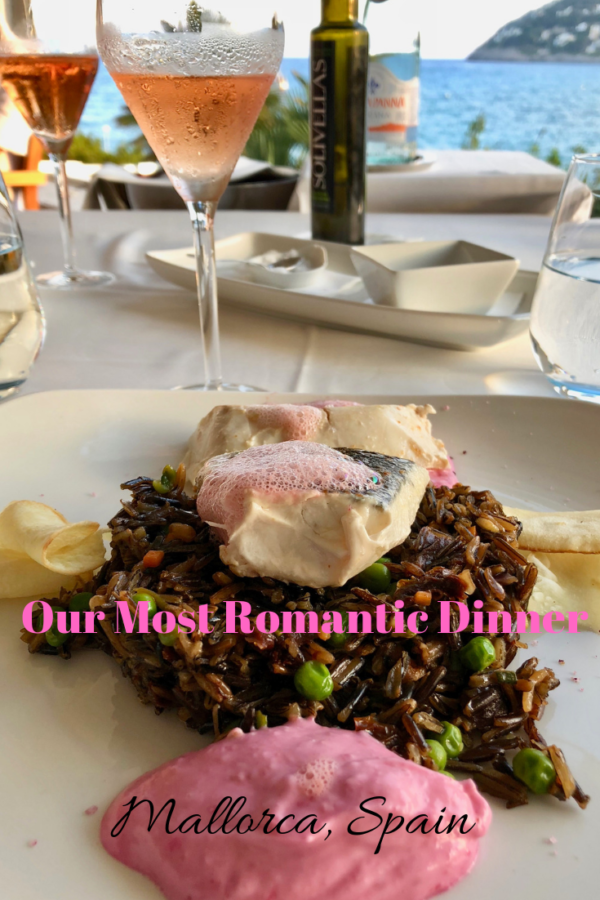 ---
Do you know someone who would enjoy this post? Please forward to them!
Let's connect over on social media here ==>  Follow us on Twitter, like us on Facebook, check out our photos on Instagram, or pins on Pinterest