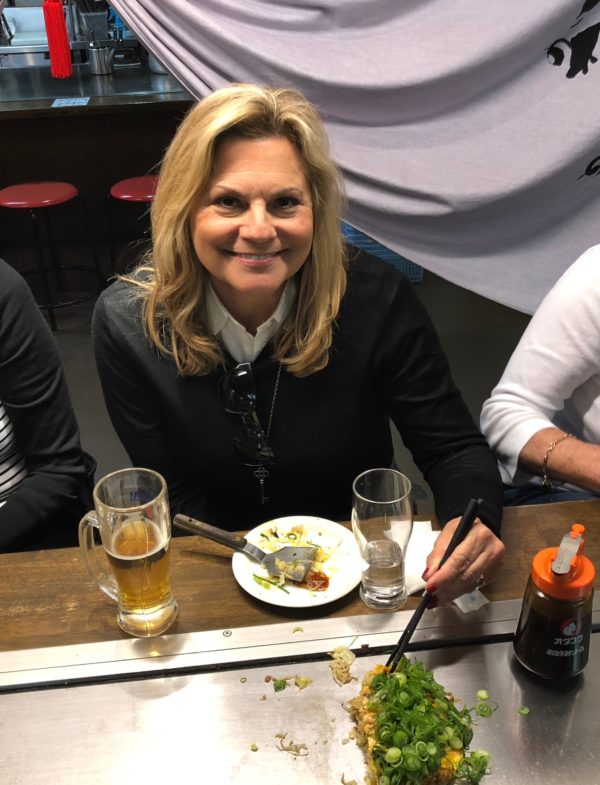 More food info today – I just can't help myself. I have been introduced to so many delicious dishes recently that my inner foodie is doing cartwheels!
A delicious Japanese dish you and I have never heard of!
While in Japan we ate some ridiculously amazing food that I could really write about for days. I am spreading it out so as not to make you hungry every freaking time you come to the blog!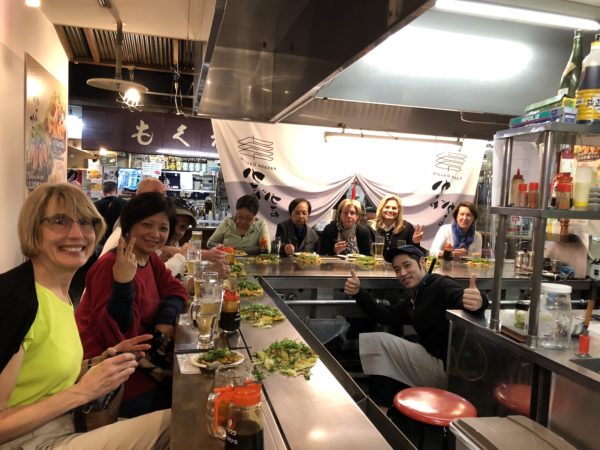 This particular experience was especially fun and unexpected. When you join a tour like I did, you never have to think about anything. Everyday is planned perfectly and you are introduced to experiences you never knew existed!
At the end of our incredible tour of Japan, we visited the multi-faceted city of Kyoto. Kyoto offers stunning temples and impeccable gardens. It is also known for formal traditions such as kaiseki dining, consisting of multiple courses of precise dishes and geisha, female entertainers found in the Gion district.
We took a day trip from Kyoto by Bullet Train (Shinkansen) out to Hiroshima to visit the Peace Memorial Park and Museum. As you can imagine this was quite a moving experience and one I will never forget.
On this day we were introduced to a culinary surprise and it was delicious! The huge variety of flavors in Japan are over the top! Have you ever heard of Okonomiyaki? No, me neither.
Okonomiyaki ~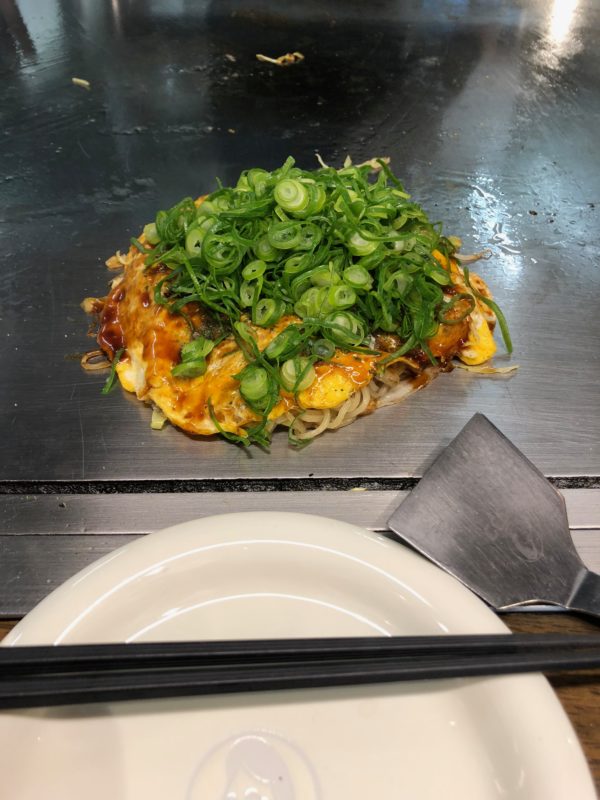 We stopped at a nondescript food mall in downtown Hiroshima to try a local and super tasty dish that is totally unique. If I could compare it to something I had eaten before it would be a like an Asian-flavored tostada without a tortilla and cheese. So really nothing like a tostada except that it was round!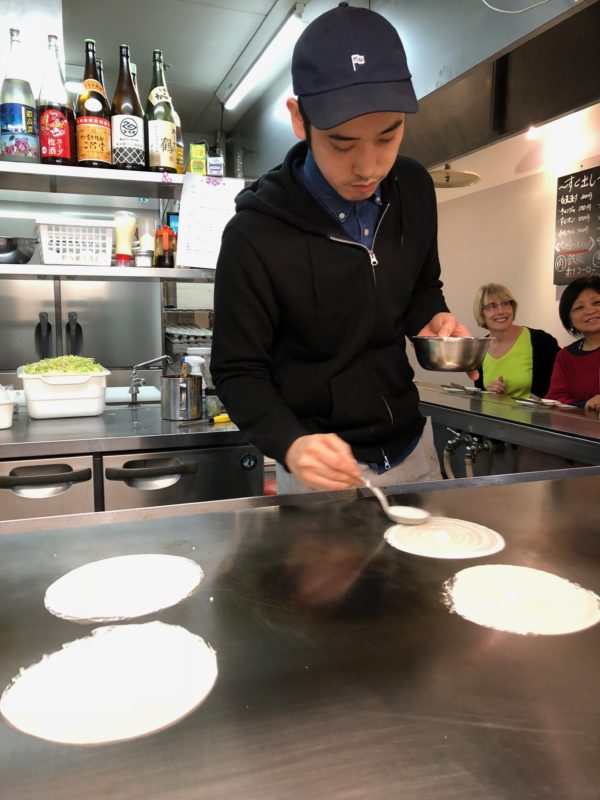 Adding the bacon ~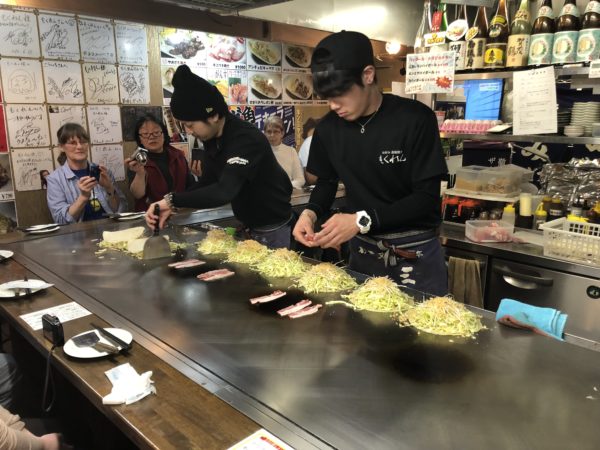 It starts with a thin crepe-like pancake, then sautéed cabbage, fried squid,(for that added crunch) egg, bacon, ramen noodles, a special sauce, and then it sits right on the hot teppan grill where you eat it straight from the stainless steel surface! They give you a personal spatula that has a sharp edge in order to help you cut it.
Adding the Sauce ~
You can juggle between the spatula-spoon and chopsticks. By this point in the trip I became quite adept with chopsticks and familiar with using both hands to eat!
I actually could only eat about 2/3 of the dish, but almost everyone else ate the whole thing!
The traveling foodie experience on the tour opened my eyes to Japanese cuisine that I never knew about. Of course I was familiar with sushi (and love it) ramen and other typical Japanese fare, but tasting okonomiyaki was a huge treat!
For more of my tour of Japan, check out these links ~
Find Adventure With Me on My Amazing Tour of Japan
Japan is For Food Lovers :: Pack Your Bags and Go!
A Memorable Moment From My Trip to Japan (It's actually one of many)
A New Adventure :: Suzanne in Japan with Collette Travel
---
Pin for later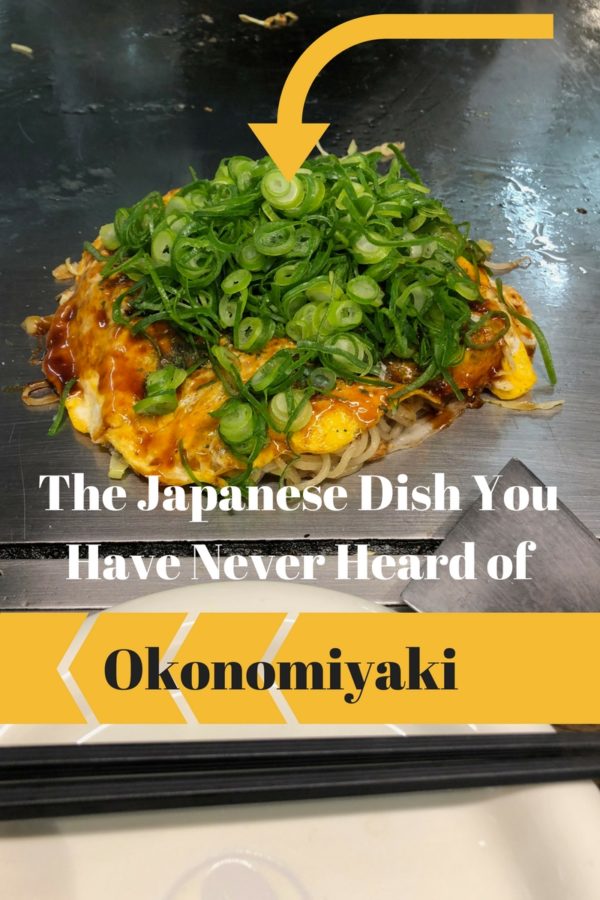 ---
Do you know other travelers who would enjoy the post? Please forward to them!
You can find us here:  Follow us on Twitter, like us on Facebook, check out our photos on Instagram, or pins on Pinterest