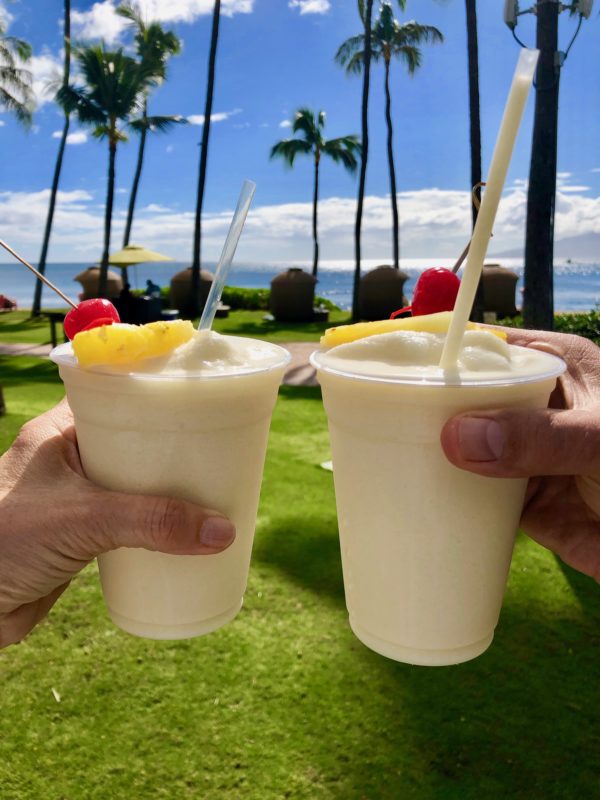 Tasty Dishes & Enticing Cocktails
I began my search for the tastiest dishes of the year by sifting through my photos starting in January. However, by the time I reached the month of June, I had already chosen 30 different tantalizing feasts for the eyes! How to choose?
Be honest, do you want to see that many of my "highlights"? I don't believe so. Therefore, I carefully looked for colorful, unique meals and surprisingly incredible drinks that are worth celebrating once again. A few of them are favorites due to their unique nature or element of surprise!
I have narrowed down this list to a more manageable number and I hope you enjoy revisiting them as much as I do!
Maui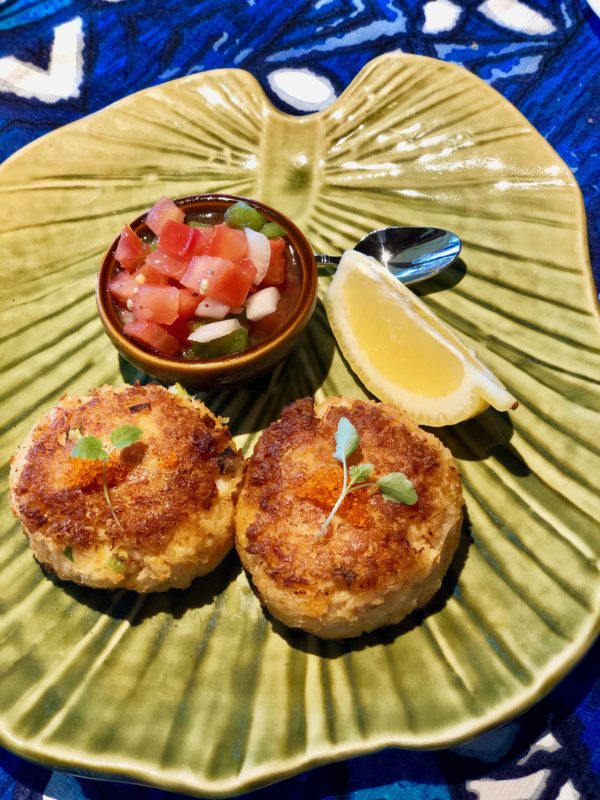 We began a very ambitious travel year with a relaxing, mostly rainy, week in Maui. However, we raised a toast of Piña Coladas on a delightful, sunny afternoon by the pool. Cheers!
Oh, my dear, these are the best crab cakes on earth. Doesn't the lovely plate and vibrant blue tablecloth put it over the top? Many of you have enjoyed Mama's Fish House, in the small town of Paia and I know you feel the same way about this unique Hawaiian restaurant. The location looks like the set of a movie, and although pretty pricey, the food is fabulous!         
Iceland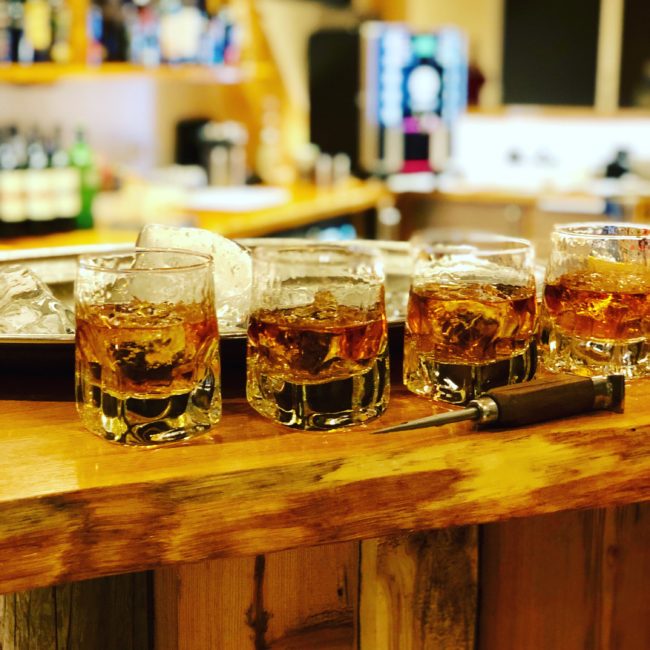 Best Experience Ever!
With so many memorable adventures, our trip to Iceland remains one of the most out of the ordinary tours we have enjoyed. From the astounding natural wonders to petting wild Icelandic horses and an exquisite black sand beach with completely clear, faceted icebergs. The driver of our tour bus brought back a mini glacier rock where centuries-old ice was chiseled and added to our Bourbon Old Fashioned. Mic drop.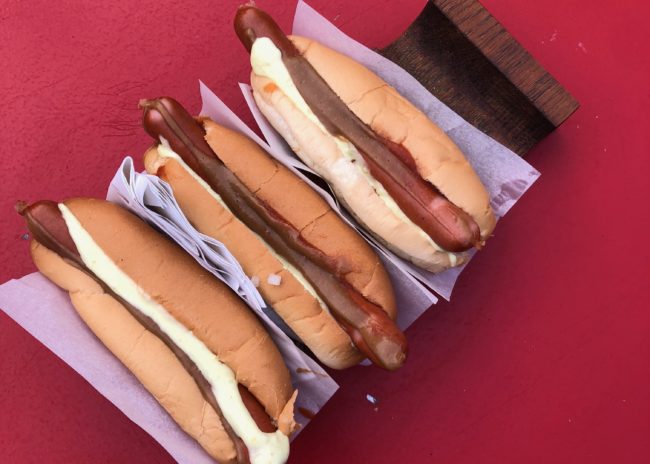 Also, we tasted the global favorite Icelandic hot dog from a cart in downtown Reykjavic. I am not a big fan of hot dogs, but Craig and our friends Danny and Drew from Collette sampled them for me. They unanimously agreed the dogs were delicious!
North Dakota
Does North Dakota come to mind when you think "fantastic food"?  Maybe not, but we sure had an amazing dinner where the steaks were cooked in hot oil on pitchforks! Always looking to find adventure in everything I do, I was shocked over the preparation of these steaks! Click here to read more about my trip to North Dakota – I was so impressed!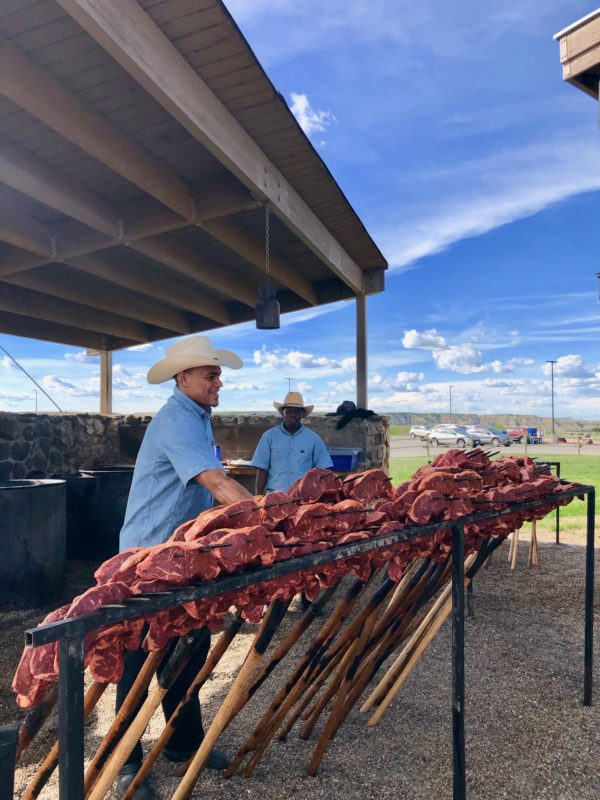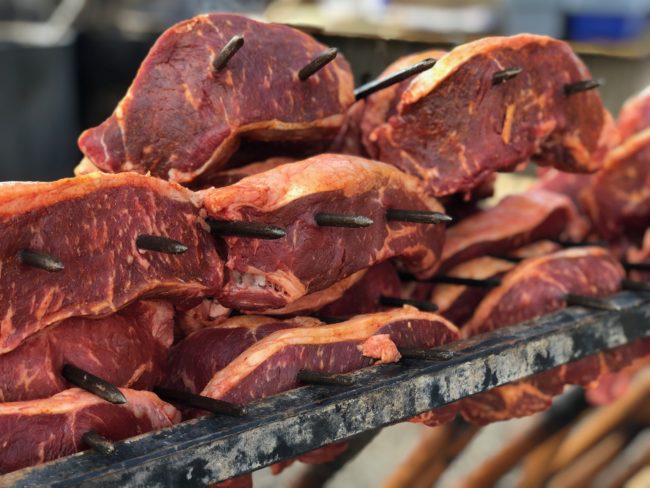 Italy
It is nearly impossible to find a favorite dish in the gastronomically superior country of Italy! I narrowed it down to these few, with still a dozen more I could share. Please say a prayer for our friends in Italy; the virus is indeed causing havoc with the travel industry.
My divine trip to Italy began with a culinary tour with Oldways. We were joined by chefs from SRV in Boston, MA. We took several hands-on classes while on the road in Verona and Northern Italy. This risotto below is soft and gooey with fresh peas and ham. I can never get enough gelato and in Italy, it is a 3:00 pm required refreshment stop.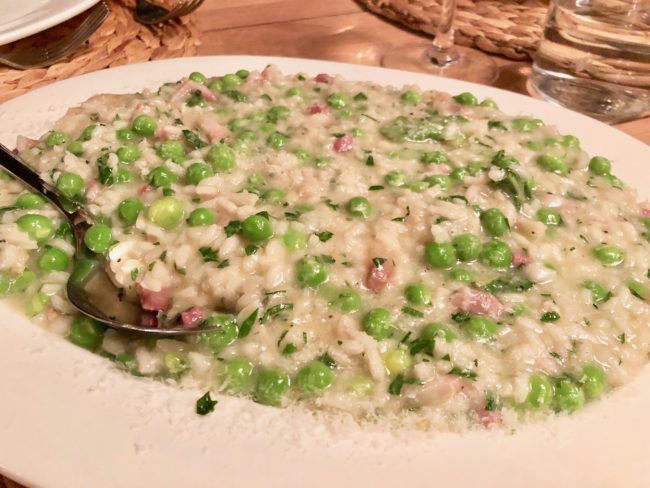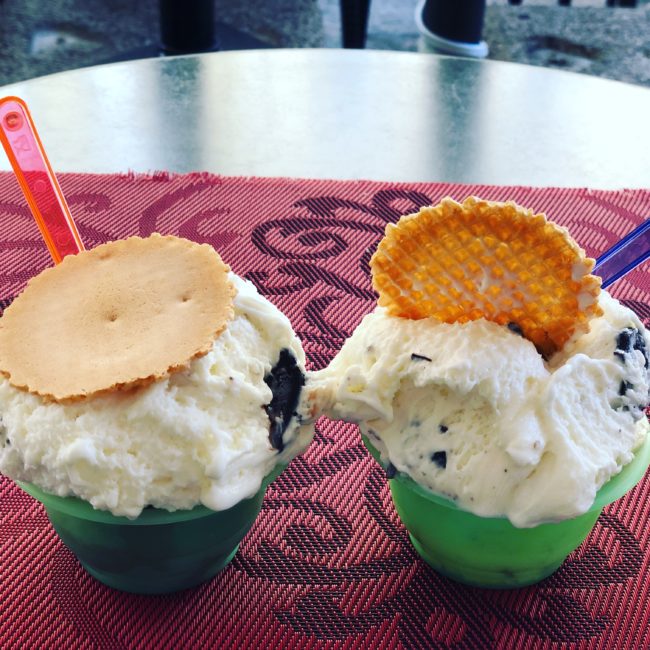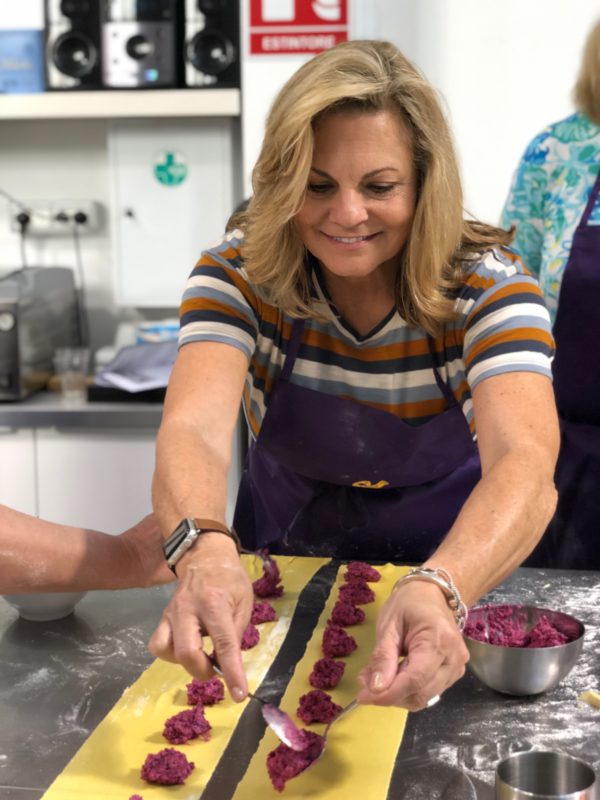 A Road Trip in South Dakota with Awesome Food!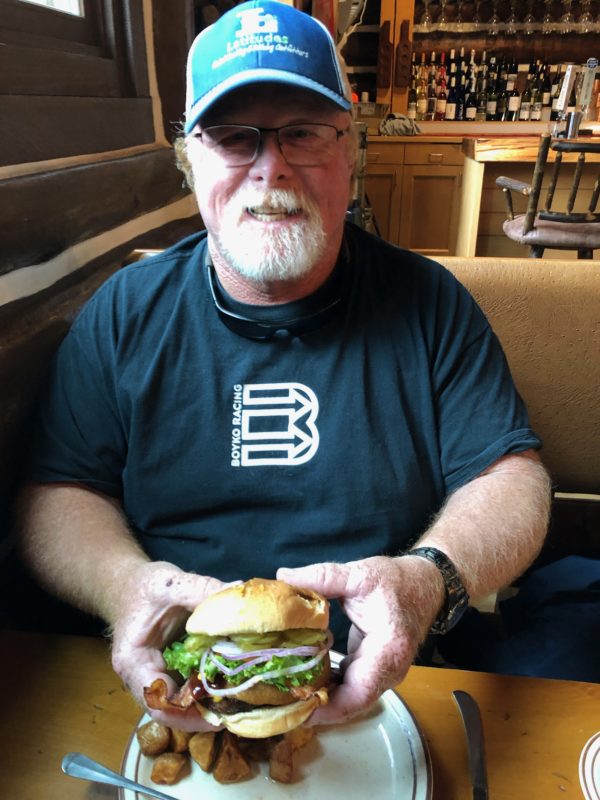 On our empty nester road trip through South Dakota, I was traveling with some very adventurous eaters! Watching someone else eat a Bison burger was just what this non-Bison eater needed. I do appreciate that many people love to eat different sorts of animals, but I will stick with the standard fare. Troy thought his enormous burger was outstanding.
Breakfast in Jackson Hole, Wyoming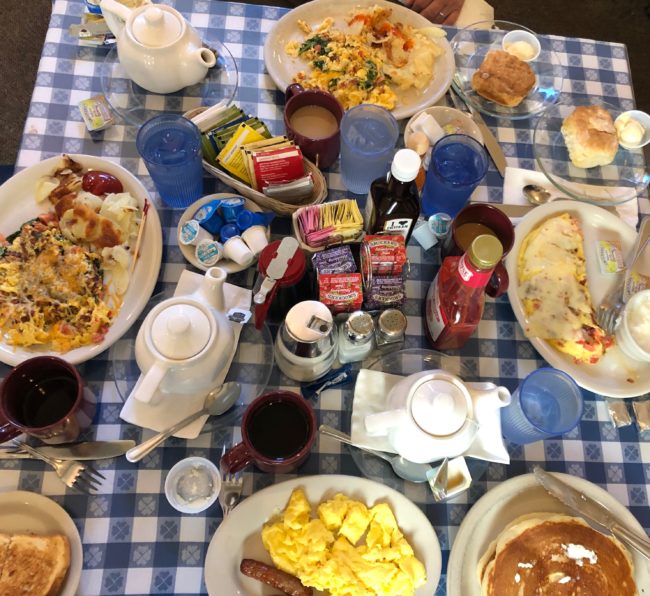 Our first time in Jackson Hole, Wyoming, will not be our last. This spectacular city is the kind of place I could stay for quite a while. With the Grand Tetons looking over your shoulder, the upscale restaurants excellent shopping and chic locals, it was my kind of place. This lovely laid-back town has a movie star vibe, and I kept looking for Kevin Costner to be sitting at the next table.
An LA dinner with friends Tammy & Steve
Close to home in Los Angeles, we enjoyed an eclectic meal with dear friends. LA is the foodie town of towns right now, and we are investigating as many restaurants as we can! Otium has been around for a while and serves consistently delicious and beautifully prepared dishes. Sharing is a must!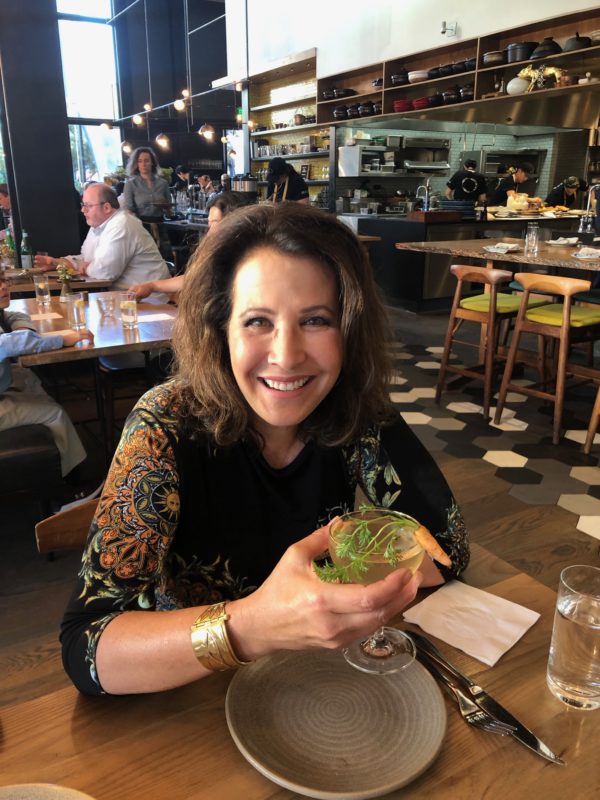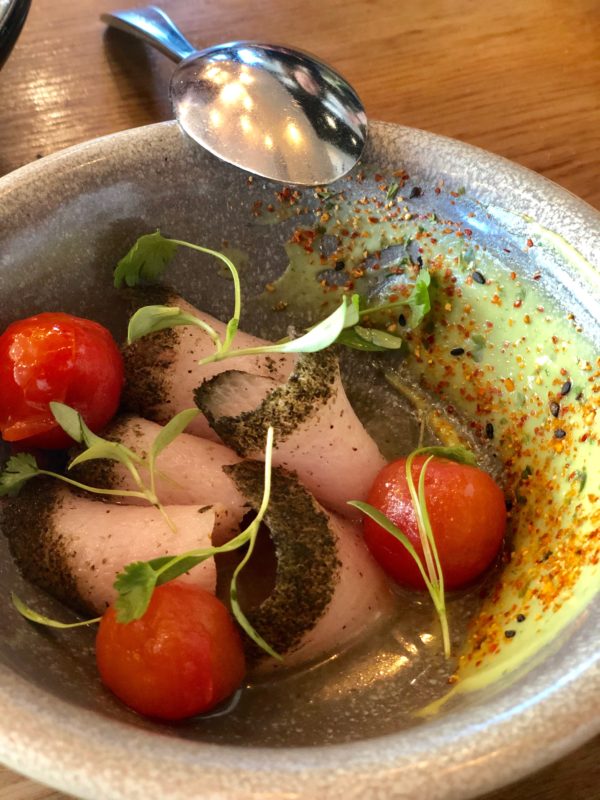 More Italy
Because well… there's always more Italian food that needs revisiting!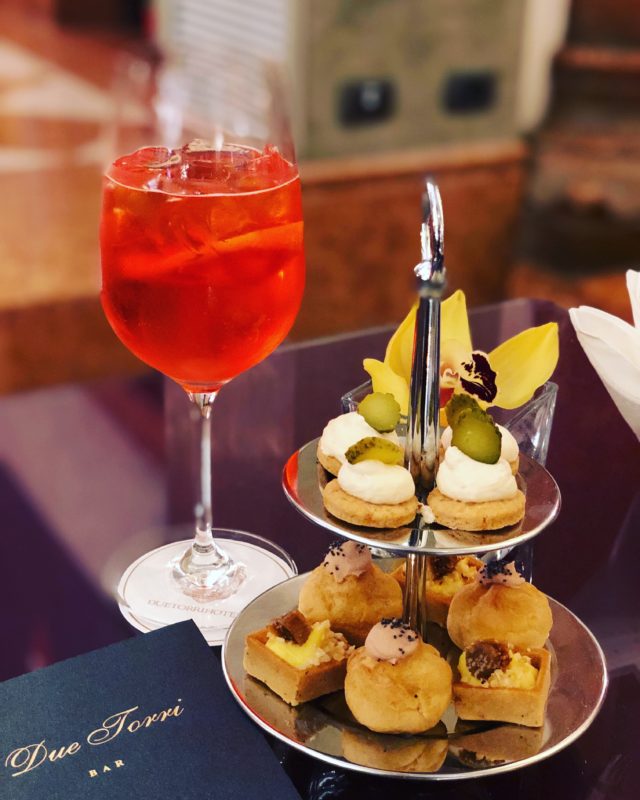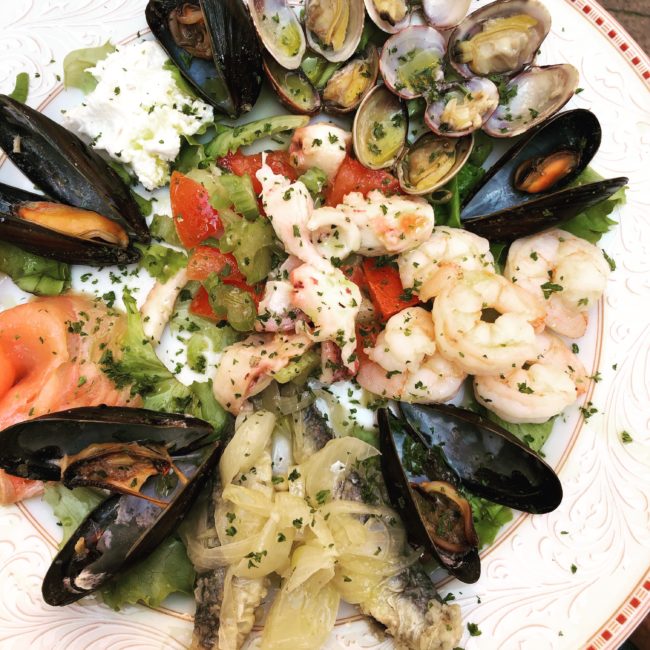 Kansas City, Kansas Food Tour
Did you know that Kansas City, Kansas is a fabulous food town? We spent a day and a half sampling and sipping through this fascinating city. I have never been a fan of boba, but we visited this colorful little Boba Blend, and I am a convert now! Their recipes were smart, fresh and tasty, not to mention Insta-worthy!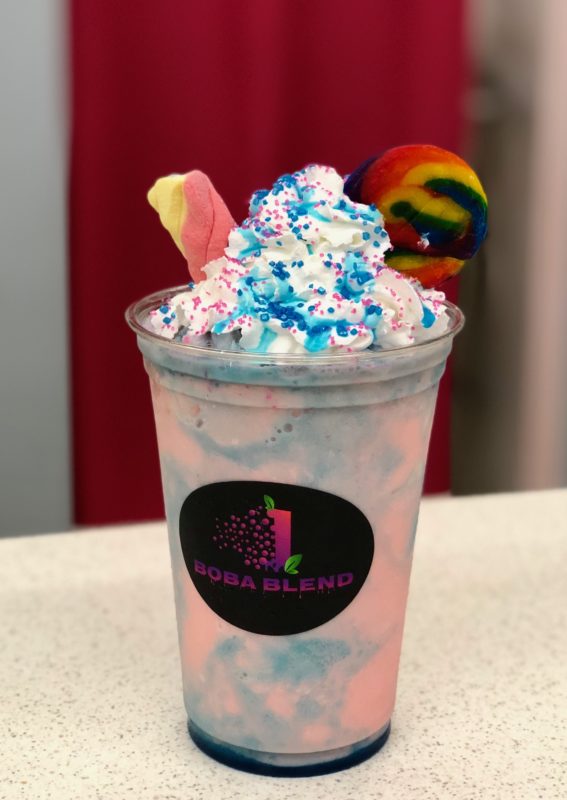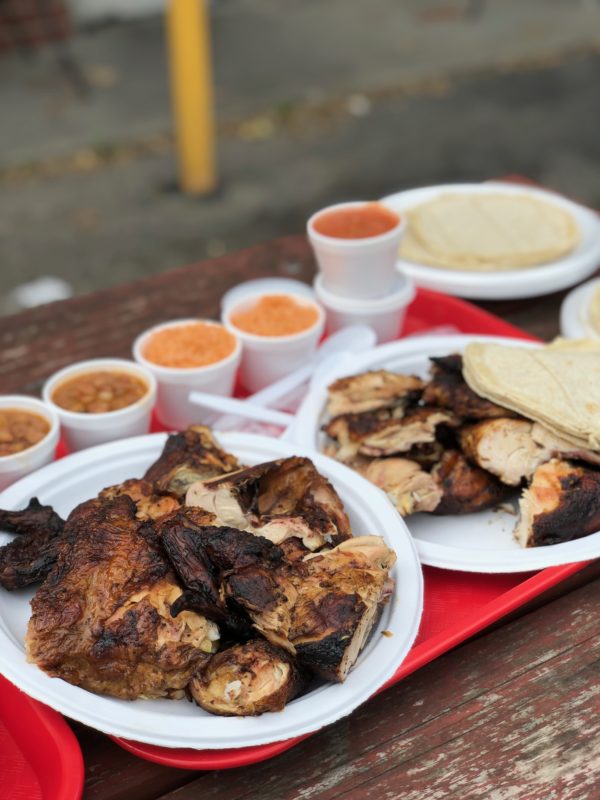 Pasadena Masters of Taste
As a firm believer in dining with loved ones, we spent an afternoon with my parents at the Masters of Taste in Pasadena. On a warm Sunday afternoon, we tried lots of different restaurant samples and a few kick-ass cocktails. Do you have food events in your area? The Event Brite website usually has a long list of them.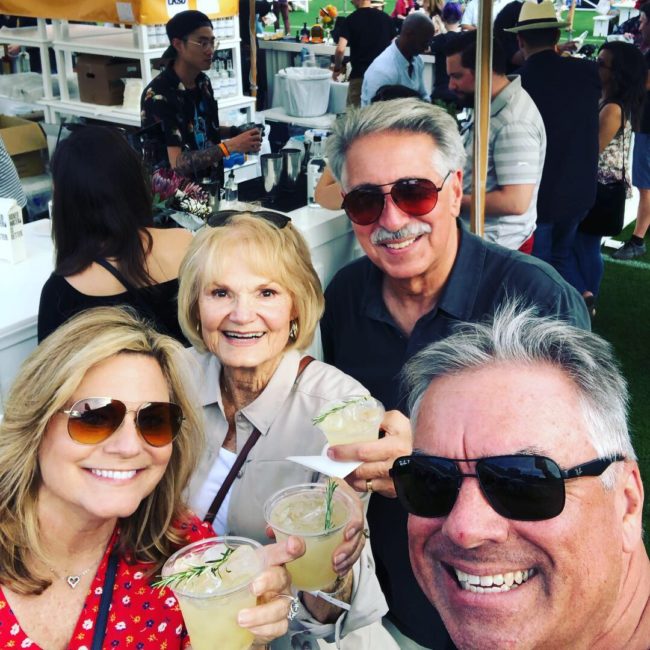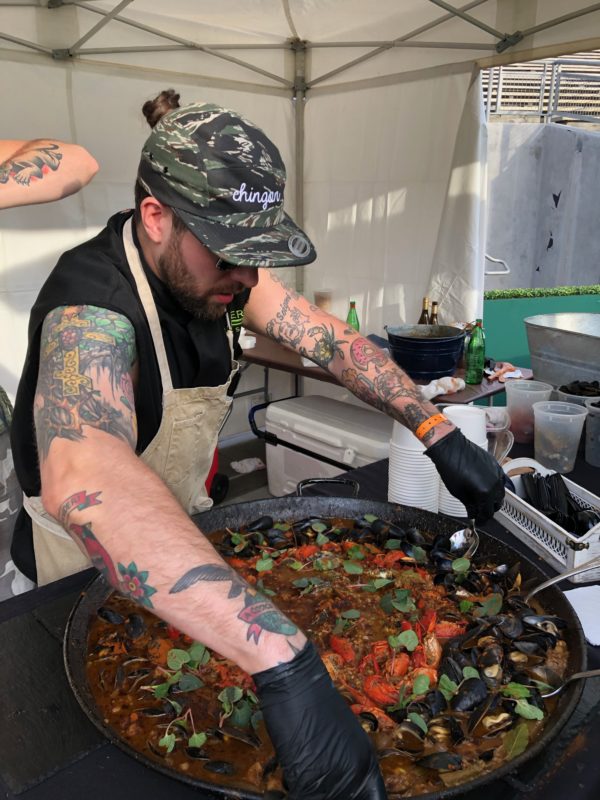 Seattle
My list of Seattle favorites is very very long. The talented chefs maximize the local PNW ingredients and create inventive dishes. We look forward to our frequent visits here.
However, at this moment in Seattle, the corona-virus might be destroying the restaurant scene. Office buildings are shut down and most people are working from home so no one is going out to lunch and dinner. I feel terribly for the workers who don't have customers to serve and small businesses that are suffering.
I have received many emails from local Seattle restauranteurs and chefs sharing the safety precautions taken in their restaurants.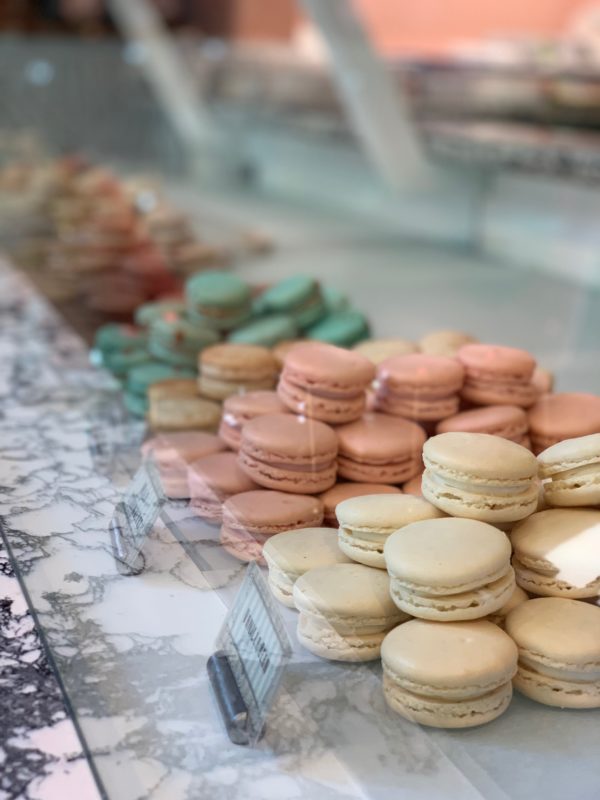 Japan
If you have been following my travels, you will know that I absolutely adore Japan! In addition to the intriguing history and spectacular architecture, the authentic local cuisine is fresh and healthy. 
To narrow down my favorites in Japan is impossible, so I just offered up three photos. The dessert below was so pretty, you couldn't believe you could eat it! Shabu Shabu means "swish swish" in Japanese. The server heats up boiling water and dips our veggies and meat in the hot water to cook them. So good and so fun!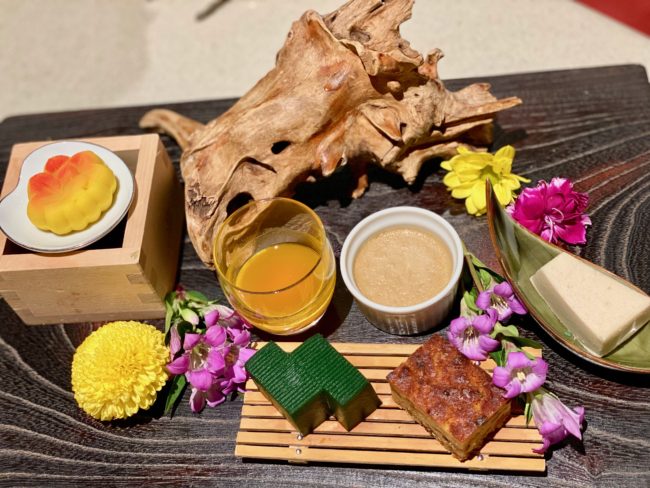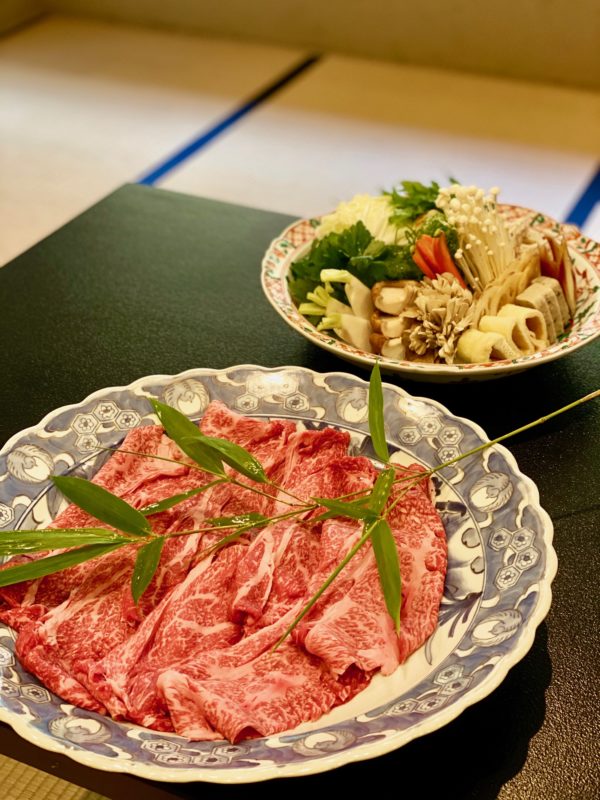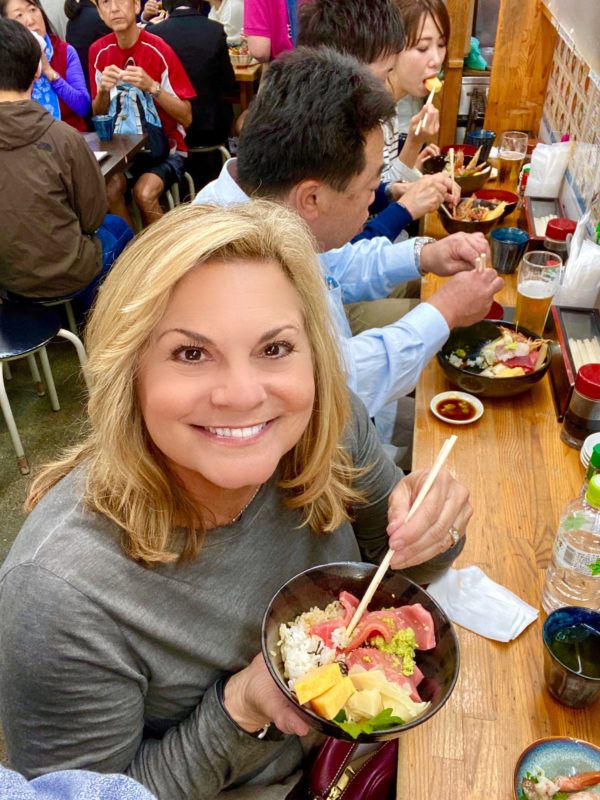 Two last photos of my food experience in Japan
While staying at the famous Park Hyatt in Tokyo I enjoyed a very fancy meal on the 52nd floor with a view of Tokyo and devoured the best dessert and cappuccino of my life!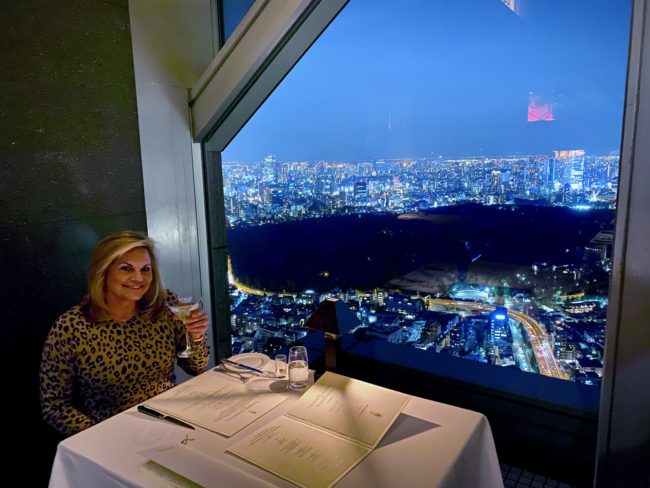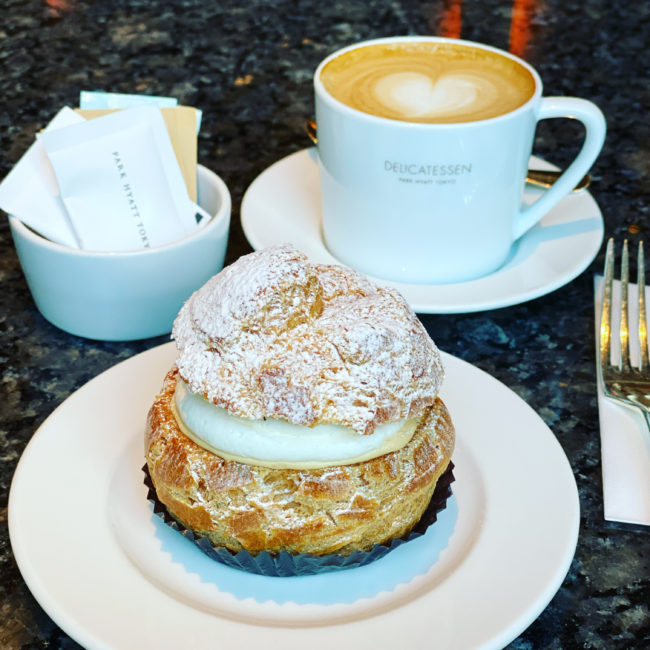 Why do I take photos of my food? 
I have been doing this for years! Way before Instagram was a national past-time, my feverish, food photography was commonplace. The dazzling colors and presentations always make me smile, and I captured them for my enjoyment and reference. 
I now do this as part of my job, lucky me. Do you use Instagram to look for popular restaurants and dishes? When I am preparing to visit a new city, I always search for the hashtags that will help me find the most delicious and talked about places. Also, I search for blog posts that reference my destination. Our dining life has been saved on many of our trips because an avid food photographer took a great photo of a tasty-looking dish or meal. 
Check out my Instagram account @suzannestavert and my brand new one @theadventuresoemptynesters for food photos and adventures!
How was your 2019? What were your tastiest dishes of the year? Do tell!
---
Pin for Pinterest